Escaping from the everyday during fall is one of travel's greatest secret pleasures: the perfect climate, right ratio of visitors to locals, meals that celebrate the harvest bounty, and off season prices that make it truly affordable. With frequent school and work breaks for the Jewish holidays, Columbus Day, Halloween, Veterans Day and Thanksgiving, there's plenty of opportunity to take advantage of resort, tour and airfare discounts.
Travel Sustainably, Volunteer Your Skills
Because we're based in New York City, each autumn we can count on the United Nations General Assembly, meeting along the East River, to bring us the world. This year, as a followup to the surprisingly successful Millennium Development Goals set by world governments during the year 2000 session, the UN is announcing new Sustainable Development Goals to work towards through the year 2030. The 17 major SDGs aim to balance three key aspects of sustainable development: economic, social and environmental -– all essential to tourism and the benefits that travel provides.
There's no better time to plan how your family can incorporate social good into your next travel adventure, and it's easy. During September, you can help feed others with the Dine Out for No Kid Hungry campaign, which is collecting donations from nationwide chain restaurants like the Corner Bakery Cafe and Denny's, as well as local eateries. Remember even one dollar can provide 10 meals. Or, involve the kids in leaving a gratuity or small gift for a hotel or restaurant worker you meet. A "thank you" postcard from your hometown or a notebook from your local school are simple ways to bring your world to them. The non-profit Pack for a Purpose has great tips on their website on what to bring and how to pack it, so that your host destination gets the most benefit from your charity.
If your children have chosen a gap year in their education, or if you've got willing pals, a special companion or want to go it alone, there's no better time to plan a volunteer vacation, in every corner of the world or right near home. Ways to give back in parks and conservation reserves range from wildlife tracking to weeding to guided archeological digs; in communities, it could be reading lessons, building schoolrooms or painting houses. Dozens of not-for-profit organizations, beginning with your local church or kids' school, help organize international travel with volunteer opportunities.
So, whether you take a break with the kids or a rejuvenating girlfriends' getaway, need a quick staycation or are ready to give back to another community, or just want to slip away with your partner for some "we" time, here are other favorite fall getaways, researched with TakingtheKids.com, to tempt you.
Fall Festivals for Family Fun
September's the time to go apple picking and bring home a few bushels, so kids can learn healthy eating and invent new fruit and vegetable recipes. Hop on a hayride to search for just the right pumpkin in mid-October. It's easy to find a u-pick farm with our directory of orchards and pumpkin patches near you and make it an overnight adventure. 
Kick off the festival season September 13 just south of Houston, Texas at the annual Pearland International Festival, where the theme is Mediterranean Arts & Culture. In addition to staying out of the way of the Olive Pit Spitting Contest (world record is 70 feet!), there's a fun Kids Zone, belly dancing and a coaching session by the Houston Rockets -- accompanied of course by good food, music and shopping.
Champaign, Illinois prides itself equally on its locally grown food movement and the Krannert Art Museum, whose 10,000-strong global art collection is considered second only to those in Chicago (but admission is free). At the Hardy Reindeer Ranch, you can meet Santa's helpers before they get too busy, challenge the family to a moonlit race through the 10-acre Monster Maze, and watch the Jack Splat Pumpkin Cannon challenge throughout September and October. Of course they have favorite pumpkin pie recipes on hand for those who bake their own.
From short to long and rough to posh, there's a festival for everyone. Tybee Island, a quirky beachtown off the coast of Savannah, Georgia that's considered one of the best beaches for kids on the east coast, goes full Pirate October 8-11 with a costumed Pirate Victory Parade, Little Matey's Cove, Thieves Market, and kids' activities such as a petting zoo and Ferris wheel; under 12s welcome free. In Oceanside, California, October 11-18 marks the VISSLA ISA World Junior Surfing Championship, when girls and boys in the under-16 category and the 16-18 category compete for gold medals and team championships. arts'n'craft exhibits, live music, a sand castle competition, beauty pageant, Tiki Swim and more.
The 15th annual North American Wife Carrying Championship (October 10) pits couples against each other on a 278-yard obstacle filled track at Sunday River, Maine's Fall Festival. Salted Chocolate Fudge? Bourbon Pecan? It's never too cold for all-natural Velvet Ice Cream in Utica, Ohio, whose family owners have been celebrating its success for the past century. Fall is no different; there are 30-minute factory tours twice each weekday, and Sunday special events with music and pumpkin patch rides each weekend through October 31.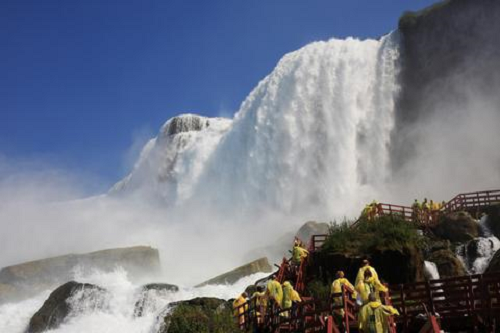 Bundle up in fall for a walk under the tremendous Niagara Falls, seen from Cave of the Winds, New York.
Harvest Fairs for Adult Tastes & Tastings
The crisp autumn air in Niagara Falls USA brings with it sunshine glistening off Mother Nature's painted leaves and plenty of harvest events to keep families and couples busy for days. Tour the falls and the U-pick pumpkin patches, collect bushels of apples, try a cup of hot cider or a pint of cold craft brew; why not tour the Niagara Wine Trail, USA, where up to 22 local vintages are cost-effectively sampled with a "Vino Visa Passport" ($39.95). Soon enough, this Wonder of the World will be covered in snow and ice again, and while some hibernate with a glass of locally made Ice Wine, others will get outside and instagram the frozen falls, a real weather phenomenon.
Foodies will love the Harvest Homecoming celebrated in New Albany, Indiana from October 3-11, 2015. It all takes place downtown and along the waterfront facing Louisville, Kentucky with a big parade, midway rides, entertainment, kids' activities and yes, food and artisanal beverages. Watch for Chef Ryan Rogers, Eater.com's pick for 2015's "Promising Chefs Under 30" at Feast BBQ, known for its smoked meats and bourbon slushies. Enjoy free concerts in Bicentennial Park Friday nights through September. The New Albanian Brewing Company, home of the popular Gravity Head brew, has two outlets in town and they're only part of the craft beer and artisanal winery scene. If that's not merry enough, walk over to Jimmy's Music Center where an upright piano out on the street -- hand painted by local artists -- is the art installation on view (and for playing) from September 7-October 18.
Rush north to the turn-of-the-century, mineral springs resort town of French Lick for the annual Block Bash Festival, September 18-20, Indiana's top chainsaw-carving competition, when the world's finest compete for cash prizes. This lovely region is famous for two luxury hotels -- French Lick Springs and West Baden Springs -- but there are accommodations for every budget, even an indoor waterpark. When your ears get buzzed out, go zip-lining, learn golf, do a fall foliage cruise on Patoka Lake, or tour the wineries, caves and Amish village.
Getting hungry? The Roots n' Blues BBQ Festival in Columbia, Missouri (known as COMO, a hip college town) brings thousands of fans to chow down on barbecue and hear 30 major artists. This year, it's Dwight Yoakam, Brandi Carlile, Buddy Guy and more -- doing roots, blues, gospel, country, folk, bluegrass, rock, and soul; kids under 13 get in free. If you can't make it over the September 25-27 event, come to bike on their share of the 225-mile-long Katy Trail, try a craft brew, do a culinary tour or go caving.
Girlfriends can support each other in reaching new heights on a hot air balloon ride, or an organized bike, horseback or canoe trip in the California wine country. The 41st annual Sonoma County Harvest fair running October 2-4 promises plenty of wine and microbrew tastings. Admission is only $5 if you bring canned goods to donate to the Redwood Empire Food Bank, and Design'ated Driver' tickets are $25 instead of $55, giving you an idea of how much wine tasting there is. Hotel prices are significantly lower than in summer and children are able to tour vineyards and wineries everywhere. Borrow some gear, or rent what you need from REI to take off on foot or mountain bikes or on a memorable road trip tour of the vineyards during harvest.
Oktoberfest Isn't Only About Beer
In Germany, it's a month to showcase local beers, while enjoying Oktoberfest family events and community dinners where kids are always welcome. Several American towns with German heritage celebrate the event, tops among them being Oktoberfest Zinzinnati (September 18-20) which draws 500,000 Samuel Adams fans to Cincinnati for the Running of the Weiners dachshund races.
Vail Mountain celebrates over two weekends in September, with many family events scheduled in the base villages. The annual New Ulm Oktoberfest Minnesota, which takes place in several venues over the first two weekends in October, features both local brews and wines.
Lots of Germans in Texas will join residents at the Galveston Island Oktoberfest, which is three packed days of family events, rodeo and 4H activities, beer sampling, ooompah bands and high steppin'. Interestingly, when the research team at the hotel metasearch engine Trivago.com looked at the 50 most popular domestic getaways for fall travel, Galveston was #18. The Victorian style coastal town is popular as a cruise port and a beach getaway year round, with a new Pleasure Pier amusement park built in the style of the 1930's. Moody Gardens, a science museum and family play center, leads visitors from rain forest exhibits to shark tanks, a toddler waterpark to a paddlewheel boat ride. After November 14, you can catch "Iceland," the new holiday show at Moody Gardens featuring SpongeBob Squarepants and his undersea buddies, locked into 2,000,000 lbs of carved ice.

From Woodloch Resort, it's easy to appreciate the rainbow of fall colors in the Pocono Mountains.
Mountain & Country Resorts for Foliage & Fitness
Travelers who love mountain resorts when there's no snow on the ground will appreciate all the fit fun in the Rockies, whether you're with kids, gal pals, those frat buddies or a significant other.
From September 17-20 in Aspen, Colorado, suit up for the 48th annual Ruggerfest, the world's only all-age, full-contact rugby tournament. Let the glimmering aspens take your breath away on a fall foliage drive along Maroon Creek Road, Castle Creek Road and Independence Pass for the peak leaf peeping. The Aspen Center for Environmental Studies leads all-age guided hikes, there's sunrise yoga, lots of great eats, and even fly fishing for those who want to cook their own catch.
Woodloch, the country's top family resort according to TripAdvisor, is nestled among spectacular fall foliage and sparkling lakes in the Pocono Mountains of Pennsylvania. In October, they go all out for Halloween festivities including costume parties, trick or treating, a terrifying Haunted Hayride, themed "Cupcake Battles," family scavenger hunts and more adrenalin-pumping activities -- midweek rates are the best bargain here. November brings several specialty weekends; the "Nashville Songwriters Weekend" mixes live performances, line dancing and BBQ with a behind-the-scenes look at the tunes of Blake Shelton, Tim McGraw, Miranda Lambert and more.
For a romantic mountain adventure in luxurious digs, consider the new Ted Turner Expeditions portfolio of trips, which feature the media mogul's 1.1 million acres of American wilderness and investment in conservation and sustainable development. His five-bedroom Ladder Ranch in New Mexico, decorated by then wife Jane Fonda, rents for $6,000/night for four people including meals, beverages and guided tours. Passing through? Three-hour and five-hour "Animas Creek and Ranch Heritage Tours" highlighting historic Native American artifacts, ancient petroglyphs, and current environmental restoration can be booked from $200 per person.
Jackson, Wyoming, gateway to Yellowstone and Grand Teton National Parks, is more fun in fall because the summer crowds are gone and the expert skiers -- celebrating the resort's 50th anniversary this year -- have not yet arrived. Explore Grand Teton National Park with a naturalist from the Teton Science Schools and see the wildlife in Yellowstone. Go horseback riding and experience the authentic Wyoming ranching culture. You can even ride the classic red tram up at Jackson Hole snow resort and mountain bike or hike down.
Camping: Getting Up Close with Changing Leaves
Everyone loves to see the leaves change. Our state-by state directory of leaf peeper hotlines guarantees you'll find the peak colors and in states you never even thought of.
With kids, choose leaf peeper road trips within a day's drive of home and break up your trip with plenty of fun stops. Bring zip-loc bags so you can collect different leaf species, nuts and pine cones for art projects; non-toxic Elmer's glue is perfect for scrapbooking flowers, leaves, tourist brochures or any colorful menus you find.
Camping out is a great activity for fall weekends, and autumn means perfect weather for hiking and fishing. Whether you're with friends or family, novices don't have to go far -- your nearest state park is a good bet. There's nothing like a bed of newly fallen leaves to make tent camping as comfy as home, but many of the more than 400 KOA campgrounds in the US and Canada also have RV space or rental cottages -- so you can go as rough or as rustic as you want. KOA campgrounds like the one in Lena, Illinois with its heated pool and rental tipi; and Buckeye Lake, Ohio with its own doggy playpark; have free Halloween activities including pumpkin painting, costume parties, and trick or treating each weekend in October. If you're taking a toddler, check out these tips for camping with little ones.
Easy Getaways: The Resort Life with Great Values
Maybe you aren't ready to give up the ease of a resort getaway where cooking, cleaning and planning the fun are already taken care of. Pack all the bathing suits for the sugar white sands and emerald waters of the Sandestin Golf and Beach Resort on Florida's Panhandle Gulf coast. Plan a weekend escape, girlfriend getaway or holiday vacation in a range of accommodations, from bayfront condos to private homes and hotels, and enjoy their seasonal sale: 30% off three nights or more (code: SAVE30), 25% off a blissful week- long stay (code: WEEKLY) and 20% off during midweek bookings (code: BEACH). Use the codes when booking online or call 877/319-9961 to hear more about the free fall perks -- like their playground and kids' activities, bikes, kayaks, mini golf and more.
Close to home, Cape May, New Jersey is another of the top 50 fall travel destinations identified by the Trivago.com hotel search engine. A pretty Victorian town on the Atlantic Ocean, it draws fall visitors with regular trolley tours of the Cape May Wine Trail (tastings included) which stop at some of the historic homes and wineries. Voted the #1 "Romantic Town in New Jersey" by Inside Jersey magazine, it also attracts lots of repeat visitors to the annual Victorian Weekend from October 9-11, featuring a family-friendly Chocolate Tasting Tour, Private Homes Tour, performances and more.
The Club Med Sandpiper Bay village in central Florida is very popular for multigenerational getaways. One of the only all-inclusive resorts in the United States, Sandpiper Bay's pretty waterfront setting and emphasis on sports and recreation (especially the world-class golf, tennis and fitness instruction) keep all ages busy and engaged.

Club Med's beautiful beach is a great place to relax after touring Cancun's Mayan sites.
Caribbean & Mexico: Fall for a Beachfront Paradise
For that sunny burst of tropical flavor, nothing beats the Caribbean. You'll find cheaper flights, top resort values and major music festivals on many islands during autumn. Take the whole family for a long weekend in Puerto Rico or the U.S. Virgin Islands -- no passports required, saving you over $135 per person right there. While cheaper, fall is also the height of the Caribbean hurricane season. Make sure to get travel insurance to cover non-refundable airfare, and check what kind of hurricane safety plan the hotel has in place.
Wellness, relaxation and the luxe life are combined at the tropical, all-inclusive Club Med Resorts in the Caribbean. Club Med Punta Cana, Dominican Republic, boasts a gorgeous beachfront setting ideal for a watersports adventure, or relaxation, whether you're traveling with adults or younger family members. This is the place to try CREACTIVE by Cirque du Soleil, a step up from the brand's famous circus schools, where all ages can learn both acrobatic and artistic circus arts. While adults enjoy three bars and the L'Occitane Spa, kids can try the sprawling lagoon pool and children's splash park with the GOs who run their kids clubs for ages 4 months to 17.
Mexico's Club Med Cancun Yucatan is the gateway to Mayan cultural riches on off-property tours, and has stylish two-bedroom family suites on the beach. Those who like history and archeology will be fascinated by ancient Mayan towns, such as Tulum or Coba and the eco-cultural nature and water parks such as Xcaret (great couples getaway destination for a fun babymoon), where you can now arrange to explore the Mayan jungle in the moonlight or dive into four different underground cenotes. In September, Xcaret is opening a net-enclosed aviary to protect the dwindling population of Scarlet Macaws; the four-story environment will also feature the strikingly colored Quetzal. At Xel-Ha, you can drift on crystal-clear underground rivers, take preschoolers to the special children's waterplay adventure zone, or enjoy Mayan folkloric shows.
The many fall festivals in the beach resort of Puerto Vallarta make autumn an ideal time to visit for families. Learn about traditional Mexican culture beside the Pacific Ocean by participating or just being spectators at these authentic events. The three-day Dia De Los Muertos honors family ancestors with colorful ceremonies and costumed parades, October 31- November 2, 2015.
Outdoor fun lovers should sign up for the November 8 Puerto Vallarta International Half Marathon, or the November 12-15 International Sailfish and Marlin Tournament, both of which attract thousands of visitors.
We love the International Gourmet Festival held for 10 days prior to Thanksgiving – great place to pick up new recipes.
Till October 31 you can win a family vacation for four to this coastal resort.
Get Smarter: City Getaways and Short Breaks
Is fall your time to explore city neighborhoods, see a new museum exhibit or a new play, check out the hottest restaurants or shop till you drop at pre-Black Friday sales? Trouble is, a lot of people agree with you and can drive hotel prices up. Book early and look for off-holiday weekends when business people have left town and holiday-makers haven't yet arrived.
With preschoolers, friends and significant others, fall is a great time of year to head to Orlando, a sophisticated city with fine museums, natural attractions like airboat rides through the Everglades, super stylish shopping, and great dining (made cheaper during the city's Magical Dining Month of September.) And the themeparks are busy too. Orlando has your wallet covered with big discounts at seven Downtown Disney hotels where rates begin at $69/night to coincide with Disney World's Mickey's Not-So-Scary Halloween Party (select nights September 1-October 31), and of course the giggly-spooky-in- the-dark Seven Dwarfs Mine Train coaster, also at Magic Kingdom Park. The Epcot International Food & Wine Festival takes place September 19-November 10. Tune your palate with tasting samples at 25 global marketplaces and the nightly "Eat To The Beat" concert series which make it a great getaway option with grown kids. The helpful tourist office, Visit Orlando features a calendar of local events and lots of new museum shows. By the way, Eileen Ogintz' Kid's Guide to Orlando notes that you can also refresh your summer tan because fall is warm enough for the city's famously themed hotel pools.
Top value Indianapolis is home to walkable neighborhoods, bargain hotels, free festivals and great dining, in addition to unexpected museums. The NCAA Hall of Champions, the public's eye into the organization that governs sports for 400,000 college athletes at more than 1,000 institutions of higher learning in the U.S. The two-level interactive experience highlights 23 different sports and the some of the best known plays and players from each -- ideal for those looking for an athletic scholarship or any avid athlete.
But Indianapolis boasts another famous family museum that's a must-see for everyone. The Children's Museum of Indianapolis works closely with academic institutions around the world to create compelling and entertaining exhibits, exemplified by its "Take Me There: China" show or remarkable Dinosphere collection of fossils. This fall explores both the "Teenage Mutant Ninja Turtles" and "National Geographic Sacred Journeys," a fascinating look at major world religions through artifacts that devotees collect and revere. Whether your family is Catholic, like the teen from Malta who lent his altar boy sash from a summer internship at the Vatican, or a Sikh like the Indianapolis family who lent their miniature Golden Temple icon, there is a lot to discover and discuss here. Perhaps a piece of the Wailing Wall, a fragment of fabric covering the Kaaba at Mecca, the travel trunk that Brigham Young took on his journey or the brightly painted Ganesh elephant god will spark your family's interest. Each artifact is respectfully displayed in context beside large photomurals by National Geographic photographers who have chronicled the journeys made by families all over the world in the name of religion.

Tibetan monks make sand manadalas at "National Geographic's Sacred Journeys" show at The Children's Museum of Indianapolis
Some big cities don't have that big city feel because sightseeing is done by car. San Diego, California does Halloween big, with "Spooktacular at SeaWorld" featuring trick-or-treat stations, live Halloween-themed shows and photo opps of your animal-costumed kids with real animals. At Legoland California Resort, admission includes the "Brick-or-Treat" celebration. More photo opps here: at the four-foot-tall jack-o-lantern made of bricks, and while trick-or-treating along the park's Brick-or-Treat Trail. Best yet, the entire month of October is Kids Free San Diego, when all the major attractions offer free admission to kids with paid adult admission. In total, more than 100 San Diego attractions, hotels and restaurants will offer Kids Free specials and lodging deals.
Last and certainly not least expensive, New York City is the fall vacation destination for millions. If you are visiting (and NYC & Company shares hotel deals), rest assured that the National 911 Memorial and Museum is a must stop on all levels. Whether you're on the plaza admiring the memorial pools, down below studying the museum artifacts left within the foundation of the former Twin Towers, or up on the three-level One World Trade Center Observatory, the site brings the events of that day into vivid context, even for kids not yet born when 9/11 occurred.
Autumn on the High Seas: Cruise
Are you an empty-nester with extra time and funds to travel, or parents of a recent grad who will begin their own lives soon? This fall is your time for a great adventure, perhaps a small ship cruise where you can learn something about the world, make new friends and scratch that travel itch. We like the portfolio at Adventuresmith Explorations because they focus on small ships heading to wonderful places. Their most popular destination for fall family cruises is fast-becoming the Pacific Northwest. Cruises in this region include everything from local cuisine and stunning fall foliage on the Columbia and Snake Rivers to whale and dolphin watching around the San Juan Islands. If you can book early, checkout the options for their most popular winter holiday expeditions and lock in the itinerary you want.
Opt for a cruise instead of a driving trip to see the best of the fall foliage. At this time of year, many of the major cruise lines sail special New England to Canada itineraries, an ideal escape whether you're looking for an adult getaway, a babymoon, or you'll bring preschoolers.
If a room with a view; healthy, farm-to-table meals paired with local wines; and fascinating historical sights fit the bill for your fall getaway, it's time for a Greek island cruise. This journal of a recent Celestyal cruise from Athens to Santorini and Mykonos shows how tourism is flourishing despite the economic crisis. The three-day cruise from Athens to the Cyclades islands, Kusadasi (to see Ephesus on the Turkish coast), Patmos and Crete (to see the Minoan civilization) departs weekly through the end of October and begins at $569 per person.
Check out our Family Cruise Guide roundup to decide which ship is best for your family. Shoulder season deals are everywhere and you might still be able to find a last-minute bargain for Thanksgiving or Christmas (our cruise critic recommends holiday cruises to ease stress), if you book right now.
Get Fall Travel Smarts: National Parks Savings
As we approach the 2016 centenary of the National Park Service, President Obama is launching his Every Kid in a Park initiative giving all 4th graders and their families free access to all national parks -- this fall.
Why not use it to explore one of the lesser known parks or monuments?
Theodore Roosevelt, sworn in as the 26th president after McKinley's assassination in 1901, was fascinated by the great outdoors. His 23-room Victorian summer white house, Sagamore Hill in Oyster Bay, New York, houses dozens of hunting trophies from his expeditions in the wild. It is said that without his passion for nature, Americans might never have had the 230 million of acres of land he preserved -- much more than any other president. How fitting that his childhood home and those of many other Roosevelts are protected by the National Park Service today.
Did you know Abraham Lincoln grew up in Spencer County, Indiana and was first exposed to the law there? NPS manages the Lincoln Boyhood National Memorial where he lived from 1816 to 1830, and where costumed rangers reenact the pioneer farmer's life as he might have lived it. Lincoln is close to Santa Claus, and the entire town -- including the Holiday World themepark, farm markets, local campgrounds and church -- start Halloween celebrations September 25 and continue weekends through November 1.
Perhaps your passion is history. Yorktown Victory Center, Virginia, celebrates the 234th anniversary of this decisive Revolutionary War victory on October 17 and 18, and many weekends in late autumn have special programming themed to the Thanksgiving and Christmas holidays. Notice the new building and 22,000-square-foot expansion as this popular site transitions into a more tech-savvy, interactive American Revolution Museum at Yorktown, set to open in 2016. Eileen Ogintz reminds us that with 395 more national parks to choose from, there's something special about each of them, especially if you're traveling with kids.
Big Kids Back to School: Campus Visits & College Touring
Like the sound of historic attractions, major sports and great music, but "urban getaway" sounding too rigorous? Head to a college town, the place for one-on-one time with your high school junior or senior or an all-in- the-family multigenerational affair. If you're the aunt or uncle who takes a teen for campus tours, the good news is that there are lots of fun things to do whether you are heading to a small college town or a major university hub.
Start by booking college tours, then do your homework about fun local events. Don't assume your kids would never be interested in a certain school; resources like UniGo help kids find the right fit with directories like "Never Lock Your Door," "Best Bang for your Buck," "No Last Call" or "The New Ivies." Trust us, your kids will have an opinion!
The University of Indiana campus is so welcoming that all ages will feel like students again, especially during the prime fall sports season. Right in the heart of walkable, livable Bloomington, the regal limestone IU (did you know 35 state capitols are built of Indiana limestone?) is surrounded by logo merchandise shops and cafes like Pour House, a converted bank where you can buy a soy latte from the drive-through window. Base yourselves at Four Winds Resort & Marina and rent a pontoon boat to see the foliage along the shores of Monroe Lake, a state park with its own weekend programming for families. Explore around the ca. 1909 Courthouse Square like a student during the Lotus World Music & Arts Festival September 24-27. There are daily performances ó some in the town's many churches ó of music from Finland, Ireland, Algeria and other countries, with lectures, Filipino dance lessons, workshops and children's programs. There's always something soothing going on at the Tibetan Mongolian Buddhist Cultural Center led by Arjia Rinpoche, where yoga, meditation and inter-faith teachings are open to the public. A don't miss temple of farm-to-table dining is the sophisticated Farm Bloomington, students' top pick for a night out with parents. From Homecoming through Christmas, weekends are so busy you'll have to book ahead; check with the Visit Bloomington office for seasonal hotel specials.
 
Ann Arbor, home to the University of Michigan, is also a great town to visit at any time of year. If your family is drawn to arts and culture, Ann Arbor is home to several terrific museums (two on the university campus are excellent and free of charge), dozens of galleries plus a rich offering of performing arts. If you are a sports enthusiast, you can watch a football game at "the Big House," the largest college stadium in the country. Not to mention dining at Blimpy Burger or touring the Jiffy Mix plant in Chelsea, nearby.  
Remember, don't try to cram too many schools in to one visit -- and certainly no more than two a day. Ask your teen to keep notes or shoot some video on their phone or tablet; otherwise, they all start to look the same.
Families with Special Challenges have Options
If you thought you couldn't travel because someone in your family has special challenges, think again. Several recreational groups design different outdoors programs for children with special challenges and their families. Summer programs such as kayaking and hiking continue through fall and, thanks to the work of so many volunteers, fees are usually on a sliding scale to accommodate a family's budget.
The very first ISA World Adaptive Surfing Championship will take place September 24-27 in La Jolla Shores, California, with clinics and competition for participants and spectators. All year round, visitors with physical disabilities will love Virginia Beach's Camp Grommet, a fully-accessible, 70-acre playground and camp facility on the beach. The whole community celebrates the 42nd Neptune Festival September 25-27, starting at the bronze King Neptune statue and continuing down the boardwalk with music, seafood treats, games, stained glass and ceramics vendors and more. October 4 marks the fundraiser for JT Grommet Park, which offers surfing lessons to the disabled, works with Wounded Warriors, and provides recreational activities for those with ALS.
In historic Janesville, Wisconsin, the Camden Playground in Palmer Park is a fully accessible funland with a wading pool, set among 164 acres of trails. Everyone in the family will like this cute town's free, wheelchair accessible weekend Historic Walking Tours which morph into eerie Cemetery Tours in October.
Los Cabos Adventures runs deep sea fishing charters and boating excursions in Baja California on a fully accessible boat designed for those in wheelchairs.
Autism on the Seas helps arrange vacations on land and sea for families with Autism, Aspergers Syndrome and other developmental disabilities. Most of the major themeparks make accommodations for those with disabilities. If you're coping with dietary needs or food allergies, Family Travel Forum's guide to Dining at Theme Parks shows you allergen-free alternatives.
Haunted Houses and Halloween Festivities
Halloween has morphed into one of the year's biggest holiday periods, with families traveling near and far to experience haunted houses, spooky festivals and gruesome gourmet delights. Whether you want to parade in your neighborhood, enjoy (suffer through?) an evening of fright at a theme park, go trick or treating at your zoo, or a stay at a haunted B&B there are lots of Halloween options, many close to home and some across the country.
Local attractions like the Hogle Zoo in Salt Lake City, Utah and the Rougarou Fest in Houma, Louisiana use dress up and Halloween style fun to highlight history and raise money for local causes.
 
The huge stone Fort Monroe, a decommissioned Army installation built on the shores of Chesapeake Bay around 1830, is at the heart of historic Hampton, Virginia. Show up there October 23-24 for guided Ghost Walks, then unearth more chills in the old Haunted Post Office (open last two weekends in October.) October 24-25, beware the British and American encampments downtown who will be re-enacting the Revolutionary Battle of Hampton from 1775.
Hauntings are up all over Chicago Southland, starting with daily October events at the 15-acre Corn Maze and enormous pumpkin patch at Odyssey Fun World. Don't miss the petting zoo, pig races and cow train in the heart of Tinley Park. Music, food, crafts, a kids zone and vintage baseball make up the Lansing Autumn Fest October 9-11. Over the weekends of October 17-18 and 24-25, the Brookfield Zoo's Boo! at the Zoo will have kids' costume parades while zookeepers share information about resident bats, ravens and spiders. Perhaps there's no greater Halloween action than at themeparks.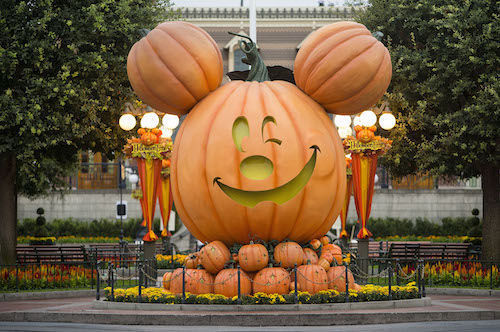 Halloween Fun and not-so-spooky decor makes Disneyland perfect for younger children.
Little Kids and Faint of Heart Halloween Fun
The Mickey's Not-So-Scary Halloween Party in Orlando, and Disneyland's Mickey's Halloween party, are both bigger than ever before, with many of these special-ticket evening parties going on between early September and Halloween. In Orlando, the lovable Mickey's Boo-To-You Halloween Parade and extra villainous characters will be on call; in Anaheim, California families can join the Monsters U Dance Party and learn the traditions of Dia de los Muertos. Note that select Walt Disney World Resort hotels are running 25% off savings, October 4-November 24; call 407/939-1309 or check out <http: disneyworld.disney.go.com="" special-offers="" fall-room="" "="" target="_blank">Fall offers.
 
SeaWorld's Spooktacular in Orlando and San Diego runs weekends from late September to Halloween, with special Halloween shows, photo ops with weird sea creatures, and the chance for little ones to show off their costumes. while dancing with life-sized, but not-too-scary, sea creatures. In Orlando, come early for the Sesame Street Count's Spooktacular Breakfast; an extra fee event.
Every weekend in October, at Legoland Florida, you can encourage kids to explore the Brick-or-Treat Trail and hunt for special commemorative LEGO bricks, delicious treats and other surprises. There are scavenger hunts in Miniland, costume contests divided into three age groupings 0-12, and lots of time to work on building an 8-foot-tall LEGO ghost. Don't miss selfies with the world's largest all-brick pumpkin.
Terrifying Halloween Frights for the Brave
Masters of the crafts of special effects makeup, lighting and visual effects, it's no wonder the Universal team put on Halloween Horror Nights like no other. Especially disturbing at the Universal Orlando park in Florida, and at Universal Studios in Los Angeles, are the Walking Dead who will populate the backlot attractions. The Black Sabbath 3D Maze and El Cucuy: the Boogeyman are among the many special ticket haunted happenings for this year.  Keep everyone under 13 safely at home!
Howl-o-Scream converts SeaWorld San Antonio in Texas into a deliciously adult event, where autumn nights feature Pain Lane, haunted houses, 13 evils, special libations, menu attractions and more wicked fun, for an extra fee. Friend four-packs are the best offer after 6pm; during the day the parks host a Halloween themed day of kids' fun.
 
The 18 Six Flags parks in the US, Mexico and Canada put on a Fright Fest unlike any of the events they do all year. Imagine your local themepark packed with family-friendly thrills by day, with nightfall bringing more scare zones, terror trails, haunted mazes plus nearly 200 zombies out to play. Fright Fest kicks up September 26 and runs weekends through November 1 with dozens of Halloween-themed shows and attractions.
Please note sustainable travel resources and ideas in the Comments field below that you'd like other travelers to be aware of, and don't forget to share your favorite fall adventures so we can include them in next year's Fall Getaways roundup.
This special FamilyTravelConsulting.com travel section contains advertising and some sponsored content. All opinions are based upon the author's actual travel experience and knowledge.