Escaping from everyday life during fall is one of travel's greatest secret pleasures: the perfect climate, right ratio of visitors to locals, meals that celebrate the harvest bounty, and off season prices that make it truly affordable. With frequent school and work breaks for the Jewish holidays, Columbus Day, Halloween, Veterans Day and Thanksgiving, there's plenty of opportunity to take advantage of resort, tour and airfare discounts.
So, whether you take a break with the kids or plan a rejuvenating girlfriends' getaway, need a quick staycation or just want to slip away with your partner for some "we" time, here are other favorite fall getaways, researched with TakingtheKids.com to tempt you.
Fall Festivals for Family Fun
September's the time to go apple picking and bring home a few bushels, so kids can practice their healthy eating and invent new fruit and vegetable recipes. Hop on a hayride to search for just the right pumpkin in mid-October. It's easy to find a u-pick farm with our directory of orchards and pumpkin patches near you and usually pretty cheap to make it an overnight adventure. Speaking of orchards, in California, the Cambria Scarecrow Festival kicks off September 29-October 2, a weekend when the hundreds of creative scarecrows designed by townies are on display. It's quite a spectacle because there are community scarecrow making sessions for a month prior, and on that weekend, the papier mache scarecrow bikers mount their wheels, the scarecrow nuns put on their habits, and the horror scarecrows are hidden away.
Autumn seems to make balloons fly higher. Snowmass, Colorado will send three dozen colorful hot air balloons soaring over this ski town and down the Roaring Fork Valley from September 16-18 during the Snowmass Balloon Festival. The Dallas suburb of Plano, which has grown fast thanks to the influx of large corporations and the many young families who follow them, is hosting the Plano Balloon Festival September 23-25. It features rides in a tethered balloon (ages 6+) that hovers for several minutes over the festival grounds. Don't miss the popular Balloon Glow at sundown, when the rigs' flames illuminate the sky. The grandmother of all festivals is the Albuquerque Balloon Fiesta in New Mexico, held this year from October 1-9. For the first time ever, 16 women pilots will compete in the 2016 U.S. Women's National Hot Air Balloon Championship during the festival. For an entirely different view over the antebellum mansions of Natchez, fly over to the Great Mississippi River Balloon Race October 14-15. In addition to three days of music, crafts vendors, carnival games and rides, there's Blufftoberfest, a beer garden featuring local microbrews from Natchez Brewing Company, Slowboat Brewing, Tin Roof and Covington Brewhouse.
The 15th annual North American Wife Carrying Championship (October 8) pits couples against each other on a 278-yard obstacle filled track at Sunday River, Maine's Fall Festival. Do you prefer Salted Chocolate Fudge or Bourbon Pecan? Missing your Bluebell? It's never too cold for all-natural Velvet Ice Cream in Utica, Ohio, whose family owners have been celebrating its success for the past century. Fall is no different; there are 30-minute factory tours each weekday, and Sunday special events with music, clowns and carriage rides each weekend through October 31.
At the four enormous Gaylord Hotels, Christmas comes in the autumn. November 10th is debut of "Lonestar Christmas" at the Gaylord Texan, where guests can decorate a gingerbread house, watch 40 ice sculptors at work, and practice figure skating and snow tubing skills right in the lobby. Outside Washington D.C at the Gaylord National, November 19 is the launch of "Christmas on the Potomac" -- a $199 special includes a room, unlimited access to the festivities and the ICE! Festival, ice slides, indoor snowfall and more.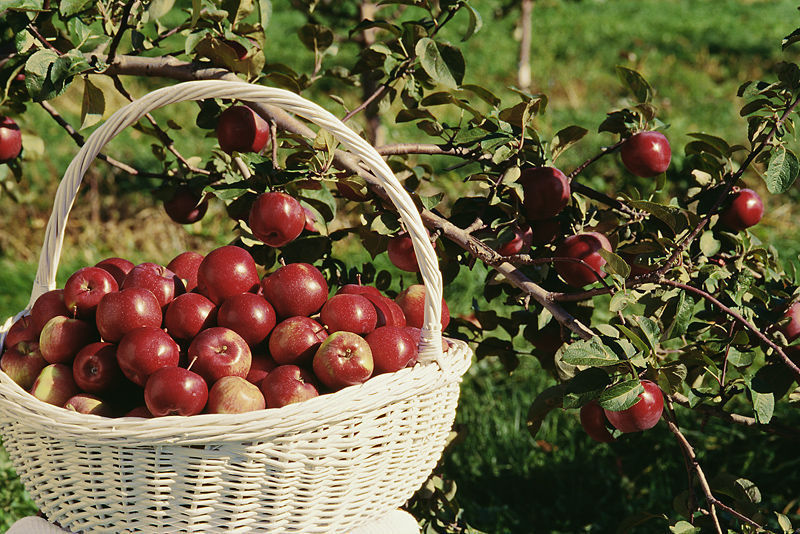 Apple picking makes for a healthy and fun fall daytrip. Check out our U-Pick Farm Directory for the one nearest you.
Harvest Fairs for Food, Wine & Oktoberfest Beer Tastings
The Great Plains Renaissance Festival takes over Wichita, Kansas from September 24-25, a time when knights, knaves and fairies educate the crowds about life in medieval times. In addition to enjoying the many performing artists, costumed re-enactors and tasty treats, stick around and participate in the annual Wagonmasters Chili Cookoff, which has brought 70 Midwest teams and thousands of spectators to eat, chill out and watch the crowning of Mr. Hot Stuff and Ms. Chili Pepper for more than 30 years.
Girlfriends can support each other in reaching new heights on a wine tasting, bike, horseback or canoe trip in California wine country. Borrow some gear, or rent what you need from REI to take off on foot or mountain bikes, or on a memorable road trip tour of the vineyards during harvest.The 42nd annual Sonoma County Harvest fair running September 30-October 2 promises plenty of wine and microbrew tastings. You can even participate in the World Championship Grape Stomp. Hotel prices are significantly lower than in summer and children are welcome.
In late September, Albany, New York celebrates the harvest season with the Apple and Wine Festival. Apple wine, hard cider, grape wine and heirloom hops are used to make local specialty beverages. The changing leaves are the focus of the 90-minute Dutch Apple sightseeing river cruises, with itineraries on the Hudson or through the Erie Canal locks in Troy.
In Germany, it's a month to showcase local beers, while enjoying Oktoberfest family events and community dinners where kids are always welcome. This year, Munich is celebrating the 500th anniversary of the Reinheitsgebot, the Beer Purity Law that regulates how Bavarian beers are made. Visit their Oktoberfest from September 17-October 3.
Several American towns with German heritage will celebrate along with them, tops among them being Oktoberfest Zinzinnati (September 16-18) which draws 500,000 Samuel Adams fans to Cincinnati for the Running of the Weiners dachshund races. Picture that these fans consumed 64,000 sauerkraut balls last year and you can see why it may not be the best weekend to visit. However, there are more than 6,000 festivals annually in Cincinnati and wonderfully educational family attractions on both sides of the Ohio River, open year round.
Vail Mountain celebrates its fall Oktoberfest over two weekends in September, with many family events scheduled in the base villages. The annual New Ulm Oktoberfest in Minnesota, which takes place in several venues during the weekends of October 8 and 15, features both local brews and wines.
Fall Foliage, Extreme Fun & Fitness
Travelers who love mountain resorts when there's no snow on the ground will appreciate all the fit fun in the Rockies, whether you're with kids, gal pals, those frat buddies or a significant other.
From September 15-18 in Aspen, Colorado, suit up for the 49th annual Ruggerfest, the world's only all-age, full-contact rugby tournament. Let the glimmering aspens take your breath away on a fall foliage drive along Maroon Creek Road, Castle Creek Road and Independence Pass for the peak leaf peeping. The Aspen Center for Environmental Science teaches fly fishing, offers sunrise yoga and leads all-age guided hikes. Regular visitor Eileen Ogintz has found lots of great values for the fall season for taking the kids.
Jackson, Wyoming, gateway to Yellowstone, is more fun in fall because the summer crowds are gone and the expert have not yet arrived. Explore Grand Teton National Park with a naturalist from the Teton Science Schools and see the wildlife in Yellowstone. Go horseback riding and experience the authentic Wyoming ranching culture. You can even ride the classic red tram up at Jackson Hole snow resort and mountain bike or hike down.
Opt for a cruise instead of a driving trip to see the best of the fall foliage. At this time of year, many of the major cruise lines sail special New England to Canada itineraries, an ideal escape whether you're looking for an adult getaway, a babymoon, or you'll bring preschoolers.
Camping: Getting Up Close with Changing Leaves
Everyone loves to see the leaves change. Our state-by state directory of leaf peeper hotlines guarantees you'll find the peak colors and in states you never even thought of.
With kids, choose leaf peeper road trips within a day's drive of home and break up your trip with plenty of fun stops. Bring zip-loc bags so you can collect different leaf species, nuts and pine cones for art projects; non-toxic Elmer's glue is perfect for scrapbooking flowers, leaves, tourist brochures or any colorful menus you find.
Camping out is a great activity and autumn means perfect weather for hiking and fishing. Whether you're with friends or family, novices don't have to go far -- your nearest state park is a good bet. If you're taking a toddler, check out these tips for camping with little ones.
One idea: Over the October 1-2nd weekend, the Roots n' Blues BBQ Festival in Columbia, Missouri, brings thousands to chow down on barbecue and hear 30 major artists doing roots, blues, gospel, country, folk, bluegrass, rock, and soul. Hear "Jaded" performed by Justine and the Highs, winners of this year's John Lennon Songwriting Contest. There are 35 campsites at Finger Lakes State Park for just $8.50 per night.
Caribbean & Mexico: Fall for a Beachfront Paradise
For that sunny burst of tropical flavor, nothing beats the Caribbean. You'll find cheaper flights, top resort values and major music festivals on many islands during autumn. Take the whole family for a long weekend in Puerto Rico or the U.S. Virgin Islands -- no passports required, saving you over $135 per person right there.
The first international Nickelodeon Resort has just opened on Uvero Alto Beach, Dominican Republic, backed by the signature Karisma Gourmet Inclusive experience found at their other luxury Caribbean resorts. Picture 208 colorful suites, 10 restaurants and bars (many of them a la carte), Nick inspired character dining and Kiddin' Kids Club experiences, and Nickelodeon Place where an orange blimp tops the Aqua Nick Water Playground and green inner tubes circle the lazy river. If you follow Eileen Ogintz' account of her recent Nick Resort visit, you'll want to book a fabulous spa treatment to coincide with the kids' sliming session so that all ages will emerge in a state of bliss. Nickelodeon Hotels & Resorts Punta Cana Winter specials are currently available with rates up to 50% off plus kids included offers; visit Nick Resort Punta Cana for more info.
We love the Caribbean coast of Mexico's Yucatan peninsula because prices really drop, even for the already top value budget all-inclusive Rivera Maya resorts. Of course, savvy travelers know this period is hurricane season and, although weather is always unpredictable, we strongly recommend you protect your vacation investment with travel insurance. Whether you're staying in Playacar, Playa del Carmen or near Tulum, count on at least one visit to the active, super fun, ecological park Experiencias Xcaret. This year, treat the family to a four-hour immersion at Xenses Park (an add-on to your Xcaret day), where they can test out their senses of smell, taste, touch, hearing and sight with 15 new activities, guided tours and a self-guided walk through a natural wonderland. At Xel-Ha near Tulum, you can drift on crystal-clear underground rivers, take preschoolers to the special children's waterplay adventure zone, or enjoy Mayan folkloric shows.
Mexico's Pacific Coast offers a different experience, combining beach with jungle and local culture. Puerto Vallarta is popular because visitors can do so much in the region. For example, all ages can tour the Estero del Salado Lagoon to look for some of the exotic bird species, iguanas, monkeys and other wildlife, or assist their team in a seasonal crocodile and turtle release program. Take some basic Spanish classes to learn even more. Ride the backroads in an ATV (ages 6+), or on a guided Jeep tour, or horseback ride with a local ranch guide past rivers, waterfalls and through picturesque mountaintop villages (recommended for ages 10+). Everyone will enjoy getting to know the locals and their cuisine on a taco tour at the many village taquerias. And through October 31, you'll have a chance to win a six-night family vacation to Puerto Vallarta, by selecting three night's each at one of the top hotels (Hotel El Pescador, Los Arcos, Melia Puerto Vallarta All-Inclusive, Plaza Pelicanos Grand, Hotel Rosita, The Westin Resort & Spa Puerto Vallarta, Hotel San Marino and Velas Vallarta). For more travel information, surf over to Visit Puerto Vallarta.
Get Smarter: City Getaways and Short Breaks
Once kids go back to school, we can all feel the buzz in the air of America's great cities. If you're into culture and cuisine – or if you're planning campus visits with college-bound teens -- a city escape should be on your autumn to-do list. Just book a weekend so that you're not competing for hotel rooms with business travelers. You can see more with discounted prepaid admission, see it faster with first-in-line privileges, and see it easier with a mini-guide and map when you choose a CityPASS. With 12 major cities (Atlanta, Boston, Chicago, Dallas, Houston, New York City, Philadelphia, San Francisco, Seattle, Southern California, Tampa Bay and Toronto) covered by the CityPASS program, travelers have a lot to choose from. Blogger Daphne Gil loved her Southern California CityPASS admission card because her family saved nearly 30% off a package that included a prepaid 3-Day Disneyland Resort Park Hopper ticket, plus one-day admissions to LEGOLAND California and SeaWorld San Diego.
With preschoolers, friends and significant others, fall is a great time of year to head to Orlando, a sophisticated city with fine museums, natural attractions like airboat rides through the Everglades, super stylish shopping, and great dining (made cheaper during the city's Magical Dining Month from August 20-October 2.) Orlando has your wallet covered with big discounts and lots new at the brand new, enhanced Disney Springs area, formerly known as Downtown Disney, where hotel rates begin at $69 per night. By the way, Eileen Ogintz' Kid's Guide to Orlando notes that you can also refresh your summer tan because fall is warm enough for the city's famously themed hotel pools.
The Bezos Center for Innovation has brought a new player into Seattle's active museum scene. The city famous for Pike's Place Market and the original Starbucks is also home to the Boeing Future of Flight Aviation, one of the country's top factory tours. The Pacific Science Center and Aquarium are among the top attractions featured on the Seattle CityPASS.
For a New York City fall vacation, plan ahead to keep your budget in check. On the NYC & Company calendar you'll discover some obvious days to avoid (opening of United Nations, Thanksgiving, etc). Do come for Oktoberfest (weekends September 17-October 2) at South Street Seaport, which has undergone restoration and an infusion of hipster boutiques and good eats thanks to young designers and food trucks from Smorgasburg, in Williamsburg, Brooklyn. While downtown, don't miss the National 911 Memorial and Museum, a must stop on all levels. You may not get tickets to "Hamilton" while you're in town, but the real crowd-pleaser this season for all ages is "Paramour," Cirque du Soleil's latest show at the Lyric Theatre. With a silly and kid-friendly love story set in the 1930s-1940s Golden Age of Hollywood, a nostalgic score of show tunes performed by a live orchestra, a professional cast of 16 actors, and 22 amazing acrobats, jugglers, gymnasts, dancers and doers of death-defying feats you'd expect from Cirque du Soleil; this is Broadway's top entertainment value for families.
Big Kids Back to School: Campus Visits & College Touring
A campus visit, whether in a small college town or a major university hub, is the time to connect with your high-schooler, It can also be an all-in-the-family multigenerational vacation. If you're the aunt or uncle who takes a teen for campus tours, the good news is that there are lots of fun things to do no matter where you're heading. Start by booking college tours; this recent college grad has good tips on how to save money on student travel during this busy period.
San Diego is one example of a town for all ages -- did you know there are 19 other colleges and community colleges besides UCSD? For the fifth year, October is Kids Free San Diego month, when more than 110 hotels (extra perks at the Omni and Hilton among others), restaurants (free kids menu meals in the Old Town), attractions, museums (Fleet Science Center and the Maritime Museums welcome kids under 12 free). Other venues offer a variety of incentives, plus the weather is beautiful.
While you know California, Massachusetts, New York, Texas and Ohio boast huge numbers of colleges and universities, Pennsylvania, particularly Pittsburgh, boasts quite of few of the best, including Carnegie Mellon, the University of Pittsburgh, Duquesne University and the Art Institute of Pittsburgh. Read about what's doing in the arts and culture scene in Pittsburgh these days and put one of those schools on your list.
Jolly Old England and Beyond
Visiting England post-Brexit is less expensive than it has been in years. London is bursting with events during the third annual Autumn Season of Culture spotlighting a huge expansion of favorite venues, new exhibits, theater and festivals. For example, October 12 is the opening day of "Wonderlab: The Statoil Gallery" at the Science Museum in London, where science comes to life and your imagination can go wild. Don't forget that most of London's most popular museums and galleries – the V&A, the British Museum, the Tate Britain and the Tate Modern are free-of-charge.
Harry Potter fans of any age will get a big bang out of the Warner Bros. Studio Tour, The Making of Harry Potter in Leavenden outside of London. Eileen Ogintz reports on her recent visit. If you buy a London Pass or top value Oyster Card, you can visit Kings Cross Station, the London tube stop featured in the "Harry Potter" series as Platform 9-3/4, the portal to the wizarding world.
If you want to get out of the big city and get a taste of the life in Downton Abbey, Plan a "Brilliant" Holiday in the English Countryside to sip tea in manor houses, visit quaint cottages, and stroll through a magical forest in the Cotswolds and in the coastal counties of Devon and Dorset.
Are you an empty-nester with extra time and funds to travel, or parents of a recent grad who will begin their own lives soon? This fall is your time to explore Europe on a river cruise, a great option for families looking for a leisurely way to appreciate new cultures. We sampled the best of French style, cuisine and culture on a Croisieurope cruise.
Explore the National Parks & Presidential Monuments
On September 1, 2016, the Obama Administration launched the second year of the wildly successful Every Kid in a Park program, which grants free entry for fourth graders and up to three accompanying adults (or an entire non-commercial vehicle) at more than 2,000 sites across the country. Transportation costs have been paid for nearly half a million fourth graders to attend Every Kid in a Park fieldtrips through a combination of philanthropic support and existing federal funding and, in addition to passes handed out at federal lands and waters in the past year, there have been more than a million visitors to the everykidinapark.gov website. Why not visit one this fall?
It's the country's busiest park all year round, but we think Great Smoky Mountains National Park is at its best in fall, when the crowds depart and the leaves turn into a riot of color. Many families base themselves in Gatlinburg or Pigeon Forge, Tennessee and get caught up in all the fun touristy things to do, so allow some time to hike a few trails or partake in some Junior Ranger activities.
A lesser known and hard to overlook NPS property is the Waco Mammoth National Monument, the largest known find of young Colombian mammoths thought to be part of a nursery herd. On September 23, kids can contribute any artwork about their favorite fossils to the 6th annual National Fossil Day Art Contest for a chance to take it to the national finals. Waco, Texas has other firsts, ranging from the Texas Ranger Hall of Fame (honoring the nation's oldest law enforcement group) to sorghum pecan ice-cream, to Magnolia Market, the décor shop owned by Chip and Joanna of HGTV's "Fixer Upper" fame. In fact, this Waco couple has really put the town on the map, with more than 35,000 visitors arriving at their shop and B&B each week to see the homes they have restored.
Visit Hyde Park, in Dutchess County, New York -– home to four National Park Service sites. This year is the 75th anniversary of the FDR Presidential Library and Museum, the place to introduce your family to the New Deal and World War II. Visiting from New York City has become much easier since the NPS launched the free Roosevelt Ride hybrid bus, which shuttles daily from the Poughkeepsie train station to the FDR Home; the Library; Eleanor Roosevelt's Val-Kill Cottage and the Vanderbilt Mansion. Hikers will find several of these sites linked by the 10-mile-long Historic Hyde Park Trail, and some are open to bikes through November. Ask the kids to download free podcasts at each stop to narrate your visit.
Combine a love for the national parks with your kids' interest in learning more about past presidents, a great conversation starter in this election year. Eileen Ogintz tours the homes of several presidents, from Abraham Lincoln (his farm in Indiana and his home in Illinois) to Jimmy Carter (Georgia) to learn more about their role in our history.

Tybee Island's Pirate Fest is one of many unusual fall festivals accessible to all around the country.
Families with Special Challenges have Options
If you thought you couldn't travel because someone in your family has special challenges, think again. Several recreational groups design different outdoors programs for children with special challenges and their families. Summer programs such as kayaking and hiking continue through fall and, thanks to the work of so many volunteers, fees are usually on a sliding scale to accommodate a family's budget.
The ISA World Adaptive Surfing Championship will take place September 24-27 in La Jolla Shores, California, with clinics and competition for participants and spectators. All year round, visitors with physical disabilities will love Virginia Beach's Camp Grommet, a fully-accessible, 70-acre playground and camp facility on the beach. The whole community celebrates the 43rd Neptune Festival September 30-October 2, starting at the bronze King Neptune statue and continuing down the boardwalk with music, seafood treats, games, stained glass and ceramics vendors and more. October 23 marks the fundraiser for JT Grommet Park, which offers surfing lessons to the disabled, works with Wounded Warriors, and provides recreational activities for those with ALS.
In historic Janesville, Wisconsin, the Camden Playground in Palmer Park is a fully accessible funland with a wading pool, set among 164 acres of trails. Everyone in the family will like this cute town's free, wheelchair accessible weekend Historic Walking Tours which morph into eerie Cemetery Tours in October.
Autism on the Seas helps arrange vacations on land and sea for families with Autism, Aspergers Syndrome and other developmental disabilities. Most of the major themeparks make accommodations for those with disabilities. If you're coping with dietary needs or food allergies, Family Travel Forum's guide to Dining at Theme Parks shows you allergen-free alternatives.
Travel Sustainably, Volunteer Your Skills
There's no better time to plan how your family can incorporate social good into your next travel adventure, and it's easy. During September, you can help feed others with the Dine Out for No Kid Hungry campaign which is collecting donations from nationwide chain restaurants like the Corner Bakery Cafe and Denny's, as well as local eateries. Remember even one dollar can provide 10 meals. Or, involve the kids in leaving a gratuity, small gift or personalized "Thank You" for a hotel or restaurant worker you meet in your travels. The non-profit Pack for a Purpose has great tips on their website on what to bring and how to pack it, so that your host destination gets the most benefit from your charity.
All 413 National Park Service sites will have free entrance on National Public Lands Day, which takes place September 24. In past years, more than 200,000 people have participated in the country's largest, single-day volunteer effort for public land, and 2,500 projects are being planned for this year. Note that volunteers will receive a voucher that permits them into a national park free on another day.
If your children have chosen a gap year in their education, or if you've got willing pals, a special companion or want to go it alone, there's no better time to plan a volunteer vacation, in every corner of the world or right near home. Ways to give back in parks and conservation reserves range from wildlife tracking to weeding to guided archeological digs; in communities, it could be reading lessons, building schoolrooms or painting houses. Dozens of not-for-profit organizations, beginning with your local church or kids' school, help organize international travel with volunteer opportunities.
Haunted Houses and Halloween Festivities
Halloween has morphed into one of the year's biggest holiday periods, with families traveling near and far to experience haunted houses, spooky festivals and gruesome gourmet delights. Whether you want to parade in your neighborhood, enjoy (suffer through?) an evening of fright at a theme park, go trick or treating at your zoo, or a stay at a haunted B&B there are lots of Halloween options, many close to home and some across the country.
Local attractions like the Hogle Zoo in Salt Lake City, Utah and the Rougarou Fest in Houma, Louisiana use dress up and Halloween style fun to highlight history and raise money for local causes.
Weeknights in October, make free advance reservations online to see the beautiful New York State Capitol on a "Capitol Hauntings Tour" and meet the ghost of Samuel Abbott, the night watchman who died there in a 1911 fire. This tour has been immortalized with its own Listen with the Lights On podcast.
Little Kids and Faint of Heart Halloween Fun
Want to treat the toddlers or grandkids to something special? All 13 Great Wolf Lodge indoor waterpark resorts will present a friendly Howl-O-Ween festival daily in October. Dress up to join the nightly costume parade in the lobby, roam the Trick or Treat Trail throughout the resort, listen to Spooktacular Story Time, and boogie along at the Monster Bash Dance Party. The on-site Scooops Kids Spas pamper children of all ages, who can don a pink plush bathrobe, tiara and Spa sash, sit on a banana split throne, and enjoy a Mom and Me Pedicure, sherbet scrubs and fizzy soaks. To book it, visit greatwolf.com and enter the promo code: HOWL – don't worry, costumed characters help protect little ones from any frights. In December, just as the resorts begin their popular Snowland transformation, the newest Great Wolf Lodge will open in Colorado Springs.
Disney World's Mickey's Not-So-Scary Halloween Party (select nights September 2-October 31) in Orlando, and Disneyland's Mickey's Halloween party, are both bigger than ever before, with many of these special-ticket evening parties going on between early September and Halloween eve. In Orlando, the lovable Mickey's Boo-To-You Halloween Parade and extra villainous characters will be on call; in Anaheim, California families can attend the Main St. Pumpkin Festival and learn the traditions of Dia de los Muertos.
SeaWorld's Spooktacular in Orlando (weekends through October), San Antonio (select days September 30-October 30) and San Diego (Sept. 24-25 plus weekends through October) welcomes little ones to show off their costumes at special Halloween events such as an underwater "fantasia," trick-or-treating throughout the park, photo ops with whimsical characters and sea-creature encounters.
Every weekend in October, and on Halloween, at Legoland Florida, you can encourage kids to explore the Brick-or-Treat Trail. There are scavenger hunts (with prizes), trick-or-treating along the trail, huge Lego models and fireworks. Don't miss selfies with the world's largest all-brick pumpkin. If you're out west, stop by Legoland California for one of the five Brick-or-Treat day-long festivals in October.

The Roger Williams Zoo is one of many festivals that Rhode Island residents like to celebrate.
Terrifying Halloween Frights at Theme Parks
Masters of the crafts of special effects makeup, lighting and visual effects, it's no wonder the Universal team put on Halloween Horror Nights like no other. Especially disturbing at the Universal Orlando park in Florida, and at Universal Studios in Los Angeles are characters from "American Horror Show" and "The Texas Chainsaw Massacre" who will populate the backlot attractions. Mind-boggling mazes, frightening shows and Scare Zones such as Dead Man's Wharf and a Chance in Hell make for a super creepy night. Keep everyone under 13 safely at home!
Howl-o-Scream converts SeaWorld San Antonio in Texas into a deliciously adult event, where autumn nights September 30-October 30 feature haunted houses, special libations, three new Scare Zones and more wicked fun during "Evil Encore." During the day, the park hosts a Halloween themed day of kids' fun.
The 18 Six Flags parks in the US, Mexico and Canada put on a Fright Fest unlike any of the events they do all year. Imagine your local themepark packed with family-friendly thrills by day, with nightfall bringing more scare zones, terror trails, haunted mazes and blood-thirsty creatures out to play. Fright Fest kicks up September 24 and runs weekends through October with dozens of Halloween-themed shows and attractions.
Let us know what you think is fun this fall, in the Comments section below.
Wherever you see ads or images within this special FamilyTravelConsulting.com travel section, the advertising and custom content has been brought to you by our sponsors. All other content and opinions are based upon the authors' actual travel experience and knowledge.