The perfect spring break getaway is one of the easiest and best value vacations to plan. Tucked between the pricey winter holidays and the hot, crowded summer ones (or vice versa in some parts of the world), vacations between February and April are easier on your budget, too.
We join our colleagues at Taking the Kids to recommend getaways that guarantee a better-than-college spring break experience, whatever your budget or appetite for adventure.
Spring Break Beach & Watersports Getaways
More than 55% of students polled by CheapTickets.com are planning a spring break getaway, with beach vacations the most popular choice for all ages. However, smart travelers have learned that you don't need to go very far -- or rely on weather -- when you choose one of the dozen Great Wolf Lodge indoor waterpark resorts. These close-to-home resorts are the way to introduce little ones to the fun of waterplay in a safe setting and, once you've got a room key, all ages can play at the pool, day and night, even if snow is piling up outside. The Great Wolf Lodge in the Poconos Mountains of Pennsylvania is a family favorite, now offering healthier meals at the Loose Moose Family Kitchen. A brand new Southern California resort is opening in March. With the "More Fun for Less" promotion, valid through mid-March, families can save 20% on a two night stay at the Great Wolf Lodge of your choice. Enter promo code MOREFUN.
Pack wet suits for the kids if you're headed to Mission Bay in San Diego, a popular beach area for surfing and sun. Fortunately, there's more to do after you pack up your beach umbrella. At California's world-famous San Diego Zoo, home to three rare panda bears, there is an add-on option to enter the zoo before opening to experience an Early Morning Visit with Pandas while they eat breakfast. This two-hour event also includes a zoo tour kids will love with up-to-date information on the zoo's conservation efforts.
Ready for a warm beach? Florida's Emerald Coast, known for its clear and calm emerald green Gulf of Mexico waters, is a favorite spring destination because it's easy to get to and has temperate weather year round. The region's top resort, Sandestin Golf & Beach Resort (877/319-9961), comprises 7 miles of white sand beach with 1,300 lodging options ranging from condos to golf course-view homes and hotels, on 2,400 landscaped acres. In addition to watersports and four championship golf courses, seasonal activities include riding the resort shuttle (our kids loved this!), tennis, beach volleyball, pirate dinners, spa breaks, movies at the Marina shopping area, Wednesday night concerts and their annual Wine Festival, coming up April 14-17, 2016. Spring specials include 30% off three nights or more (Promo Code: SAVE30) through March 3 and 25% off discounts (Promo Code: SB2016) during the peak weeks March 4-April 16, 2016.
Alternatively, take a flight to Montego Bay and you will be in the heart of Jamaica's second largest city, near the island's famous beaches and attractions such as Dunn's River Falls. This is the gateway to family-favorite all-inclusive and luxury resorts, with spring packages at all price points.
Spring Cruises for Kids, Teens, Couples And Grands
Cruises are always a good bet for relaxing reunions because meals and accommodations are pre-arranged and paid for, and there's no worrying about getting to the next destination. If grandparents are along, the supervised programs for infants, tots, kids and teens – not to mention the scheduled bridge games – keep everyone in the family busy.

AdventureSmith Explorations Founder and President Todd Smith with his family in Alaska's Glacier Bay National Park, only one of the many family-specific itineraries the company offers around the world.
For an alternative cruise experience that's perfect with older kids, talk to the experts at AdventureSmith Explorations, who will plan your family travel on small capacity, adventure-oriented ships around the world. For 2016, they are celebrating the National Parks Centennial with 18 Ways to Cruise a National Park, on cruises that sail through Alaska's Glacier Bay National Park or along the shores of Washington's Olympic National Park. Choose from yachts and expedition vessels in Alaska, British Columbia and Oregon, or sail farther to Baja, Costa Rica or Australia. Spring is an excellent time for families to visit the Galapagos Islands, as warmer ocean temperatures make it easier to snorkel and interact with marine wildlife.
Hesitant about the weather at your preferred destination? Check out Royal Caribbean's newest ship for virtually weather-proof cruising on Anthem of the Seas or explore more tropical options in our Family Cruise Section, where you'll find many reviews of the major cruise lines.
Expert advice is crucial to success. Visit a travel agent who is a cruise expert by looking at Cruising.org, the website of the cruise industry's trade association, or ASTA, the professional travel agents association, for cruise specialists near you.
Spring Trips Can Put Fun and Culture in Context
Teens are looking for meaning and culture on vacation, according to Family Travel Forum's 2015 Teen Travel Writing Scholarship Trends Report, which found 12% of applicants cited "Heritage" and 21% "Cultural Exploration" as motivation for their travels.
Discover that New England spirit and determination driving one of our leading presidential candidates, Bernie Sanders, governor of Vermont. With lots of snow falling during primary season, Northeast families are heading to the Green Mountains, where Stratton Resort boasts southern Vermont's highest peak. There's alpine skiing and riding for all abilities, well-regarded teaching programs with locals, and even a covered Magic Carpet in a dedicated learning zone for children. A big menu of resort spring break activities includes snowshoe tours, snowmobiling and dogsledding, and fun at the indoor saltwater pool. Use their Kids Night Out programs or recommended childcare to try the new Base Lodge's restaurant for dinner and live music, grab the teens to talk current events over a hot Vermont cider in the village, or just kick back by the fireplace together in your condo and enjoy a fondue made with Vermont cheddar.
Explore African-American arts during Black History Month and all year in Kansas City. The historic and fun 18th & Vine District is home to the American Jazz Museum, which puts on regular Open Jazz Rehearsals so visitors can watch musicians practice and talk about their artistry. Nearby, the Negro Leagues Baseball Museum celebrates the success of black athletes in the era between the Civil War and the Civil Rights Movement, when baseball and other sports were not integrated.
Washington, DC boasts some of the nation's finest museums and annual festivals, totally free. Learn about our cultural ties to Japan during the National Cherry Blossom Festival which runs March 20- April 17 and includes a special Blossom Kite Festival on April 2. May brings the international Passport DC to the nation's capital. Over 50 embassies will open their doors and present a cultural exchange to visitors of all ages. They also host an International Children's Festival and a China-inspired Dragon Boat Festival May 21-22. Don't forget that the tips in Eileen Ogintz' "Kids Guide to Washington DC" will help kids lead the way.
Combine culture, learning and giving back while cruising the Caribbean with Fathom, a new Carnival brand. Through March 2016, families can book the line's "Buy One Get One Cruise to the Dominican Republic free" offer, and explore a beautiful country with a rich history yet great needs, too. Fortunately, the country has a strong and deep-rooted infrastructure for transformation. Sustainable tourism programs for the Dominican Republic may include helping a local women's cooperative produce artisan chocolates, working in a classroom, or helping with a building project. The 700-passenger ships have the fun facilities you'd expect on a cruise: a pool, games deck, spa and fitness center; plus programs including conversational Spanish, the environment, and economic development. Besides volunteer options in the Dominican Republic, there will be time for scuba lessons, snorkeling, zip lining and relaxation on the beach.
The 10th Annual Sacred Mayan Journey, the re-creation of a pre-Hispanic ritual to honor of the goddess Ixchel takes place in Cozumel in May. The ceremony is organized under the aegis of Xcaret, a cultural nature park in the Riviera Maya that combines animal and natural elements with a focus on Mexican culture. If you wish to observe or participate, check their site for information, and to learn more about all their fabulous attractions.
Short City Breaks in Spring
We all agree that travel is educational and, with tremendous innovation and creativity shaping the major museums, now is the time to take a city break packed with culture.
Skip the long lines and save big on an urban spring break getaway with the CityPASS program, which offers discounted (typically 40-50%), prepaid admission to top attractions in 12 North American cities: Atlanta, Boston, Chicago, Dallas, Houston, New York, Philadelphia, San Francisco, Seattle, Southern California, Tampa Bay and Toronto.
In an expensive town like New York – where the kids want to see everything -- CityPASS ticket booklets will save 42% off individual entry to top attractions such as the American Museum of Natural History. This place may be old but it isn't boring – spring is the season to catch the impressive, 122-foot-long Titanosaur poking his/her head out of 4th floor gallery (see our video). While the museum's floor would never have supported the dinosaur's living weight of 70 tons, it wouldn't support heavy fossilized bones either, so a 3D printer was used to create this fiberglass replica based on the 84 huge bones found in Patagonia. On March 21, the new Dinosaurs Among Us exhibit will examine the prehistoric creatures which evolved into birds; look closely for the four-winged dromaeosaur whose wing span is only 22". CityPASS is also valid at great museums such as the Metropolitan Museum of Art, 9/11 Memorial and Museum, and the Intrepid Sea, Air and Space Museum so you can see them all.
Go abroad in spring; Paris is at its best and well worth supporting as France rebuilds tourists' confidence. Show your solidarity with the locals by shopping, eating and taking a special family tour of the Louvre as Eileen Ogintz recently did. February 11-14 is the annual Taste of Paris food festival at the beautiful Grand Palais, a great place to introduce picky young eaters to one of the world's most sophisticated cuisines. Lunch sessions, when you can drop by the hundreds of food vendors, "Chefs' Theatre" and "Chefs' Secrets" events, cost 15€ to enter and dishes are priced between 5€ and 12€ -- a bargain. If you are traveling with self-proclaimed foodies, invest in a Gourmet Pass for 45€, which includes a credit of 35€ to spend on their fantasy tastes. Any time is a good time to take a cooking class with the kids.
Make the Most of Touring College Towns and Campus Visits
Since many college kids are away on spring break, it's the perfect time of year to plan campus visits. Make a vacation out of visiting the coveted surf schools in southern California, the action-packed ski schools in Colorado, the Ivy League schools of the Northeast, and major universities in and around many great cities.
With more than 100 colleges in the Greater Boston area, there are plenty of options for college touring along with a slew of Boston activities and attractions for the whole family in Beantown. If you're really into fossils, don't miss the Museum of Science's 65-million-year-old Triceratops Cliff (yes, Cliff is his first name!), who's made up of authentic bones discovered in the Dakota Badlands in 2004 plus lots of cast skeleton parts. A visit is included in the Boston CityPASS ticket booklet that saves you 43% off the top four attractions.
Book your weekend campus tours ahead of arrival, so you can take advantage of lower Saturday night rates at city hotels. At any of the 60 family-friendly Omni Hotels, for example, you can relax in comfort knowing you've got a great deal. Guests who stay two or more nights receive up to 15% off the best available rates and, at participating resorts, complimentary breakfast to start your day. Check out the beautiful Omni resorts like Barton Creek (near UT Austin) and the Grove Park Inn (near UNC Asheville).
Get Active Outdoors: Recreation In The Spring
If sports rule in your household, this is the time to take your team to spring training, a mainstay at small stadiums in Florida and Arizona. You'll find special lodging packages close to every stadium; Kissimmee Florida, for example, is a great place to catch the Houston Astros in training followed by an afternoon at the nearby Orlando themeparks.
In Peoria, Arizona, spend the afternoon watching the San Diego Padres or Seattle Mariners get into form, then head out after dark to do a night vision tour of the starlit desert and get to know the region's nocturnal creatures.
Grandparents, on the other hand, may find it perfect weather to introduce the grandkids to their passion for golf. One of TripAdvisor's top 2016 Destinations on the Rise, Destin, Florida has tons of family-friendly recreation, ranging from laid back shell-gathering and fishing, to more active scuba diving, tennis and year-round golf. That makes it perfect for a multigenerational vacation, and Wyndham Vacation Rentals, voted "Best Vacation Rental Service Firm" by Emerald Coast Magazine, has the largest selection of rentals in the area through its ResortQuest brand. Ideal for families and large groups (some homes sleep up to 26!), the properties offer extra space, multiple bedrooms, full kitchens, washers and dryers and more.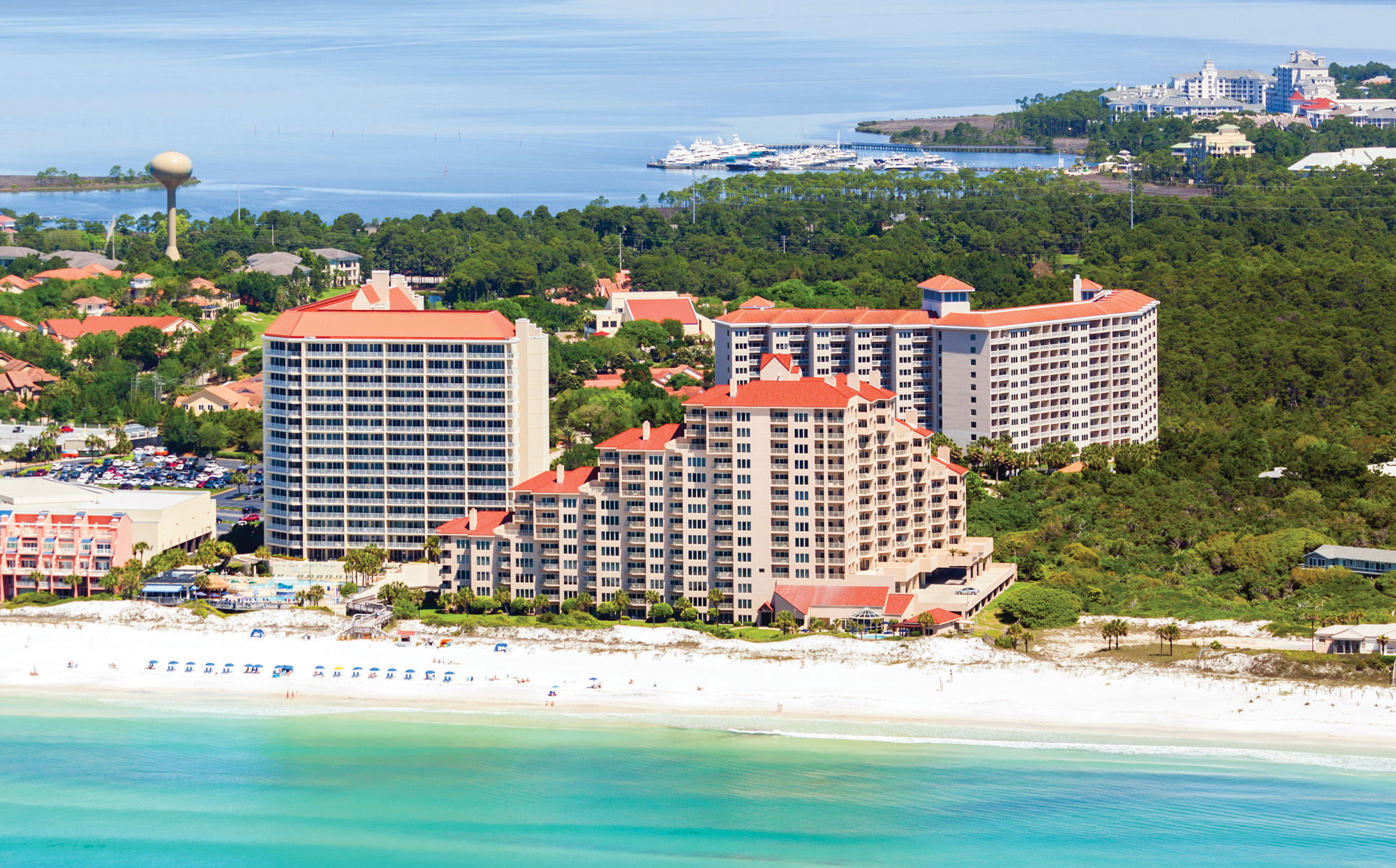 Managed by ResortQuest by Wyndham Vacation Rentals, TOPS'L Beach & Racquet Resort is consistently ranked among the top tennis resorts in the world.
Families who like their independence might pick a full-service resort such as TOPS'L Beach & Racquet Resort, which has one of the top tennis programs. Prefer to stay, sleep and dine with the clan? Then one of the rental villas along the Gulf of Mexico, or a private house on the greens is for you. Wyndham's Vacation Rental Bill of Rights guarantees each unit is professionally managed and inspected.
Last year, almost 293 million people visited America's national parks; this year, celebrate the Centennial of the National Parks together. Use the new site FindYourPark.com to plan a trip during National Park Week (April 16- 24) when all 409 parks and monuments are free for all ages. Fourth graders and their families get admission free to all the parks all year. Many National Park Service properties organize free, ranger-led hikes and nature walks; others have safe areas to bike or canoe.
At Yellowstone National Park, for example, guests can traverse the snow-packed trails to Old Faithful on private Snowcoach tours, or check into lodges to snowshoe, snowmobile or go ice-fishing before everything melts.
The YMCA of the Rockies will hold a family winter mountaineering weekend Feb. 26-28 to prepare guests with the skills they need to enjoy Colorado, such as backcountry skiing, winter survival skills, and tips for hiking with children. Rates begin at $79/night per room; see the YMCA of the Rockies schedule to book.
Snow Sports in the Spring Sunshine
How many websites do you have to visit to plan the perfect family ski or snowboarding vacation? Save time at Ski.com where you'll find everything you need to know about 120 resorts worldwide. Use their intuitive tools like the new Resort Finder to narrow down the choices based on expert recommendations, then book online or confer with their Mountain Vacation Specialists who average 28 years in the ski travel industry handling family ski vacations. Our annual roundup of the Top Family Snow Sports Resorts has more reviews and snow sports destination ideas.
Proximity to the Salt Lake City Airport makes Utah mountain resorts convenient for a spring break getaway. The luxurious Snowbasin Resort, about 35 miles north in Ogden, is celebrating its 75th anniversary this year. They are participating in Ogden 's new Ski3Pass that enables visitors to buy 3 lift tickets for use at Snowbasin, Powder or Nordic Valley for just $159. We like their innovative Burton Dino Riglet Park, a specially groomed beginner area that uses terrain based learning combined with special equipment to get kids ages 3 and up riding and doing tricks on tiny snowboards.
Families that are comprised of those who live to ski and those who prefer not to will find it all at Ski Santa Fe. Located only 16 miles from Santa Fe's cultural attractions in and around The Plaza, and nestled in the Sangre de Cristo Mountains, it is among the highest ski areas in the US at 10,350 feet and provides lessons for all ages.

Cross-country ski or horseback ride through 600 acres of trails at Vista Verde, a luxury Colorado dude ranch.
Vista Verde Ranch outside Steamboat Springs, Colorado features guided backcountry skiing, horseback riding, snowshoeing, tubing (with a snowmobile ride back up the hill), and sleigh rides as part of all-inclusive family spring break vacation packages through March 24. Explore 600 acres of winter wonderland together, or enroll the kids in their supervised program while you take indoor horsemanship clinics, yoga and Pilates classes, or drop into the weekly cooking class and wine tasting. Getting to the ranch is easy in the winter with multiple direct flights right into the Steamboat/Hayden airport and transportation to and from the airport provided by the ranch wranglers.
Alternative Spring Breaks: Help the Environment and Others
If your family is concerned about the state of the environment and interested in experiencing indigenous cultures, resource conservation, and hands-on education, an eco-tourism-focused vacation should be on your agenda.
Costa Rica, perhaps where eco-tourism began, features land vacations in unique eco-lodgings. Guests explore each region's biodiversity, learn about efforts to preserve natural resources including animal conservation, and become reinvigorated by its peaceful beauty. Long at the forefront of sustainable tourism, Costa Rica is working towards becoming the first carbon neutral country by 2021.

O.A.R.S. river trips explore America's most beautiful wilderness. Photo taken in Grand Teton National Park by James Kaiser.
In the U.S. get up close and inside real wilderness with O.A.R.S., an adventure tour operator with several 2016 itineraries designed around the National Parks Centennial. Since 1969, the river rafting team at O.A.R.S. has offered VIP access to the waterways of Canyonlands, Grand Canyon, Grand Teton and five other National Parks. Paddle and float behind the more than 10,000 families who have vacationed with O.A.R.S. in the past decade by booking a 2016 spring break or summer family adventure in the parks or at international destinations. Request the 2016 O.A.R.S. Family Adventures Catalog today (it's free and fun to read) and save up to 10% on most trips.
Families also enjoy agritourism, and the quiet Caribbean "Spice Island" of Grenada is known for its cultivation of spices and fruits. Foodie attractions include rum-making, nutmeg production and chocolate-making, all done the old-fashioned way so that even kids can participate. Count on a full gamut of activities at the beach, in the rainforest, at national parks and on the rivers, plus lots of interaction with the friendly locals.
There are budget eco-adventure trips that include giving back to the destination you are visiting. Many non-profit organizations organize volunteer vacations; groups like Together for Good can lead a "Cruise4Haiti" or share resources for multi-day or even half-day give back opportunities at most resort areas.
Even college students can benefit by considering an alternative spring break – groups like Projects Abroad organize housing and one-week volunteer opportunities in the US and abroad so students can help local communities during their time off.
Theme Parks In The Springtime
Family spring breaks are all the rage at the major U.S. theme parks, where all ages can find thrill rides, themed attractions and live shows to their liking. The parks are especially welcoming for those with special challenges too.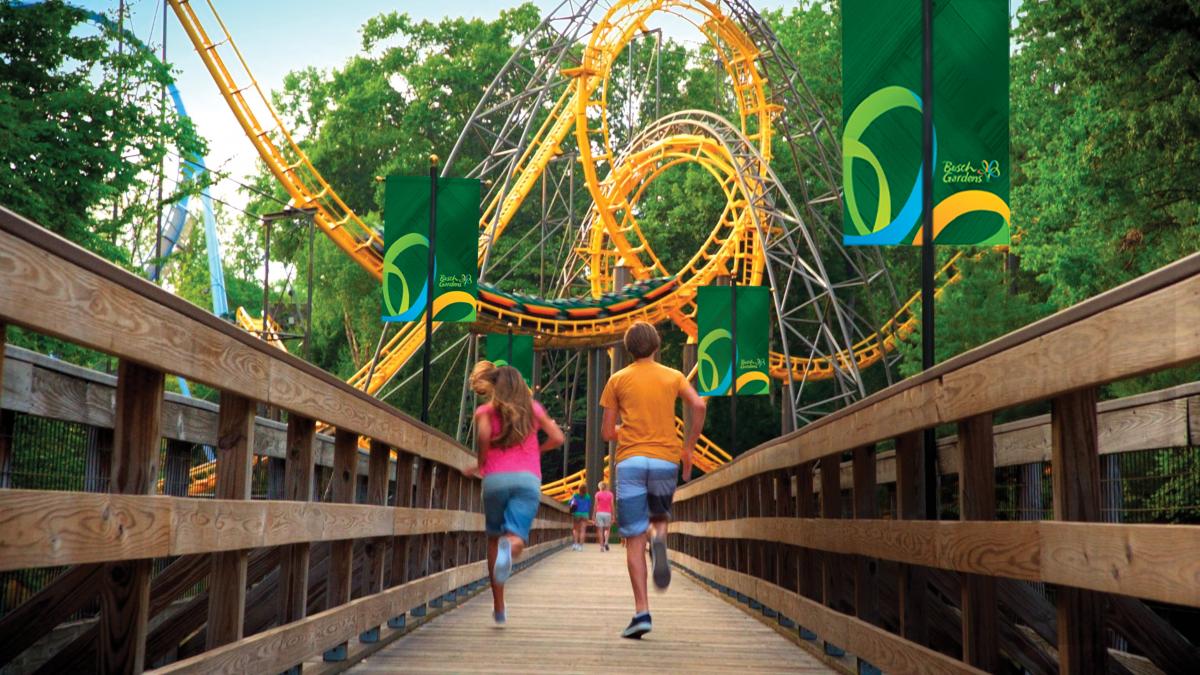 Busch Gardens Williamsburg, known as the "World's Most Beautiful Theme Park" for its lush landscaping and natural setting, opens for the season March 20th with special ticket offers.
In Williamsburg, Virginia, combine a visit to the living history museum at Colonial Williamsburg with the thrills of Busch Gardens Williamsburg, opening March 20. Save more than $50 with the new Busch Gardens Spring All-Inclusive Ticket , which includes one-day admission, parking, front-of-the-line access to most major attractions, lunch and dinner for only $99 plus tax. They go on sale in early February online and are valid through May 15. Don't miss animal expert Jack Hanna and his animal ambassadors, in the park April 2 and 3.
On February 6, Legoland California in Carlsbad will premiere the new "The Lego Movie 4D A New Adventure." Featuring popular characters such as Wyldstyle and Unikitty from last summer's hit film, it will be shown exclusively at Legoland Parks and Discovery Centers; check the website for all opening dates. Nearby at SeaWorld San Diego, new online pricing includes all-day dining with an adult themepark ticket for only $89. If you're staying a few days, a Fun Card costs $79 and is valid all season long.
Universal Studios Hollywood in California is brimming with excitement as "The Wizarding World of Harry Potter" opens on April 7. Expect Hogwarts Castle, cobblestone streets, snow-capped roofs, shops, and themed restaurants to have impeccable detail. New rides include "Harry Potter and the Forbidden Journey," which requires Quidditch-inspired 3D goggles to fully appreciate the groundbreaking robotics system and immersive effects.
Two and a half million visitors during the season make Orlando, Florida one of the country's top Spring Break destinations, and ease is a big factor. Couples with babies in tow can take advantage of the Rider Switch policies at the major theme parks, which allow one parent to wait with baby at the head of the line while the other one rides, then switch without waiting again. The latest attractions at Disney World's New Fantasyland even have a play area where families can romp while waiting to be notified of their turn by electronic pagers.
Pack your light sabers. This spring, there's "forceful" news at Florida and California Disney parks tied in with the extraordinarily popular new film "Star Wars: The Force Awakens." In addition to experiencing Star Tours and Jedi Training, Orlando's Star Wars Launch Bay will be where guests can meet a group of First Order Stormtroopers, Wookiee and Chewbacca, plus come face-to-face with the film's villain Kylo Ren.
Take advantage of the new Choose Your Adventure ticket option at SeaWorld Orlando, Busch Gardens Tampa, Aquatica Orlando, and Adventure Island Tampa Bay. Vary your theme park experiences with a $109 ticket that allows families three visits to any of these parks.
More good news: central Florida in spring is not as hot and humid as in July. Just an hour from Orlando is the Space Coast and the Kennedy Space Center, whose space camp and astronaut encounters allow everyone's imagination to take flight.
We look forward to hearing where you dream of spending your spring break and where you actually end up enjoying some time off. And if you can't get away just now, remember, summer's almost here.
Wherever you see ads or images within this special FamilyTravelConsulting.com travel section, the advertising and custom content has been brought to you by our sponsors. All other content and opinions are based upon the authors' actual travel experience and knowledge.