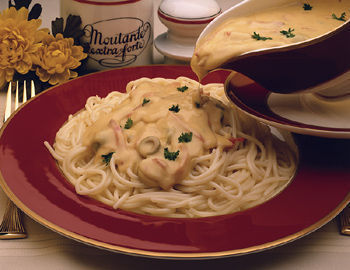 Here are some great choices when you hear,"Mommy, I'm hungry" in Wilmington, Delaware.

For hearty Italian fare, head downtown to the neighborhood bordered by Union and Lincoln Streets and Pennsylvania and Lancaster Avenues to Wilmington's own Little Italy.  Among several choices, we picked Mrs. Robino's Restaurant at 520 N. Union Street (302/652 9223).  Mrs. Robino, her children and grandchildren have been serving up huge portions of pasta, chicken, veal, fish and vegetable dishes to families for generations, beginning in her own kitchen, and expanding over the years to its current size.  We enjoyed homemade gnocchi, ravioli, meatballs and garlicky broccoli rape, topped off with cannoli for dessert.  Yum!
We also enjoyed a fabulous, freshly-prepared breakfast at Krazy Kats (302/888 4200) at the Inn at Montchanin Village (800/269 2473).  As cat lovers, we were attracted to the restaurant's name, and we discovered that this is the restaurant of a most interesting place.  The charming, antique-furnished 28-room country inn is the former Village of Montchanin, the site of the original homes of workers at the nearby DuPont powder mills.  It has been completely restored and adapted to modern use, preserving its place in America's history, and is listed on the National Register of Historic Places.
The food was excellent, and, as for the "Kats," there were humorous formal portraits of costumed cats displayed on the restaurant walls.  The best part was encountering several friendly felines around the property, who were lounging in the sunshine and enjoyed our attention and petting.
---
This story was accurate when it was published. Please be sure to confirm all rates and details directly with the companies in question, and stay up to date with current events to ensure a safe and successful trip.