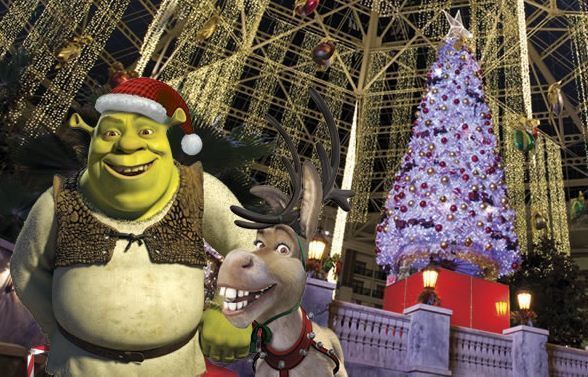 At one of Dallas' biggest resorts, Gaylord Texan, Shrek will deck the halls for a seven-week-long DreamWorks Experience in which characters from the movies "Shrek," "Kung Fu Panda" and "Madagascar" will star in ICE! This showcase, carved from 2 million pounds of ice, will feature colorful ice sculptures of many of the films' animated characters.
Additionally, the Lone Star Christmas programming returns with its annual winter wonderland including 1.5 million holiday lights, a 52-foot rotating Christmas tree, a life-sized Gingerbread House, 12,000 ornaments, and Santa Claus himself, just to name a few.
Many of the events and spectacles are free to hotel guests, while others require a paid admission. Families with toddlers should book ahead for one of the Dreamworks-related interactive experiences (you can even meet the star of DreamWorks newest film – "Puss In Boots") including:
ICE! featuring DreamWorks' Shrek the Halls
Kung Fu Panda Awesome Snow Tubing on carved ice slide
ShrekFeast Interactive Character Meal
"Character Passport" Meet & Greets with various movie charcters at the resort
Gingy's Gingerbread Decorating
DreamWorks 3D Theater Experience
DreamWorks Themed Scavenger Hunt around this enormous resort
DreamWorks Welcome Amenity with Package Check-In
Special Wake-Up Calls by DreamWorks Characters
There's more for grandparents to cherish, too. Commemorate your experience with a photo featuring the kids and your favorite DreamWorks character. Take them tubing indoors with Kung Fu Panda on real (manmade) snow, or sit together to watch a DreamWorks movie in 3D.
At the Gaylord Texan (read more about the resort in FTF's review of the Gaylord Texan, the activities run from November 11, 2011 – January 1, 2012 and during this period, families can book a two night vacation package in a hotel room and include all the holiday programming. This 2-night holiday package is priced at $199 per person based on double occupancy and availability, plus tax, resort fee and parking. Each extra adult is $89 plus tax and each extra child is $69, subject to blackout dates and other restrictions.
Dreamworks Characters Ring in the Holidays at all Gaylord resorts
Shrek, Alex the Lion, Po, King Julien, Puss in Boots and a host of other lovable characters from DreamWorks Animation SKG will help Gaylord Hotels ring in the Christmas season at all four resorts which, this year, will be themed for two of DreamWorks Animation's most popular television holiday specials: Merry Madagascar at Gaylord Opryland in Nashville and Gaylord National outside Washington DC; and Shrek the Halls at Gaylord Palms in Orlando and the Gaylord Texan. Also at Gaylord Palms and Gaylord Texan, 3D Dinner and Movie Experience environments will be built for guests to check out DreamWorks Animation hits, enjoy fabulous dining, and meet characters from the movies. This Christmas, the much-anticipated "Puss In Boots" feature will be shown.
Gaylord Opryland will host a nightly street party with music, lights, dancing and, of course, the DreamWorks Animation characters. All four properties will also offer special DreamWorks Animation character meals, meet-and-greets, Gingerbread Decorating with Gingy, and many other new themed experiences for families to enjoy over the holiday season.
Dates vary at bit at these resorts. The "Christmassy DreamWorks Experience" will take place at Orlando's Gaylord Palms from November 16 – January 2; at the Washington DC area's Gaylord National from November 18 – January 8, and at Nashville's Gaylord Opryland from November 18 – January 3. Pricing at each resort may vary slightly from the Gaylord Texan, and some one-night offers may be available earlier in the season. While some properties restrict the activities to hotel guets only, at the Orlando resort, Gaylord Palms, travelers can catch a day of snow flurries for an entry fee of $22.99-$27.99 for adults, and $13.99 for children.
For more information and availability, contact your travel agent or the Gaylord Hotels' Christmassy DreamWorks reservation staff.
---
This story was accurate when it was published. Please be sure to confirm all rates and details directly with the companies in question, and stay up to date with current events to ensure a safe and successful trip.