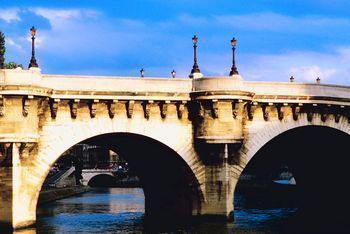 My first year of high school had flown by. I was totally and completely excited about the trip. I, along with several other students from Sun Valley, had been nominated by the band director to attend a tour of five countries in Europe.
This was the most amazing opportunity I had ever been presented with, so I seized it. I was going to Europe with over a hundred other high school students, and about ten chaperones. Of course, we had concerts to perform in and other structured activities such as tours and festivals, but for the most part, I would be on my own with my friends.
We left for our three-day preparation period at a nearby university. I was nervous about meeting my roommate, making new friends, and mostly, about being on my own for three weeks. Luckily, I had no problems making friends during our breaks from rehearsals and my roommate was great.
On the third evening, we performed our farewell concert for our families and friends. I said my final goodbyes to my mom and made sure I had everything I needed packed for our departure the next day. We loaded everyone onto buses.
One group set off for BWI Airport in Baltimore and another set off for JFK Airport in New York City. I was headed for New York. The bus ride seemed to take forever for all the anticipation! When we finally arrived, I was amazed at the size and grandeur of the airport.
I've traveled out of PHL International on numerous occasions, but JFK was so dramatically different that it was almost difficult to take it all in. During our wait at the airport, I made friends that I would basically be spending the rest of the trip with, seeing as we were all on the same bus. The flight lasted six hours, but because of the time difference, it was overnight.
I spent the flight playing video games, watching movies, and doing anything but sleeping, which ended up being a big mistake. When we landed in Switzerland, we loaded back onto buses, and drove to France. We settled into our hotel, and got ready for our big dance party at a local discotheque.
Since I hadn't slept in 24 hours, I ended up with an enormous headache at the party. The rest of the trip went extremely well, however. We traveled from country to country by bus, and I learned to greatly appreciate the skill it took to make a u-turn with a tour bus.
Luckily, we had the same bus driver for the entire tour. By the end, we had made up cheers for him and everything! I spent most of my bus rides goofing off with my friends and watching the amazing scenery. In the time that was not spent on the bus, I performed at amazing venues and walked through gorgeous towns and cities. My friends and I went shopping, rode in a gondola, had a snowball fight in July at the top of a glacier, climbed a mountain, and just had fun together.
I learned better money management skills, and overall, I grew as a person because of this new freedom. I also learned how to share a space with someone, and since my roommate and I were both only children, we laughed through most of it. The trip home, while much anticipated, also came with a tide of sadness. We would be leaving some of the most beautiful places in the world, and more importantly, all of the new friends, behind.
With promises to keep in touch, we boarded the plane. When we arrived, there were many tearful goodbyes, as the trip ended, almost as quick as it had begun. It had started as an amazing opportunity, and it ended as something that changed my life. Something in me changed on that trip, and it was most definitely for the better.
Dear Reader: This page may contain affiliate links which may earn a commission if you click through and make a purchase. Our independent journalism is not influenced by any advertiser or commercial initiative unless it is clearly marked as sponsored content. As travel products change, please be sure to reconfirm all details and stay up to date with current events to ensure a safe and successful trip.
---