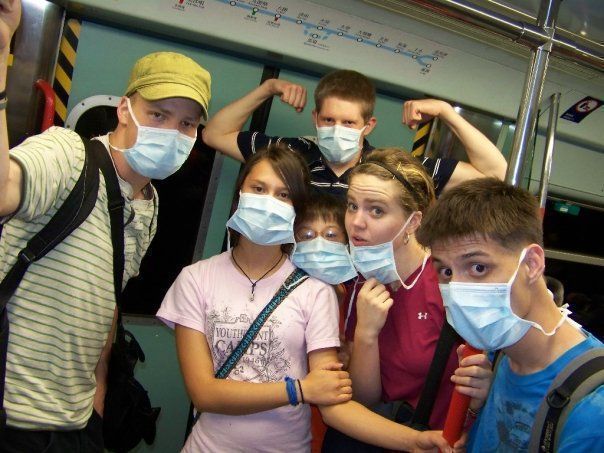 I stepped off the airplane along with 416 other passengers, and took my first breath of muggy, polluted Chinese air. Pleasant memories returned, as I walked with my family to the baggage claim. "Look, they have a Starbucks now! Can't wait until we get to eat those yummy noodles from Chow's." Like me, my two brothers were reminiscing about our childhood spent there and noticing the minor changes in Hong Kong International Airport, a place where we once spent so much of our time.
I was ready for what this trip had to offer –six long weeks teaching English and leading cross cultural English camps in Hong Kong, but I was not ready for my life to be completely changed.
It took an hour for me and my family to arrive at a fairly small apartment offered to us by the church we were running English classes and camps for. This would be our home for the next month and a half. Instead of being appalled at the grubby tiled floors, unflushable toilet, mobile cooking element, and 3×3 foot shower with a flimsy hose that had to be held during each bathing experience, I was content. Here I was, re-living the basic life of an average middle class Hong Kong resident, well, maybe a little more basic than most, but it was the real deal.
It wasn't long before I got to know some students my age. To my surprise, two 19-year-old girls invited me to dinner at a small Chinese restaurant after only our second acquaintance. My second surprise was that our table talk was not brief and superficial, as I had expected it to be; Aiko and Fion quickly became my sisters as we shared the joys and pains of our past. We exchanged our values and opinions and before we knew it, three hours had passed and the restaurant was kicking us out.
Four weeks later, a group of Americans arrived to help us lead a cross cultural English camp in Hong Kong. I was paired with Jacob Swing from Colorado. He was only a year older than I was, so our young minds worked together as we led our group of fourteen year olds through the journey of speaking a foreign language. We sang songs and played games in a cramped dormitory at a camp that stretched along the shore of the South China Sea.
Something was different about this trip; it wasn't like the others I had been on. Maybe it was due to the fact that I had finally matured. I was journeying through life with the future in mind. Or it could simply be that it was my third time being in China and the third time is always the charm. But I think it was something more than that. Something inside of me was different and something was distinctive about the relationships I built with those around me. A super-natural love for Asia exploded from me, and I desired to be a part of the lives of those I met. A passion was placed deep within my soul that has now changed who I am and who I will become. This trip to Hong Kong taught me that home is not defined by physical materials, but the sense of belonging through relationships that are bound together through a selfless love. Now, as I look towards the future, I vision myself standing in an overfilled Chinese classroom teaching a group of eager learners discovering that "to" "too" and "two" all have separate meanings.
Dear Reader: This page may contain affiliate links which may earn a commission if you click through and make a purchase. Our independent journalism is not influenced by any advertiser or commercial initiative unless it is clearly marked as sponsored content. As travel products change, please be sure to reconfirm all details and stay up to date with current events to ensure a safe and successful trip.
---