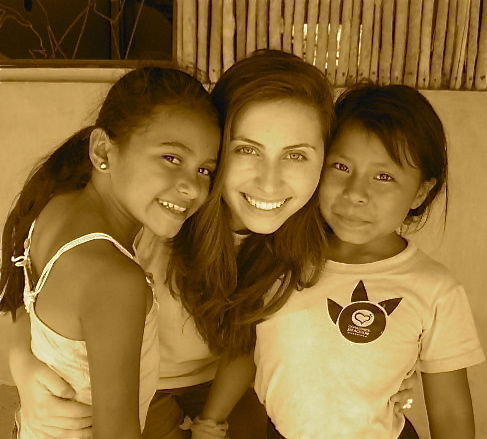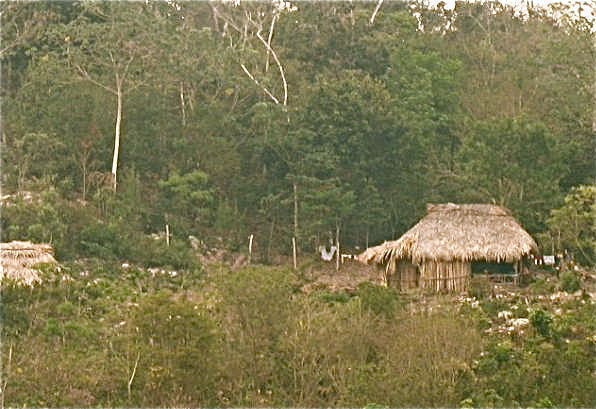 The jungle of Peten, Guatemala changed my life. On April 9, 2008 I led a team of 31 students and six adults on a service trip there.  At 3 a.m., we boarded a bus to JFK to catch our first of three planes, eventually arriving on a small runway in Flores, Guatemala. From there we drove for two hours to the jungle, missions compound that would serve as our base.
The sun had set as we drove through the city of Flores. Papaya and mint colored houses lined the dark avenues. The cityscape melted to rural homes that yielded to endless jungle. "Bienvenido a Guatemala" sang the hot night air.
When we finally arrived at the Corazones en Accion compound, the Latino missionaries РAnita, Adr̩a, Marbel, Freddy, Dr. Obed, and Mario, greeted us. Our exhausted and ecstatic group sat down in the comedora as Anita and Mario explained what we were to be doing for the next 10 days of our lives.
"You will be working in Mayan villages in the surrounding jungle, and helping at our Jungle School for impoverished children." Our group ate and went to bed. Our wake up time would be a.m.
            The next morning we toured the compound that bordered the jungle.  A barracks for groups like ours, one-story school buildings, the missionaries' shared home and a kitchen – all mango-colored stucco, dotted the dusty green landscape. Thatch-roofed, open-air bungalows completed the campus.
That evening, we went to the village of Las Cruces.  Forty-four of us – five missionaries, six chaperones, 33 students and one bus driver, filled an old white bus, probably American surplus from the 50's.  The sky was navy blue, the jungle rose up black against it, as flames from slash and burn fires licked the ground.
On the bus ride Freddy taught me a song in Quechi, a native Mayan language.  We arrived in Las Cruces just as a village-wide futbol game was ending.  As Freddy, Mario and Obed walked out, children of all ages ran up, laughing and calling for them. The children surrounded us, their curiosity provoking my excitement. 
Engulfed in a sea of children, I heard Freddy make an announcement…I was going to sing them a song…in Quechi!  Not being the best singer, and not speaking Quechi, I looked into their deep brown eyes and began to sing, my voice soft as a lullaby.  All were silent, as though hanging on every word.  When I finished, excited voices bombarded me in Quechi.  The ice was broken. 
Upon learning I was 17, several girls asked me how many children I had.  I learned that, in this Mayan community, rape, incest, and girls marrying much older adult men, are common occurrences.  The girls there have no voice. 
 Throughout our trip, we worked with hundreds of girls, talking about self-respect, boundaries, and the power to say no.  We also had the opportunity to listen to girls' stories of abuse, to encourage them that there was hope for something better, and to direct them to adults who could help them further.
My experiences in Guatemala not only made me grateful for the love and respect I receive on a daily basis from my family, but also gave me a passion for the indigenous people there.  Because of this experience, I hope to start a school in Peten, Guatemala, for girls who have been rescued from sex trafficking and abuse.  The great beauty of the jungle and the greater beauty of her people moved my heart and has forever changed the course of my destiny. 
Dear Reader: This page may contain affiliate links which may earn a commission if you click through and make a purchase. Our independent journalism is not influenced by any advertiser or commercial initiative unless it is clearly marked as sponsored content. As travel products change, please be sure to reconfirm all details and stay up to date with current events to ensure a safe and successful trip.
---