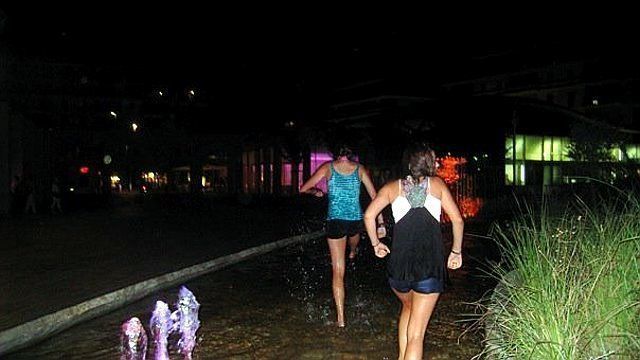 In the summer of 2008, I changed.
Straying from my comfortable life in Orange County, I ventured to Aix-en-Provence, France to take part in a cultural immersion program with twenty other American students.
Four weeks: an intimidating group of strangers, a captivating city, and an unquenchable thirst for attaining new perspectives.
This group was comprised of an assortment of the most unique characters I had ever encountered. Some came from rural lifestyles, hailing from the farmlands of Pennsylvania. Others exuded sharp style and dynamic confidence. They must be from the Upper East Side, I thought. I was right. Then there was me. The southern California girl – the girl with the tan, as they began to refer to me as – who was the sole representative of the West Coast. Meeting people so different than me was a daunting concept…when's the next flight home?
In hindsight, I laugh at my initial reaction. Yes, they were different than I was…so what? Whoever said 'variety is the spice of life' knew what they were talking about. As the weeks passed, I learned to appreciate the dissimilarity between my life and the lives of the others. I wasn't the Fifth Avenue native that exuded excessive street smarts and stunning attire…no, that was my roommate. Some of my closest friends originated from the program because I became willing to adopt atypical viewpoints and accept people beyond the superficial, not by their clothes or where they lived.
Lesson learned, number one: I can relate to anyone, regardless of background or the foreign situation in which I have been placed.
The second (and possibly most important) of the things I learned in Aix is that Nutella – the heavenly mixture of chocolate and hazelnut that is a staple among French natives – goes with everything. Yes, everything. Baguette, bananas, carrots – you name it, we tried it. When I came home, I had a difficult time readjusting to life without Nutella. I managed…barely.
Along with frequenting the local supermarché for our routine Nutella fix, I spent much of my time exploring the city. The people, the shops, the food; everything was appreciably different from the life I lead at home. Assimilating into the culture and lifestyle of the French seemed a testing feat upon first arriving– Americans are forever in a rush to complete our numerous tasks, the French tend to their chores as if they will live for an eternity; Americans eat and eat…and eat, the French drink wine. And on the list goes… Yet, by the conclusion of the month, I felt as though I had gone from a foreigner to a native. Ignorance had transformed into being culturally accepted.
            My experience in Aix opened my eyes to the world beyond my life in California. I had become more personable around those that I did not know, more well-versed in the realm of French delicacies (yes, I am mentioning Nutella again), and finally, more aware of cultures that differed from my own.
In the summer of 2008, I changed.
Dear Reader: This page may contain affiliate links which may earn a commission if you click through and make a purchase. Our independent journalism is not influenced by any advertiser or commercial initiative unless it is clearly marked as sponsored content. As travel products change, please be sure to reconfirm all details and stay up to date with current events to ensure a safe and successful trip.
---