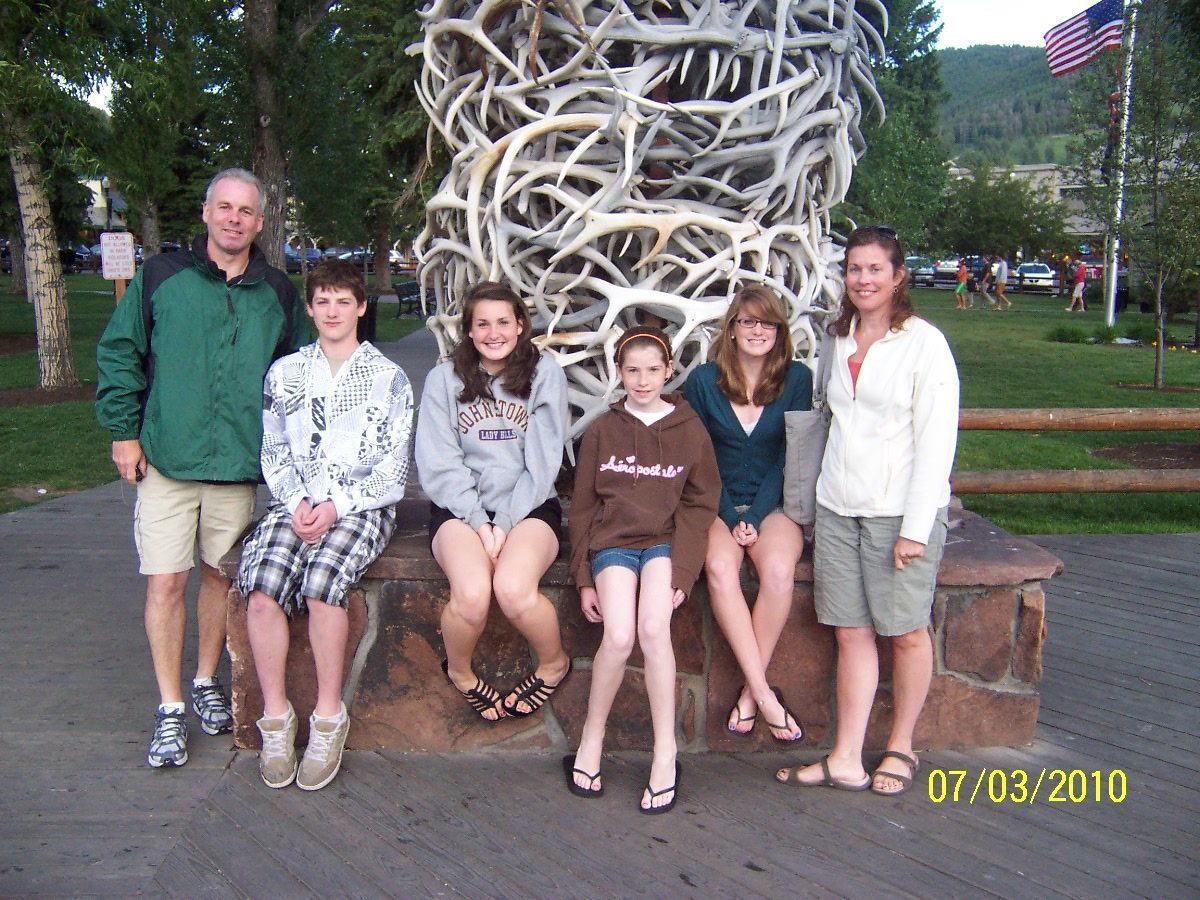 I live in a family of six. I am the oldest of four, and have two younger sisters and a younger brother. Our family usually takes pretty amazing vacations. We have gone to Arizona, Utah, Nevada, Washington, California, Oregon, Florida, Virginia, Canada—and yet the list still goes on. But this year, it being my last high school summer, my parents decided to up the "awesomeness" of our vacation (since there is a chance it may be the last one before I up and leave forever). They decided to take three teenagers and an eleven year old on a sixteen day road-trip, the turn-around point being Wyoming. When I heard this, all I could think was "shoot me now".
We left on Sunday, June 27, 2010 at 2:30 a.m. from Johnstown, New York. Six people loaded up in a Ford Excursion, already cranky due to the early start. I was not looking forward to this vacation—being stuck with my family, being away from friends and sports, eating out three meals a day. I thought it was going to be absolutely horrible. Oh, but I was wrong.
Our vacation turned out to be amazing. We went to a total of twelve states; Pennsylvania, Ohio, Michigan, Illinois, Indiana, Iowa, Wyoming, Montana, South Dakota, Minnesota, Wisconsin, and Nebraska. Every night we stayed in a hotel, and somehow only one turned out to be slightly creepy. The rest were gorgeous. We saw buffalo, eagles, elk, deer, moose, big horned sheep, coyotes, foxes, prairie dogs, and even a lion (well, the last one was at a zoo).
I figured driving everywhere would be a painful form of torture, but it was surprisingly fun. My parents loaded the car up with food—I just about ate my weight in York peppermint patties—and we all had our iPods to listen to, as well as DVDs to watch and games to play. But out west, it was absolutely gorgeous. It was amazing to see such new wildlife. Between the animals and the landscape, I could not stop myself from looking out the window. Out of a total of 5700 miles, I slept for a whopping four hours the entire time we were in the car.
And we did not just drive, either. Everyplace we went we did something or saw something historic. We saw Mount Rushmore, the Badlands, Old Faithful and Yellowstone. We saw where Custer's last stand took place, the prairie, Scott's Bluff, the Oregon Trail and huge windmill farms. We hiked up part of the Grand Tetons and went spelunking in Jewel Cave. I truly enjoyed myself, and I enjoyed being with my family, too. It was cool to see landmarks I had learned about during the torturous class of A.P. U. S. History. But I still could not fathom how much of our nation I had no idea existed, much less how beautiful it all was. It truly was a once-in-a-lifetime experience.
The memories I now have and the images of our nation will stay with me forever. I will never forget this vacation. It truly did top all the others. I was the complete opposite of miserable. I cannot believe I even thought of telling my parents to let me stay home and watch the dog. Our sixteen day vacation turned out to be sixteen days of pure enjoyment, and this trip will stay with me for the rest of my life.
Dear Reader: This page may contain affiliate links which may earn a commission if you click through and make a purchase. Our independent journalism is not influenced by any advertiser or commercial initiative unless it is clearly marked as sponsored content. As travel products change, please be sure to reconfirm all details and stay up to date with current events to ensure a safe and successful trip.
---