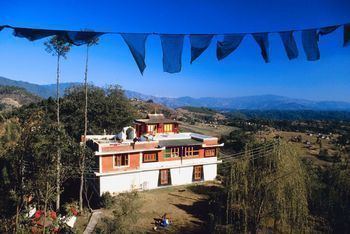 A Kathmandu resident helps families decide whether to "do" Nepal in winter, spring, summer or fall by exploring adventure options like trekking, river rafting, elephant safaris, and plain old sightseeing.
I'm sure most of you associate, as did before my first visit, the Himalayas' Mt. Everest with Nepal. But did you know Nepal offers great white water rafting, jungles, tigers, rhinos and elephant polo? Nepal is one of the best destinations for families. There is so much to do and see and much of it can be quite affordable, but you'll have to make choices about which activities or regions you prefer before deciding what time of year to go.
Due to periodic Travel Warnings issued by the U.S. Dept of State about the current security environment in Nepal and urging that U.S. citizens defer non-essential travel, FTF has chosen not to update this famiy travel story. For more inforamtion, visit the Department of State online.
In this deeply religious country, citizens practice a Hinduism full of Tibetan Buddhist strains. There are temples and prayer shrines everywhere: en route, in the villages, and even in some guest houses. If you time your visit for one of the many festivals that occur throughout the year, you might be lucky enough to see the kind of joyous and colorful celebrating that the Nepalese excel at.
Trekking
Over a typical summer vacation, hiking at altitude or "trekking" is the only adventure option, due to the seasonal monsoon. Up on the Jomsom trail leading to Annapurna (the world's 5th tallest mountain at 26,500 feet), the weather is mild and lovely and, since it's off season, the trail is not crowded. You'll follow the Kali Gandaki River gorge between the soaring peaks of Annapurna and Dhaulgiri, a hike well-suited to families. The route is dotted with small villages and guest houses, and no technical climbing skills are required. Indeed, this trail is so popular with American trekkers that it has been nicknamed "the apple pie trail."
In general, well-maintained trails are a continual up and downhill challenge throughout the trekker's day. The scenery is, of course, always spectacular, and you will pass herds of goats and, if high enough, yak (they only live at altitudes above 10,000 feet). Some treks go through Tibetan refugee areas, others through Newari or Sherpa villages. In all cases, the people are sweet and friendly, and will be delighted to talk to you and show you around their village.
Since tourism is Nepal's top income earner, several international and local outfitters now organize different levels of treks to all major areas. On some circuits, you can organize your own trek; maps are easy to follow, and you can usually find a few freelance guides (Sherpas) to walk with you and carry large backpacks, so you only lug essentials and a camera. Experienced family hikers should carefully judge kids' stamina before planning a trek. Though hikers over 8 years old well do very well on the Jomsom trail, you might consider hiring a Sherpa to carry small children who tire easily.
White Water Rafting
Summer, however fine for trekking, is not the time of year for white water rafting, since the rains make the rivers too full. Rafting season is from late September to early December (brr!), and from March until May. The waters are low (which makes them safer for children) in March and April, as well as in October and November, although by mid-November it's probably getting a little too cold. Rafting trips range from the fairly luxurious to the more participatory trips, where you help with the rafting, setting up camp, cooking, etc. There are short, under one week trips available, as well as much longer ones.
Safaris and Elephant Polo
Nepal also has several national parks and preserves. Royal Chitwan National Park, in southern Nepal's Terai, bordering India, is probably the most famous. It hosts the world famous Tiger Tops Resort and the annual World Elephant Polo Tournament (held every December), with over 20 teams participating from around the world. Aside from the tournament, the park offers daily elephant safaris, where the entire family can ride on one to see (if you're lucky) rhinos, Bengal tigers, and Gharial crocodiles. Many of the lodges close during monsoon, so the best time to go is October through February.
---
Exploring the Kathmandu Valley
Before you go off on your exciting adventure, don't forget to allow some time in Kathmandhu and the surrounding area. Kathmandhu is a bustling, somewhat polluted capital city, full of temples, shops, and wonderful restaurants. The first of several must-see sites is the famous "monkey" temple, Swaymbhunath, situated on a hill to the west. The painted eye of Buddha on the top of the stupa (round Buddhist shrine) is one of the most recognizable images of Asia. All ages will enjoy the wild monkeys who run around the temple complex, sliding down banisters, stealing sunglasses, and providing endless amusement for tourists on the long climb to the top. Early morning is the best time to go, as that is when most Nepalese traditionally make their devotional prayers, a fascinating sight.
The huge Pashupatinath temple is a vast, sprawling complex and burial site. If you explain Nepali religious ceremonies to kids beforehand they'll understand the cremations and the many holy men, or sadhus, who meditate on the grounds. This is the most important Hindu temple in the country; near the entrance is a riotous display of vendors selling colorful incense powder, flowers for prayer offerings, jewelry and woodcuts, butter lamps and bells. Again, plan your visit early in the morning (or at dusk) when the Nepalese go to pray. A short walk away is the Bodnath, or the Great Stupa, the largest in Nepal and one of the largest stupas in the world. Probably one of the most dramatic times to see Bodnath is at the Tibetan New Year in February, when the entire structure is ringed with lights, and the streets are full of Tibetan and Nepali pilgrims.
Bhaktapur and Patan are two beautifully preserved towns of ancient Nepal, both within a half-hour drive of Kathmandhu. Patan is really a suburb, so if you don't mind the traffic and pollution, even small children can easily bicycle there. Patan's central Durbar Square is the most concentrated temple area in the valley. The village is also well known as a crafts center, with small workrooms where you can watch carpet weaving, woodworking, metalwork, and the carving of wooden toys, and find the best shopping values. Shop owners are delighted to show you their factories. These tours make shopping much more interesting for kids, and you'll all better appreciate the wood and metalwork adorning temples and the old buildings around town. Bhaktapur was once the capital of the Kathmandhu Valley (from the 14th-16th centuries) and it has been lovingly restored. It also has a Durbar Square, a breathtaking site full of large, ancient carved wooden structures surrounded by peddlers and vendors who add life and color to the scene. Another area that's fun for kids is called Potter's Square, where potters squat under verandas and sheds, spinning and throwing clay, their wares drying in the sun.
I've just scratched the surface of what to see and do in Nepal, but I hope you get the sense that it's a place where the whole family can have a wonderful time, and leave feeling you want to come back for more — always the sign of a great holiday!
Dear Reader: This page may contain affiliate links which may earn a commission if you click through and make a purchase. Our independent journalism is not influenced by any advertiser or commercial initiative unless it is clearly marked as sponsored content. As travel products change, please be sure to reconfirm all details and stay up to date with current events to ensure a safe and successful trip.
---