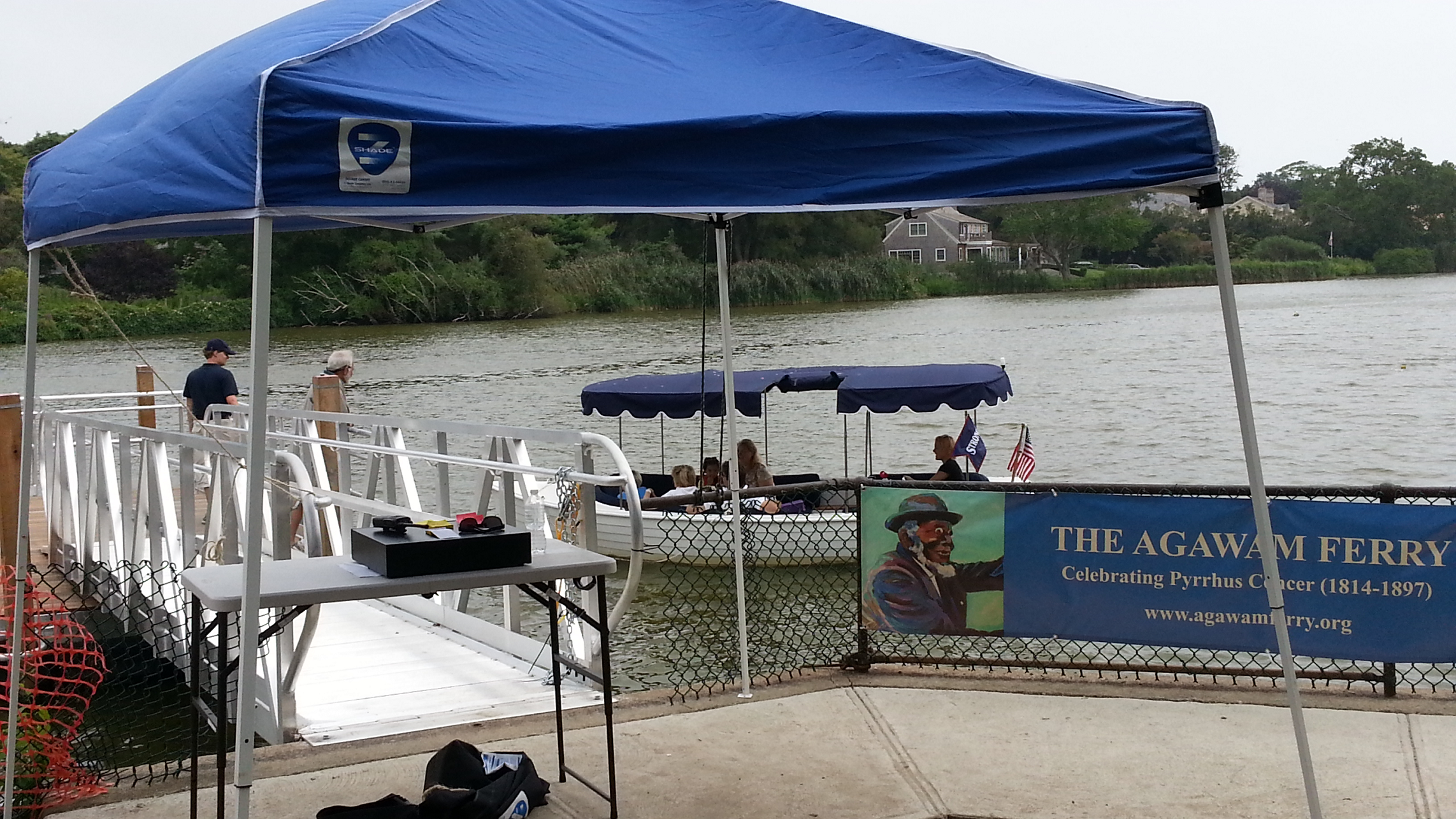 The Hamptons aren't just for the rich and famous — though it certainly helps if you are — and we've discovered some of the top activities and accommodations in this Long Island, New York vacation spot.
The weather forecast calls for 98°F and high humidity for the fifth day in a row. Your kids are cranky and you're tired of hiding inside near the air conditioner. A day at the beach sounds delightful, but is one day ever enough? Why not turn a trip to the shore into a mini vacation? "The Hamptons," a series of towns along the South Fork of Long Island, is close to New York City by car or railroad and is connected to Connecticut and Block Island via ferry.
The pricey Hamptons are widely known as a playground for the rich and famous, but the variety of recreational activities and sights make it a really great destination for a family splurge, as well. The key to success is planning ahead and paying in advance to ensure you get the well-reviewed, top value rooms you requested. Trust us, there are a lot of "chic Hamptons motels" with tiny, unkempt rooms that close their doors after only one season, and you don't want one of those.
A Family-Friendly Southampton Inn
The Southampton Inn (800/832-6500 or 631/283-6500) situated in the heart of the village at 91 Hill Street, Southampton NY 11968, is a wonderful base for your family weekend getaway. Once a sophisticated couples getaway, it was renovated with families in mind as a combination of country inn and beach resort, with facilities and activities for children and their parents.
The 90 spacious rooms, complete with mini-fridges and complimentary wifi, are very comfortable and are decorated with cozy bedding and colorful pillows. Sleep sofas and convertible ottomans are available. Be sure to ask about the non-smoking and pet-designated rooms so that puppy or kitty can come along too. There's an additional $49 per night, per pet.
The Inn's Café OSO serves up the "Best of the Best" breakfast and a farm-to-table dining experience for lunch and dinner. Locally sourced ingredients and fresh vegetables right from the Inn's gardens are served to eager guests. Enjoy dining indoors, or in the outdoor courtyard.
On-site activities and facilities include a swimming pool, volleyball, croquet, badminton and tennis courts (lessons from a resident professional can be arranged). Take to the kids to the Children's Play Room, attracting crowds of toddlers to teens. My then 13-year-old son was very happy to find a flat screen TV, a chess board and a billiard table and a chance to chat with kids his age.
After hanging out for awhile, the kids made plans to meet at the pool the next morning. The younger set played happily with stuffed animals, board games, an art table, and blocks. It's a relief to have a place to get the kids out of the sun (or a passing shower) for awhile. All in all, a genuinely family-friendly place but please note that a two-night minimum stay is required on weekends. Children under 12 stay free in their parent's rooms. Babysitters are available upon request.
Exploring Southampton & the Beaches with the Kids
Take a short stroll from the inn and you will find Southampton's pleasant playground with the local duckpond, overlooking Lake Agawam. The Lake Agawam Ferry, offers a delightful half-hour boat ride from the park's pier off Job's Lane. For just $5, join a local skipper and half a dozen guests to hear more about the Lake's wealthy residents, gossip like the home that Vice President Biden's family rents, and more, on a fun, half-hour roundtrip cruise. The story of the electric ferry's namesake, Pyrrhus Concer, a freed slave who used to sail residents to the beach in the late 1800s, is fascinating.
Note that Rotations (631/283-2890) rents bicycles. Your young and inexperienced riders may be intimidated by the traffic and Ferraris racing by these quiet lanes, but older kids can certainly bike to the beach with no problem. There are also Rollerblade and surfboard rentals, as well as instructors for hire if you ask. Across the way is the old-fashioned, two-screen Southampton Cinema.
Opportunities to go fishing, sailing, surfing, jetskiing, kayaking and sailboarding abound, and the knowledgeable staff can provide information and coordinate trips, tours and lessons and dinner reservations. Perhaps the biggest attraction is the Hampton's sand and surf, and the Inn provides a convenient shuttle to and from pristine Cooper's Beach, just one mile from the village. The broad, gold sand beach has lifeguards to monitor the potentially rough Atlantic Ocean, restrooms, chair and umbrella rentals and a snack bar.
If you're traveling with infants and toddlers, you'll appreciate the calm, gentle and yes, warm, surf at Flying Point Beach, in the adjoining community of Watermill. This beach is a favorite of locals because it has the Hampton's famous broad gold sand and Atlantic surf, but also is bordered on its eastern end by the calm, warm Mecox Bay. Parents can sunbathe while wathing little ones chase sandcrabs and wade in to the water with no danger. Cars need parking permits so you'll probably want to take a cab there and arrange for it to pick you up later.
There are many other local beaches to explore, but they do require permits for parking (which can be purchased at the beach or through the Parks and Recreation Department at (631/283-6011).
Main Beach (631/537-2716) on Montauk Highway in Wainscot offers a variety of items such as bodyboards, wakeboards and waterskis, pedal boats, canoes and kayaks for rent. In addition, they offer lessons in surfing, kayaking, kite surfing and wakeboarding.
Babysitting is available through the Inn so you can enjoy a quiet dinner, round of tennis or antique shopping. Southhampton is also home to a popular movie theatre.
East End Activities – Getting Off the Beach
Every Hamptons township has become very proprietary of its beach, requiring residents to have parking permits and discouraging daytrippers who arrive by the Long Island Railroad, change into their bathing suits in the train station, then take taxis to the ocean. So, you'll have to rely on your hotel to provide you with local beach access.
But, in the event of a rainy day or too much sun, there are plenty of non-beach ways to enjoy the "East End." There are dozens of farm stands along the back roads off of Rte 27, or the Montauk Highway, which bisects the South Fork. In early summer, shop for strawberries and grape tomotoes. By mid-summer, the big tomatoes and Long Island potatoes are everywhere, and by late summer, the local corn. After Labor Day, many farmstands take a break and then reopen with local apples and pumpkins for fall.
With traffic at its peak all season long, plan your day carefully and try to head in one direction at a time! Here are some of our suggestions for the best local attractions.
Riverhead and Westhampton Children's Attractions
Closest to New York City, or the west end of the East End, is Riverhead, which is the "fork in the road" between the North Shore and the South Shore. Riverhead, an affordable town, is the home of Atlantis Marine World (631/208-9200), Long Island's newest and largest aquarium. Based on the lost continent of Atlantis, its focus is on education and entertainment with over 80 exhibits, some featuring nurse sharks and tiger sharks in a huge tank, as well as many other exotic fish and sea life.
While you're in town, if your kids haven't had their fill of waterplay, visit nearby Splish Splash (631/727-3600), a 96-acre water park featuring a Lazy River tube ride, wave pool, several water slides plus three kiddie pools with gentle slides.
For exciting performances and performing arts activities as you drive east, check out the Westhampton Beach Performing Arts Center, housed in a beautiful Art Deco-era, 425 seat theater. Since 1998, the center has been showcasing top-tier music and dance performances and world-class cinema, and for families there is a full program of children's theater, as well as acrobat, puppetry, ventriloquist and musical performances. Also for kids, they offer week-long day camps featuring circus performance arts, ballet, Shakespeare and musical theater.
Quogue is home to the Old Schoolhouse Museum (631/653-4224), open July 1st to September 1st, which dates from 1822 and displays toys, utensils, farm equipment and other interesting memorabilia. Built in 1822, it was Quogue's first schoolhouse and the oldest standing in Suffolk County.
Heading East to Watermill, Bridgehampton, Sag Harbor
The area's oldest operating water mill, dating from 1644, is displayed in the hamlet for which it is named, at the
Water Mill Museum
(631/726-4625) where, in addition, there are demonstrations of colonial crafts. They may be selling fresh ground corn meal made at the site when you visit.
The area is home to several wineries, such as
Duck Walk Vineyards
(631/726-7555) on Montauk Highway in Watermill, which is open for kids-welcome tours and tastings. Almost next door is the long, barn-like new home of the
Parrish Art Museum
which has many child-focused tours in summer.
In the nearby village of Bridgehampton is the the
Children's Museum of the East End
(631/537-8250) at 376 Bridgehampton/Sag Harbor Turnpike, Bridgehampton, NY 11932. Here, your kids will enjoy the variety of hands-on, interactive exhibits. Nearby,
Lynch Links
(631/283-0049) is a great place for miniature golf for the whole family.
If your weekend guests are into art, visit the Jackson Pollock home in The Springs near Easthampton. The small house is maintained by SUNY Stony Brook and preserves the domestic life and artistic collaboration of the famous Abstract Expressionists Jackson Pollock and Lee Krasner.
The very traditional little Sag Harbor Whaling Museum (631/725-0770) honors Long Island's whaling heritage with displays of whale jaw bones, harpoons and other historical artifacts. The charming Sag Harbor village is one of Suffolk County's most historic and picturesque. Allow several hours to stroll the Main Street, visit the Firehouse Museum with little ones, have a fish sandwich at the pier, or admire the multi-million dollar sailing yachts which moor at this chic port.
From Sag Harbor, car ferries leave frequently for Shelter Island (little to see for non-residents) and from there to Greenport (lots more vineyards) on Long Island's North Fork.
Montauk, as Far East as it Gets
Since surfing has grown into a weekend warrior sport for the Wall Street crowd, the ambiance of Montauk has evolved from a port to launch deep sea fishing charters to a wealthy, hipster enclave for day-trippers and super affluent, international 20 and 30-somethings. Still it retains a beauty unlike any other part of Long Island.
At the easternmost tip of Long Island in Montauk Point State Park stands Montauk Point Lighthouse (631/668-2544). Climb 137 spiral steps to the top of the still-operational, 80-foot-tall, oldest lighthouse in New York. Also in Montauk is the 3,000-acre Deep Hollow Ranch (631/668-2744) America's oldest (since 1658) working cattle ranch, which arranges horseback excursions on trails or along the beach, and horse-drawn wagon tours with Texas-style barbeques and singing cowboys.
If the weather is nice, the young at heart will enjoy Montauk's scenic mini golf course, and an extended visit to Gosman's Dock. Tour the many souvenir shops and ice cream stands on this colorful, touristy pier, while you wait for your name to be called for a table at the ever-popular Gosman's Dock Restaurant. One-hour waits are not uncommon for large portions of their tasty but expensive seafood platters.
The Hamptons' Family-Friendly Motels & Inns
With two- and three-bedroom summer homes renting for over $3,000/week and way up from there, short term visitors should consider a local motel or inn. Reservations for weekends between late May and early September should be made in January, but if you're late, try at least eight weeks in advance. Our suggestions are listed west to east on the South Fork.
Ocean View Terrace Motel, Hampton Bays
631/728-4036
Rents "efficiency" apartments with fridges starting at $110/N weekdays, $180/N weekends (2 night minimum, excluding holiday weekends). Larger 2 bedroom suites with full kitchens are also available in this most affordable of the Hamptons.
The Dune Deck Hotel, Westhampton
631/288-3876
Rooms contain a queen bed and double pullout sofabed. Large, air conditioned rooms with minifridges rent starting at $329/N in this popular, family-oriented lodge.
1708 House, Southampton
631/287-3593
The historic Main Street bed and breakfast was open back in 1708 and still boasts a museum-like cellar from 1648. Rooms come with four-poster beds, antique furniture, claw footed tubs, heated towel racks and suite options. Rates run around $350/N with frequent specials; good for multigenerational families or those without a car.
Panoramic View Resort, Montauk
631/668-3000
It's on the Old Montauk Highway, and was a pioneer on this beautiful and once undeveloped part of the coast. All rooms have small balconies or a patio, with their own barbecue and panoramic sea view. Cottage rooms are very spacious because they are like older apartment units, with a kitchenette and comfy furniture. Writes reader Kim Abel, "You never mind if sand gets on everything. Our son loved being able to run back and forth to the beach all day, and have breakfast and lunch barefoot around our unit." In the past few years, however, it's grown enormously (cabins are still there) by adding a two-story oceanfront lodge, several private homes, and a hillside motel-style unit. Prices have gone up lots too: studio units start at $175/night in winter (part of the resort is open year round) and $485/night in summer.
The Beachcomber Resort, Montauk
631/668-2894
Two-bedroom villas rent for $275 to $327 depending on the season and promotion. Highrise rooms are steps to the beach and pool and come with living room, private bathrooms in each bedroom, sleeper sofa and free WiFi.
Gurney's Inn, Montauk
631/668-2345
Established in 1926, this is the oldest resort in the Hamptons. With an infusion of renovation capital and high style from the daughter of the late restauranteur/impressario Warner Le Roy, the 109 beautiful accommodations, all with ocean views, have been redone. The restaurant in back in vogue and all-day dance parties at the beach attract lots of weekend day-trippers. Service is still good; rates begin at $255/N for studio, $350/N for double suites, and $700 for cottages.
With so much to see and do, maybe a weekend getaway on Long Island will become an annual tradition!
Dear Reader: This page may contain affiliate links which may earn a commission if you click through and make a purchase. Our independent journalism is not influenced by any advertiser or commercial initiative unless it is clearly marked as sponsored content. As travel products change, please be sure to reconfirm all details and stay up to date with current events to ensure a safe and successful trip.
---