Sleep under the stars with close friends and family at a Lake Champlain camp when exploring Vermont. I've been there so I know the Lake Champlain Islands guarantee the summer's most peaceful getaway.
I was lucky to enjoy just that with John and Diane, who are kind of like family because we have prepared meals, celebrated holidays and traveled together, like families do. The fun we had on our weekend camping in the Lake Champlain Islands of Vermont inspires me to share our experience with others looking to travel in that area.
We set out for our camping trip on a July morning, with a trunkful of tents, sleeping bags, coolers, and backpacks. The drive from Ipswich, Massachusetts to northwestern Vermont (predominantly on Route 89) would take about four hours. Our 'family' knew that we would stop to see things on the way because we always do.
Picnicking along the Way to Your Lake Champlain Camp
Our first sightseeing stop, and a convenient place for a picnic lunch, was well into Vermont. The well-visited Quechee Gorge crosses paths with Route 89 in the eastern part of the state. A high bridge spans over this deep gorge with bright green trees and white water below.
Travelers can just drive over to catch a glimpse. For the full effect, you must park in the adjacent lot and walk onto the bridge. You will feel the traffic make it shake and have a majestic photo op.
Some trails around the gorge leave from the bridge, making quick hikes easy. Picnic tables, a gift shop, and restrooms stand nearby. The gorge is part of Quechee State Park, a large recreation area with a campground. Do check this out as another option for a budget overnight. The facilities are small so you will probably have to book ahead — in summer for sure.
For dessert, don't miss a stop at the Ben & Jerry's Ice Cream Factory Tour, a total treat.
See Burlington On a Day Away from Lake Champlain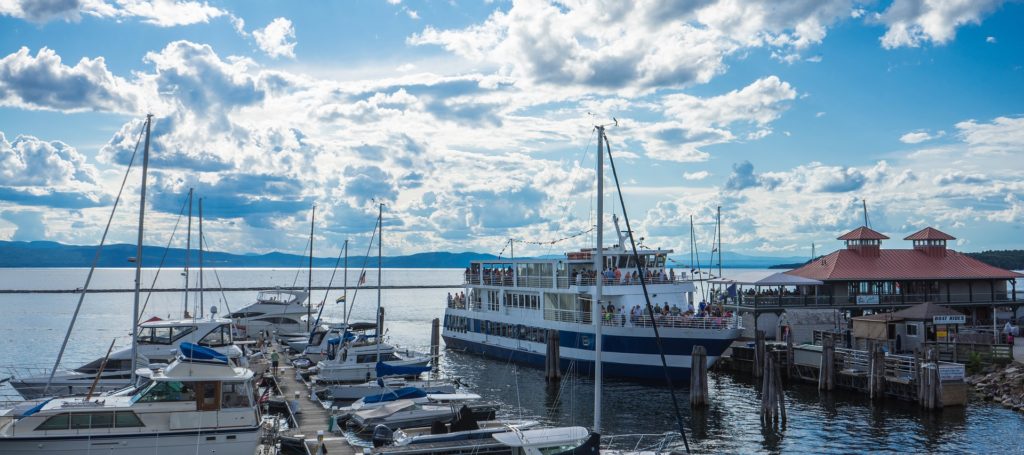 Burlington is a cool "little town." Though it's the largest city in Vermont, it has somewhat of a small college town feel. Most people walk with great purpose and direction on Church Street, but this pedestrian area looks more suitable for slow meandering past its many restaurants and storefronts. After dinner at Ri Ra, the local Irish pub, we went for a stroll, ducking in and out of book and kitchen shops. We watched a street performer do some wacky things on a high wire, impressing his sizeable crowd.
Another pleasant place to hang out in Burlington is down by Lake Champlain. Walk down the hill to the end of College Street, and you'll be there. The sturdy, porch-like swings that line the waterfront are perfect for restfully watching the boats and the sunset. There's also a nine-mile bike path for those more interested in active pursuits.
Exploring Our South Hero Camp at Lake Champlain
From Burlington, we phoned our campground and then drove another half-hour to South Hero Island to claim our spot. We raised our tent on a plot at Skyland (more on this campground later), then headed back for our only non-smelly night on the town.
A neighboring brewery festival provided us with musical entertainment and craft beers too.
What a full day we had on Friday. Sometimes I have trouble sleeping on the ground, but I conked right out with childish abandon when we returned to our tent.
From our Vermont Campsite to Isle la Motte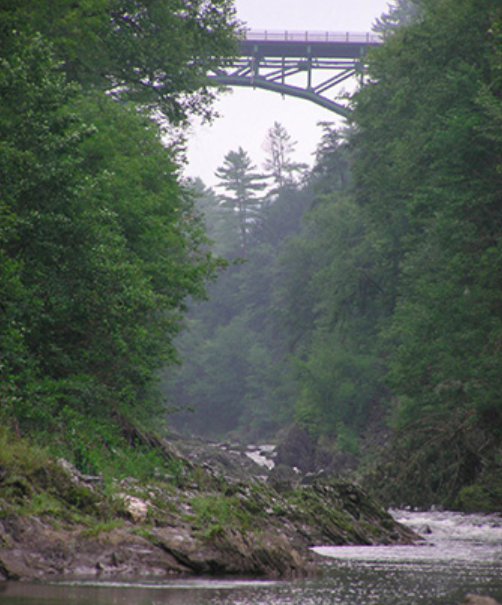 Our camp was located in South Hero, on one of the five Lake Champlain Islands: North Hero, South Hero, Grand Isle, Isle la Motte, and Alburg (which is technically a peninsula, but who cares?) This rural community is connected by bridges and is about 30 miles long. In the areas we passed through, tourism development was present but quiet, mainly contained to peaceful lodgings, farms, and orchards open to visitors.
Not seeing much around in the way of hiking, John, Diane, and I drove to Isle la Motte to go for a long walk. Our five-mile loop followed along the roadside. We walked past farmland, quaint homes and residents riding lawn mowers who wave as you pass. Maybe this wouldn't be the best walk with kids, but we enjoyed seeing a tiny town library, and ruins of old buildings that reminded me of rural Ireland.
We started and finished in front of St. Anne's Shrine, located on the original site of Fort St. Anne, the first settlement in Vermont. Constructed in 1666, this was the site of the first mass celebrated in the state. Now, in addition to statues of Catholic saints and an outdoor altar, there is a snack shop, restrooms, and picnic tables right on the water.
This is another decent spot for a dip in the lake, especially after a long, paved hike on a hot day. Cyclists will want to download the cool Lake Champlain Bike Trail Map to scount out new routes.
Mornings Swimming at Our Camp at Lake Champlain
Using what turned out to be incredibly green wood purchased on the honor system from someone's yard on Isle le Motte, we prepared a dinner of hot dogs and s'mores that evening. The novelty of cooking on sticks, of course, made the meal, just as it did for me countless times at Girl Scout camp. An ongoing struggle involving lots of newspaper and a borrowed hatchet kept the fire going just barely enough to cook.
Late that night, we watched a surprising spectacle from inside the tent – our fire flared up by itself, with no cajoling at all!
Remember to look up in the sky at night, especially if you live in an urban area. I saw more stars from Skyland than I had seen since traveling across rural Montana.
The next day was a typical early morning in a tent. Awakening to the squawking sound of birds, we breathed in the stale air heated by the rising sun. It was refreshing to exit into the fresh air, go for a swim with John in Lake Champlain (Diane, the swimmer of our group, had already gone in), and look around the campground.
Pick Your Family Camp Site at Skyland Camp on Lake Champlain
Camp Skyland has overlooked Lake Champlain, the Green Mountains, and New York's Adirondack Mountains since 1927. It's a straightforward spot with a breathtaking view and plenty of families playing together.
Of the 33 campsites, 11 are tent sites with picnic tables and fire rings. There are also 12 cabins for two to six people with toilets, hot showers, porches, bedding, refrigerators, and cooking facilities. A building with flush toilets and showers is available to all guests of the campground.
We assumed this would not be the case, so having not brought any soap or shampoo, we washed our hair with careful amounts of dish soap. Not long after our trip, the person cutting Diane's hair commented on how healthy it felt. Lake Champlain water and dish soap turned out to be a good styling routine!
Skyland is Just One of the Perfect Vermont Family Camps
Camp Skyland has several other features that make it a fun place to relax. Row boat and canoe rentals are available, and the small wooden docks are perfect for dangling bare toes into the chilly water. Guests can try their hands at horseshoes. (John was definitely the champion.) For rainy days, the main office building has shelves full of books and board games (think beach reading and vintage games like "The Waltons"). We enjoyed reading, napping, and listening to our French Canadian neighbors chatter over their camp stove throughout the day. Remember it's only open June 1 to September 30 so the weather is likely to be temperate.
By the way, the camp swing set has the best vantage point I've seen for playground equipment – and don't think I didn't try it out – as it directly overlooks the lake. Children meet new friends on these swings, bicycle around the grounds, and play frisbee with their parents in the central, grassy field. This is classic stuff – nothing fancy, but everyone looked like they were making some nice memories.
You don't have to do all the work yourselves. Vermont has several organized camps that cater to families and novice campers. And many are perfect family camps. One option near Lake Champlain is Camp Common Ground, a 700-acre center in Starksboro, Vermont. Located about 50 miles south, its family camp runs full weeks in August, with up to 165 overnight accommodations in a big lodge or rustic cabins with shared bath. Camp Kaleidoscope runs one week each June to provide family camp activities to those with a family member on the autism spectrum.
Too Soon to Head Home from Lake Champlain
Sunday morning was the time to head back to Massachusetts, but we weren't exactly in a hurry. After a leisurely breakfast, wash-up, and packing routine, we began the long drive (by East coast standards, anyway) home. It didn't take us long to make a stop.
Allenholm Farm is one of the many visitor farms in the area and the oldest, at more than 150 years. After surviving the pandemic shutdown, it is operating as an apple orchard. It has a cute shop and loads of interesting residents. Visitors can hang out with the farm's donkeys, sheep, rabbits, horses and Scotch Highland Cow (it's surprising to drive past the farm and see a "hairy coo" from the road). The shop does sell a variety of Vermont products, honey, natural foods, and homemade pies.
Traffic heading back toward the Boston area on Route 89 supposedly gets really heavy on summer Sunday afternoons/evenings, but we seemed to get through before the worst of it. Our silence in the car expressed that feeling of comfortable exhaustion that results from spending a weekend together outdoors.
Our camping trip was one of my favorite journeys of this summer and I would recommend the Lake Champlain Islands to families looking for a no-frills kind of getaway. And remember, dish soap makes a decent shampoo!
Things We Didn't Have Time to Visit but Maybe You Will
When John was working for a University of Vermont summer program a couple of years ago, he brought a group of kids to the Vermont Teddy Bear Factory. In addition to the factory tour, visitors can enjoy the Bear Shop, café and ice cream parlor, and even make your own "Friend for Life" (for a much larger, additional fee, of course). Located in Shelburne, Vermont; take exit 13 from 89.
The same exit takes you toward Shelburne Farms, a 1,400-acre, environmentally sensitive working farm and a National Historic Landmark. In addition to checking out the Visitor Center and Farm Store, visitors can wander the 8 miles of walking trails. Stop to watch cheese being made or visit the Children's Farmyard, where farm representatives and guests share chores like milking cows, churning butter, and collecting eggs. There are also guided tours, an inn, and a restaurant open in the summer. Check their web site for a calendar of special family programs.
ECHO, or Ecology, Culture, History and Opportunity at the Leahy Center for Lake Champlain, is located right on the Burlington waterfront, near those pleasant porch swings. It was closed by the time we passed by in the evening, but it looked like an interesting museum. Join tours about the science and past of New England with animal care experts. Watch a 3D movie. In addition, toddlers through age 6 children have their own Champ Lane early learning center.
Surprising Lake Champlain Area Attractions in Vermont
Those who embark on the Spirit of Ethan Allen III can choose between scenic narrative, lunch on the lake, Sunday brunch, or a variety of dinner cruises. This 500-passenger luxury yacht departs from the Boathouse on Burlington's College Street. While cruising, keep an eye out for Champ, Lake Champlain's resident sea monster. Discounted rates for children ages 3-11 years are available during the spring to fall sailing season.
Find out about the man the boat is named for at the Ethan Allen Homestead Museum just outside of town. This was the last home of the Vermont folk hero and leader of the Green Mountain Boys. The education center has a multi-media show and hands-on exhibits, while outside there are trails, picnic areas, gardens, and a children's history playground. Another plus for little ones is the Kid's Corner with its 18th century clothing and games. Tours are available all summer.
Ed Weed Fish Culture Station on Grand Isle offers an up-close view of the salmon and trout being raised in its hatcheries. The Visitor Center (temporarily closed for renovation) has educational displays, while visitors can watch and feed the fish. Best of all, it's free.
Jennifer's Guide to Helpful Lake Champlain and Vermont Camping Websites
There are several websites for the different regions in this part of Vermont. For general tourism information, maps, a visitor's guide and lodging information, please see the Lake Champlain Islands Chamber of Commerce or Vermont's official tourism and travel planner.
When you're ready to book, please check the Camp Vermont directory for the latest updates on what's open as things change due to weather and unforeseen circumstances. The Vermont Attractions Association has an informative web site for advanced research. Their Attractions Guide and Road Map are super useful.
Do check Vermont State Parks for the latest healthy and safety rules for camping and other outdoor activities. And while you're there, check out Hero's Welcome, a landmark gift shop in North Hero with all the souvenirs you'll ever need.
Dear Reader: This page may contain affiliate links which may earn a commission if you click through and make a purchase. Our independent journalism is not influenced by any advertiser or commercial initiative unless it is clearly marked as sponsored content. As travel products change, please be sure to reconfirm all details and stay up to date with current events to ensure a safe and successful trip.
---