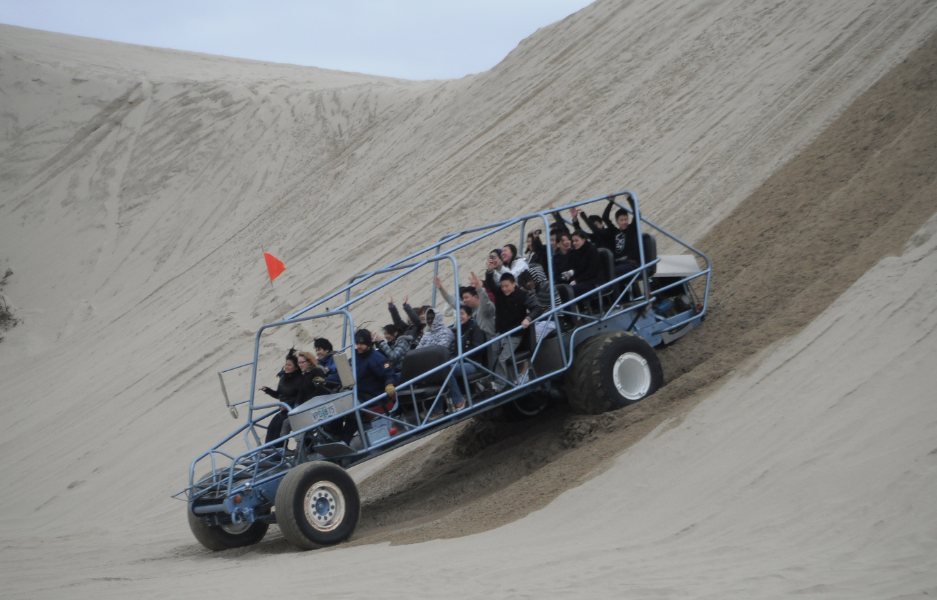 Oregon Dunes National Recreation Area in coastal southern Oregon provides active families buckets of fun — in a unique setting of enormous sand dunes near the town of Florence.
No matter how you like your dunebashing, Sandland Adventures is the place to begin any visit to this coastal Oregon town, gateway to the spectacular 32,000-acre recreation area. Sandland is the local outfitter that has led guided dune buggy tours through the park since 1978, revealing — at a snail's pace or at warp speed — the beauty of fine white sand dunes, some as high as 80-feet, rolling between clusters of Douglas-fir and Ponderosa pine that have survived the region's geologic fluctuations for more than 6,000 years.
We selected the half-hour introductory ride with Doug, an unassuming driver/guide who was pure Mario Andretti beneath the skin. Doug gave us goggles then helped strap us into our five-seater dune buggy, a bright blue steel frame with copious rollbars and a mean Volkswagen engine.
As Doug eased his way down the single track access road to the public dunes area, our 13-year-old son snuggled down in the front, where there was no windshield to protect him from the blowing sand. Just as my husband and I settled into our bucket seats in back, Doug took off, flying across the ridge of a dune at maybe 50mph.
Not Ready, Not Set, We're Off!
No matter the speed, Doug took the buggy around turns, up and over corners and off the edge of "drifts," the deceiving flows we'd been warned about. He hesitated as he crested every hill, wondering whether we could plunge straight down or glide across its peak on two wheels. Every few minutes he paused, to explain how the region had been under the ocean thousands of years before, or how the continuous wind and shifting sand created this natural playground that seemed immune to man's intrusion. Every few minutes we passed another rider, a solo buggy driver, teen on a dirt bike, or a family out on ATVs, all exploring the wilderness in their own way.
At one point, we spied a few quads parked down near a water hole, that Doug explained could get 20-feet deep and even become quick sand in the rainy winter season. Suddenly, he plunged down the 30-degree grade and did a 180-degree-turn so we could pull up alongside the hole and admire the water's clarity (and his driving of course.) We returned breathless and totally thrilled, only to see two Hell's Angels dismount their Harleys and walk over to Doug's parking spot, waiting to be his next passengers.
We covered about 10 miles of the park and did a lot of tooth-rattling driving in 30 minutes, in chilly temperatures. Doug explained that one-hour guests often get cold from the exposure and occasionally get motion sickness from the ride; the company recommends against pregnant women or anyone with back problems even attempting it.
For challenged family members, the grandparents, less brave kids, and those under about 8-years, there is Sandland's classic group tour which covers the area in a one-hour guided tour aboard a slow and steady dune bus holding up to 24 passengers. Much taller than the buggies, these provide a bird's eye view of the amazing scenery and views past the dunes to the often-foggy beach and Pacific Ocean beyond. After your ride, stick around to take a spin on Sandland's Go-Kart track, or try the bumper boats, railroad, miniature golf, or gift shop for souvenirs.
Start Your Motors – The Dunes Our Way
Having begun our Florence adventure with an incredible rush, it only made sense that my husband and son would want to try dune-buggying for themselves.
With a little research, we found Sand Dunes Frontier, another company that runs tours and, more importantly, partners with Torex Adventures ( (541/997-5363) to rent ATVs to anyone with a driver's license.
In the interest of full disclosure, all three of us had completed the Motorcycle Safety Foundation's course for dirt bikes and ATVs the prior year. We had been inaugurated into the world of OHV (off-highway vehicle) enthusiasts during a wonderful stay at Montana's Bull Run Ranch and were very comfortable (perhaps overly confident) with the notion of going out on our own.
When we arrived at Torex in the Sand Dunes Frontier parking lot and saw that they were renting 250cc quads (ATVs) to licensed drivers 16 and over, and 90cc Polaris ATVs to kids with learners' permits. As other urban families with a passion for suburban sports may know, it's very tough to find motorized rental equipment for your kids to try on vacation.
We waited about an hour for the equipment we requested to become available, meanwhile choosing helmets and listening to a 10-minute safety talk and lecture about dune riding.
Informative? Yes.
Threatening enough to slow down teens? Maybe.
Adequate for a family with no prior experience with OHVs, jetskis or snowmobiles? Probably not.
When our equipment arrived back and had been checked over, a young man spent two minutes showing us how to operate the machines and said we could practice together during the five-minute drive from the rental shop out to the dunes.
Sand Dunes Frontier very smartly maintains a 1.5-mile-square area within the vast dune system where they permit rental vehicles to operate. That gave us plenty of space to try climbing and running down the dunes, digging out our vehicles when they got stuck (all did at one point or another, primarily from not accelerating enough on the uphills) and taking a photo. It was fun, exhilarating and a little scary, too, as speeding up to the crest of the dunes always meant not knowing what would be on the other side, be it another rider, a hollow sand drift, or a big hole.
Florence Without Sand
One hour of teeth-chattering riding, strategizing and kidney-shaking was enough for our family. We were covered in sand from digging out our back tires and ready for a slow and peaceful stroll along the fog-shrouded Heceta Beach, quietly and slowly. Along this stretch is the large Driftwood Shores Hotel, whose ocean-view restaurant, the Surfside Lounge, came highly recommended for all-American fare and a sunset view.
Instead, we drove back to the hotel, showered and got ready for an evening in Florence's Old Town. Along Bay Street on the wide mouth of the Siuslaw River are a few waterfront lanes of old homes and commercial buildings that have become crafts shops, T-shirt museums and ice cream stores.
Among restaurants, we found the lantern-lit Mo's Seafood to be among the most popular. Many families finish their meals at BJ's Ice Cream, which offers a wide variety of home-made ice-cream flavors, including, for the more adventurous tasters, salt-water taffy and caramel corn.
Back To The Sand
We learned from other travelers that Michigan, Colorado, Nevada, California, Brazil, Namibia and probably many other places have extensive dune regions durable enough to withstand extreme sandsports.
But for us New Yorkers, who are forbidden to even walk on Atlantic dunes to prevent erosion, the only thing left for our skate- and snow-boarding teen was to sandboard. We contacted Sand Master Park, a shop boasting sandboard rentals and the "country's first sandboarding park." They own 40 acres of dunes accessed through a neighboring store's parking lot.
Sand Master Park sells boards, boots (for "full" boards used on bigger dunes), Ts, stickers and cool looking gear with a staff including nationally ranked sandboard competitors. There's a toddler slide outside leading to a big sand pile for practice, and a big TV showing videos of championship competitions, all great fun for the wannabe' athlete.
Our son used his snowboard knowledge to pick out the right size terrain board (used in Oregon, these are short, slick wooden planks with a rounded front tip that must be waxed.) Like snowboards, the sandboard is held onto your feet by two Velcro-sealed footpads, but sandboards are ridden barefoot. We all tried staying vertical while gliding down the steep dunes, but only our teen could do it.
It's a beautiful spot though, and sandboarding is fun to watch. It wasn't long before our son wore out from climbing back after each ride, ascending hills of granular stone that would tumble back into place after every footfall, obscuring signs of man.
Although Sand Master's alleged "sandboard terrain park" turned out to be just a few pipes, rails and boxes that had blown over or needed to be dug out of a drift, our son enjoyed himself. Returning exhausted to the shop, the salesman told us, "Hey man, we fix it in the morning but it's up to you to take a shovel and maintain it."
A Hotel That Doesn't Mind Sand
Without a motorhome or trailer filled with gear, we chose to stay at the attractive Best Western Pier Point Inn (800/435-6736, 541/997-7191), located at 85625 Highway 101, Florence OR 97439 at the south side of the historic town bridge. Rooms are stacked in rows on the steep wooded banks above Siuslaw Bay, and the whole place is up on stilts, affording beautiful views of the bay and town. A rest here is a vacation on its own.
The lobby is two levels above the indoor pool and two bubbling Jacuzzis. Guests can peer through a large picture window wall at the river and ease their sandboarding muscles.
While not especially fancy, the large double rooms have balconies facing the gorgeous river view. Inside, on wall-to-wall carpeting, are two queen beds and Formica counters supporting a large TV (with full cable and HBO), minifridge, microwave, coffee maker and hairdryer. Best yet with kids, the complimentary full breakfast buffet is surprisingly complete. There are cereals and yogurts, boiled eggs, and a nifty waffle maker that beeps when your twin waffles are cooked through.
All this, and a river view, for just under $182/N in the 2016 high summer season. Check the website for seasonal specials, and Coastal Oregon tourism information for other lodging choices.
Dear Reader: This page may contain affiliate links which may earn a commission if you click through and make a purchase. Our independent journalism is not influenced by any advertiser or commercial initiative unless it is clearly marked as sponsored content. As travel products change, please be sure to reconfirm all details and stay up to date with current events to ensure a safe and successful trip.
---