Central Florida's Brevard County attracts families with its eco-friendly attractions, space history and water sports.
For most of us there are two coasts; the east coast and the west coast. I, for one, think that is probably sufficient. Floridians clearly disagree. Florida is the undisputed capital of multi-coasts. There's the First Coast, Treasure Coast, Palm Coast, Lee Island Coast, the Nature Coast, Central West Coast, Central East Coast, (almost there) North Central Coast, Big Bend Coast, Forgotten Coast and the Space Coast, the site of my family's recent vacation.
Unlike the other ambiguously-named coasts, the Space Coast name is clear; it derives from the fact that this 72-mile stretch is home to the venerable Kennedy Space Center as well as the legendary Ron Jon Surf Shop, all within the towns of Titusville, Cape Canaveral, Viera, Cocoa Beach, Melbourne and Palm Bay.
The Space Coast is only 35-miles east of the Orlando attractions and the activities available here include watching shuttle and rocket launches, surfing, bird watching, year-round golf, fresh and saltwater fishing, air boat rides, and all the rest of the usual Florida vacation fare.
Lift Off
If you are planning a trip to the The Space Coast (Visitor's Center, 877/572-3224) to view a shuttle or rocket launch, plan carefully and remember, these things do not always go off on schedule and delays can be anywhere from a day to months. We were fortunate enough to have witnessed a launch and it was quite spectacular. Kennedy Space Center organizes as-close-as-safe viewing sites plus activities on launch days. However, although we were a good 50 miles away from the launch pad, our view from the beach was more than sufficient.
Seeing a launch in person gives you a whole new appreciation of the power it takes for the vehicles to leave our atmosphere and all of the children present gaped wide-eyed, as massive towers of smoked billowed upwards followed by a brilliant trail of blazing, orange fire. A good two to three minutes after takeoff the sound finally made it our way, the earth trembling beneath our feet. The kids were a bit frightened, but they loved the feeling.
Earth Play at the zoo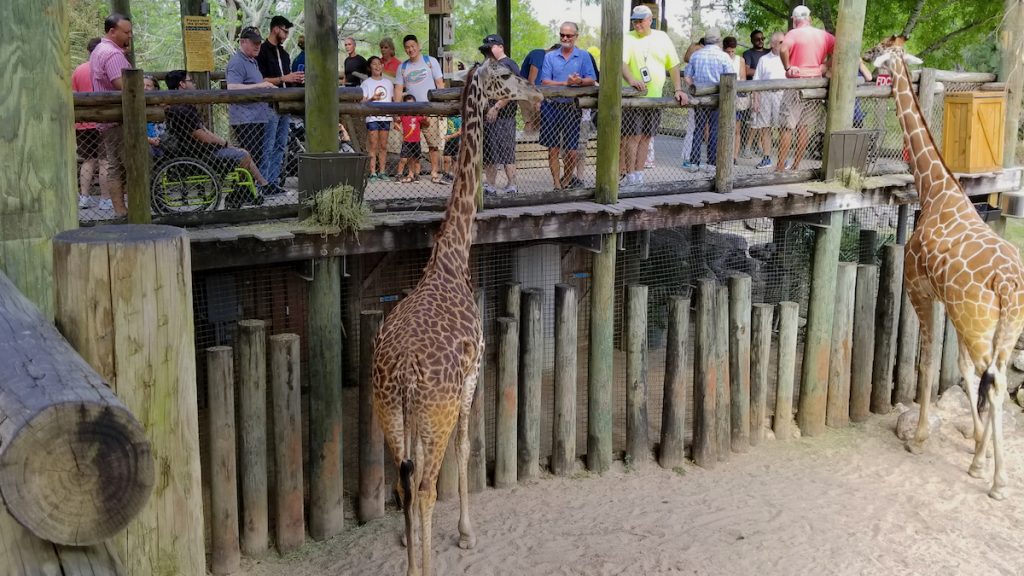 Perhaps the Space Coast is inappropriately named; although the area is known for its space-themed offerings, the more unique attractions are based here on Earth. We visited the Brevard Zoo to try two activities that you won't find elsewhere.
The first activity is hand-feeding giraffes from a raised platform that allows you to greet these amicable long-necks face to face. It is amazing to get so close to these creatures. The giraffes are gentle giants that calmly munch large, melba toast-like treats right from your child's hand. The kids go nuts for this, and it is an amazing Insta-moment for happy-snapping parents.
The second adventure unique to Brevard Zoo is a kayak ride on the park's meandering river. Parent and child pilot their own kayak up the river where you are provided with a backstage view of the creatures. A guide leads the way in his/her own canoe and provides loads of interesting facts about the animals on shore. This journey allows you to get unimpeded views of the animals on shore; you're free to imagine that you are out in the wild and not behind the gates of a zoo.
Surf School's in session
The highlight for me was a surfing lesson with George Jones of Surf Guys Surf School; this dude is the genuine article. George's narratives, told in that natural, smooth-flowing surfer accent, were extremely entertaining and he breaks his lessons into manageable little chunks.
You begin your lesson with an explanation riptides and how to swim in them, accompanied by a healthy sprinkling of anecdotes from his personal history. And of course a reminder that world champion Kelly Slater comes from Cocoa Beach.
I was with a group of five adults and, thanks to the instructions, three of us actually managed to get to our feet and ride baby waves ito shore before falling onto our behinds in six inches of water. At $85 (generous gratuities mucho appreciated, bro!) you won't feel cheated. Kids are welcome to participate.
Slow Let Down to Earth
No visit to the Space Coast is complete without a stop at the Kennedy Space Center, which is growing into a multimedia visitors center to promote NASA space programs seemingly to teens. Recent enhancements have added activities such as Lunch with an Astronaut, special bus tours and photo opportunities with green screens that place guests on Mars, in spacesuits, etc.
Although many things about the center are quite amazing, you can spend a lot of time waiting for shuttle buses — the bus tour of private NASA facilities is a must — and even more time watching short video introductions that don't hold much interest for younger children.
The six-story, $100 million Space Shuttle Atlantis exhibit gives visitors a chance to get nose-to-nose with the final shuttle orbiter to fly a NASA mission, Atlantis. State-of-the-art multimedia presentations and more than 60 interactive exhibits and simulators, along with an awe-inspiring, 360-degree view of Atlantis make it fun for any age.
The highlight for my 9-year-old son Devin was the near-nausea-inducing, loud, and shaky Shuttle Launch Experience in the Atlantis pavilion. This simulated shuttle launch is meant to give you the sensation of a real takeoff (on a small level it did, and, having experienced it, I can confidently declare that actual space travel is not in my future). As children under 48-inches-tall are not permitted to ride, my diminutive daughter, Daelyn, watched the action from a viewing booth with her mother.
Both Country Inn & Suites and Residence Inn Cape Canaveral have spacious family accommodations with microwaves, coffeemakers, free breakfast and WiFi and outdoor pools. At Country Inn & Suites there's an alcove with twin beds themed to space flight, a treat for younger kids that means more privacy for adults. At Residence Inn, big rooms are homey with a sofabed and daybed, not as private but with more room to hang out and have a dine-in movie night.
All in all, we enjoyed our visit to the Space Coast which is an easy and worthwhile, two-day addition to any vacation in nearby Orlando.
Dear Reader: This page may contain affiliate links which may earn a commission if you click through and make a purchase. Our independent journalism is not influenced by any advertiser or commercial initiative unless it is clearly marked as sponsored content. As travel products change, please be sure to reconfirm all details and stay up to date with current events to ensure a safe and successful trip.
---