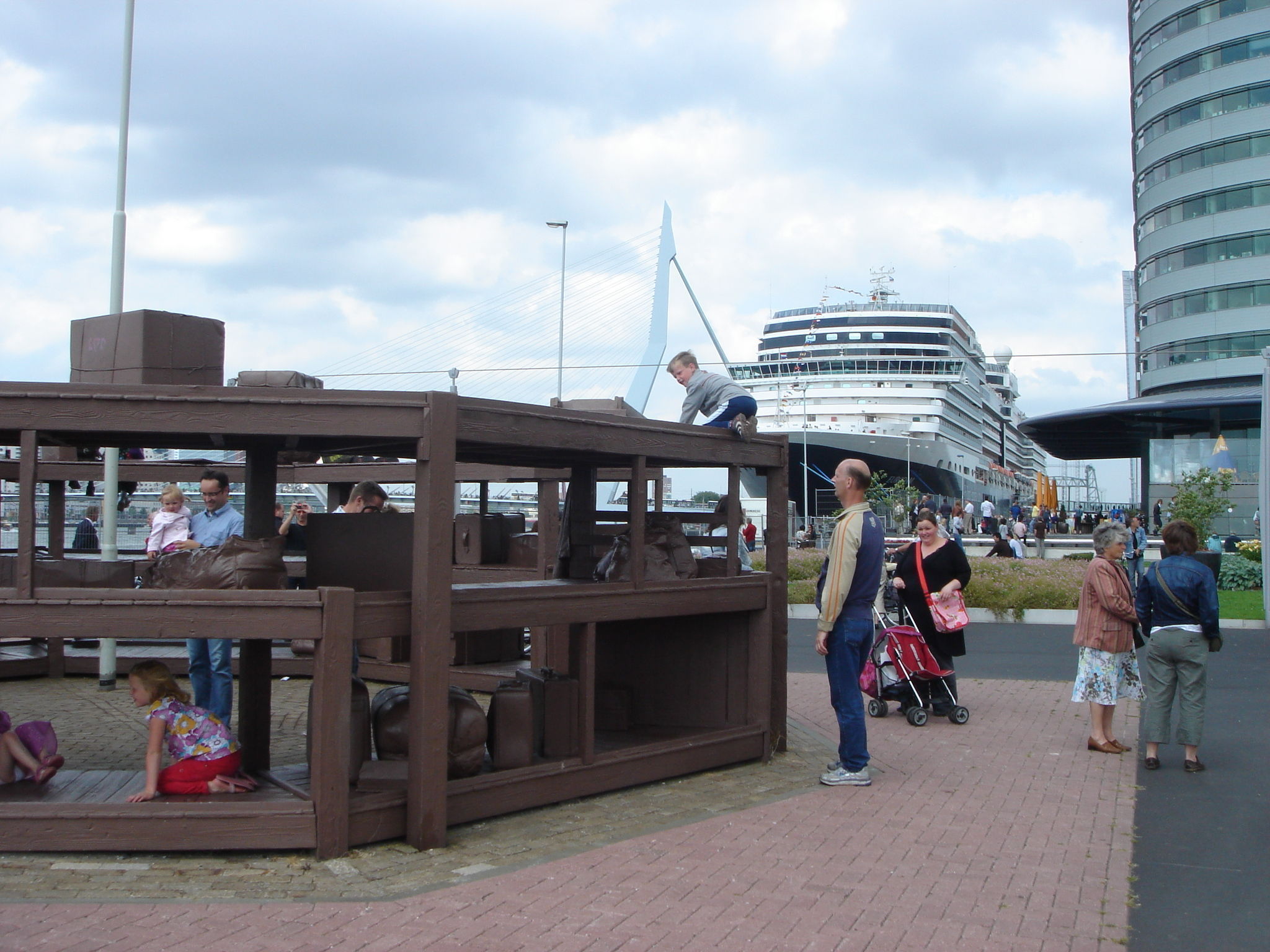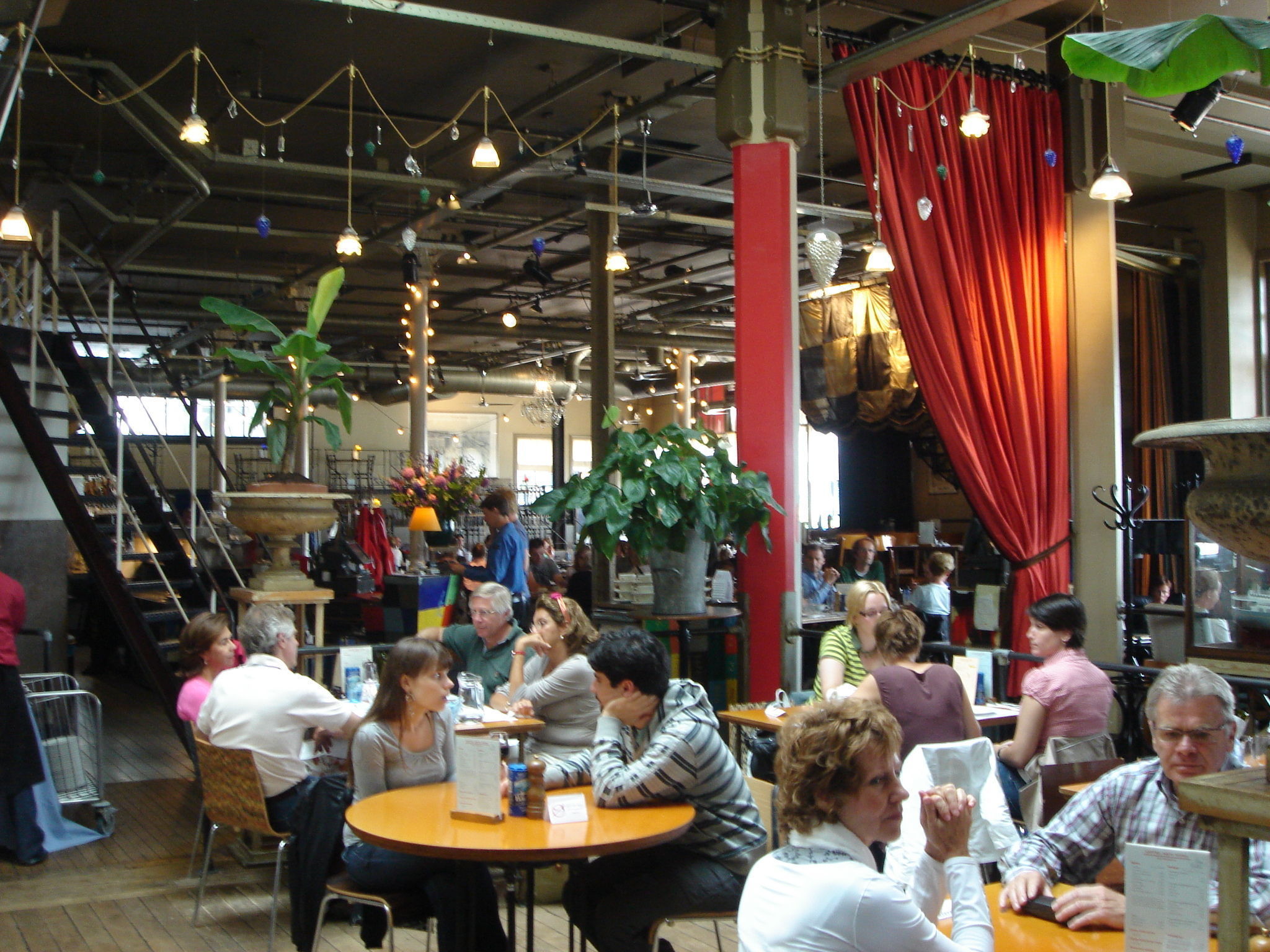 Rotterdam is a compact city, with most of the elements of interest to tourists grouped near the harbor. There are several hotels which would be suitable for traveling families in this area.  There are also several hostels; one of which is a sailing ship, one of which is to be found in the architecturally significant and striking Cube Houses. As in many European hotels, it's sometimes difficult to find rooms that will sleep a family of four, so choose carefully and confirm that it's possible to do so before booking.  In the larger hotels, breakfast will not be included in the room rate and will run €12-15 ($17-22) per person, though kids under 12 often eat free.
Hotel New York
Koninginnenhoofd 1
3072 AD Rotterdam
+31/(0)10/484 2701
$$
Hotel New York is the most distinctive and most fun of all hotel choices. Site of the original turn-of-the-century Holland America Line offices, this red brick gabled structure with its Jugendstil ornamentation is now a popular restaurant and hotel. It sits at the point of an island in the Nieuwe Maas River, Wilhelminapier, the site of the city's new wave of development of tall, modern towers, and home of the cruise ship port. As a guest or just a tourist, you should go inside to peruse their unusual shipping souvenirs, try the afternoon tea or some of the restaurant's fine seafood and pastries, then step into the lobby to admire the historic photographs of the golden age of passenger cruising. Outside is the Monument to Left Luggage, an intriguing climbing structure/sculpture composed of larger-than-life bronze suitcases, purses, sacks of grain, crates of dishware and other personal belongings left behind by decades of emigrants who sailed from this port.
Stylish and spacious double rooms with two beds will sleep a family of four, or for a splurge, the penthouse suite has commanding views of the port and city. It's a 20-minute walk over the bridge to the city center, but better to have the concierge call Rotterdam Watertaxi (+31(0)10/403 0303), which will get you to the Veerhaven area (older houses and Museumpark)  directly opposite the hotel in 5 minutes, or up to the Leuvehaven area (city centre + Maritime Museum).  Note that hotel rates do not include breakfast or taxes.
The Westin Rotterdam
Weena 686
3012 CN Rotterdam
Netherlands
+31/10/ 430 2000
$$$
Those travelers interested in a good American brand should consider the well-regarded, modern Westin Rotterdam. It's located across from the Central Station for an easy train ride to Amsterdam. The Maritime Museum is nearby as is the Museumpark with both art and architecture museums. The only drawback is that a family of four will require two adjoining rooms, though the family special rate gets you the second room at half rate. Kids under 12 eat free.  Room rate does not include taxes or breakfast.
Bilderberg Parkhotel Rotterdam
Westersingel 70
3015 LB ROTTERDAM
+31/(0)10/436 36 11
$$
The Bilderberg Parkhotel Rotterdam is one of the best values for families.  It's located on a quiet street not far from the Museumpark and the Central Train Station, with a Metro stop nearby.  Rooms are spacious and well-kept in this outlet of the dependable Dutch Bilderberg chain. A family of four can bunk in a studio room, though there are only two in the hotel, so book early.
The Maritime Hotel
Willemskade 13
3016 DK  Rotterdam
+31/(0)10/411 92 60
$$
Well sited and reasonably priced, but with mixed reviews, the Maritime Hotel sits on the river across the water from the Hotel New York near the Veerhaven district. It's picturesque, because this is one of Rotterdam's few areas of 19th century buildings to survive intense Allied bombing in World War II.  Though their website doesn't show the choice, four-person rooms are available with breakfast and tax included in reasonable rates.
Grand Hotel Philadelphia
Van Vollenhovenstraat 48-50
3016 BJ Rotterdam
+31/(0)10/270 97 35
$$
We're not sure why, but this small hotel is operated by the Philadelphia Care Foundation, a national organization for people who need care and/or help regardless of their disability or age, so that they can live independently and shape their own lives. It was created out of three old shipping office buildings in the midst of the picturesque shipping district.  It's close to the river, Museumpark and the shopping district.  The only drawback is that there are no rooms that will hold a family of four.  A roll-away (€12.50; $18) can be added to a standard room to comfortably sleep three people.  Room rates do not include breakfast and taxes.
Hotel Bazar
Witte de Withstraat 16
3012 BP ROTTERDAM
+31/ (0)10/2065151
$$
The Hotel Bazar is a unique, much-loved small hotel on a busy hip street of restaurants and shops. The décor is an eclectic mix of Moroccan and Turkish motifs. The breakfast buffet is impressive and the restaurant a destination of its own renown.  The only option for a family of four is two connecting 3rd floor rooms with bathrooms en suite.  Breakfast and tax are included in the rate.
Hotel Van Walsum
Mathenesserlaan 199-201
3014 HC Rotterdam
+31/(0)10/436 32 75
$$
The Hotel Van Walsum is small, friendly hotel located on a quiet lane near the Museumpark.  Its eclectic mixture of rooms includes three long-stay apartments, and the guest experience is graced by a lovely rear garden.  There is one room that will accommodate a family of four, facing the garden but lacking air-conditioning.  Here, the rate includes breakfast and tax.
Hotel Emma
Niewe Binnenweg 6
3015 BA  Rotterdam
+31/(0)10/436 55 33
3015 BA Rotterdam
$$
This is a small, basic hotel in a good location next to the Erasmusburg Bridge.  A family room for four is available includes breakfast and tax.
H2otel
Wijnhaven  20a
3011 WR Rotterdam
+31/(0)10/444 56 90
$$
How about a floating hotel on a barge?  The H2otel is anchored in the Wijnhaven area, about halfway between the Train Station and the Erasmusburg Bridge.  It's a full service hotel, with sitting areas on deck. Families can settle into a luxury room for four at a rate which does not include breakfast, though it's free for the kiddies.
Hostels
B&B Iris
(Book at http://www.Hostelworld.com)
$
Since Rotterdam has historically been a major port, if you're a bit adventurous, you might want to try staying in the B&B Iris, a graceful 1916 two-masted sailing ship. The Iris is docked in Veerhaven, the historic port area of wonderful 19th century houses.  Each cabin has two bunk beds and shares a bath with an adjoining cabin.  Breakfast is included and served aboard.  Rates start at €40 ($58)/person inclusive of tax and breakfast, with a two-night minimum.
Rotterdam Cube Hostel
Overblaak 85-87
3100 MH Rotterdam
+31/(0)10/436 57 63
$$
For those who want an intimate view of the famous Cube Houses, as of June, 2009, you can now actually stay in a hostel built within them. Created and operated by Stayokay, a respected chain of Dutch hostels, there are 49 uniquely shaped rooms, a mixture of four- and eight-bedded, gender specific or mixed sex rooms, each with its own private bathroom.  It's full service with a bar that looks over the 17th century port, Oude Haven.  Rates start at €40 ($58) per person, breakfast and linens included. Bring your own towels or rent from the hostel.  A family of three or four can simply take a four-bedded room and have it to themselves, with prior arrangement.  Stayokay is a member of Hostelling International, so standards are strictly maintained.
Dear Reader: This page may contain affiliate links which may earn a commission if you click through and make a purchase. Our independent journalism is not influenced by any advertiser or commercial initiative unless it is clearly marked as sponsored content. As travel products change, please be sure to reconfirm all details and stay up to date with current events to ensure a safe and successful trip.
---