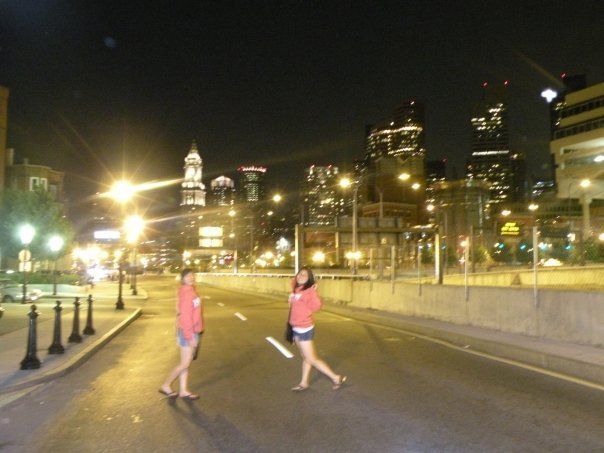 Share tales of childhood at the New Jersey Shore as this author and granddaughter relive the past and together discover what's new and exciting in New Jersey.Share tales of childhood at the New Jersey Shore as this author and granddaughter relive the past and together discover what's new and exciting in New Jersey.
One year, my annual trip with a grandchild transported then 7-year-old Marti with me to New Jersey, where I wanted to share the delights of my childhood summers "down the shore" and where newer attractions added much to Jersey's appeal. This child and I always have fun together, and her sponge-like mind constantly absorbs new experiences.
South Jersey – Six Flags is an Animal Adventure
We started at Six Flags Great Adventure & Wild Safari (732/928-1821; Route 537, Jackson, NJ, 08527), the country's largest Six Flags, since Marti couldn't wait to get there. Of its amusement park rides, the park boasts 13 roller coasters alone.
Marti's favorite part was the two-and-a-half-hour Wild Safari VIP Off-Road Adventure Tour. Things got off to a great start when a dromedary camel poked its huge head in the window of our Land Rover, then batted its two-inch-long eyelashes at us. My granddaughter Marti shrieked in delight. "That is just so sweet," she exclaimed.
We lucked out and rode with Dr. Bill Rives in a striped Land Rover. Just like in Africa, he drove us over grass and off paths. Several giraffes poked their heads in the open sunroof, then licked the windshield with their long, purple tongues. Marti giggled hysterically. No wonder Rives says, "No one has complained about the high per-person cost."
He said that 10 in the morning is really a great time to see the animals and added, "This is the country's only Six Flags with a drive-through Safari Park." We were able to toss food to the elephants, and both Marti and I counted this as a highlight. In other sections, we spotted black bears and white tigers. Fortunately, they didn't come up to our Land Rover.
We later chatted with another visiting family and Natan Weinberger said his favorite animals were the baboons, who climbed on top of their car. His brother Eli, who seemed to ape his older brother's every move, said his favorites were "the bamboons. They sticked their tails down on the windows," he said.
Marti had said she wouldn't go on a roller coaster, and I certainly wasn't going to push her. When her parents are around, a stubborn streak often emerges, but I use a hands-off policy. However, seeing the new friends she'd met at the hotel trying the coasters, she worked up her courage and suddenly dashed onto one. She counted her first roller coaster ride as another highlight.
Point Pleasant Beach – almost Bruce Springsteen Territory
When we had checked into our family-friendly beachfront hotel, the White Sands Oceanfront Resort & Spa (888/558-8958, 732/899-3370; 1205 Ocean Avenue, Point Pleasant Beach, NJ 08742), it reinforced why I loved spending my early summers at the Jersey shore, even though this was not one of the better-known areas. Because the Gulf Stream is so close, the water is warm — 20 degrees warmer than it is in Maine, for instance. And, the sand is silkier than it is where we live in Florida.
Stores and arcades remain open along the boardwalk from Memorial Day through September. Great fishing also lures people to the nearby inlet to the Manasquan River. The hotel offers a complimentary supervised kids' program during the summer.
Nearby, Jenkinson's Boardwalk & Aquarium, (732/ 892-0600; 300 Ocean Avenue, Point Pleasant Beach, NJ 08742), offers a mile-long private beach, eateries, amusement park rides, a carousel, and flocks of birds for birders (it's on the bird flyaway from Cape May). The impressive aquarium features sharks, harbor seals, and penguins plus a touch-tank. Folks also hang out to watch the fishing fleet return. There's an admission charge to the aquarium and beach.
This is not New Jersey's most famous boardwalk. If you're interested in Bruce Springsteen, his family's favorite stomping grounds are farther south around Asbury Park. There you'll find a larger boardwalk with many public events scheduled in summer, and the Stone Pony club, which is known as the place The Boss' career took off.
---
North Jersey – Frank Sinatra Territory
Frank Sinatra was known for frequenting Hoboken, a friendly small town near Newark that has become a hip and happening commuter community with lots of restaurants that appeal to visitors. Newark itself has become a much more sophisticated city than I recall, with a wonderful art museum and the large Ironbound District, an enclave of Portuguese and Brazilian restaurants that attracts many diners from across the Hudson River in New York City.
Marti and I headed north to sample the major family attractions, such as the Liberty Science Center, Meadowlands and Medieval Times themed dinner theatre.
We visited the marvelous Liberty Science Center (201/200-1000; Liberty State Park, 222 Jersey City Boulevard, Jersey City, NJ 07305), a four-story-high museum bound to capture the imagination of children and grownups alike with hundreds of hands-on exhibits. Many are new since the major 2007 renovation, while some earlier exhibits have been retained.. And, of course, an IMAX theater – the nation's largest – permits viewers to feel as if they're traveling to remote places. Visitors could easily spend a full day here.
Trent Murphy, a kid who seemed blase during our visit, found satisfaction in The Environment. He came up close and personal with a tarantula and Central American cave cockroaches. His conclusion: "This museum's really cool." From here visitors may walk to the boat to reach the Statue of Liberty and Ellis Island.
Hackensack River Eco-Cruise
Visitors may also see Lady Liberty and Ellis Island from a different vantage point. We sailed from the Meadowlands Environment Center (201/460-8300; 2 De Korte Park Plaza, Lyndhurst, NJ 07071), where we viewed dioramas and specimens of the wildlife that thrives five miles from downtown Manhattan.
Within sight of the skyscrapers of the high density urban area, and the symbols of American freedom, we meandered on a two-hour pontoon boat cruise along the Hackensack River estuary through wetlands and below 15-foot-high reeds.
We hoped to spot some of the 260 bird species and fish, including striped bass and blue-backed herring, all in an area previously known as "the garbage museum." We eyeballed a great blue heron, and several grebes and teals. But the most excitement was generated by black skimmers, a bird on New Jersey's endangered list.
We lunched at Park West Diner & Café (973/256-2767; 1400 U.S. Highway 46, Little Falls, NJ, 07424). The owners have re-created an authentic '50s stainless steel diner featuring a mica soda fountain and jukebox. It serves some old comfort foods along with mostly 21st-century favorites and is open 24/7.
---
Shining Knights of New Jersey
One evening we visited Medieval Times (888/WE-JOUST or 888/935-6878, reservations suggested; Lyndhurst Castle, 149 Polito Avenue, Lyndhurst, NJ) in a re-created 11th-century castle. Yes, guests were kept far too long in the holding tank where adults bought costly drinks and kids egged on their parents and grandparents to buy them expensive souvenirs.
I know grandparents often overindulge their grandkids, but we have a prearranged deal to buy only one souvenir within a certain price range.
Yet once inside the arena, the magnificent Andalusian horses performed exquisitely. The medieval-clad knights each wore their colors and divided the 1,000 guests into sections representing each. Ours was the green knight, and he proceeded to win the most jousting, javelin-throwing, and other contests. Through it all, we were served a lackluster meal that wouldn't offend anyone, but our eyes were definitely focused on the performance in the central oval field.
At the end, each knight rode forth with his colors (ribbons) at the tip of his lance to bestow on his most beautiful queen of love and beauty. As audience members screamed for the winningest knight, the green knight bestowed them on the damsel with the broadest smile – Marti!
"This is embarrassing," said my modest granddaughter, who, of course, rates a 10 in my estimation.
What dreams will last a lifetime from that event.
Photographs for this story provided courtesy Molly Staub.
Dear Reader: This page may contain affiliate links which may earn a commission if you click through and make a purchase. Our independent journalism is not influenced by any advertiser or commercial initiative unless it is clearly marked as sponsored content. As travel products change, please be sure to reconfirm all details and stay up to date with current events to ensure a safe and successful trip.
---