Which Scottish-born writer credited Yosemite National Park as the finest creation of nature incomparable to any other on the face of the earth? It was John Muir who wrote, "All other travel is mere dust and hotels and baggage and chatter."
Since families around the world are trying to avoid hotels, baggage, chatter and crowds, plan your Yosemite summer adventure for early or late in the season. Note that from May 20-Sept. 30, 2022, between 6 am and 4 pm daily, vehicles need a reserved entry permit which must be booked in advance.
Geological Wonders of Yosemite National Park
Geologically speaking, Yosemite owes its splendorous stone formations to the earth's ever-changing geological processes over long periods of time. Traverse its diverse landscape. The Sierra Nevada Mountain Range rises from near sea level along the park's west edge to more than 13,000 feet along the range's crest in the Yosemite area.
Scientists believe the Sierra Nevada was created when a massive block of the Earth's crust broke free along a fault system to the east. That tilted the land westward and uplifted the imposing cliffs and mountains so iconic of Yosemite National Park today. As a result of altitude and climate changes, glaciers which formed two to three million years ago are largely responsible for the park's many remaining lakes. Most families choose to visit the park in summer, when they can introduce their kids to a remarkable outdoor environment without the threat of storms and snow. (Beware! Storms can also happen in summer at altitude.)
Yosemite National Park's South Entrance & Attractions
First let me say, families cannot see all of Yosemite in a day. If you're not road-tripping, to begin exploring the park's 1,169 square-miles of wilderness, fly into Fresno Airport and rent a car. Make the approximately 2½ hour drive north with pleasure to the South Entrance of Yosemite.
Your family's first stop upon entering the South Entrance can be the 695-foot Chilnualna Falls in Wawona, where visitors can hike a steep trail to get a good view of the surging water.
Nearby, Mariposa Grove is filled with nearly 500 mature giant sequoias, some more than 3,000 years old. Interestingly, the bark of a Giant Sequoia -– which can sometimes be up to 60 centimeters thick — is fire resistant. This is important because fire helps open the sequoia cone and scatter the tiny seeds, clears forest debris from the mineral soil and provides a nutrient rich seed bed as well as clearing competing species.
The Pacific Crest National Scenic Trail Challenge
Among the multitude of attractions around the South Entrance, the Pacific Crest National Scenic Trail may be best known. Buckle in the kids as the road crosses Donohue Pass at a dizzying 11,056 feet, continuing to the North entrance at Dorothy Lake.
The remainder of the 2,650-mile trail, which begins in Mexico, winds all the way up the Cascades and Sierras to Canada. It is said that the PCNST crosses through the greatest number of elevation changes of any of America's National Scenic Trails. Changing elevations mean that hikers and equestrians (no vehicles allowed) who traverse its length will experience six of the seven ecozones found in North America. The most active families encouter high and low desert, old-growth forest and artic-alpine country — obviously not a challenge for everyone.
Into The Heart of Yosemite
Arguably the most popular portion of the park, Yosemite Valley is home to the Yosemite Falls, made up of three separate water falls totaling 2,425 feet in height. The Falls flow November through July and can best be seen from the areas around Sentinel Meadow and the Yosemite Chapel.
The first attraction visitors see upon entering the park, however, is the Bridalveil Fall, standing 620-feet tall. Its heaviest flow is in the spring. Did you see Alex Honnold in the Academy-Award winning documentary "Free Solo"? If so, you know that rock climbers test their mettle on the 3,000-foot granite face of El Capitan. While it's known as the largest monolith in the world, it's also the location of the 1,000-foot-high Horsetail Fall. These glowing orange falls flow from December to April and are best seen during mid- to late-February sunsets.
From the El Capitan Meadow, take in an impressive views of the Cathedral Rocks and Spires. Atop the 8,122-foot Sentinel Dome, the famous wind-blown Jeffrey Pine rewards adventurous hikers with a short rest. From the pristine Mirror Lake, guests can see the remarkable landmark, Half Dome, which stands at nearly 5,000 feet above the Valley floor and is a popular spot for hikers and rock climbers.
Nevada, Vernal and Glacier falls are popular places to visit, while the latter of the three is famous for its view from Glacier Point cliff. However, Glacier Point Road is closed throughout 2022 for repairs so only very fit hikers will be able to get close. You can see Glacier Point while driving to Curry Village or The Ahwahnee Village, where kids can learn the art of basket-weaving, bead working and acorn grinding.
The Park's Hidden Cultural Gems
Even in summer when the outdoors beckon, there are some wonderful indoor and cultural attractions well worth a visit. To the front of the Ahwahnee Village sits the Yosemite Museum, a perfect place for kids to observe displays on native inhabitants of the park — Miwok and Paiute people — from 1850 to the present. It closed during the pandemic and summer 2022 hours are certain. Check to see if the wonderful demonstrations of basket weaving, beadwork, and traditional games will be presented.
Nearby, discover the Yosemite Valley Visitor Center. The displays explain how Yosemite's spectacular landscape was formed and how it has continued to evolve over time. Look for a replica of the base of a giant sequoia, a bear cave that kids can enter, and a "glacier" that welcomes a hands-on approach. Contact the Yosemite Conservancy for information on art classes for ages 12+ given at various locations in the park.
In operation since 1902, the Ansel Adams Gallery has been preserving Native American history and has on display a collection of timeless photographs — in Adams' signature black and white style — of the park landscapes.
Families with younger kids enjoy some of the exhbiits designed for elementary school students. A quick stop at the family-friendly Nature Center at Happy Isles gives visitors a more in depth look at the area's flora, fauna and geology with interactive displays. From Monday to Thursday, enroll kids in the Yosemite Conservancy kids art classes at this location. The Pioneer Yosemite History Center allows visitors to see horse-drawn wagons, walk across a covered bridge, and visit historic buildings out of Yosemite's past.
Summer is also the time for rafting along the Merced and South Fork rivers or kayaking on the calmer waters of the Tenaya Lake — great fun for teens and tweens.
Venturing Out East in Yosemite
Branch out west of Yosemite Valley and you'll find the East, or Hetch Hetchy entrance. Look for more waterworks (such as the Wapama Falls which flows at an impressive 1,400 feet) and explore. At its peak flow in May, the falls can be best seen from O'Shaughnessy Dam.
Onlookers spot the prominent peaks of Half Dome from a perch on Olmsted Point, which can be accessed by the East Entrance along the Tioga Road.
Perhaps even more famous than the Pacific Crest National Scenic Trail and overlapping most of its length, the 211-mile John Muir Trail stretches from Yosemite Valley to Mt. Whitney, the highest point in the continental United States. Trek portions of this trail to see many of Yosemite's sensational sights. Ask the local Park Rangers to suggest portions of the trail most suitable to the hiking abilities and stamina of your family.
Lodging Options for a Yosemite National Park Getaway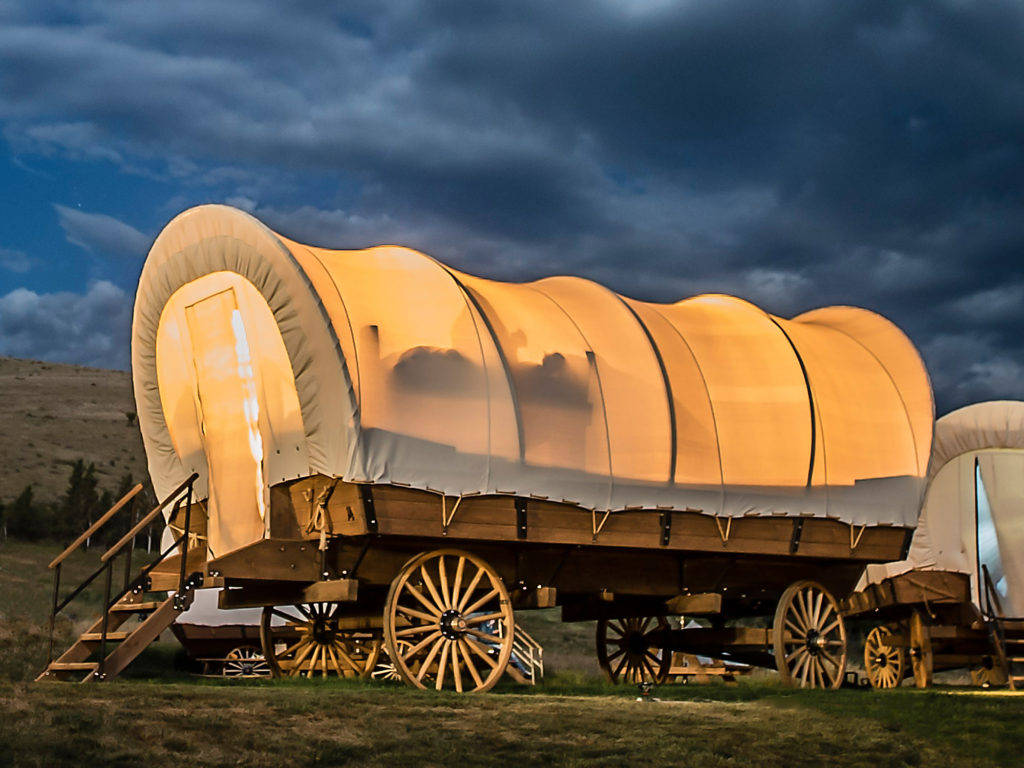 Yosemite is certainly the epitome of a wilderness frontier, but by no means does that imply that there's a lack of lodging in the area. This is, after all, the park with the most famous of all National Park Lodges, the very grand, luxurious and central located Ahwanee, open year round. During the busy summer season, however, several facilities of interest to splurge and budget-watching families will be booked months in advance. Nonetheless, I share my favorite lodging options.
Overnighters can choose to shack up in one of Curry Village's, 424 canvas tent cabins, but should be warned that cooking facilities and campfire rings are not available onsite. Located in Yosemite Valley, the village is a great place to relax, enjoy the outdoors and gaze out toward the daunting Half Dome and Glacier Point.
Yosemite Valley Lodge gives you accommodations that coexist serenely with nature and the nearby Yosemite Falls. With bus lines and bus tours available at the Lodge, transportation is not a problem. The Yosemite Lodge even provides a few venues for casual dining and often offers special packages designed for visiting families.
Another alternative is the park service-run campgrounds in nearby state parks. Check out this list of alternative camping sites near to Yosemite.
Two Favorite Lodging Options to Plan for 2023
Usually open mid-June to mid-September but closed for summer 2022 due to staffing shortages, the rustic Tuolomne Meadows Lodge provides 69 canvas-covered tents. Each one has a wood burning stove and provided wood. It is well located near the eastern entrance of the park on the Tioga Road. When open, it's a good place to kick back, turn off the cell phones and computers and enjoy the spread of Sierra Nevada sub-alpine meadows. Included in overnight stays is a family-style breakfast and dinner in the central dining tent.
Also closed for summer 2022 but reopening in 2023 and a unique way to stay at Yosemite, Yosemite High Sierra Camps Lodging comprises five sites. Each site is situated 5 to 10 miles apart along a loop trail in Yosemite's High Country. Accommodations are canvas tent cabin-style and are perfect for large families, as the owners strive to fill their site to full capacity.
Be warned, however, that the camp is accessible only by foot or horse. Interested campers can apply online on a first-come, first-serve basis and applications are offered during select dates and offered by lottery. Yet, it may be worth your time to wait it out and get the chance to really "rough it," and explore the mountainous terrain on saddle. (Or perhaps the inclusive full dinner and breakfast served to your cozy tent will seal the deal.)
Best Time of Year for a Yosemite National Park Getaway
Plan ahead, during the pandemic era, to take advantage of the park's many scheduled family activities. While visiting Yosemite with the kids is a fun experience, summers are the peak season. Reminder: Between May 20 and Sept. 30, 2022, reservations are required to enter or drive through the park.
While summers in the Sierra mountain region can bring sudden and intense downpours and thunderstorms, Yosemite actually receives less than 5% of its annual precipitation in the summer months, often making for a warm and dry season. When hiking any trails, don't forget to take along water bottles and other accessories to combat high temperatures and sun.
To learn more about the history of Yosemite National Park and its attractions, the National Park Service website is a very helpful. Print out their detailed maps for navigating your way through the area.
For more information and lodging reservations, visit the Yosemite National Park Vacation website. Camping reservations within the park can be made by visiting the Recreation Reservation website.
Dear Reader: This page may contain affiliate links which may earn a commission if you click through and make a purchase. Our independent journalism is not influenced by any advertiser or commercial initiative unless it is clearly marked as sponsored content. As travel products change, please be sure to reconfirm all details and stay up to date with current events to ensure a safe and successful trip.
---