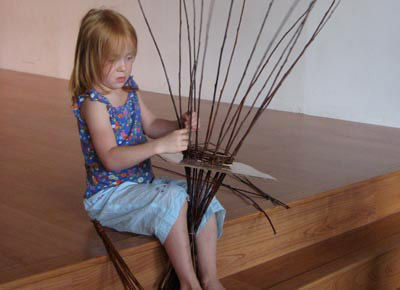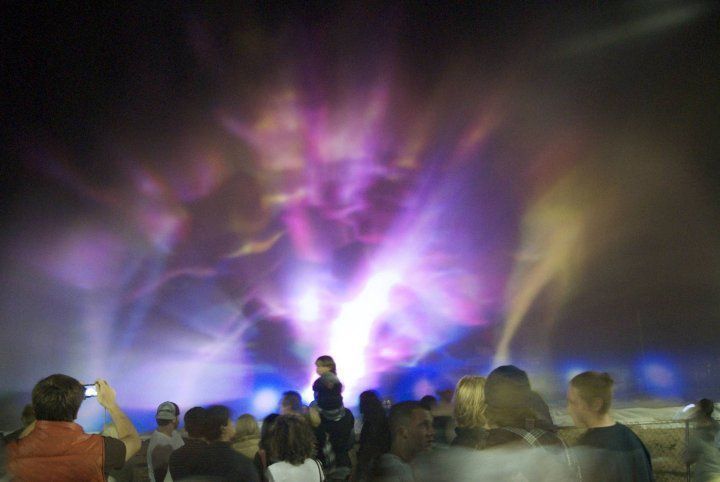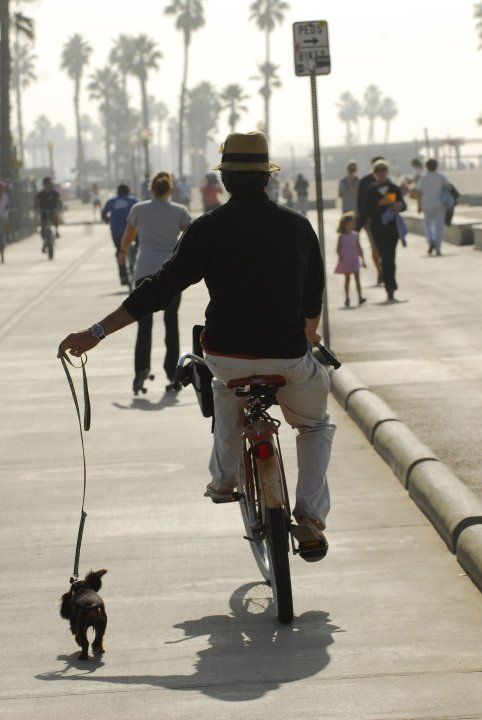 In a chic westside community like Santa Monica — the "beach" to most Angelenos — there are many options for free family fun. All ages will enjoy the relaxed Main Street, a truly walkable route that's narrower than most Los Angeles boulevards and boasts that laidback, sun-toasted, California vibe that tourists search for. In addition, there's the Third Street Promenade, the famous pier filled with amusement rides, an aquarium and a trapeze school and, of course, the Pacific Ocean shoreline. There are many unexpected pleasures along the way.
Start your no-cost tour parallel to the beach and two blocks inland on Main Street, and discover the beach life with an urban edge. Encourage the kids to stroll in and out of the lively boutiques, trendy clothing stores and design showrooms to see the styles coming next to your hometown. You can all take a self-guided tour with the Santa Monica Design District Map, available at any of the three Santa Monica Visitors Center locations.
The Santa Monica Pier is as much a family magnet as a landmark; kids are drawn to its towering Ferris Wheel, carousel, shops and lively cafes. With the pier celebrating its 101st anniversary in 2010, it seems to have been this way as long as most families can remember. If you prefer a stroll that avoids any commercial establishments, walk atop the Palisades along pretty Ocean Avenue. You'll find it just north of the pier and Olympic Boulevard, and when you see a staircase, you can descend to the shoreline and continue along the beachwalk.
Free Beach Fun
With sun block, beach balls, a pail and shovel and a good book, families can head out to enjoy the Southern California scenery on picturesque Santa Monica Beach, which stretches for 3.5 miles between Venice and Malibu. This is the stretch of beach filled with colorful dog walkers and other characters celebrated in films like "I Love You Man" and many others, and it's always a great place to people watch.
Ask directions to the original Muscle Beach, an open-air gym along a three-acre stretch of beach where not-shy locals actually work out. Test out the fully restored areas featuring chinning bars, parallel bars, rings and small jungle gyms for children. Celebrities such as Jack LaLanne, Jayne Mansfield, and Mae West were frequent visitors at Muscle Beach, helping to establish Southern California as a body builder's paradise. Head south of Muscle Beach along the Ocean Front Walk to find Santa Monica's International Chess Park complete with permanent chess tables and a delightfully human-sized chessboard. Tables are free to use and chess-watching is welcome
If you prefer more structure to your beach days, you can drive (or bike) north of the pier to the Annenberg Community Beach House. This gift from the philanthropic Annenberg family is a public community recreation center on a historic five-acre beachfront estate. William Randolph Hearst originally developed the site in 1926 as a 100-room mansion for his beloved Marion Davies, and it became a haven for Hollywood A-listers.
After years of neglect, it reopened in 2009 to offer residents and guests sweeping ocean views, gardens, public art, volleyball, beach tennis, a large pool (open summers) and a playground. Among newer facilities at the only public beach house in the United States are free yoga classes, a kids splash pool, beach lounge chairs and an outdoor cafe.
Enjoy the Historic Santa Monica Pier
You haven't been in Santa Monica till you've walked out on Santa Monica Pier, hailed as the oldest pier on the West Coast of the United States. Featured in the Oscar-winning movie, "Forrest Gump," the Pier is open year-round and is the perfect spot for viewing a sunset, fishing, or taking a stroll.
Of course there's Pacific Park, a midway filled with classic rides including the only solarpowered Ferris wheel in the world. It also happens to be in the opening shots of many LA based shows like American Idol, ABC's Private Practice and Jay Leno's show. With a small budget, you could hit Playland Arcade for quarter-eating games, but for free fun, check out the drive-in movies on the Santa Monica Pier.
Offered Thursday evenings in September, movies are projected onto a huge screen in the open air. It's an extra special place to bring your car, as it's been recognized as being where historic Route 66 ends. It's true that there are a few other contenders in the surrounding streets for this honor, but while you're on the pier you can understand why it might have been where that famous highway that ran from Chicago to Los Angeles began.
At any time of year, the how-does-it-work folks in the family will be fascinated by a visit to Camera Obscura, now located above a Senior Citizens Center along Palisades Park north of the pier. The original turn of the century, walk-through pinhole camera designed to capture panoramas with a mirror-and-lens combination was made by Robert F. Jones, nephew of the founder of Santa Monica, and existed by the pier — always free of charge — as a novelty attraction. Today, you can request a key from the Senior Citizens Center reception desk, walk upstairs, and marvel at the images of the beach, palms and promenade brought into the room by the magic of lenses. It is said that if you tilt the plate the images are shown on, you can improve the focus.
Light and the magical art it creates are honored at Glow, literally a "Dusk 'til Dawn" Arts and Culture Festival. Imagine a Ferris wheel orchestra; a glowing grotto underneath the Pier; images projected onto a water wave on the beach. The festival is the first of its kind in the U.S., an all-night art event featuring original artwork commissions. Its festivals attract over 100,000 people gathering on the city's beaches and pier to experience and engage with awe-inspiring public art displays from sundown to sunrise.
There's Music in the Air
This is one city that is always working to better the lives of its citizens with festivals and public arts events. In summer, you can grab the kids and sway to the tunes at the Twilight Dance Series held on Santa Monica Pier. Sure, you might hear buskers and other street performers looking for a handout, but there are also free evening concerts given by some favorite musicians. On summer afternoons, you can indulge your ears with the "Jazz on the Lawn" series at Santa Monica City Hall, where talented jazz artists bring their own flavor to the genre.
For a totally different sound, try to catch the award-winning Santa Monica Symphony Orchestra, which presents four concerts a year, at no charge, at the Santa Monica Civic Auditorium.
Music buffs and rock 'n' roll fans will want to drop into the legendary McCabe's Guitar Shop. You might catch a performance, some jamming, or try your hand on a a vintage guitar. Opened in 1958, McCabe's specializes in acoustic and folk instruments and offers thousands of books and recordings.
Window Shopping Santa Monica
Santa Monica Place Mall (395 Santa Monica Pl.; (310/260-8333) features the city's first Bloomingdale's, Nordstrom, Hugo Boss, Burberry and Kitson boutique among other purveyors of high style. An au courant lifestyle mall that calls itself "where Soho meets SoBe," it should be a fun place for tweens and teens to walk around and take in the ocean breezes. Something else flock to the shops for: ocean-view dining on a rooftop deck.
As the fifth shopping haven in the city, Santa Monica Place joins Third Street Promenade, Main Street, Montana Avenue and Pico Boulevard. All are fun shopping and entertainment destinations, and window shopping costs nothing. At night, street performers and entertainers pounding drums, acoustic guitars and tambourines shake up the pedestrian-only Third Street Promenade (just north of Santa Monica Blvd). Stop to watch the acrobats, dancers, psychic cats, mimes and bubble blowers who typically gather there with them.
In contrast to the Promenade's populous vibe, Montana Avenue is a 10-block-long, open-air retail destination frequented by discerning visitors and affluent Angelenos. Lined with boutiques, celebrities come to get coffee, lunch with friends, or shop for the latest in furnishings and skin care. A visit here might even save the family a visit to Rodeo Drive in Beverly Hills.
The Pico Boulevard neighborhood at the southern end of Santa Monica (close to funky Venice, another worthwhile excursion for the family) contains a varied mix of shopping and attractions including a planetarium, Santa Monica College's performing arts venues, boutiques, galleries, and dining options.

Get the Eco-Friendly View of Santa Monica
For more natural shopping, Visit one of Santa Monica's farmers markets. Choose from the Third Street and Arizona Market or the Main Street Market for organic produce and plenty of edibles. Many of the city's fine restaurants already serve organic or locally produced meats and vegetables, and even the fast food, like the fare at our family's favorite burrito joint, La Salsa, is freshly made with healthy ingredients.
In more eco-friendly news, the Santa Monica Airport (used now by small planes only) will soon host the no-carbon-emitting Museum of Flying, located adjacent to the DC-3 Aircraft Monument and Park. It's a renovation of a museum that our family always loved for its collection of more than 50 vintage aircraft. The new museum will feature nearly two dozen aircraft chronicling the beginning of flight, from a replica Wright Flyer, all the way to the jet age, with the BD-5 micro jet and a FedEx 727 nose section on display.
Santa Monica continues to progress towards a more eco-friendly city. City partners have joined together to implement the Santa Monica Certified Green Business program and stores that have met energy-efficiency requirements have a decal in the window. The city also implemented a clean air initiative through a no-smoking ordinance, issued a no-Styrofoam policy for restaurants serving to-go items, and has upgraded its Big Blue Bus fleet with state-of-the-art technology to power public transportation by liquified natural gas instead of diesel.
Stay Active & Fit the California Way
If you weren't worried about your appearance in a bikini, you wouldn't be in California. Fitness is really big here, and one easy way to get into the groove is to rent a bike along the ocean beachwalk. There are many vendors offering a variety of bike styles at various prices, but all have kids' sizes and Burley tow trailers, as well as helmets. Where to go?
The South Bay Bicycle Trail runs for 22 miles alongside the Los Angeles coast from Will Rogers State Beach to Torrance County Beach and provides a unique way to see a long stretch of Pacific coastline and get some exercise. With easy points of entry and exit, cyclists can make the ride as long or as short as they desire, and there are many cafes to pause at en route.
Or, forget the sand in your shoes and join a game of volleyball at Santa Monica's many volleyball courts, where several United States' Olympic beach volleyball competitors have trained. Adjacent to the pier, a row of volleyball courts is available to the public on a first come, first serve basis. Olympic Gold Medalist Misty May-Treanor grew up playing volleyball in Santa Monica. (Don't let that rattle your serve.) You can also relax and unwind with a free yoga session in Santa Monica Park, or join a yoga class up at the Annenberg Beach House.
If you want to forego the cost of bike rentals, don comfortable shoes and pick up a Santa Monica Art Trek Map, which offers a comprehensive guide to public art works around the City. Over 40 works of art including sculptures, ceramics and murals are displayed on the streets, in parks, and on the beach.
Keep the flip-flops on to gallery hop at Bergamot Station (2525 Michigan Ave.) Once the site of a historic trolley depot, Bergamot Station now houses over 40 art galleries featuring the work of cutting-edge local artists as well as the city's art museum. With its suggested donation policy for admissions, it doesn't have to cost a lot to visit the modern collection of video and visual arts at the Santa Monica Museum of Art. Check their schedule of Sunday family programs and other special educational events.
Coming soon is the the Santa Monica Historical Society Museum, the city's first museum to display historical information on the art, culture and history of Santa Monica. You should have saved up plenty of money to buy yourself a souvenir.
For all things Santa Monica, including suggestions on budget lodging, visit the Santa Monica Convention and Visitors Bureau site.
Thanks for photos of Santa Monica, provided courtesy of the Santa Monica C&VB.
Dear Reader: This page may contain affiliate links which may earn a commission if you click through and make a purchase. Our independent journalism is not influenced by any advertiser or commercial initiative unless it is clearly marked as sponsored content. As travel products change, please be sure to reconfirm all details and stay up to date with current events to ensure a safe and successful trip.
---