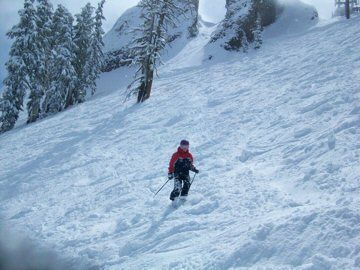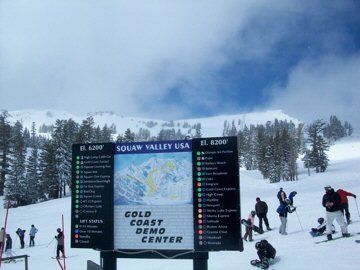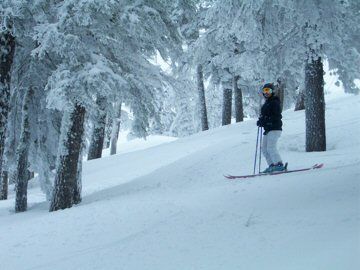 Our San Francisco Tahoe Weekend is a brief, wallet-friendly California road trip. Drive from fabulous San Francisco to the sunny slopes of Lake Tahoe's mountain resorts to get twice the vacation bang for your buck.
As luck would have it, my daughter Eve lost her a high-tech job in Seattle just as the snow began gracing the slopes around Lake Tahoe, California. What better place to search — not too hard– for a new meal ticket?
Our spring ski destination was therefore decided – the resorts around the northern side of Lake Tahoe, with stops before and after in nearby San Francisco.
Living San Francisco like the Locals
My wife had found a small flat on the urban side of San Francisco's Sea Cliff neighborhood. Like Woody Allen's apartment in "Annie Hall," our one-bedroom faced an enormous neon sign advertising the hardware store on the street level. It seemed like the sun never set on our living room. But no matter, the place was a pit stop; San Francisco was the real destination.
I was pleasantly surprised to discover that Sea Cliff was aptly named. We were only a few minutes walk from the South Bay coast and the walking paths of the Presidio. Our visit to San Francisco, a better gateway to Tahoe for us than Reno, was absolutely unscheduled, so we gave serendipity plenty of room.
We must have walked for 10 miles over during the better part of a day, along the well-marked cliffs astride South Bay, punctuated by descents to the beach – all the while the looming presence of Golden Gate Bridge growing bolder. The sun was shining. The flowers were in bloom. My mates were happy. All was well in the world.
Exploring The Presidio on a San Francisco Tahoe Weekend Adventure
The Presidio has been a fortified location since 1776, originally by the Spanish, and after 1847 by the United States. In 1989, the Presidio's status as an active military installation was ended and on October 1, 1994, it was transferred to the National Park Service. All along the Coastal Trail are remnants of massive concrete naval batteries erected in the late 19th and early 20th centuries to protect the entry to San Francisco Bay. They were never fired in anger.
The trail leads under the Golden Gate Bridge and proceeds past Fort Point and the Torpedo Wharf. This area is far busier, with cyclists, strollers, and walkers of all shapes and sizes enjoying the wide Golden Gate Promenade as it makes its way towards the East Beach and the Park exit not far from Fisherman's Wharf and the Embarcadero.
There wasn't the slightest hint of a fisherman at Fisherman's Wharf, which is today just another faceless shopping experience.
Visiting Sequoias at John Muir Woods
We had one more destination, however, before our ski vacation could begin in earnest. Neither my wife nor our kids had ever seen the towering Sequoias. We checked this box off our To See List at John Muir Woods National Monument, about an hour drive north of the city.
There are three walks, from a half-hour to 1.5 hours, and much longer hikes if you wish. A six-mile-long path along the canyon floor is paved to make it easy for wheelchairs and families with strollers. We chose to exit this main route for a more rigorous walk up from the valley floor. As we climbed, so did the towering redwoods that dominate the 560-acre park.
The 3-hour drive from San Francisco to the Northstar ski resort was uneventful, which as you climb the heights into the mountains is not always the case. Snow chains are often obligatory.
Skiing at Northstar on our San Francisco Tahoe Weekend
Northstar, now one of the Vail Resorts, is sometimes derided as "Flatstar" by my children's cohort. Compared to nearby Palisades Tahoe, this is certainly the case. But Northstar, with its gentle, wide open terrain, inviting for both beginners and intermediates, and its wonderful views of Lake Tahoe, has nothing to apologize for.
Its base elevation rises to 8,600 feet at the summit, so there's plenty of vertical to ski. We skied Northstar for two full days with no regrets. We particularly enjoyed the steep runs off the East Ridge and the glades on the lower mountain off the Martis Camp Express chair. Beginners spend most of their time at mid-mountain, reached by gondola. From there, the Arrow Express quad serves a number of open, gently sloping options, all of which converge at mid-mountain.
Northstar, with a full 60% of its terrain devoted to average skiers, is geared especially to intermediates, who are best advised to sample Stump Alley, off the Vista Express quad. Lift lines moved swiftly and there was far more skiing than energy. Lunch is best served at mid-mountain, where ski touring and snowshoe trails – my wife's favorites — also begin.
Moving to the Steeps of Palisades Tahoe
Palisades Tahoe is the area's jewel in the crown. A mountain with the treeless expanse of the Alps; it seems to go on forever. And when it snows – as it did – and the sun shines – as it did – there is nothing better.
Palisades is best enjoyed by those who are not faint of heart. It is a skiers' mountain without doubt. Its best runs are steep, though not punishingly so, and long. If you're looking for the comfort of well-defined trails, Palisade's open terrain can be intimidating. At least until you realize that it's difficult to get lost skiing what may look like a chute to nowhere.
Most of the mountain is well above tree line, permitting not only experts but all skiers to enjoy a classic Alpine experience. I was amazed to discover that within hours of opening after a night's rare spring snow, it was all but impossible to find untracked powder anywhere. The powder hounds, boarders and skiers alike, had moved through the mountain like ravenous locusts, devouring whatever virgin snow they encountered. Still, there was plenty of skiing off the Headwall Express, and on my favorites off the Granite Chief and Shirley Lake Express and Solitude chairs.
Like Northstar, beginner areas are clustered at midway, off the East Broadway chair, reached from the main base area by either the Funitel or cable car. Intermediates congregate on the slopes off the Gold Coast chair.
A Budget Alternative to the Tahoe Biggies
Most visiting skiers are drawn to the Tahoe area by the big name resorts, and for good reason, as our memorable ski experiences at Northstar and Palisades attest. There are however smaller, less glamorous and capitalized ski areas with advantages, particularly for young families on a budget.
One of these is Diamond Peak, at Incline Village, just over the California border in Nevada. Far smaller than its Nevada neighbor Heavenly, located in the Lake's southern shore, Diamond Peak, overlooking the northeast side of the Lake, is only 27 miles from Reno. Like its glitzier neighbors, Diamond Peak tops out at 8500 feet. Its trail menu, while far smaller than its rivals, is skewed towards intermediates and beginners, who can enjoy the spectacular views of the Lake from the higher elevations.
We stayed at the nearby Hyatt Regency Lake Tahoe Spa and Casino — we were in Nevada, remember — just a 10-minute ride away in Incline Village. Winter is low season and the action at the casino was discreet and nonintrusive. The hotel boasts an indoor outdoor pool that is very popular with families, and the price is right.
When we visited, a couple of days after the last snowfall, there was still some untracked powder between the trees. Diamond Peak is not a destination option, but it makes no such pretenses. Like the smaller mountains in New England, it would be a good place for young children to learn and for parents to sit at the mid-mountain restaurant and take in the view. And it's certainly easier on the wallet than its better known neighbors.
Dear Reader: This page may contain affiliate links which may earn a commission if you click through and make a purchase. Our independent journalism is not influenced by any advertiser or commercial initiative unless it is clearly marked as sponsored content. As travel products change, please be sure to reconfirm all details and stay up to date with current events to ensure a safe and successful trip.
---