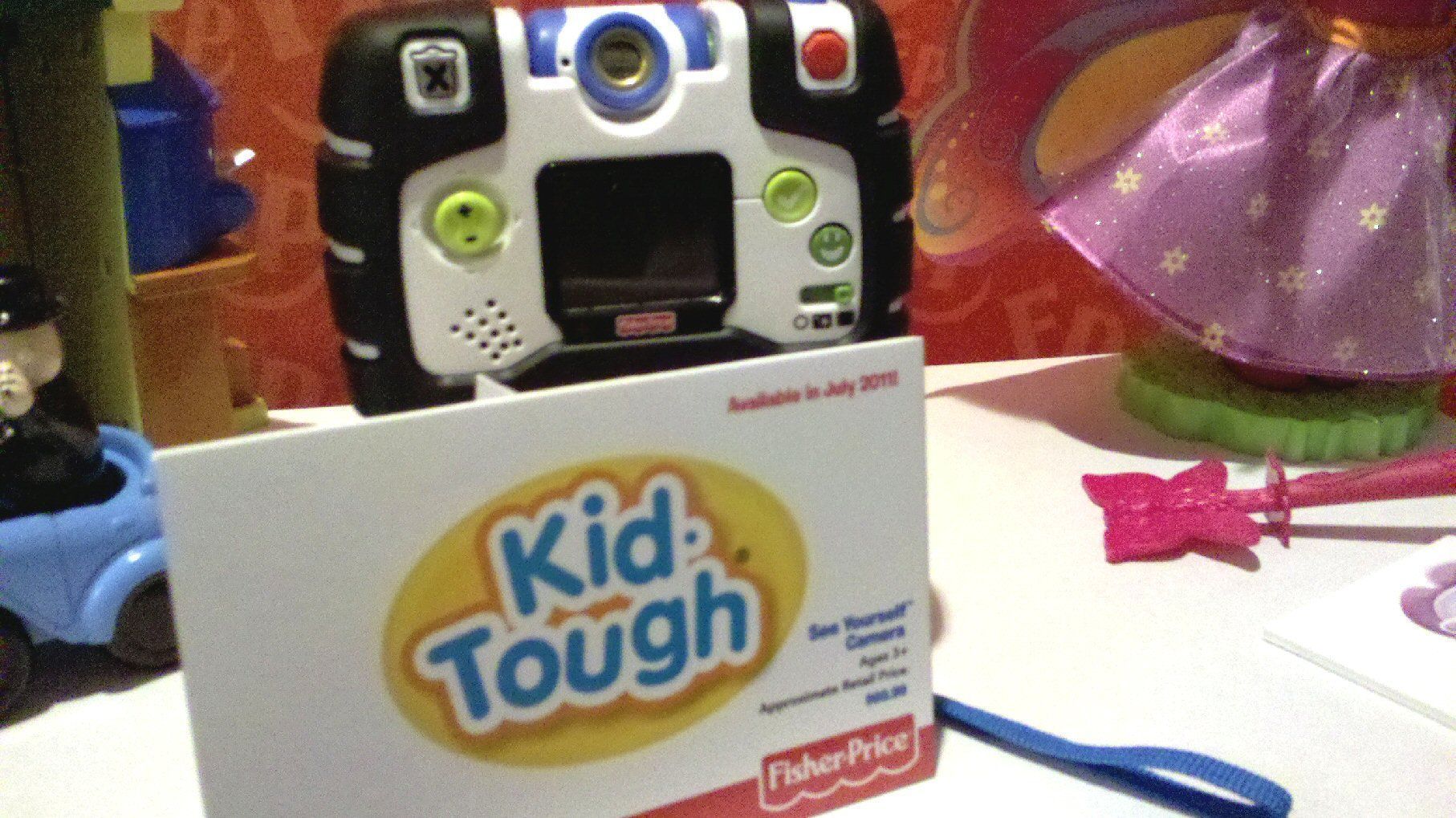 The annual Toy Fair goes social with play parties #fptp as an industry leader explores new ways to interact with preschoolers and their parents.
At a recent event at New York's Loews Regency Hotel, the good-natured folks at Fisher-Price's Play Lab celebrated the facility's 50th birthday by inviting hundreds of bloggers to eat, drink, be merry and play. Although most in the room were quite a bit younger than Play Lab, its Senior Director of Child Research, Kathleen Alfano PhD, talked about the research facility's beginnings and its role at parent, Fisher-Price.
Testing New Toys on Real Kids
Fisher-Price, one of the world's leading brands of infant and preschool toys and a subsidiary of Mattel, has been around for more than 80 years. The company's founder, Herman Fisher, was the son of nursery school teacher who understood the value of play to her students. Upon founding the toy company, he insisted that all products be tested on children.
While the company regularly observed their toys in children's play sessions during the development process, it was 50 years ago that Mr. Fisher formalized the on-site testing at Play Lab. In the years since, toy research methods have expanded to include mom panels and in-home testing as well.
Play Lab facilities in East Aurora, New York include an indoor play room, a grassy outdoor area where outdoor toys and battery powered ride-on cars are tested, a separate living room-like area for infant toy evaluation, and a hi-tech conference room where Mom Talks are conducted.
Additionally, the company sends products to families in the Greater Buffalo area for in-home testing where researchers visit the testers' homes and observe play in everyday life. Thousands of local residents have tested and provided feedback for toys the rest of the world's children now enjoy. As Dr. Alfano noted, "Today, former Play Lab children are now parents and are sending their own children to test toys!"
New Toy Products Emphasize Interaction with Baby
At the Fisher-Price event, I put on mom antennae and found several intriguing products that allowed preschoolers to get interactive with their playthings, making sounds and movement. Play Lab has proven that babies still love to learn by touch, sound and taste. What's new is that technology allows children to control a toy's behavior by their interaction in a deeper way.
One new toy that takes advantage of another gadget's interactivity is bound to be a best-seller. The Laugh & Learn Baby iCan Play Case encloses an iPhone or iPod Touch so baby can watch it, interact with new apps, drool on it… and give it back, unharmed, to mom or dad. Even without the interactivity inherent in an iPhone, the classic toy's round rubber handles and rattle are enough to make baby happpy.
The Kid-Tough See Yourself Camera, a lightweight, heavily bumpered digital camera, is another example. A preschooler can take his own picture, see it on a bright, kids-eye-view screen, and push any button to add a special effect to the image. Once he understands that process, he can flip the lens around to snap a photo of someone else and repeat it.
Classic Play Reinvented for Today's Children
Afterwards, in an email interview, I asked Dr. Kathleen Alfano if the nature of play had changed during Play Lab's 50 years of existence. "The fundamentals of play have remained the same," she said. "Children today still love to use their imaginations to create worlds of make-believe. Although the world has been changing at a fast pace, children go through the same developmental milestones as in the past."
Dr. Alfano noted that from a Play Lab perspective, she had seen bigger changes in parents than in children over the last two decades. "They are more connected to other parents all over the world through the marvels of modern technology and are more aware of toys and products for their children, and either post reviews of those or look for what others have posted.," she explained. "It's a new world in that regard of parenting."
This explained why mom bloggers were being asked to rate Spring and Fall toys that were showing at Toy Fair 2011 at New York's Javits Convention Center.
Although I (as a mom) responded to the "high tech" toys, in fact, most reminded me of my childhood. Dr. Alfano described one of Fisher-Price's most enduring toys. "The Rock-a-Stack has remained mostly the same through the years. There used to be more rings to stack and the post has changed, but the fundamentals of play features are the same."
She added, "Millions are sold every year all around the world, every year for over fifty years! It's a basic play pattern that children love, putting on and taking off the rings, over and over again."
Creativity Makes for Happy Kids
Another family expert, Dr. Ben Michaelis, specializes in helping patients achieve mental health and well-being through creative expression. As an adjunct professor of psychology at Columbia University, he says that children's reliance on video games and parents' overemphasis on developing job skills limit creativity from a young age.
Michaelis advocates that parents spend more time with children encouraging active innovation and creativity. He suggests bringing kids into new environments, where they can try new foods or learn about different cultures. Parents and children who try to make things together and use their imagination during daily activities, says Dr. Michaelis, will broaden their ways of thinking.
Travel, like interactive play, can take young children in new directions, fostering creativity and learning. At Play Lab, key concepts of early childhood education still apply to the development of out-of-home toys and portable toys for travel. To make family vacations easier, Fisher-Price has a long-standing relationship with Loews Hotels to, among other things, stock hotel playrooms and provide loaner toys for guests with young children. Additionally, they work with Royal Caribbean on family cruise programs, as well as with Azul Hotels by Karisma, Life Time Fitness and 10 of the top zoos across the United States.
Dear Reader: This page may contain affiliate links which may earn a commission if you click through and make a purchase. Our independent journalism is not influenced by any advertiser or commercial initiative unless it is clearly marked as sponsored content. As travel products change, please be sure to reconfirm all details and stay up to date with current events to ensure a safe and successful trip.
---