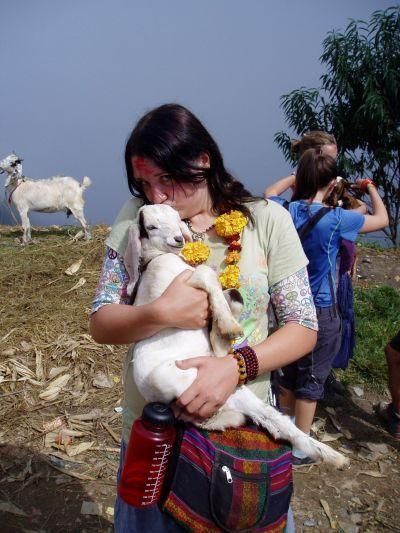 Christine Anderson's essay "Beautiful Nepal" was the Second Place Winner of FTF's 2009 Teen Travel Writing Scholarship, the first time that a poetic, stream-of-consciousness style of writing made it to the winners' round.  After it was selected by professionals from the Society of American Travel Writers, they asked the judging team to share their comments about her work with all aspiring professional writers.
This is what some of these esteemed judges had to say about Christine's work.
Comments from Michael Verdon, Editor, Boating World Magazine:
"Hi Christine, Great job on the story and congrats for second place. I pushed hard for the story and think the other judges, after their initial hesitation about the untraditional style and grammatical choices, came over to the sheer strength of the writing. It worked for me because you brought yourself into the situation without any sentimentality and very strong observations. I think leaving off the last paragraph would've made it stronger, but it worked very well nonetheless. Great job."
From Annette Thompson, Associate Travel Editor, Southern Living:
"I was disarmed by the seeming lack of structure to the essay, the effective use of fragments. At first it turned me off, but when I read 'I recently saw a dead woman lying on the sidewalk, and it's really really hard to find good spaghetti' in the same breath, I realized you were placing images artfully, the profound and mundane. Good job."
Comments from Kit Bernardi, Freelance Travel Writer: "While this essay defies many standard writing rules with frequent fragments, no paragraph breaks, no transitions, etc. and reads more like a blog or diary entry in a stream of consciousness style, it still is good travel writing.
You replicate the bombarded sensory experience of Nepal with strong details and jolting, honest observations ranging from 'fat white tourists' and Americans' ignorance about world affairs to seeing a dead woman on the sidewalk in the same sentence as expressing annoyance at not finding good spaghetti. And somehow that works…
I would have liked to have known what the wise 93-year-old woman looked like, in sparse words.  I liked the universal territory covered, the expanded reality of time and space readers leap through in this essay from one thought to the next seemingly unrelated thought. The style creates a sense of urgency played out in the second to last paragraph, that should be the essay's last.
And I especially liked the lesson learned summed up in these several rhythmic sentences: 'So maybe if we were a little bit poorer, we could be a little bit nicer. Our food could be a little bit fresher, and our cows a little bit holier. We could share our homes, and share the wealth. We could change our clothes less often and the world more often. We could complain less, and appreciate more. We could have a little less money and be just a little bit richer.'
To me, this is where to end the essay with these powerful words. To me, this is a mantra in and of itself for the modern world.  Recommendations:  Translate the mantra 'Ohm mani padme hom.' While many readers recognize this as a Buddhist chant, they may not know what it means. And part of travel writing is educating readers. If this is defined it will nicely bookend the story with the mantra-like sentences quoted above. Some editors of publications and some travel web sites will likely require some editing to fit more traditional text publishing rules.
Comments from John Macdonald, Travel Editor Emeritus, Seattle Times:
"A staccato style of quick bits of information is a bit unnerving at first, but then becomes comfortable. No, it becomes fun.
"Short snippets of contrasting observations — sometimes unrelated – surprise: '. . . I recently saw a dead woman lying on the sidewalk, and it's really hard to find good spaghetti.' 'If they don't leave you alone, it is only because they don't want you to be lonely.'  Rather than feeling sorry for the poor, the writer learned from them: ' . . . that those who experience it are often the most compassionate. So maybe if we were a little bit poorer, we could be a little bit nicer.'
"Style is quick, but smooth, perhaps a kind of travel writing that will catch on."
Dear Reader: This page may contain affiliate links which may earn a commission if you click through and make a purchase. Our independent journalism is not influenced by any advertiser or commercial initiative unless it is clearly marked as sponsored content. As travel products change, please be sure to reconfirm all details and stay up to date with current events to ensure a safe and successful trip.
---