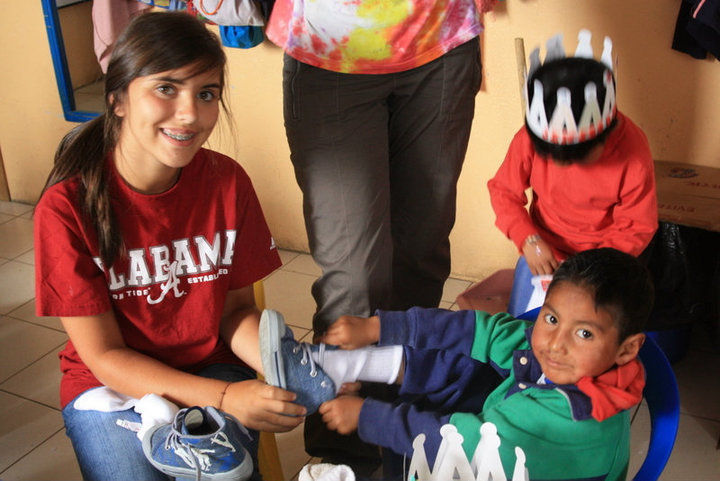 Night had fallen when 20 of us found ourselves in the middle of excited chaos as we stepped off the plane in Quito, Ecuador. We were a group of volunteers, led by an organization called SIFAT. We had come with a purpose: to love these people, spread hope to them, and to help them in any other way possible. An anxious man thrusting cigarettes in my face, begging me to buy them was my personal welcoming committee. But he was only the first of the interesting characters we would encounter on the way to the bus that would take us to what would be our home for the next 10 days.
QUARTER FINALIST 2012 TEEN TRAVEL WRITING SCHOLARSHIP
The sights were magnificent; the outlines of the mountains, how the stars lit up the sky, and even how the lights of the buildings danced around. As the ride came to an end, we gathered our clunky suit cases and made the journey to our rooms at the Hotel Tambo Real. 
That first night in Quito, I felt like a little girl on Christmas Eve. I lay there in sleep-inhibiting anticipation – anxiously awaiting the days to follow without a clue of what they would hold.
Each day consisted of specific tasks in the rural community of Atacucho. Three of the days I helped by leading a Vacation Bible School at a church which also serves as a Compassion Site for the local street kids. I was so overjoyed to see the solemn looks of their faces, and the suffering in their eyes replaced with sweet little smiles and giggles as we danced, laughed, and played with these precious little ones.
Most of the children lived with a single parent in a dirt hut, about half the size of an average living room. Each child that attended our VBS each weekday was given the opportunity to be sponsored to go to school, receive two meals, and medical care. While all the children were special to us, one stuck out to me.
As the week progressed, one little boy kept fighting for my attention. This little guy was the kid that often forgot to raise his hand, loved to crack a joke, and was always the center of a riot. In other words, every time I saw him an image of my little brother appeared. My little friend introduces himself as Alex. It did not take long for the two of us to become inseparable. My broken Spanish did not allow us to have much conversation, but words were not really needed. We laughed and had tickle fights until we were left on the ground crying; we colored crosses, and drew one another pictures.
Before we left the site, the pastor talked to us about specific kids that did not have sponsors and were about to be kicked out of the program, and yes my little friend's name popped up on that list. This was my chance to make a lasting impact in the rural village of Atacucho, Ecuador.
Having the privilege to prevent one less kid from wandering the streets as well as filling another belly makes my trip to Ecuador so much more than just a vacation. Even though I got to see the mysteries of the equator as well as the depths of the "Cloud Forrest" while zip-lining, my three days with Alex really made it something special.
Dear Reader: This page may contain affiliate links which may earn a commission if you click through and make a purchase. Our independent journalism is not influenced by any advertiser or commercial initiative unless it is clearly marked as sponsored content. As travel products change, please be sure to reconfirm all details and stay up to date with current events to ensure a safe and successful trip.
---