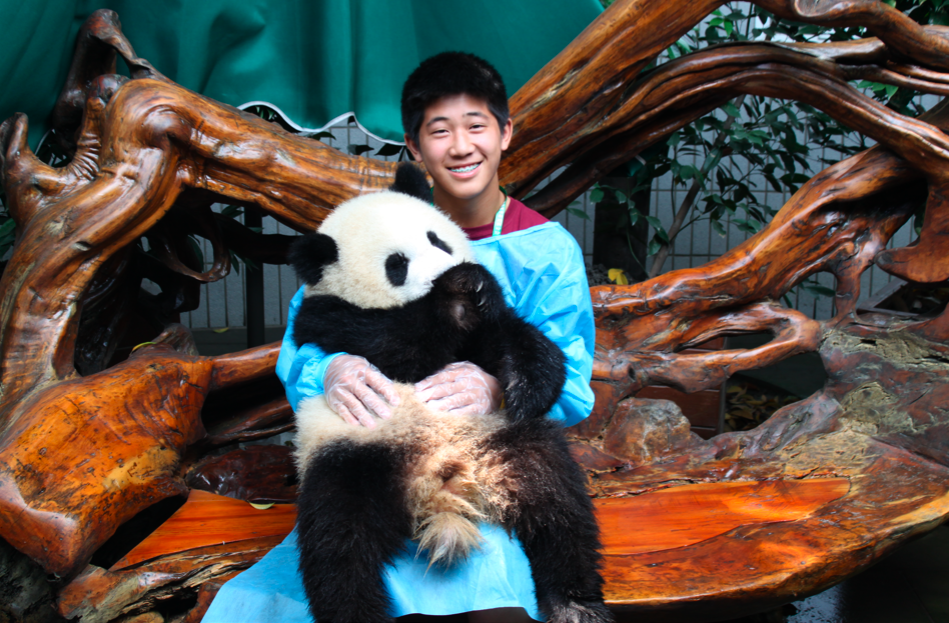 When my sister was living overseas in Hong Kong, I jumped at the opportunity to visit her and get a glimpse of what my culture was like. As a fifth generation Chinese-American, I feel disconnected with my heritage at times, especially when my Chinese friends speak the language and celebrate holidays I know nothing about. As I packed my bags for a month to visit my sister and see the sights of Hong Kong and China, I had no idea I was embarking on the most eye-opening adventure of my life thus far!
Upon arrival, my sister told me we were going to backpack for a couple days towards the border of Tibet with some of her friends. Unsure of what we were going to see, I was still excited and packed a backpack for what I heard was going to be some serious hiking through a famous, Chinese national forest. When we arrived in Chengdu, we headed to a famous panda conservatory. What we saw was incredible! At the first exhibit, two feet in front of me was a newborn panda only a few days old. The experience was surreal, a baby panda is something most people see in pictures or on television in the United States, and here I was, so close to it I could see its little pink nose and fingers. The conservatory was massive and had so many pandas of so many sizes. There were multiple pandas playing on playground sets, swinging on monkey bars, sliding down slides; and even more were just relaxing in a lazy pose grabbing any bamboo that was within reach. It was a hilarious and adorable sight to see!
Undoubtedly, the most memorable experience of the trip was being able to hold a panda. I did not even think that was a possibility until my sister surprised me and told me we signed up to meet and greet a baby panda. To keep the baby safe, we dressed in scrubs, gloves, and wore a mask. Conservatory keepers carried a panda weighing about 50 pounds to sit on my lap. The baby panda was adorable, yelping and squeaking because it was short-tempered and wanted to crawl away from me. The keepers poured honey all over the top of its paws, and just like that, baby panda, "Oreo", was content and licking the sweet treat quietly. Needless to say, we captured countless pictures and videos of this once-in-a-lifetime event!
Continuing on to Jiuzhaigou National Forest, it was extremely eye opening to see how some people in China still lived in extremely rural environments. Selling little wooden figurines, hand-woven cloth, and anything they can sell to get by and put food on their table made me grateful for all of the experiences I had growing up in the United States. As I picked up some local souvenirs, I could not wait to tell my grandparents and family all of the cultural inspiration I was able to take in from such a short trip to the Sichuan province. The park was so beautiful with pristine, turquoise waters that words really cannot serve it justice. Hiking over hills, around lakes, and witnessing massive waterfalls, I only wish I had more time in Chengdu and Jiuzhaigou to take its true beauty in. Between the people I met and the natural scenery and wildlife that I got to experience up close and personal in the Sichuan Province, I can only say that I have been amazed by what I saw in China and I cannot wait to return and explore more of my cultural heritage.
Dear Reader: This page may contain affiliate links which may earn a commission if you click through and make a purchase. Our independent journalism is not influenced by any advertiser or commercial initiative unless it is clearly marked as sponsored content. As travel products change, please be sure to reconfirm all details and stay up to date with current events to ensure a safe and successful trip.
---