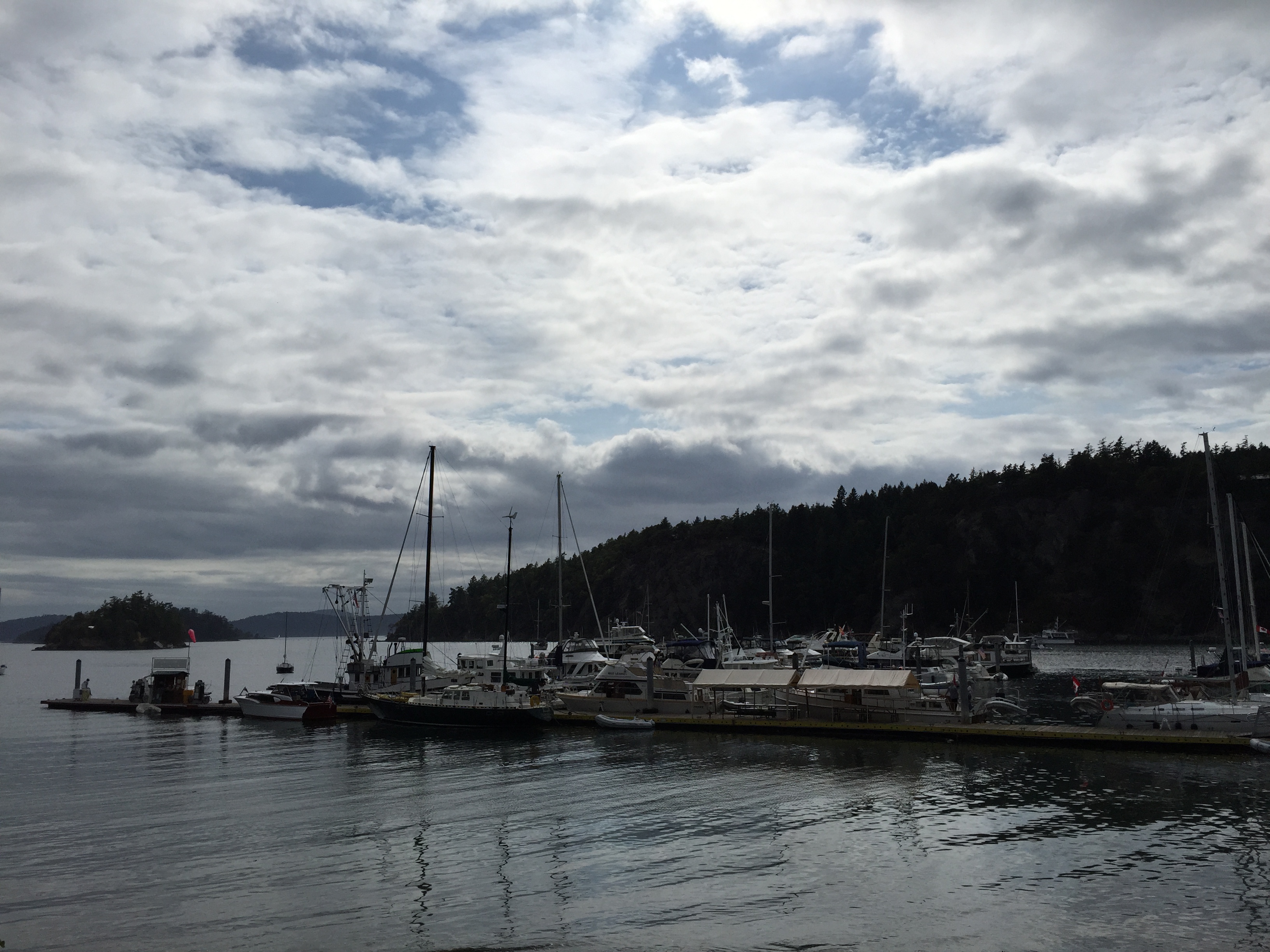 My white knuckles were frozen as I clutched the metal railing. Its silvery color glistened in the light. It was actually quite beautiful: The rainbow of greys and silvers reflected in the boat, the cloud-covered sky, and the choppy waters of the Strait of Juan de Fuca. The beauty of my surroundings seemed lost—drowned if you will—in my complete and utter fear. I had been on boats before, but never such a small craft in the open sea. Traveling to Orcas Island from my home in Tacoma required a ferry ride, which was a vastly different experience. The Washington State Ferries are large enough to carry hundreds of people, plus many vehicles, and the ride is smooth and comfortable. So, the sheer terror I was now experiencing came as a shock.
The island is fragrant with lavender and an assortment of other flowers. It is home to hundreds of rabbits, and many smiling faces. Every day was full of sunshine and color—the plants, the people, the boats, the water. Everything about Orcas Island seemed to sparkle from within with an ever-present cheer. Even the moss-covered rock walls held a certain charm. Our resort, nestled in Deer Harbor, had its own private hot tub on the deck (an amenity that my family enjoyed frequently). Who could have imagined that I would experience even the slightest discomfort in such a bright and picturesque place? Yet, there I was, standing on a small charter boat amid loud and enthusiastic tourists all hoping to get their money's worth for this whale-watching tour. I would argue that they succeeded. We saw whales all around us.
There were two pods of about 20 or more Orcas. They swam close to the surface exposing their 6 ft. dorsal fins, occasionally breeching to show off their 3,000 to 8,000 lb. bodies. I was terrified. I was wearing a thin, cotton shirt and had not expected to be out on the frigid waters of the Strait. I stared down into the waves. They were so close and they looked sharp. The day was grey and the water looked like shiny silver blades, ice-cold, and ready to devour the little boat. I grasped the bar so tightly that my fingers locked, or perhaps froze, into place and refused to move. Excited tourists shouted and pointed and snapped pictures with their cameras. All were blissfully unaware of my inner turmoil. My mind raced with possibilities. Will I fall off the boat? If I fall, I will be too cold to swim. My muscles will tighten and I will sink. Will I drown? Or will a Killer Whale get to me first and eat me alive?
Suddenly, an announcement: "Looks like a family is coming up here, on our left," the captain's voice said. Fifty people shrieked with delight and ran to the left side of the boat. The tired little vessel sagged under the weight but no one seemed to notice. I noticed. "We're going to capsize!" my mind raged with emotion—anger, frustration, worry—fueled by my growing anxiety. I ran to the other side of the boat now elevated by the disproportionate distribution of people. I tried to breathe deeply. The wind stung my face and reminded me of the icy chill in the air. I prayed that I wouldn't die on this pleasant little trip as I watched from afar the huge beasts of the sea.
Dear Reader: This page may contain affiliate links which may earn a commission if you click through and make a purchase. Our independent journalism is not influenced by any advertiser or commercial initiative unless it is clearly marked as sponsored content. As travel products change, please be sure to reconfirm all details and stay up to date with current events to ensure a safe and successful trip.
---