Cleveland has rock and roll and so much more to entertain your teens on a weekend getaway. A simmering cauldron of energy on Lake Erie, #CLE as it's known, has an incredible music museum, marina, sports venues and clubs within walking distance of well-priced hotels. That energy is powered by the city's youth, a population so proud to be Clevelanders that it's infectious.
Cleveland's a Capital of Music & Entertainment – Rock Hall
The city that spawned D.J. Alan Freed, hosted Elvis' first concert appearance in the North (at Brooklyn High School), originated the syndicated "Upbeat" rock TV show and gave us countless musical luminaries was chosen by the Rock and Roll Hall of Fame & Museum for its museum site. The dramatic glass and steel pyramid space designed by I.M. Pei cantilevers high above Lake Erie. Dance in to the music of the Rolling Stones, Coldplay or Tupac and you're immediately taken with the coolness of the place.
Make time for every video; the music parents listened to growing up is just as popular today with youngsters. Visitors over 30 will recall most of the Hall of Famers (artists are not eligible for the Hall of Fame until 25 years after their first recording) especially after seeing the entertaining review of past induction ceremonies. Entertain your teens at the clever multi-media exhibits designed to explain rock's rebellious spirit to today's audience.
Catch a live music event, DJ's spinning in the Beer Garden and clips that range from gospel, blues and folk to pure Joplin profanity. Once you've gotten the kids to listen to all your favorites, let them loose with big change in the superior gift and memorabilia shop operated by FYE.
Cleveland Family Fun for Kids & Tweens
One of our favorite science institutions, Great Lakes Science Center is almost next door on the shore of Lake Erie. Luckily, it has dozens of fun and informative hands-on exhibits because the weather can be crummy for a lot of the year here. We love the cool NASA section with moon rocks and the MC2 STEM High School for scientifically minded students. (Expect to see a lot of teens at work in their special classrooms as well as around the center.) In warmer weather, climb aboard a 1925 Great Lakes freighter, the Steamship William G. Mather. Moreover, you can learn how geography played a role in transforming Northeast Ohio into an industrial center as you explore from bow to stern.
Another Cleveland star is the International Women's Air & Space Museum, a small, no-frills museum in the tiny local Burke Lakefront Airport with displays about the astonishing range of women's achievements in flight. These great role models could pilot jets as well as parent several kids, cook, sew and do more of that 'girl' stuff. Take the kids and learn more about Amelia Earhart, the Flying Fraulein, Lady Lindy and Sally Ride among many others.
More CLE Indoors
The Cleveland Museum of Natural History is another worthwhile attraction that will engage teens. Be sure to head to the lower level where researchers give kids a look into what a career in the sciences really entails. It is also where the Snead Discovery Center is housed, an intergenerational, hands-on learning center. A current exhibit is Finding Lucy: Our First Steps in Discovery. Visitors get to meet the famous Lucy specimen of Australopithecus afarensis —- the oldest pre-human-ancestor fossil to show evidence of upright walking at the time of her discovery.
The Cleveland Botanical Garden has a special feature — the Eleanor Armstrong Smith Glasshouse. This 18,000-square-foot conservatory immerses you in the flora and fauna of two distinct lands: the Costa Rican Rainforest, complete with colorful butterflies fluttering around and the spiny desert of Madagascar. They installed new lighting technology so it changes color in different preprogrammed themes to set the mood for various shows. The inside environment is tropical, making it an ideal place to be when the weather outside is bad. The Outdoor gardens include a peaceful Japanese Garden and the Hershey's Children's Garden.
If you're traveling with little ones who want their own treat, visit the sophisticated Children's Museum of Cleveland in a converted Cleveland mansion. Parlors hold water play areas, climbing gyms, display cases of historic toys and much more; there's even a limited sensory room available for kids on the spectrum who are having trouble adjusting to the main play areas.
Cleveland is home to the country's largest performing arts center outside off New York City, PlayhouseSquare. More than 1,000 shows are on the menu each year, with an emphasis on family-friendly, affordable programming. If you visit in May, you might catch the annual International Children's Festival with performers from around the world that do live theater. The ticket prices for the unique live shows are affordable, too.
Getting Wild (and wet) in Cleveland
Nicknamed the "Emerald Necklace" because of the way they encircle the city, Cleveland's Metroparks offer a variety of outdoor activities on over 28,000 acres of public recreational space. Here you will find an assortment of multi-purpose trails, fishing areas, and even seven public golf courses the locals flock to in summer.
At Metroparks Zoo, Asian Highlands is home to snow leopards, Amur leopards, red pandas, takins adn the Rising Waters overnight Zoo adventure with its Asian flair. This $25-million five-acre exhibit showcases the zoo's commitment to the care and conservation of elephants, providing them with a spacious, stimulating, natural environment. Visitors can get up-close and personal with Moshi, Martika and other adorable elephants, watching them interact and socialize.
Families who crave speed should consider hitting the water with jet skis from Great Lakes Watersports on the Cuyahoga River. During our hour-long session, we rode through the Port of Cleveland for priceless views of the Rock Hall, Browns Stadium, and Cleveland skyline. For 2019, rentals are $110/hour and they are closed on Tuesdays. In addition, Great Lakes offers boat and kayak rentals.
Sports are BIG in this town
Finding ourselves with teens in Cleveland during baseball season (schedule here), we had to cheer on the Indians at Progressive Field. Even though the Tribe lost, the scent of hot dogs and peanuts that filled the summer air was enough to keep us smiling under the lights of one of America's most beautiful baseball cathedrals.
If you are visiting during basketball season be sure to head over to Quicken Loans Arena for a Cavaliers basketball game. Some say the Cleveland Browns football team contributes to Clevelander's high blood pressure. For football nuts coming to Cleveland in the off-season, consider taking a FirstEnergy Stadium behind-the-scenes tour, where you'll get exclusive access to team locker rooms, media boxes and even the playing field. Tours are available from April through December.
This is a sports-crazy town and without a chief's hat or brown jersey you may feel pretty out of place. That is until you visit one of the city's party houses, a.k.a. breweries. We love the Great Lakes Brewing Company, where every dish is created around a local brew. Their eco-friendly beer garden is next door. It features a canvas retractable roof, a radiant-heat floor and fireplace, and a straw bale wall. The actual beer selection can vary, so please call ahead to confirm if there's a beer you prefer.
The Flats district spans both banks of the Cuyahoga River, and the East side has the landmark Flat Iron Cafe, an Irish pub that offers live music and great deals on drinks. When the beloved Cleveland Indians are playing in town, they offer a free and fast shuttle to-and-from the stadium, so you can avoid the cost and hassle of the crowded parking lot. A bonus with grown kids is the Happy Hour – Monday through Friday 3-6pm.
Ohio City and More Dining Options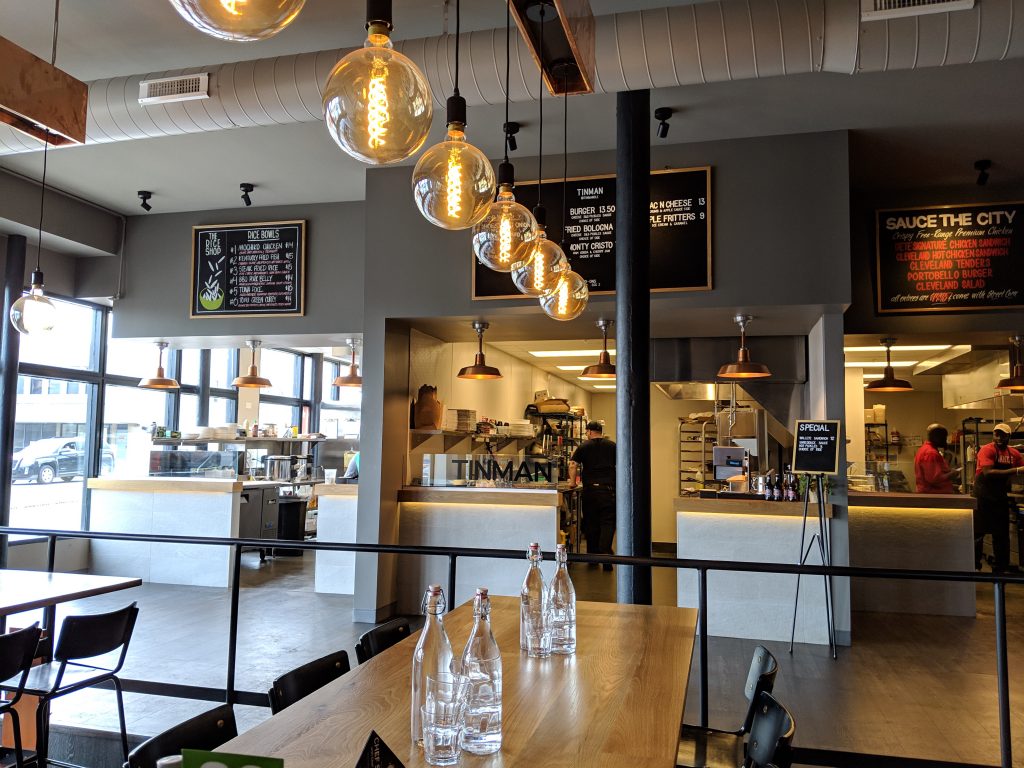 Cleveland's historic, Victorian-era Warehouse District has become a major culinary and nightlife center; start your tour on West 6th Street. There are lots of options, true. But not far away is Ohio City Galley, an outlet for one of the city's many incubator kitchens. Cleveland supports chefs of all stripes preparing a huge variety of cuisines — once they have perfected their menus in fully-stocked, free test kitchens, they are given a chance to serve the public (rent free) in this attractive food court a.k.a. restaurant accelerator. Give it a try and support the next generation of chefs.
If you are traveling with a budding foodie in tow, you will not want to miss the historic West Side Market also in the Ohio City neighborhood, built in 1912. Following the tradition of when ice was delivered nearly a century ago, the market is only open on Monday, Wednesday, Friday and Saturday. Local delights include pierogi and grilled bratwurst, but with hundreds of booths, including dozens of ultra-fresh produce stands, no one will leave hungry.
A hot contender for the city's favorite burger is Heck's Café Ohio City housed in a 19th-century brick townhouse.
Cleveland Heights has many family-friendly dining choices and is a fun place to explore, thanks to its welcoming granola-vibe. A meal at inexpensive Tommy's is sure to please the entire family. Soon after they opened as a small soda fountain in 1972, Rolling Stone magazine declared they serve the "Best Milkshake East of the Mississippi." The menu has a large section of vegan, veggie and gluten-free options, combined with all-American favorites like burgers and fries.
After dinner, head to Sweeties Big Fun a toy and candy store. You can sit down at an old-fashioned counter and enjoy delicious soft serve ice cream or take out delicious freshly popped flavored popcorn.
Cleveland & Regional Family-Friendly Hotels
You'll have to plan ahead to stay within walking distance of Cleveland's major downtown attractions, because hotels near the stadiums are booked way in advance by Ohio families coming to party. However, there are other places nearby where partying is not a priority.
Towering above the waterfront is the bluish glass Hilton Cleveland Downtown which has great views, especially from its rooftop Bar 32 where kids will like the yummy snack food and outdoor deck. The whole family will enjoy the bright, contemporary guest rooms, on-site amenities like the beautiful indoor pool and easy access on foot to many restaurants and waterfront sites.
During one visit, we stayed at the renovated DoubleTree by Hilton Hotel Cleveland-Independence with large rooms, an indoor-outdoor pool and Shula's 2 steakhouse. They offer a children's menu, cribs and value family packages in summer. In addition, the renovated Doubletree Hilton Cleveland Downtown-Lakeside is a stone's throw from the Rock and Roll Hall of Fame, and is walking-distance from many other attractions.
A stunning member of the hotel scene is the Hyatt Regency Cleveland at the Arcade with 293 rooms that encircle a fully-restored, 1890 Italian-style shopping arcade. It is steps from the vibrant East 4th Street Entertainment District and a 10-minute walk from all major sporting and entertainment venues. Another option in the area is the Sheraton Cleveland Airport Hotel with its Hemispheres at the Hotel restaurant serving international cuisine prepared with farm-to-table ingredients.
Sandusky, Ohio may be a good bet for a family base during summer because it's outside the urban center but near downtown Cleveland. According to Trip Advisor, one of the best family-friendly hotels in Sandusky is Best Western Plus Sandusky Hotel & Suites where you can spread out and even cook. In addition, you can find lots of family-appropriate activities here in this suburb, including the Cedar Point Amusement Park, the Roller Coaster Capital of the World.
Enjoy #CLE and surf over to Destination Cleveland or Ohio Tourism for more assistance and travel ideas.
Dear Reader: This page may contain affiliate links which may earn a commission if you click through and make a purchase. Our independent journalism is not influenced by any advertiser or commercial initiative unless it is clearly marked as sponsored content. As travel products change, please be sure to reconfirm all details and stay up to date with current events to ensure a safe and successful trip.
---