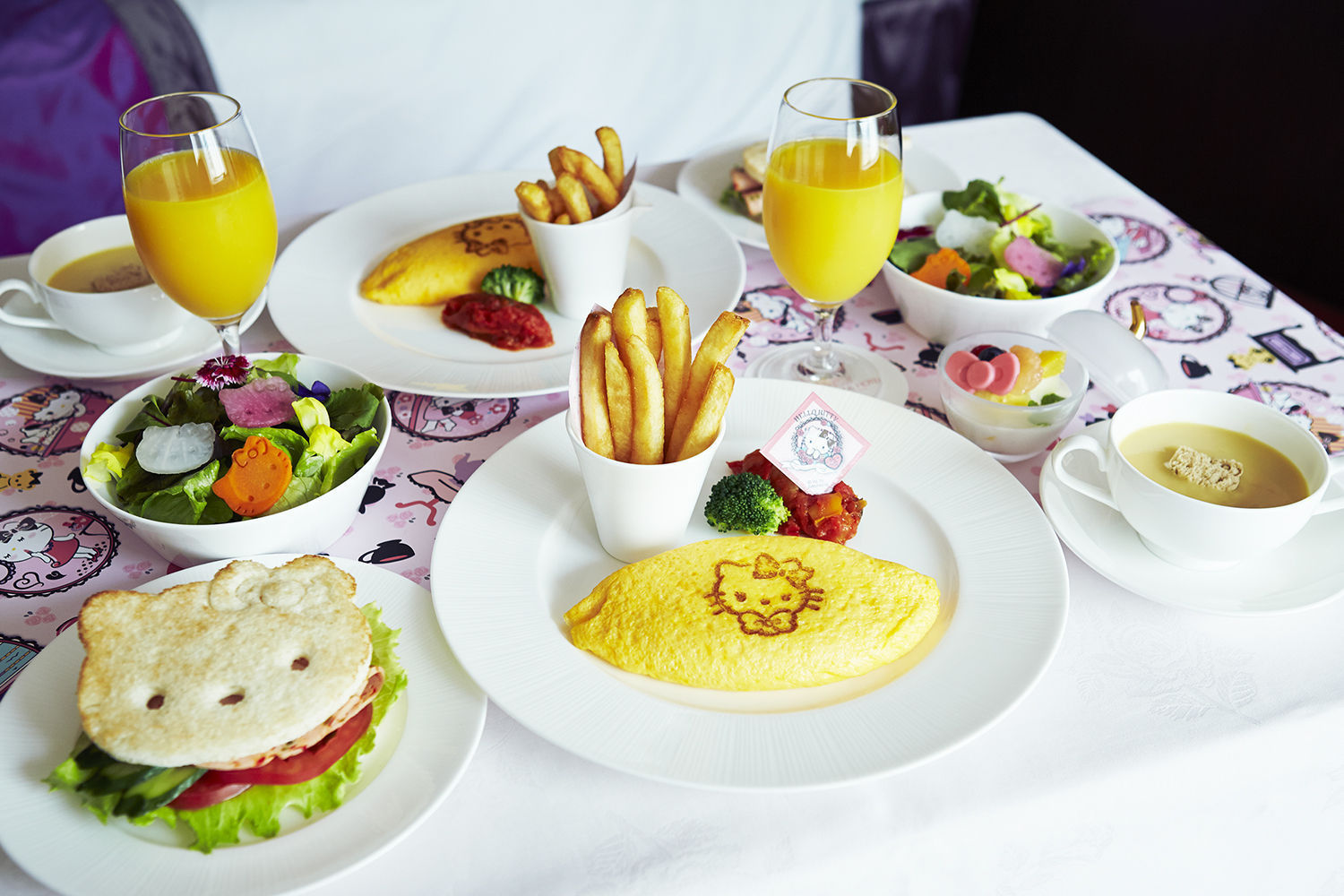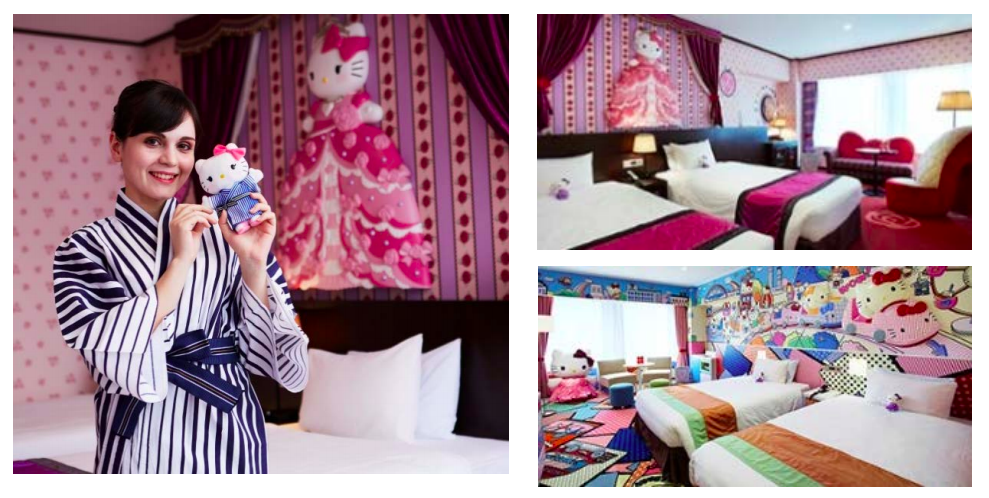 To wow your family with unforgettable memories, Keio Plaza Hotel Tokyo and Keio Plaza Hotel Tama rent stunning Hello Kitty Rooms, special guest rooms decorated with the favorite character "Hello Kitty," ideal for devout fans.
As you can see from the photos and video, both types of themed rooms have two queen beds and feature the adorable feline fatale on the walls and the furniture, all over the floor, and throughout the room service menu. The headboards of each bed are covered in 3-D figures of Hello Kitty and Mimmy to ensure the purrfect dream state experience.
Plus, these hotels really want you to steal the amenities! They have specially created Hello Kitty accessories including Hello Kitty letter sets, pens, plastic bags, slippers and other goods that guests are encouraged to take home as a souvenir of one of the very best nights of their nine lives.
Which Kitty Room is Purrfect for You?
The Kitty Town Room design is a cacophony of color, with renderings of Hello Kitty up, down, and around urban Tokyo splashed on every 2D surface. The company says it "features cheerful decor, designed by KPH's dedicated designers [and] depicts the world superstar, Hello Kitty, having fun at an amusement park and enjoying shopping with her friends and family."
The Princess Kitty room is a range of blush pinks, much more elegant and understated, and said to be "designed along the concept that this is the princess' room, where she spends her private relaxing time among her favorites." Note that this palatial place for cat naps is only available at the Keio Plaza Tokyo.
To top off the over-the-top theming, guests booking either room at either hotel will receive an original "Kitty Mascot" to help them relax like a celebrity. Let's take a look at both hotels.
Stylish Keio Plaza Hotel in Tokyo
Keio Plaza is a popular group hotel convenient to sightseeing and all of the famous Japanese subway lines, with more than 20 restaurants and bars and plenty of meeting space and support staff. Quite large at 1,435 rooms (only eight are Hello Kitty themed), it's located in Shinjuku, famous for its illuminated billboards and shopping scene. In good weather, families can enjoy their rooftop Sky Pool — a big perk even though cats hate water. Also a plus, this hotel does a lot of other themed cultural events, and is a good starting point for pilgrimages to Mt. Fuji, something your family can plan when you visit.
Keio Plaza Tama is Next Door to Hello Kitty's Playground
The 248-room Keio Plaza Hotel Tama is in Tama-city, a newer suburb with its own metro station, shopping malls and futuristic looking architecture. Hello Kitty fans know it as the home of Sanrio Puroland, the delightful Hello Kitty theme park that's a must-see for families visiting Tokyo. Here's a quick video:
A Keio Plaza Hotel Deal Purrfect for You!
Both Keio Plaza and Keio Plaza Hotel Tama have welcomed fans ranging from girls in ankle socks to celebrities like Lady Gaga, making these rooms sell-outs. However, this season, the Tokyo hotel gets the ball of yarn for its timely "Hello Kitty Room with Breakfast Stay" packages, available from Nov. 30, 2017 to March 31, 2018. For the rate of JPY 56,236 (about US$505) per night including breakfast, service charges and taxes, two guests can stay in your choice of Kitty room styles, and get special Hello Kitty morning wake-up calls, Hello Kitty room service breakfast fit for really big cats, and a new special gift: an original Hello Kitty Doll wearing a Yukata (Casual Japanese kimono) to remind you of just who was there for your pajama party. To reserve this as a holiday treat or book ahead, please call Reservations in Japan at +81-3-5322-8000.
If you're with kids, note that the Tama hotel near the theme park will be a better value. Check out the Keio Plaza Tama website for a variety of seasonal family offers.
Don't Hiss if You Can't Celebrate Hello Kitty in Japan
Of course, merchandise sporting Hello Kitty's portrait is available far and wide, including a line of cosmetics at Sephora, other themed hotel rooms in Malaysia and Hong Kong, at a Hello Kitty shop at Universal Studios Florida, even on two food trucks travelng the USA. You can also window shop at Sanrio, her owner's site. Still, nothing beats sleeping in her arms.
If you get there, please post a picture of whatever you experience on our Facebook page.
---
This story was accurate when it was published. Please be sure to confirm all rates and details directly with the companies in question, and stay up to date with current events to ensure a safe and successful trip.