From November to April, unique winter activities in Alaska make America's 49th state one of its most desirable pandemic-era destinations. Whether you're interested in being one with the frigid outdoors or drawn to sparsely populated museums packed with extraordinary art, there's an Alaska winter experience you'll never forget.
Keep in mind that touring Alaska in winter requires luck and timing and money – Alaska is expensive. Cruise ships and ferries don't run. The state's summer recreation areas close. Bring layers of clothing because unpredictable weather will guide your days. Fortunately, good luck enabled our family to experience the best winter activities in Alaska and so much more. We share our very favorite ones here.
1. Experience the Aurora Borealis on a Northern Lights Tour
Don't count on any natural phenomenon, but from August 21 through April 21, the aurora borealis or northern lights are most often seen in America over Alaska skies. Since Fairbanks is a hub for aurora tours, visitors short on time can take a very long day-into-night trip to see them. Chena Hot Springs Resort, for example, uses Snowcat tractors to reach their mountaintop warming hut and aurora viewing base. Borealis Basecamp is a resort of clear domed yurts whose staff will wake you if northern lights appear in the sky.
To maximize your chance of seeing this magical lightshow, stay overnight north of the Arctic Circle. You are directly beneath the auroral belt. From our Coldfoot Camp base (see below), we drove to the hamlet of Wiseman to meet Jack Reakoff, photographer, guide and Wiseman resident since 1971. He generously shared tripods, photography tips, hot chocolate and local lore. We watched green bands of light paint the night sky, arcing over our heads to touch the circumference of the North Pole..
2. Glacier Hike at Matanuska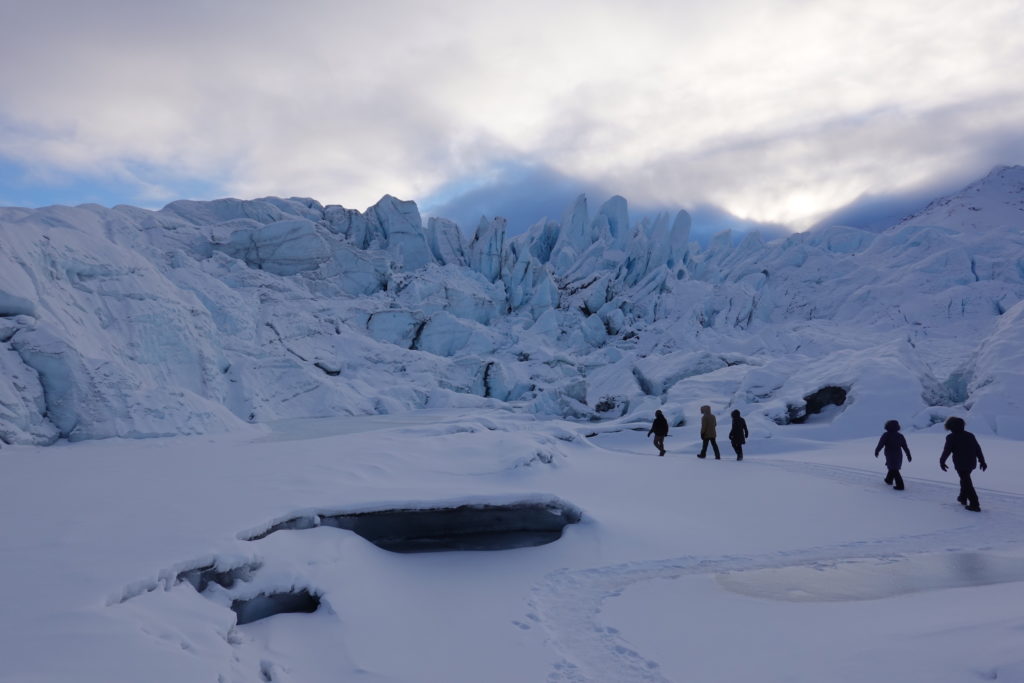 The Matanuska Glacier grows at the confluence of the Matanuska and Sitka Rivers about 100 miles northeast of Anchorage. It's so popular because it's beside Highway 1, allowing those who prefer snowmobiles to hiking and anyone with mobility issues to get up close. Go now, because Matanuska is receding about four feet per year. Our Greatland Adventures guide infused the 3-mile hike across blue ice slopes, peering into crevasses and caves, with wonder. The company provides appropriate outerwear, waterproof boots, ice crampons and a hearty alpine lunch at a lodge in nearby Glacier View for a hyper local Alaskan adventure.  
3. Ride the Rails on an Alaska Railroad Adventure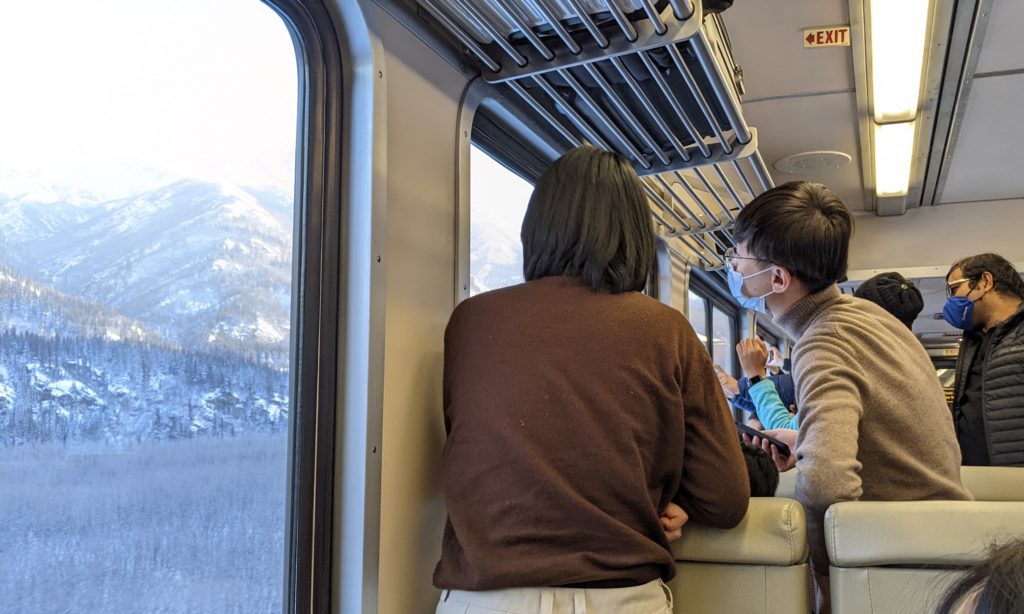 Alaska Railroad journeys are a priority on many bucket lists of winter activities in Alaska. However, winter visitors must plan carefully since trains only run weekends (Saturday from Anchorage to Fairbanks, and Sunday from Fairbanks to Anchorage.) Yet, the Aurora train doesn't disappoint. Sightseeing en route through boreal forest and Denali National Park is spectacular. The skies are clear, with that soft ice blue light that blurs the horizon between mountain peak and cloud. Mt. Denali (formerly Mt. McKinley) comes into view. All heads turned to the right then to the left, as a Sun Dog appeared. These almost vertical rainbows at the fringes of the sun's aurora are an Alaska trademark. Guides say we are among the 30% of visitors to the state who ever see Denali in all her majesty, bare of clouds.
4. Join an Arctic Safari at Coldfoot Camp
Coldfoot Camp is a century-plus-old gold mining camp halfway between Fairbanks and the Arctic Ocean settled by those who didn't get cold feet about the region's adverse climate. Run today by the experts at Northern Alaska Tour Company, it's a tin-roof trailer community that warmly welcomes tourists. Sightseeing north of the Arctic Circle is one of the top winter activities in Alaska. Guide Tim Huber drove us 100 miles north into the Brooks Range on an Arctic Safari, stopping to point out a herd of caribou, a porcupine eating bark off a birch tree and some wolves. After sledding and selfies, the temperature plummeted to -34 as we dropped over Atjgun Pass, the highest point on the only road around, the Dalton Highway. Overnight at this truck stop to meet "locals" from everywhere, enjoy a hot shower and huge meals. Northern Alaska also organizes aurora viewing nights (see above) and flightseeing from their base at Coldfoot.
5. Soak Up Chena Hot Springs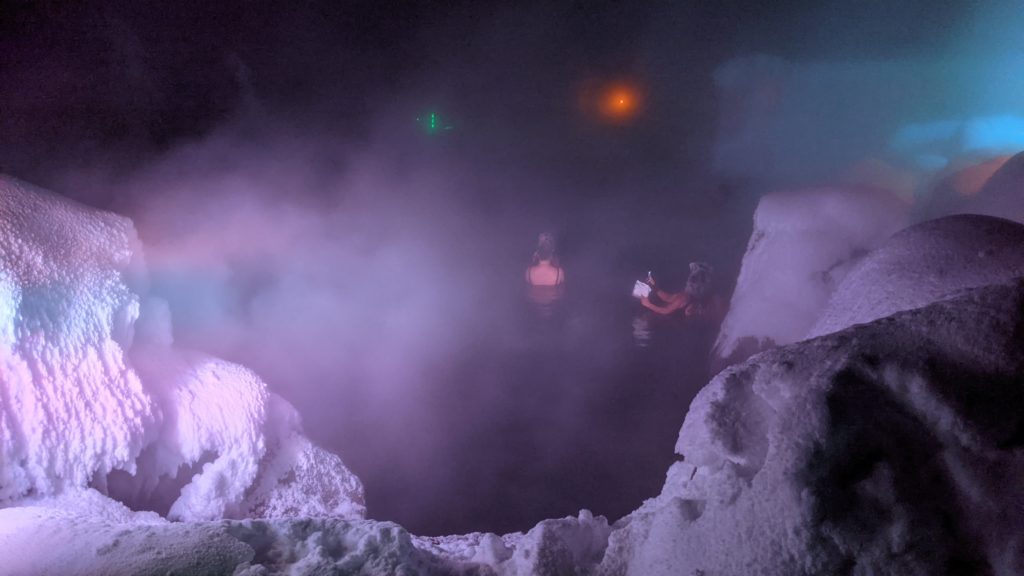 Chena Hot Springs Resort is a startlingly commercial enterprise, a three-ring circus of winter activities in Alaska. The very large complex includes a lodge, two greenhouses, dog sled farm, snowmobile course, ice museum, tour center, indoor pool and bathhouse. The highlight of Chena Hot Springs is the eponymous natural hot spring where guests with frozen hair may wallow in warm water until 2am. The 104-degree water, discovered in 1905 by prospector brothers with rheumatism, is full of soothing minerals that restored the miners' faith in paydirt. Just 60 miles west of Fairbanks, the crowds we encountered resembled summer hordes. The resort's restaurants may be too crowded to dine in, and dogsled rides may be sold out, but the Northern Lights group tour paid off at our visit.
6. Tour the Hotel Captain Cook
Make the family suites at the Hotel Captain Cook overlooking Cook Inlet your home base in Anchorage. The historic heart of town, this vintage luxury hotel just celebrated its 50th anniversary as a member of the prestigious Preferred Hotels & Resorts. Join a hotel tour to see the carved door pulls, beautiful murals, woodwork, paintings, ship models and other memorabilia of British explorer Capt. James Cook. He reached Turnagain Sound, across from the hotel, on his third voyage of discovery in 1778 but never found the North-West Passage. Seek out sky-high views from the hotel's award-winning Crow's Nest restaurant and the Native American art at lobby galleries. The old school barber, shoeshine and extraordinary clam chowder at Fletcher's Pub are part of the townies' shared legacy.
7. Warm Up in Fairbanks Museums & Cultural Centers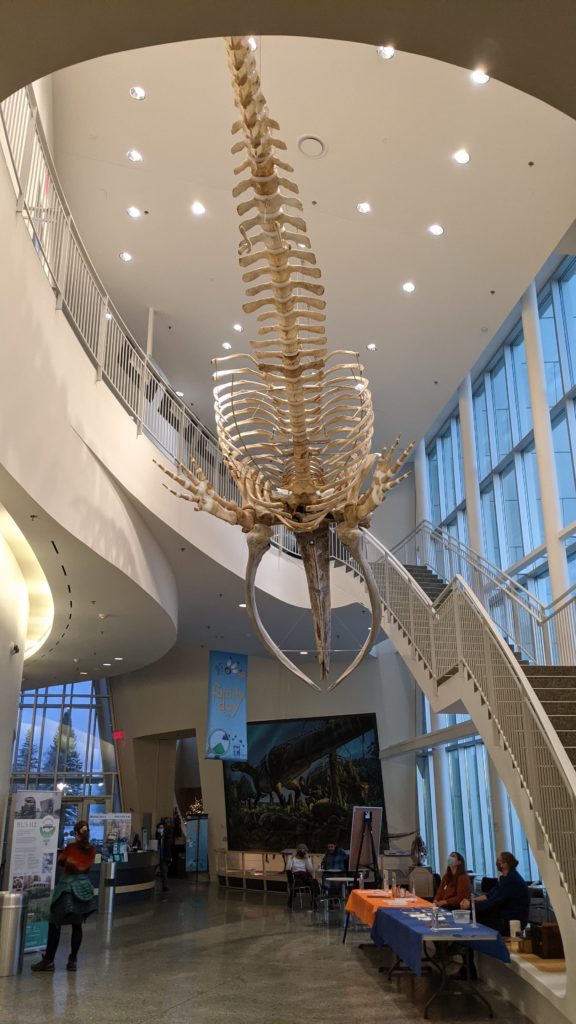 Fortunately for those who hate the cold, there's plenty of world-class art indoors in this town of 31,000 hardy souls. The Museum of the North at the University of Alaska Fairbanks campus has a terrific collection of Native Athabascan artifacts and cultural items. Don't miss the informative northern lights film, skeleton of a Bowhead Whale, taxidermized grizzly bear and displays about the Trans-Alaska Pipeline. Spend a free afternoon at the Morris Thompson Cultural Center, a regional visitors center with exhibits and dioramas of Native life. Learn how to catch and preserve a salmon and why Athabascan women are not allowed to be seen by bears.
By the way, getting around to many of the top winter activities in Alaska is challenging because there's very little public transportation. There are a few phone-in taxis, plus Uber and Lyft, but not enough drivers to guarantee rides.
8. Souvenir Shop Among Fairbanks Locals
Stay busy for hours along Fiarbanks' Second Street off Cushman. Each shopkeeper has a story to tell and any story about the Last Fronter is worth listening to. Use Mecca Bar, a saloon central to the Alaska Pipeline's outlaw era, as your waypoint. Locals have gold nuggets set into key rings at Gold Rush Fine Jewelry, where you can also buy diamond and mammoth tusk jewelry. At Alaska Rare Coins, peruse first edition novels, collectibles, coins and postcards. Fur Factory nearby sells pelts of lynx, marmot and wolverine made into elegant evening wear, colorful gloves and moccasin style boots for tourists who don't find the warmth they need at Big Ray's outdoor store.
Warm up at Venue coffee bar; hanging out is a favorite winter activity in Fairbanks. Noodle House is a good lunch stop for big steaming rice bowls and pad Thai.
9. Get Out and Explore Anchorage
Explore Anchorage, Fairbank's larger and fairer sister. The city has a milder winter climate and more snowfall due to its Pacific Coast location. Rent fat tire bikes to ride the snow-packed Tony Knowles coastal trail and watch floatplanes take off and land at Lake Hood. As the sun sets, immerse yourself in Native arts at the Smithsonian Arctic Studies Center in the Anchorage Museum. The Alaska Native Heritage Center (limited access in winter) is another treasure trove of contemporary and traditional Native customs. It includes re-created dwellings on the banks of Lake Tiulana that illustrate the lives of the state's many tribes.
Oomingmak Musk Ox Producers Cooperative sells hats, scarves and other items woven from Quiviut, the soft underhair of the musk ox. Take away a filling lunch of Fire Island Rustic Bakeshop's focccacia toasted with a fried egg, then caffeinate at Dark Horse. Forget the damp chilll with 49th State Brewery's customizable flight of 4 oz. pours. Glacier Brewhouse has several house-distilled whiskies to wash down a Seafood Tower that includes fresh calamari strips served with fried jalapeno rings, a sockeye salmon dip with toast and sweet Alaskan shrimp.
10. Sled Dog Your Way Through Denali Country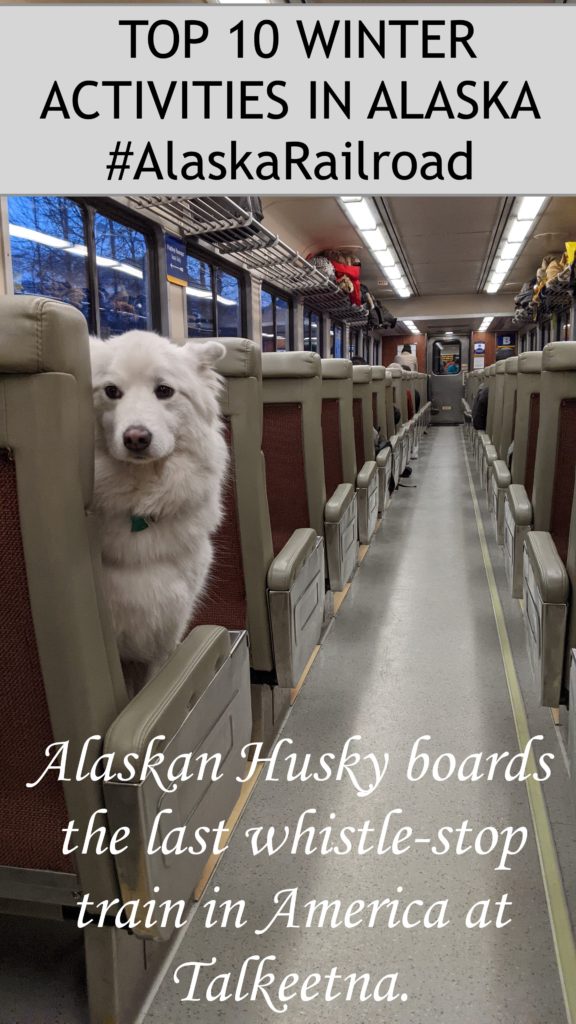 Bundle up in loaner gear, learn basic skills and commands, then mush your Alaskan Husky team through the snow-capped birch forest around Talkeetna. After this adrenaline rush, return to AK Sled Dog Tours run by five-time Iditarod champion, Dallas Seavey. Yes! Meet his newest puppies. These are the champions in training. Most families rent a car to see this postcard Alaskan village because of the railroad's limited winter schedule. Time permitting, join one of flightseeing trips around Denali National Park. K2 is a local company offering flights, with and without glacier landings, and other thrilling winter activities in Alaska.
Dear Reader: This page may contain affiliate links which may earn a commission if you click through and make a purchase. Our independent journalism is not influenced by any advertiser or commercial initiative unless it is clearly marked as sponsored content. As travel products change, please be sure to reconfirm all details and stay up to date with current events to ensure a safe and successful trip.
---