Family excursions make the holidays, so why not take the kids to harvest your own tree at a real Christmas tree farm? We make it easy with this guide to the U-Pick Christmas tree farm nearest you and tips on how to select one.
Real Christmas Trees is a trending thing. According to the National Christmas Tree Association (NCTA), nearly 20.98 million real Christmas trees were purchased in 2021. The median price was $69.50 and 27% of all trees were from U-pick farms. If you're planning a minication to a Christmas tree farm near you, keep in mind that supply is expected to be tight this year. Be flexible and consider different types of trees and your family will be delighted with their purchase.
And, real trees are "greener" than artificial trees because a living tree can be recycled and doesn't have the negative environmental effects that making trees from PVC plastics does. The NCTA should know, as even the White House tree is selected from the association's "Grand Champion Grower of the Year."
What are U Pick Christmas Tree Farms?
From Thanksgiving to Christmas Eve, you can plan a road trip to one of the nearly 5,000 choose-and-cut real Christmas tree farms in the United States. (Some families may find the the many farms in Canada closer.) The NCTA has a helpful website which refers you to real Christmas tree farms either by location (by your zip code) or by the type of tree required. At some of them, you'll need to make advance reservations.
Plan a real Christmas tree farm outing because it's an eco-friendly activity. Professional farmers replant three trees for every one that is cut. Also, most towns recycle real Christmas trees as mulch or use them to bolster sand dunes after the holidays.
Forget the buzz saw and plaid shirt; this is not a D-I-Y project. Only a tiny fraction of real Christmas trees are harvested in the wild, and these are cut only to create fire breaks in danger zones prescribed by the National Forest Service. Instead, your family will find that real Christmas tree farms are the sustainable way to go.
A Connecticut U Cut Christmas Tree Farm
In the Northeast, try the Jones Family Farms celebrating their 75th year of U-pick harvesting. The Homestead Farm, Valley Farm and Pumpkin Seed Hill Farm have joined the main one at 606 Walnut Tree Hill Road, Shelton, Connecticut 06484. The Jones Family runs a typical winter operation on their 400-acre farm. According to Doug R., a Family Travel Forum member dad, most cut real Christmas trees bought in December have actually been harvested and frozen several months before.
That's why, each year around Thanksgiving, he takes his family directly to Jones Farm. Spend spend the entire day among Balsam Fir, Colorado Blue Spruce, White Fir, Douglas Fir, and Angel White Pines so you can bring home a more recently cut, real Christmas tree which is sold by the foot.
"The kids love running around this beautiful New England style farm, and sometimes there's a Santa sighting," adds Doug R. "Our dog loves it, too."
While you're in the Northeast, head over to explore these New York City family-friendly holiday events.
Support Small Family Farms
At the small family Christmas tree farms, expect balls of twine, a big Christmas gift shop and maybe some photo ops with Santa. Most are pet-welcoming if your dog is on a leash. Several sell snacks like homemade donuts and hot chocolate. Most have down-home advice about the best tree for your needs. First tip for all newcomers: Measure your ceiling at home and bring the same tape measure to the farm!
In the Midwest, try B&J Evergreen, celebrating their 40th year of U-pick harvesting in Minnesota. Their "choose and cut" locations are in Princeton and Clear Lake. Families can choose to chop down Balsam Fir, Fraser Fir, White Pine or Blue Spruce trees to really personalize their holiday. Play with farm pets, jump on hay bales. Or, take a horse-drawn sleigh ride. If that's too much of an outing, B&J has a more convenient option. Three tree lots with already harvested trees are in the Twin Cities region. B&J provides free twine, hand saws, bailing wire and help getting any real Christmas tree you choose onto your car at any time.
Many Farms Run Big Christmas Tree Operations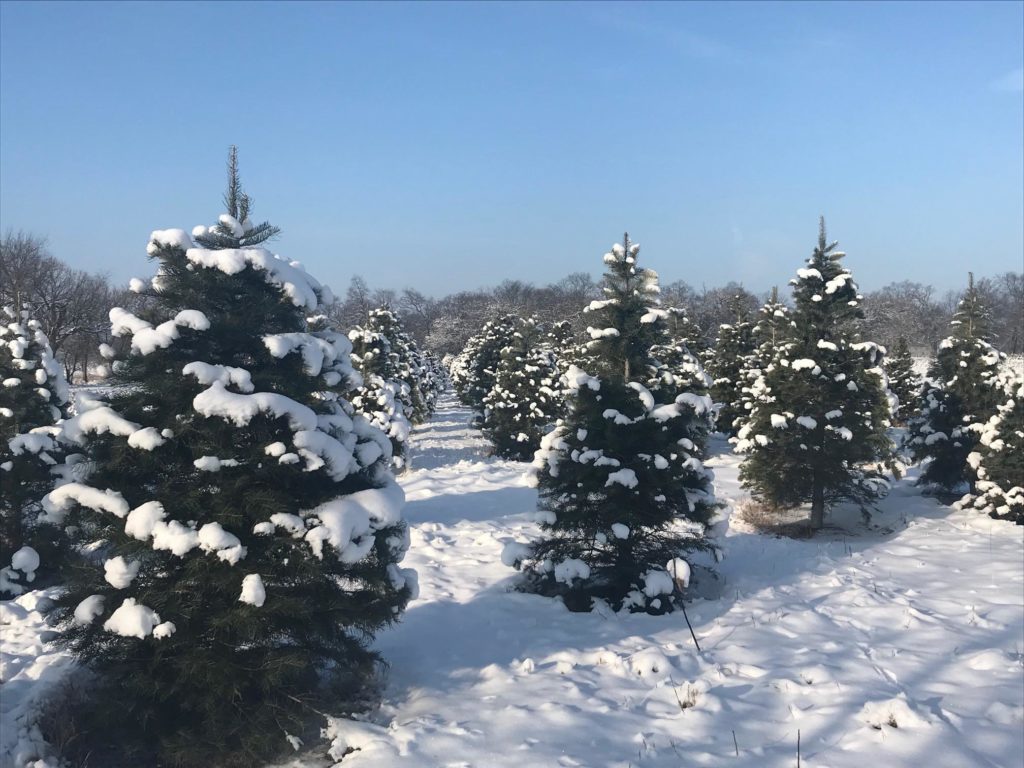 Choose your favorite among 50,000 trees on 75 acres of farmland at the Richardson Adventure Farm (9407 Richardson Rd. near Spring Grove, IL), about an hour's drive from Chicago. This family Christmas tree farm, founded in 1840, runs a choose and cut operation that sells more than 4,000 trees each year.
Tree varieties include Fraser Fir, Canaan Fir, Concolor Fir, Douglas Fir, Blue Spruce, White Pine and Scotch Pine. Of course, there's coffee and hot chocolate, donuts, homemade treats, wreaths and more for sale as well.
"Some families have been coming here since our very first year," said George Richardson, who works with his family. "It's a real multi-generational tradition," he adds. "People who came here as kids bring their own children now."
Need an affordable rental car for your Christmas tree farm excursion?
Christmas Tree Farm Selection & Transport Tips
Follow these Tree Selection and Transport Tips from experienced tree-toting FTF families:
1. Carefully select the size and shape tree that's right for your home. As noted, you must measure the ceiling height in your home before heading out to the farm.
2. The Christmas tree farmer should supply a handsaw. Do bring work gloves so the kids can help you keep your real Christmas tree steady while sawing.
3. Ask the farmer to wrap or 'net' it for easy transport. Do bring your own plastic tarp to kneel on while sawing, to drag the tree to the car, and to protect your car roof or trunk from shedding needles and oozing sap. Depending on where you live, you may even find a farm who will deliver through Instacart or another service.
4. If your kids have allergies to pollen or tree sap, wash the tree outside thoroughly with a garden hose before bringing it indoors. Although allergy specialists say that evergreens produce very little pollen in winter, any real Christmas tree will collect pollen and dust.
5. If possible, trim the tree's trunk again at home. Place it securely in water in a strong stand, away from any direct heat source. It may 'drink' several gallons worth in the first few days. Refill water every other day throughout the season, and your tree may last up to 10 weeks.
6. After the holidays, contact your local sanitation department about recycling your tree. In some areas they become mulch for local parks, in others, support for wind-blown sand dunes.
Finding A Christmas Tree Farm Near You
There are several ways to find a real Christmas tree farm convenient to you. Try asking the farmers at your local greenmarket; many have tree nurseries sharing farmland as an additional income source.
In some regions, such as northern California's wine region, local growers have been supported in marketing their products for more than 30 years by the Sonoma County Farm Trails Organization. This site has a search function and maps showcasing farms which offer real Christmas trees.
Did you know that North Carolina produces more than 20% of the real Christmas trees in the U.S.? The North Carolina Fraser Fir has been chosen for the White House more than any other species. Check out the North Carolina Christmas Tree Association website for information on selection hours.
Tip! Start the Giving Season Early
The Richardson Farm in Illinois, along with many others, participates in Trees for Troops, which last year delivered about 15,000 free, fresh-cut, real Christmas trees to military families at 77 domestic military bases. We love give back gifts like this. First, purchase a tree for a local military base at a discount. Next, attach your own holiday greeting. Lastly, send it packed with holiday spirit.
Does your family have a real Christmas tree farm tradition? Let us know about your Christmas inspired travels in the comment field below!
Dear Reader: This page may contain affiliate links which may earn a commission if you click through and make a purchase. Our independent journalism is not influenced by any advertiser or commercial initiative unless it is clearly marked as sponsored content. As travel products change, please be sure to reconfirm all details and stay up to date with current events to ensure a safe and successful trip.
---