Want to skip the mass market hotel room for an Instagrammable sleeping experience your friends and family may envy – and the kids will remember forever?
Travelers have a bigger choice of hotels and vacation rentals than ever before, as independent properties experiment with new forms of hospitality in décor, amenities and guest experiences.
It's time. Introduce the family to a whole new appreciation of the night at one of these 10 imaginative places to stay.
Northern Lights Recliner in Lapland
Whether you're interested in ice fishing through a frozen tundra, working 24/7 on your tan in summer, or doing some Northern Lights spotting from the comfort of bed, these Seaside Glass Villas from Experience 365 Finland are worth more than one night of your life. They're located on the Gulf of Bothnia outside the popular resort town of Kemi in Finnish Lapland, best known for its annual all-ice and snow SnowHotel. Stay in glass boxes instead and enjoy climate controls as you watch the frozen sea in winter or lay awake waiting for the sun to never set in summer. Although they are built close to each other, at any time of year these transparent houses make guests feel one with nature.
Riding the Indiana Rails in a Pullman Car
Even rail fans who've bunked in a moving sleeper car will be wowed by the towering exteriors of 13 vintage 1920s Pullman Cars inside Indianapolis' Crowne Plaza Indianapolis Downtown Union Station. In addition to a snack shop, restaurant and small indoor pool, the Pullman Car rooms are housed in the original steel-girded rail shed next to working tracks. Although Pullman interiors are as comfortably furnished as the hotel's other rooms, if you book cars 1-10 on the Nickel Plate Railroad line, you can experience the rumble of Amtrak trains pulling into the historic ca. 1853 Union Station.
High in the Sky over Amsterdam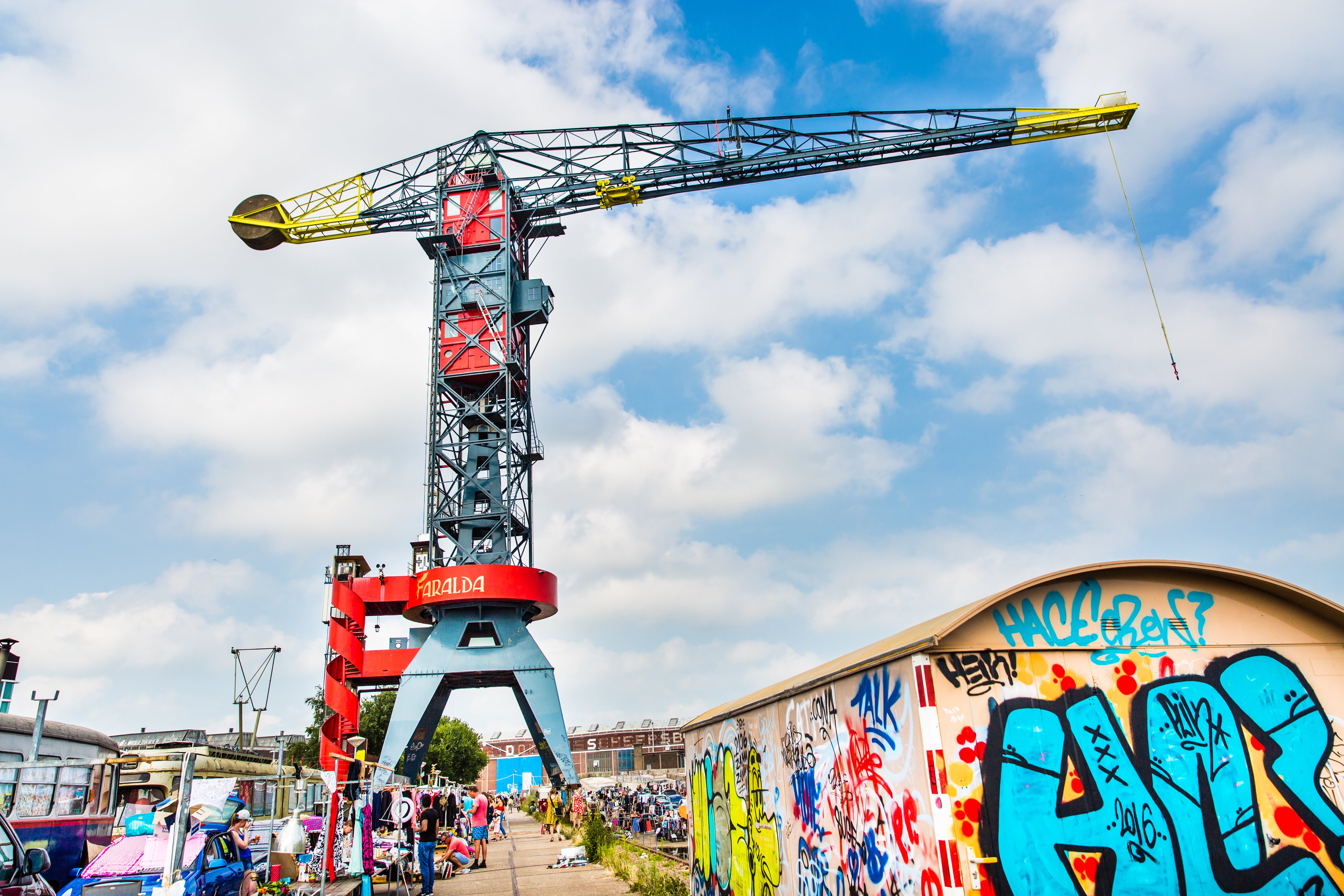 Enjoy spectacular views high above the former NDSM-Plein shipyard, one of Amsterdam's hippest neighborhoods, just a ferry ride away from Central Station. It took 3 ½ years and more than €3 million to convert a landmark crane to the three-suite Crane Hotel Faralda whose 53-ton boom arm swings in the wind. The colorfully eclectic rooms: Mystique, Secret and Free Spirit Suites, all guarantee city views, privacy and discretion. In addition, the 164-feet tall Crane Hotel Faralda has places to sleep outdoors, a TV studio and space for corporate events, rooftop Spa pool, club scene that often boasts world-class DJs and a bungee jump (€85 per jump). Arrangements for private jet, boat and limo transfer can be made in advance.
Recycle and rewind in the Texas Prairie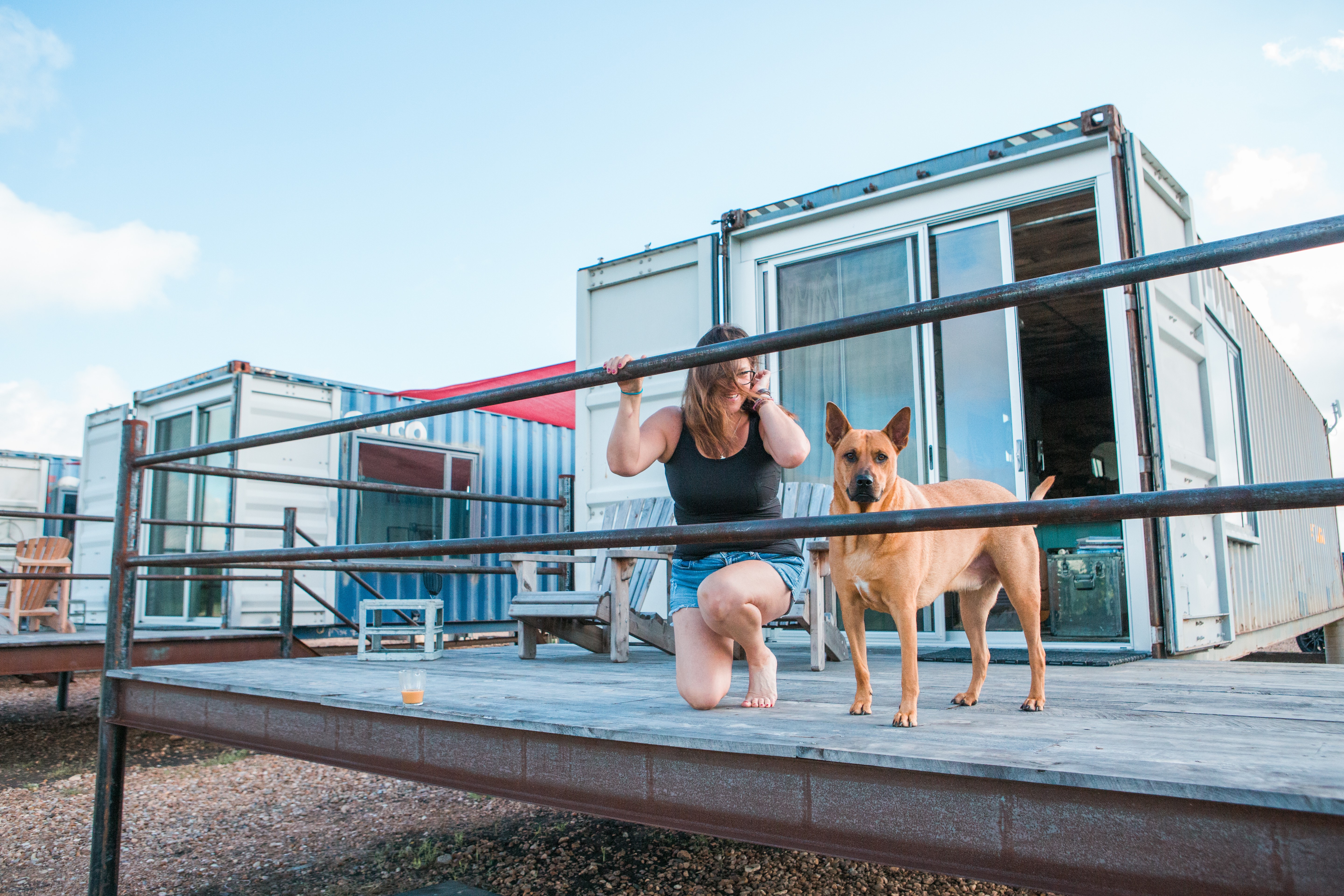 Picture six shipping containers lined up in a field, surrounded by big skies, wide open decks and room to play with neighbors. Everyone at Flophouze uses the Adirondack chairs, pool, collectibles store, hammocks and firepits. Each used container showcases the many treasures reclaimed by owner Matt White while traveling or shopping the famous Round Top Flea Market nearby. Within the length of each unit is a bed plus bunkbeds or a pullout couch, living and kitchenette space, private bathroom, books and a record player with Matt's hand-picked collection of vinyl. But mainly you'll want to be outside, seeing what all your new friends are up to.
To the Moon and Beyond at the Thousand Islands
The most fabulous rooms are hidden from public view at this hotel between Montreal and Toronto. The Best Western Fireside Inn in Kingston, a good base to explore Fort Henry, Queen's University, the Royal Military College and the scenic 1000 Islands, has four remarkable suites, many with hot tubs and saunas, as well as an outdoor pool. The "Flight of Fantasy" two-story suite has a bed tucked into a hot air balloon gondola; a Rolls Royce suite has bedding inside a full-size luxury sedan. The black and red lacquer Asia room, fit for an emperor, boasts a pagoda shaped fireplace. Our favorite is "Tranquility Base," themed to a moon landing, where wannabe' astronauts can climb from the uneven lunar surface of the chamber into a space capsule for much-needed sleep, and play with throw pillows that resemble Mars rocks. The suites can only be booked by phone at 613/549-2211 and include breakfast in the rate.
Soaring over the Sacred Valley of Cuzco
If Macchu Picchu is on the bucket list, why not go full adventure in the Sacred Valley of Peru, where you can sleep (or lie awake) in a transparent bedroom hanging from the side of a mountain? Skylodge Adventure Suites by Natura Vive are three condor's-eye-view capsules made of aerospace aluminum and weather resistant polycarbonate to provide 300-degree views of the landscape, horizon and valley. Each 24-foot-long, solar-powered unit has four cots plus a dining area and screened off toilet and sink. Fair warning: guests must ascend 1,200 feet on a Via Ferrata (climber's steps) or hike up a difficult trail. But, once there, you're that much closer to acclimatization. Overnight packages for up to four people per room include breakfast, dinner with wine, transportation from Cuzco and bilingual guides.
Find Refuge in a Turkish Cave
If "living in a cave" means you're out of touch, this restored cave hideout used by early adopters of Christianity is the ideal antidote. Esbelli Evi is an authentic base for exploring the UNESCO World Heritage site of Göreme National Park, a sandstone valley full of hoodoos and naturally sculpted, otherworldly formations in Cappadocia. The hand-crafted collection of sleeping spaces has grown to nine cave suites and four cave rooms since it was opened in 1990 by Suha Ersoz, a one-time tourism volunteer. While guests appreciate that history has shaped many of the softy contoured sandstone walls, the modern comforts added by local artisans, touring advice from the friendly staff, and a very popular local breakfast add to the appeal.
Emperor for the Night in Vienna
If Versailles is your idea of a luxury hotel, look no further than the 1,441-room Schloss Schonbrunn and its Grand Suite. Thanks to the dedicated restoration by Austria Trend Hotels, a private fifth floor apartment in one of Europe's most prized Baroque palaces (and a UNESCO World Heritage site) can be rented by the night. The 164-square-meter family idyll has two regal bedrooms, two marble baths with soaking tubs favored by Empress Sisi, an elegant fully-stocked kitchen, dining and living rooms, plus enough paneled corridors to wear out the kids. While not in the heart of Vienna, this glamorous apartment oozes 18th century nobility (more details here) and is super convenient to the daily tours of the Schonbrunn Palace, the palace's children's museum, glorious gardens, a few restaurants and the delightful Tiergarten Zoo.
Start your Engines in Stuttgart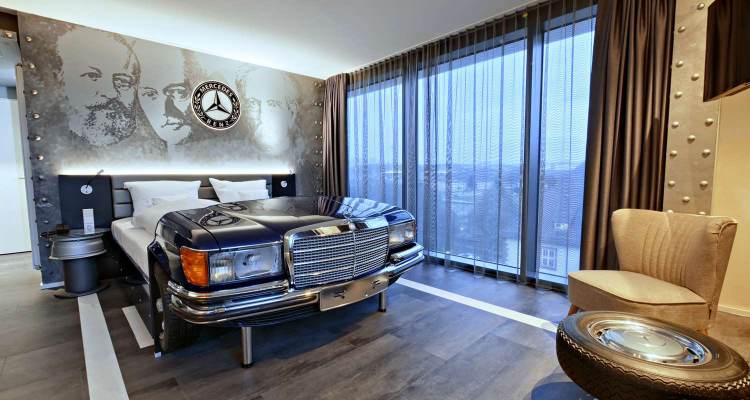 Anyone heading to Stuttgart for the Mercedes-Benz or Porsche Museums – or to pick up a new model car — can cool their engines overnight at the V8 Hotel Superior Motorworld Stuttgart, BW Premier Collection. Both wings, the V8 Hotel and the V8 Classic, are located just outside town near Motorworld, an enormous display of special vehicles and bikes that changes daily. The hotel is furnished with a variety of vehicles from different eras. The newest V6 rooms have graphics and décor that highlight famous drivers and great moments in automotive history. The 26 car-themed rooms feature original parts of cars made into furniture and bed frames. Choose between racing themes like Le Mans or Solitude, French, German or Italian automakers; or fun themed rooms modeled on a car wash, workshop or gas station. Of course, the hotel can arrange for guests to test drive a number of vehicles around town.
Westward Ho! To California in a Wagon
Although parts of Yosemite National Park may be closed due to hordes of "Free Solo" fans trying to scale El Capitan, families in the area can base themselves about 25 miles away in a Conestoga Wagon at Yosemite Pines RV Resort and Family Lodging. Wider than the original settlers' homes, these fabric-covered wagons are long enough to include a king-size bed and one or two sets of bunk beds, plus mod-cons such as climate control, coffeemaker, microwave and refrigerator. Less adventurous friends can stay in cabins, RVs, tents or Airstream trailers and enjoy the swimming pool, petting farm and recreation facilities, or venture out with local Groveland horseback riding tours.
For more unusual hotels, please see my other hotels roundup here.
Sweet Dreams!
Dear Reader: This page may contain affiliate links which may earn a commission if you click through and make a purchase. Our independent journalism is not influenced by any advertiser or commercial initiative unless it is clearly marked as sponsored content. As travel products change, please be sure to reconfirm all details and stay up to date with current events to ensure a safe and successful trip.
---