I recently learned some family travel lessons from former First Lady Michelle Obama. As one of the most traveled women in the world, she spent some of her White House years becoming a family traveler.
Anyone who's had the pleasure of reading Becoming, the 2018 autobiography by former First Lady Michelle Obama, knows that she has very strong opinions. Opinions on parenting, education, career, motherhood, politics and, interestingly, on the value of family travel.
Michelle Obama On Family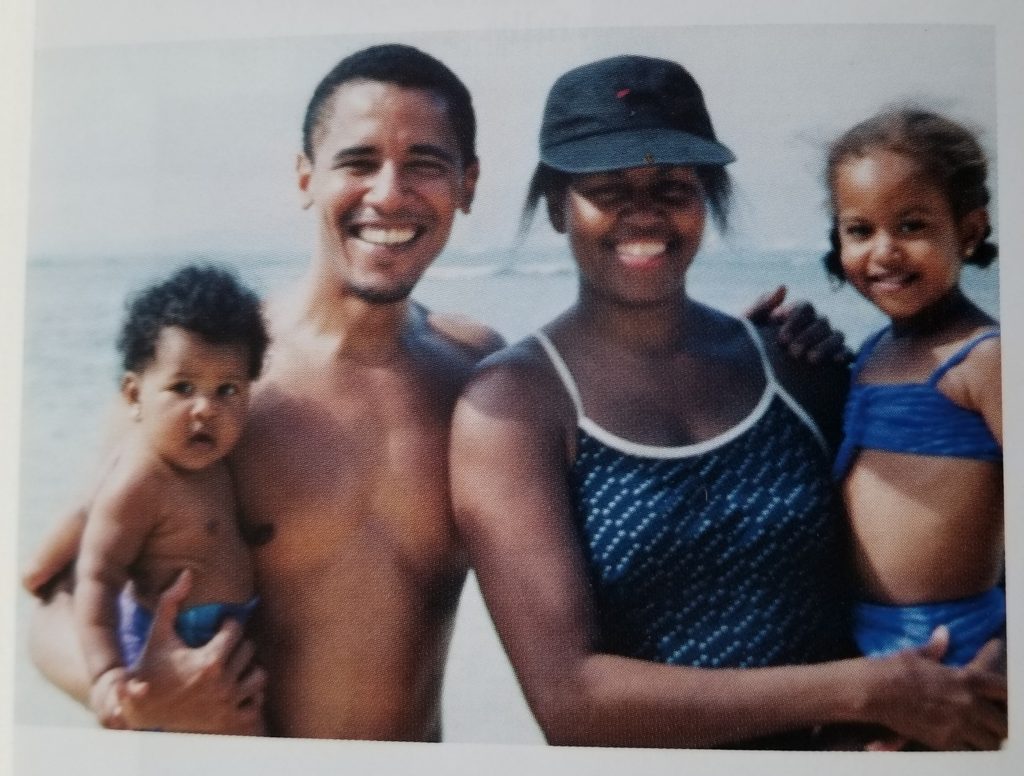 According to her autobiography, Mrs. Obama grew up as Michelle Robinson in a working-class Chicago neighborhood. Her parents worked hard, the kids studied hard, and they were very close and loving.
There's not much in the book related to her own childhood family vacations. Nevertheless, in the wonderful Netflix documentary "Becoming" (2020) about her book tour, she recalls fondly all the visits to relatives nearby, and the road trips her father loved to take on weekends with his two children.
Mrs. Obama often credits her parents' love and support — a parenting style that let her grow and fail or, grow and flourish, on her own — with being the foundation for her own success.
On Kids and Independence
What's clear from the book is that raising two daughters in the "bubble" of White House security, protocol and privilege was a very frustrating reality for Mrs. Obama.
This self-made woman who had thrived on independence worried that her own children would never be on their own to experience it, something that many parents of millennials can relate to.
In "Becoming," Michelle Obama writes, "I loved any time I could glimpse my daughters in the context of their own worlds — free from the White House, free from their parents, in the spaces and relationships they'd forged for themselves."
On Multigenerational Travel and Life
Mrs. Obama had asked her mother to come live with them in the White House to help raise her girls, and Mrs. Robinson was also confronted with limitations on her actions and day-to-day life.
That's one reason that family vacations to see her husband's family and his grandmother, far away from the pressures of Washington DC, meant so much to Michelle Obama.
Michelle Obama on Vacations to see Family
She writes, "Our Christmastime trips to Barack's home state of Hawaii became an important tradition for us, a time to catch up with his side of the family and enjoy some warm weather."
Families living in Chicago, as the Obamas did for so many years, can really identify with this.
And we can all identify with having time together — parents and kids — away from the pressures of work and school.
Michelle Obama on Taking Time Off
In addition to all the traveling she did as First Lady, Mrs. Obama worked as the champion and Congressional motivator for several childhood health and welfare programs.
"As a full-time working mom with a spouse who was often away from home, I became well acquainted with the juggle many women know," she writes, "trying to balance the needs of my family with the demands of my job."
In the book, Mrs. Obama acknowledges that whenever there was an opportunity to connect with her own daughters and have them share in her work, as she sometimes did, she took it.
This is one of my favorite photos from the book "Becoming."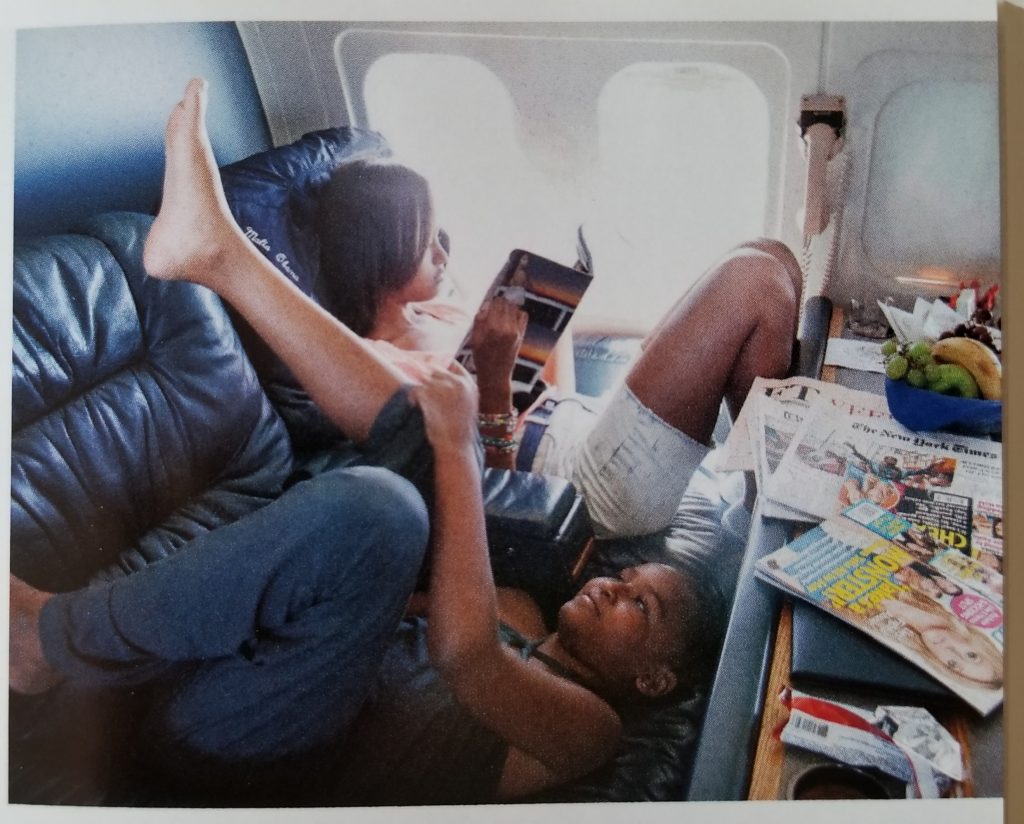 While we all may not have our own private plane, we all want more opportunities to have our children understand the privilege of work.
And, of course, the benefits that can come from hard work.
Michelle Obama on Skiing
After the Obamas reached the White House, the size of the Obama family's security detail and motorcade — albeit a mini one in comparison to the President's — became a constant headache. The public nature of her arrivals and departures prevented Mrs. Obama from participating in the everyday mom activities she, like so many working moms, craved doing.
For example, she often chose to forgo a school play or afterschool basketball game so her motorcade and personal security detail would not create a scene for her daughters.
She made many efforts to do 'normal' things like go shopping or take a spin class. Then she heard from friends about Liberty Mountain outside of Gettysburg, Pennsylvania. When she and her daughters discovered skiing, they found their happy place.
She writes, "The most liberating experience of all turned out to be downhill skiing, a sport with which I had little experience but that quickly became a passion."
Mrs. Obama recounts how days out at this local mountain resort allowed her and the girls to go outdoors incognito, bundled in a helmet, scarf, goggles and ski equipment so that no one else on the mountain would recognize them.
"Gliding down a ski slope, I was outdoors, in motion, and unrecognized – all at once," she writes. "For me, it was like flying."
Michelle Obama on the Value of Travel
As daughters Malia and Sasha got older, she involved them in the family's professional travels. Working parents all understand the potential risk of mixing business and leisure travel in what's become known as Bleisure trips.
When writing about their second term in office, Mrs. Obama admits, "I tried to make our daughters' exposure to the wide world as positive as possible, realizing that Barack and I had a unique opportunity to show them history up close."
Mrs. Obama began planning to convert any trips that took place over a school holiday into family vacations. She recalls one very memorable weeklong trip to Russia, Rome and Ghana in 2009.
Talk about jet lag — they did all three countries on two continents in one week.
"In the span of seven days, [the girls had] met the Russian president, toured the Pantheon and the Roman Colosseum, and passed through the Door of No Return in Ghana, the departure point for untold numbers of Africans who'd been sold into slavery."
What Kids Take from Family Vacations
Given the range of locations, the distances traveled and the variety of experiences, Mrs. Obama was very realistic about what these trips would mean.
Hopeful — as most parents are — that the most meaningful experiences would stick with her kids, she concluded, "Each child took in what she could and from her own perspective."
Several weeks later, much to her surprise, she found an essay of Sasha's hanging on the school bulletin board when she came in for a 3rd grade parent teacher conference.
"I'd come across a short What I did on My Summer Vacation essay she'd authored, hanging alongside those of her classmates on one of the walls.
"I went to Rome and I met the Pope," Sasha had written. "He was missing part of his thumb."
Mrs. Obama recalls that she had no idea what the thumb of Pope Benedict XVI looked like. But, she adds, "We'd taken an observant, matter-of-fact 8-year-old to Rome, Moscow and Accra and this is what she'd brought back."
We've all been surprised by some of the things our children notice and, as Mrs. Obama wisely observes, "Her view of history was, at that point, waist-high."
On Teens and Travel
By the end of six years in the White House, Malia and Sasha were 16 and 13 respectively, two teens with minds and interests of their own.
Mrs. Obama writes that she and her husband agreed that, rather than force them, the girls' participation in official events would be by choice.
But travel continued to hold a special place they all loved to connect in.
"Traveling with us did have its advantage," she recalls of the teen years. "Before Barack's presidency was over, our girls would enjoy a baseball game in Havana, walk along the Great Wall of China, and visit the Christ the Redeemer statue in Rio one evening in magical, misty darkness."
And it is those memories — and many more to come I'm sure — the family will cherish forever.
Dear Reader: This page may contain affiliate links which may earn a commission if you click through and make a purchase. Our independent journalism is not influenced by any advertiser or commercial initiative unless it is clearly marked as sponsored content. As travel products change, please be sure to reconfirm all details and stay up to date with current events to ensure a safe and successful trip.
---