The city that's best known to Americans as the setting for the 1965 blockbuster, "Sound of Music," is regarded elsewhere as the capital of classical music. Each summer, while the great orchestras are on vacation, the six-week Salzburg Festival invites the top musicians from around the world to perform at Salzburger Festspiele, July 20-August 30 of this year.
The main venues known as Grosses Festspielhaus (large hall), the House for Mozart and the Felsenreitschule (riding school) are built inside the framework of a 17th century royal stable and riding school. With glorious frescoes and stuccowork restored, they have been home to the annual festival since 1925.
We toured the Festspiele venues in advance of the festival's opening and were fascinated by the customization of the performing spaces. As the guide explained, the hall is only open during the six-week Salzburg Festival — when the world comes to Salzburg — because the local population is not large enough to fill it the rest of the year.
Getting tickets to the Salzburg Festival
In 2018, there are 206 performances at 18 different venues. Festival-goers may see one of five new operatic productions, stage plays, various concerts or the big ones: Mozart's "The Magic Flute" and Richard Strauss's "Salome."
Tickets go on sale for all Festival performances 365 days prior. The outdoor drama "Jedermann," already performed more than 650 times over the years, is a traditional favorite that sells out first. (Note the production is in German.) Although the top names in classical music and opera are sell outs, we found that as little as two weeks before, there were tickets available to many performances.
For example, at our visit, tickets were available to this year's "Salome" (Euros €430) category, the Vienna Philharmonic Orchestra (€100-230) and, perhaps best for families, Mozart Matinees (€95-€155). It's worthwhile checking on last minute availability, if only to get inside for a good look at the halls.
Touring Salzburg, "Rome of the North"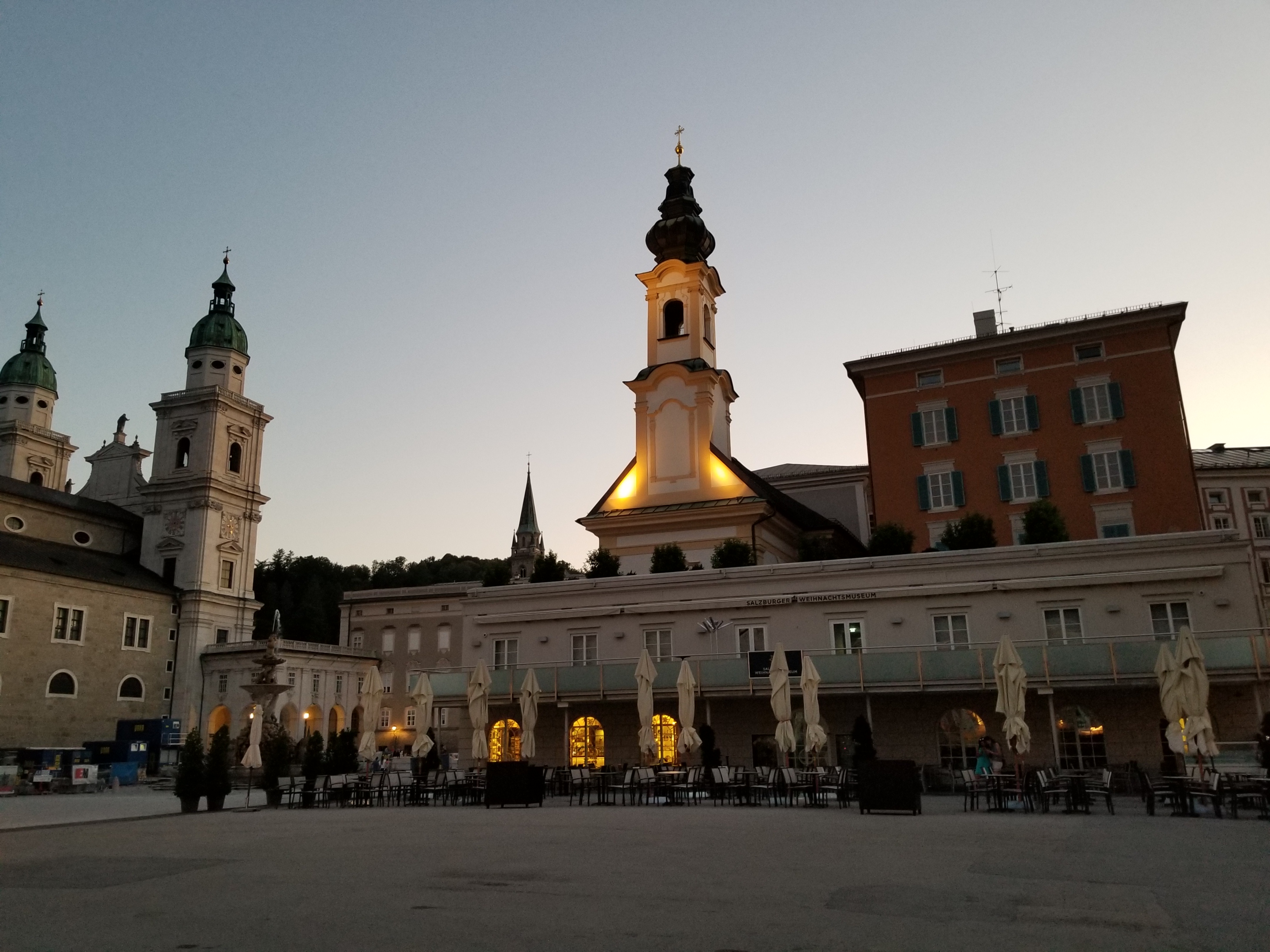 You'll want to eat up Salzburg, a truly beautiful city where towers, cupolas and gilding rival Rome, and with good reason. It was once ruled by wealthy prince-archbishops influential at the Vatican. In the 17th century, they began transforming their alpine principality in the popular Baroque style. Little of the city was damaged during the Wars and the restored Baroque old quarter – where you will spend most of your visit — is designated on the UNESCO World Heritage List.
We enjoyed seeing the Baroque Hall at St. Peter Cathedral, and exploring the Dom's opulent dining room where a nightly Mozart Dinner Concert is held. Misleadingly billed as 'Europe's oldest restaurant' because monks once ate there, it's worthwhile night out for the musicians and two opera singers, more than the food.
A much smaller building worth visiting is Mozart's Birthplace, at No. 9 Getreidegasse, which has been redone in the 18th century style to exhibit his known memorabilia. Mozart was born there in 1756 and wrote more than 350 pieces of music in his family apartment. Local walking tours lead inside many of Salzburg's church doors, where music fans can stop in for sacred music concerts.
Did we mention "Sound of Music"?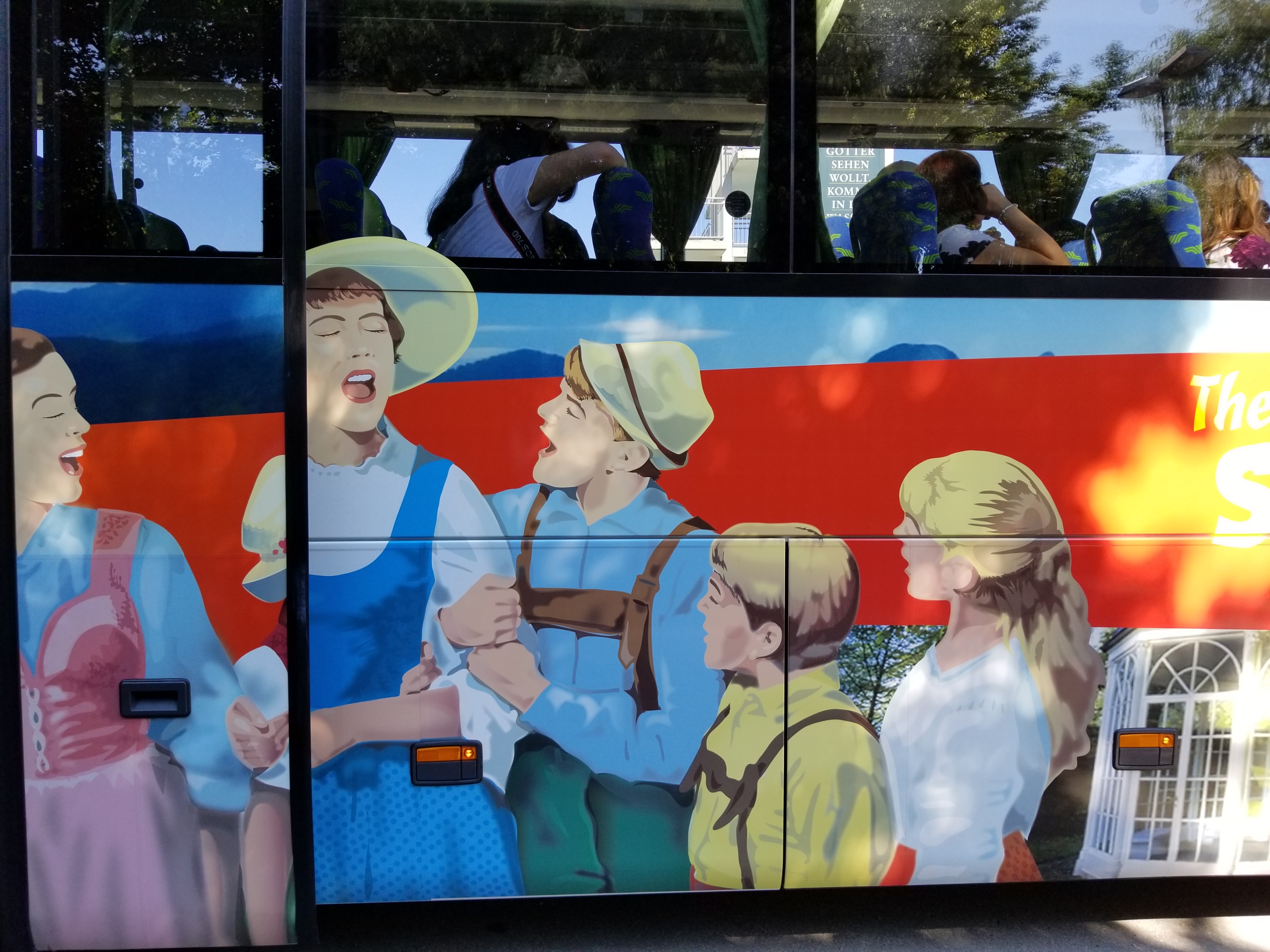 If you are a classical music lover, you may also be a fan of Julie Andrews (and who isn't?)
We recommend the half-day "Sound of Music" bus tour. Run by Panorama Tours, the company who first capitalized on it, buses by the dozen churn away from Mirabellplatz to show tourists the sites where the movie was, or was not, filmed. (Salzburg Tourism says 300,000 people per year visit the city because of the film.)
With a bus full of people who know the film's every lyric and word of dialogue, and a guide that jokes and spreads rumors, it's easy to picture fellow travelers singing along with video clips.
Our tour visited Leopoldskron and Hellbrunn Palaces as well as filming locations among the lakes and mountains, stopping in the charmingly picturesque town of Lake Mondsee. It's a fun way to appreciate Austria's scenery.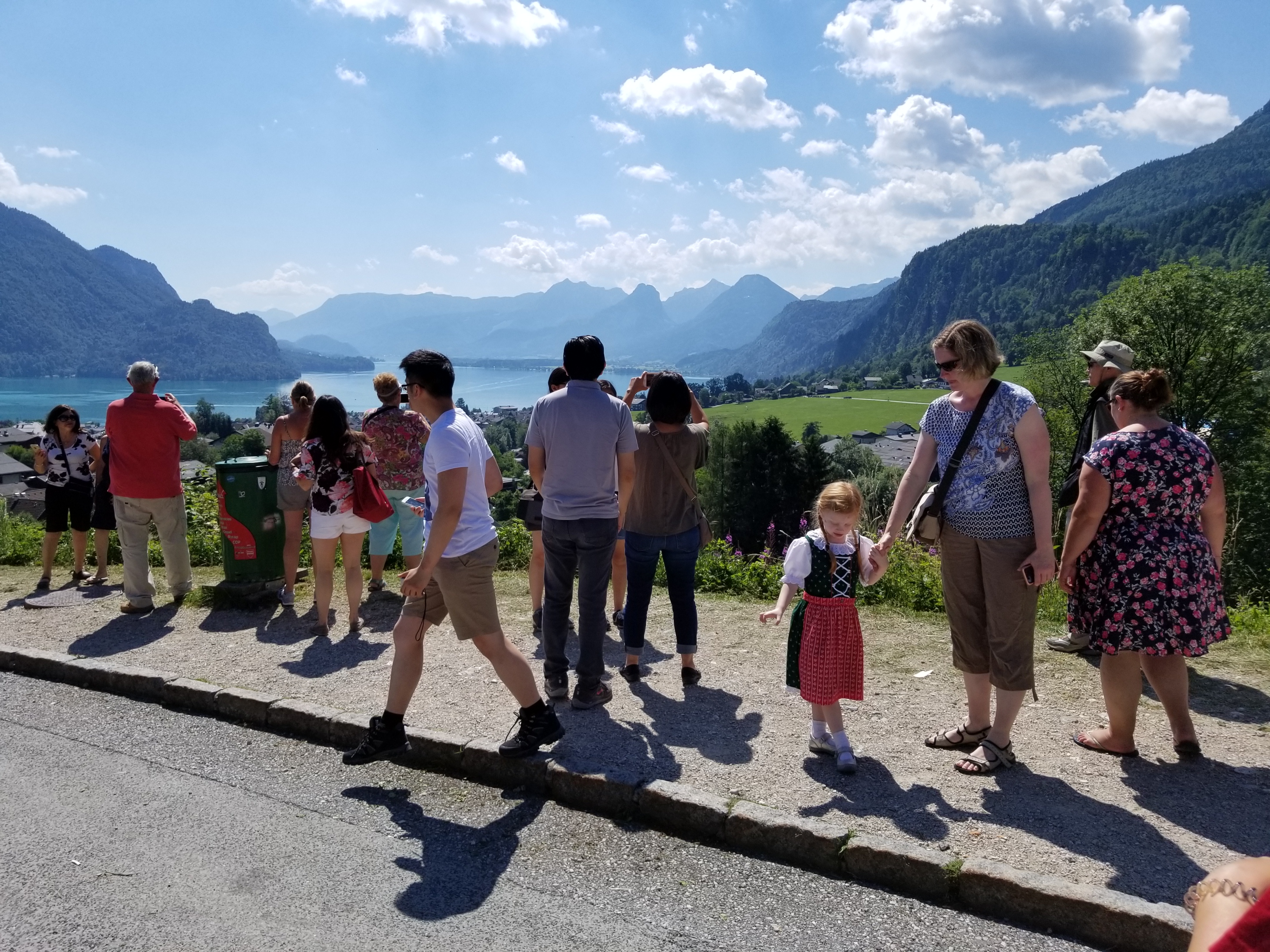 More than a Puppet on a String
Much more fun, however, is the famous Salzburg Marionette Theatre. In this ancient art form, puppets are operated by overhead strings held by puppeteers on a platform above the set, requiring high levels of special skills. This extraordinary group, which celebrated a centennial in 2013, has been honored by UNESCO as a World Cultural Heritage attraction.
The theatre's ornate lobby is packed with display cases of famous characters in marionette guise that all ages will appreciate. At our visit – surprise! The night's opera being performed by marionettes was none other than "Sound of Music."
That's when our family began singing along (not to ourselves) as the puppeteers truncated the endless storyline into a crisp 90-minute version in several languages. This expert troupe presents operas all year, 60-90 minutes in length, sung by delightful puppets. Favorites include Mozart's "Magic Flute," Tchaikovsky's "Nutcracker" ballet, Shakespeare's "Midsummer Night's Dream" and several children's fairy tales.
Mozart, Rodgers & Hammerstein, and more
Several other musical genres are presented in the fall. Stay after Labor Day to catch the Jazz Festival, September 13-16, 2018, when 20 unexpected venues host young performers from around the world.
That's followed by a Hip-Hop Goes Theatre dance-theater festival (September 21-22, 2018) and the 10th annual Flavourama October 11-14, 2018, celebrating House, Hip-Hop and Afro musical beats and dance.
The Salzburger Kulturtage, running October 6-21, 2018, is featuring "And now Mozart," a musical bridge to Country Western and Metal music. Fans can also catch the St. Petersburg Philharmonic performing Tchaikovsky and a Frank Sinatra tribute. This festival overlaps with Jazz & The City, when about a hundred bands – many stars — perform free throughout the city.
Trip Planning Details for Salzburg Cultural Weekend
Go to Salzburg at any time of year, and be sure to try a Mozartkugel to understand why this pistachio marzipan delicacy wrapped in nougat and dipped in chocolate was produced at Fürst Confectioners to honor the composer.
Our story about "Silent Night" – another famous musical moment – talks more about winter events.
We stayed just outside the old town at Hotel Hofwirt, where a comfortable double room and elaborate breakfast buffet range from Euros 80-170 per night depending on season. The Hofwirt has a bright children's playroom and very large back patio where families can dine while children run around. There are historic hotel options within the old town, but it's largely off-limits to vehicles so you can't take a cab when the kids wear out.
The Salzburg Card, a discount and/or free admission card for museums and transportation, is a must for any visitor. And for more ways to hear the sound of music, listen to advice from the Salzburg tourism office at www.salzburg.info
Dear Reader: This page may contain affiliate links which may earn a commission if you click through and make a purchase. Our independent journalism is not influenced by any advertiser or commercial initiative unless it is clearly marked as sponsored content. As travel products change, please be sure to reconfirm all details and stay up to date with current events to ensure a safe and successful trip.
---