Putting the Macy's Thanksgiving Day Parade in New York City on this year's itinerary? Your family deserves a ringside seat. This amazing spectacle is outdoors, in person and even bigger than before. So, grab extra blankets, a thermos of hot chocolate and this list of the best viewing spots.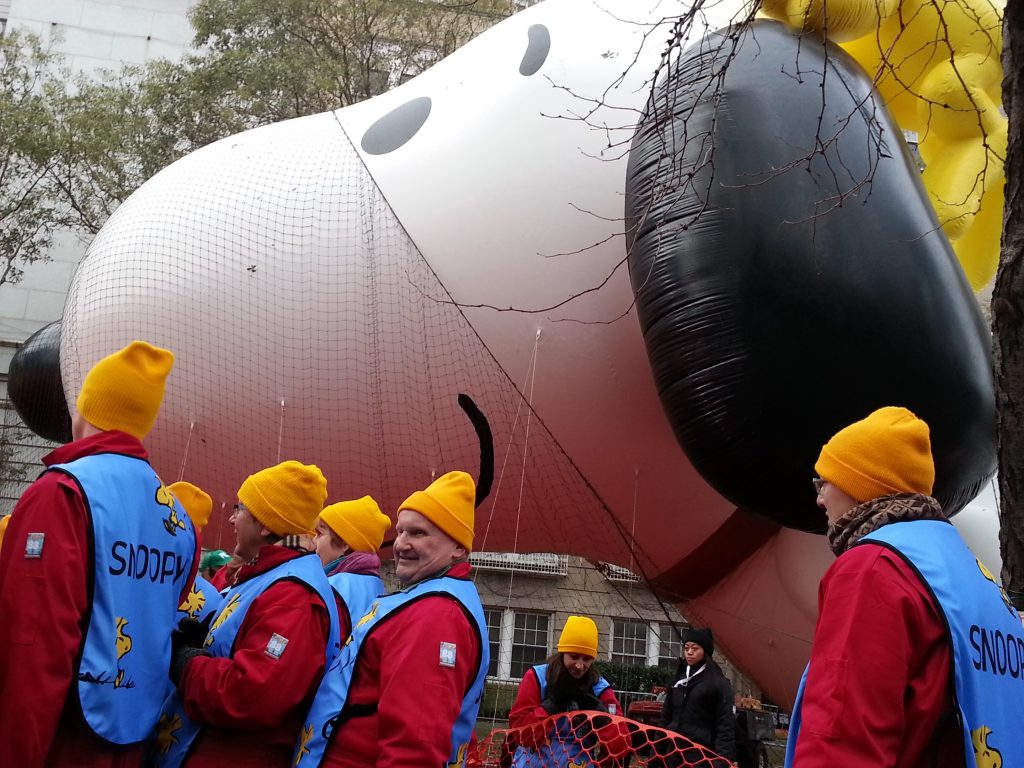 Along with turkeys and football, November means the Annual Macy's Thanksgiving Day Parade. This New York City tradition was begun in 1924 by Macy's first-generation immigrant staff. The department store's workers wanted to combine this all-American holiday with some European traditions. Costumed employees marched along with animals on loan from the Central Park Zoo from 145th Street to 34th Street. The year 1924 wasn't the last time the crowds cheered.
In all these years, the atmosphere has stayed pretty much the same. Being out on the street early, bundled up against the sometimes very cold and rainy holiday, is so traditional. Nonetheless, you'll need some advice from locals on the best spots to view the Macy's Thanksgiving Day Parade.
What You Need to Know About the Macy's Thanksgiving Day Parade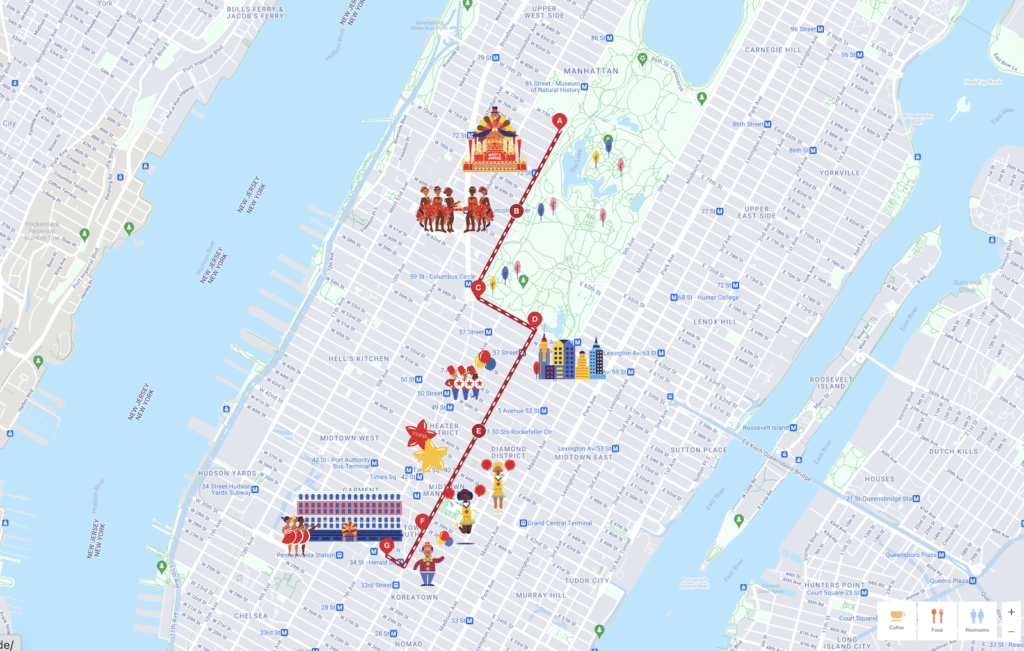 Does your family prefer to march in the parade? Plan very far ahead and visit the Macy's Thanksgiving Day Parade website for information on joining the waiting list.
On November 23, 2023, the 96th annual parade will start at Central Park West and 77th Street at 8:30am and reach Macy's flagship department store by noon. The best viewing spots are along the west side of Central Park West from 75th to 59th Streets, and along Sixth Avenue from 59th to 38th Streets.
Balloons, floats, characters and marchers kick it off at 77th Street to head south on Central Park West. It's our family's favorite place to watch because everything moves slowly past the TV cameras. Enjoy the parade at a kid's pace.
Tips On Where To Watch The Macy's Thanksgiving Day Parade
The parades travels east for two blocks along Central Park South. Unless you're on stilts, the thousands of spectators lining the Central Park South sidewalk are sure to block the view.
Because Central Park is on the north side of the 59th Street route, look there for extra space to set up a ladder. Stay away from the broadcast trucks that line Columbus Circle.
The parade turns south on Sixth Avenue at West 59th Street. Typically, the best views are down Sixth Avenue from 59th Street until 38th Street.
Catch some last minute viewing spots at Subway entrances along the route. You can exit several subway lines at 5th Avenue and 53rd Street then walk one block west. The Sixth Avenue sidewalks, however, may be restricted to those already in place to watch.
Or, exit B, D, F, M subways at Rockefeller Center (48 to 50th Streets) or Bryant Park (42nd Street) to see if there's standing room.
The parade terminates at West 34th Street, in front of Macy's huge department store at Herald Square. All nearby streets are congested with broadcast equipment.
Top Macy's Thanksgiving Day Parade Viewing Tips
Here are some Thanksgiving Day Parade tips for enjoying it together.
Plan to arrive as early as 6:00am if you want to get a spot at the curb. You may set up your own chairs, spread out a blanket or bring a ladder for little ones. There is no seating available for the general public. Let little ones keep their PJs on under their outer clothes for warmth.
Bleachers seen along the parade route are VIP only!
Plan to hit the best viewing spots early. It is not recommended to gather south of 36th Street, a very hectic area.
Don't forget your outerwear, some snacks, a thermos of hot chocolate and a camera.
Be sure to travel by subway or walk to your viewing spot of choice. Many streets are closed to traffic for the safety of the marching bands and floats who wait to join the parade route.
Check MTA.info or your Google Maps app to see which trains run on holiday schedules.
Arrive Wednesday and Watch the Macy's Parade Come to Life
Ever wonder how a parade comes together? Visit the New York Macy's Thanksgiving Day Parade a day early for a chance to find out. Spend the night before the parade in town because there's plenty to do on Thanksgiving Eve. Some of our favorite day before Thanksgiving when you're not cooking tips:
Prepare for day by virtually touring the Macy's Day Parade balloon warehouse as seen in the 1984 Woody Allen movie, Broadway Danny Rose.
Wednesday between noon and 6pm, bundle up and head to the Balloon Inflation area on 77th or 81st streets between Central Park West and Columbus Avenue. These blocks surround the huge American Museum of Natural History. They are the staging ground for cargo trucks and workers who prepare the 25 huge balloons.
Pay attention to this Balloon Watch map provided by Macy's because, this year, rules are strict and hours are more limited than ever.
Crowds must enter the lineup at 72nd Street and Columbus and exit between 82nd and 86th Street and Central Park West.
Parents fatigue alert! That's nearly a 3/4 mile walk with toddlers on your shoulders…. just saying!
Watch as the fabulous SpongeBob Squarepants, Snoopy, Pikachu and friends come to helium-filled life. Discover, if you can, the seven new balloons this year. Did I hear King Fu Panda's Po?
Night before activities are more fun for older kids, who will enjoy seeing the inflation diagrams posted at each balloon station. Little children may be frightened by the crowds. Parents will be annoyed at the difficulty of getting a stroller down the crowded sidewalks. Seek comfort at several cafes on Columbus Avenue for pricey hot chocolate after your viewing.
Do you need a Macy's Thanksgiving Day Parade View Hotel Room?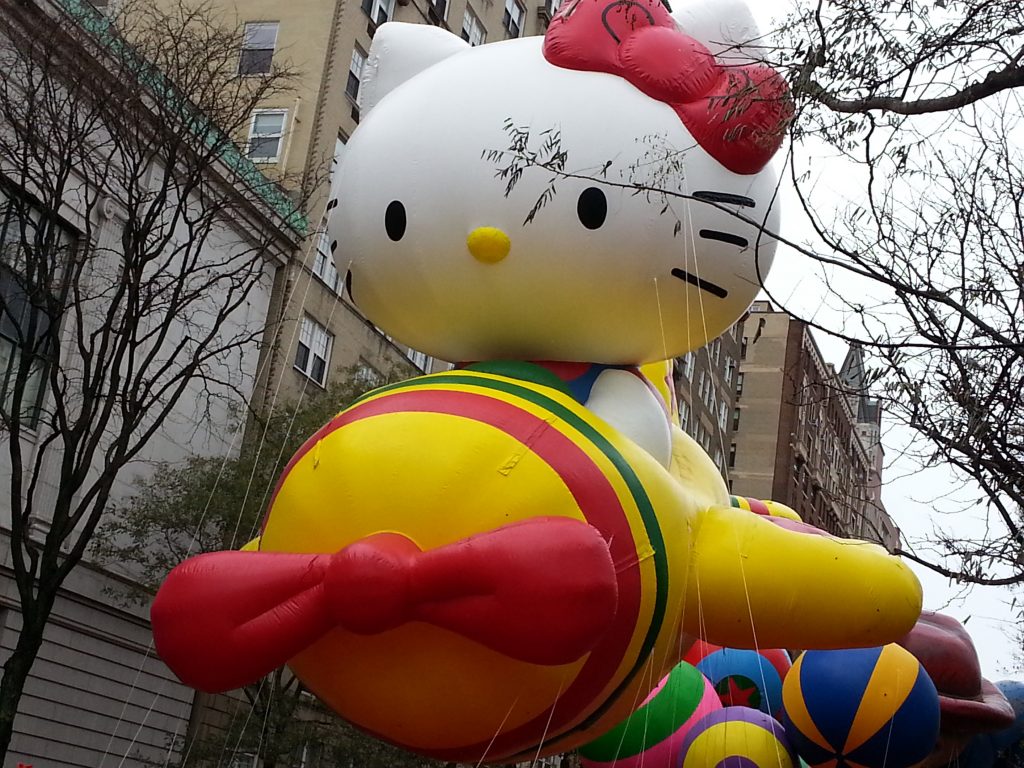 Some rooms at the 1 Hotel Central Park, Courtyard by Marriott New York Manhattan/Herald Square, JW Marriott Essex House New York, Mandarin Oriental, New York, New York Hilton Midtown, Residence Inn Times Square, The Ritz-Carlton New York, Central Park and the Warwick New York Hotel offer views of the event.
To book, be sure to have a fat wallet and a very influential travel agent. Ask them to request a route-view room below the 12th floor as early as possible.
Booking.com guarantees the best prices for any type of property and no booking fees. You can also search the inventory at Expedia.com Hotels for deals and New York City hotel vacancies at the last minute. Even if you don't watch the parade from your own guestroom, these hotels will have cozy warm-up stands in the lobby for guests who watch from the sidewalk out front.
Where is your Turkey coming from?
See NYC & Company for great suggestions on where to savor a turkey feast on the big Thursday. Be thankful for having seen the amazing New York Macy's Thanksgiving Day parade in person.
And post your photos!
Dear Reader: This page may contain affiliate links which may earn a commission if you click through and make a purchase. Our independent journalism is not influenced by any advertiser or commercial initiative unless it is clearly marked as sponsored content. As travel products change, please be sure to reconfirm all details and stay up to date with current events to ensure a safe and successful trip.
---