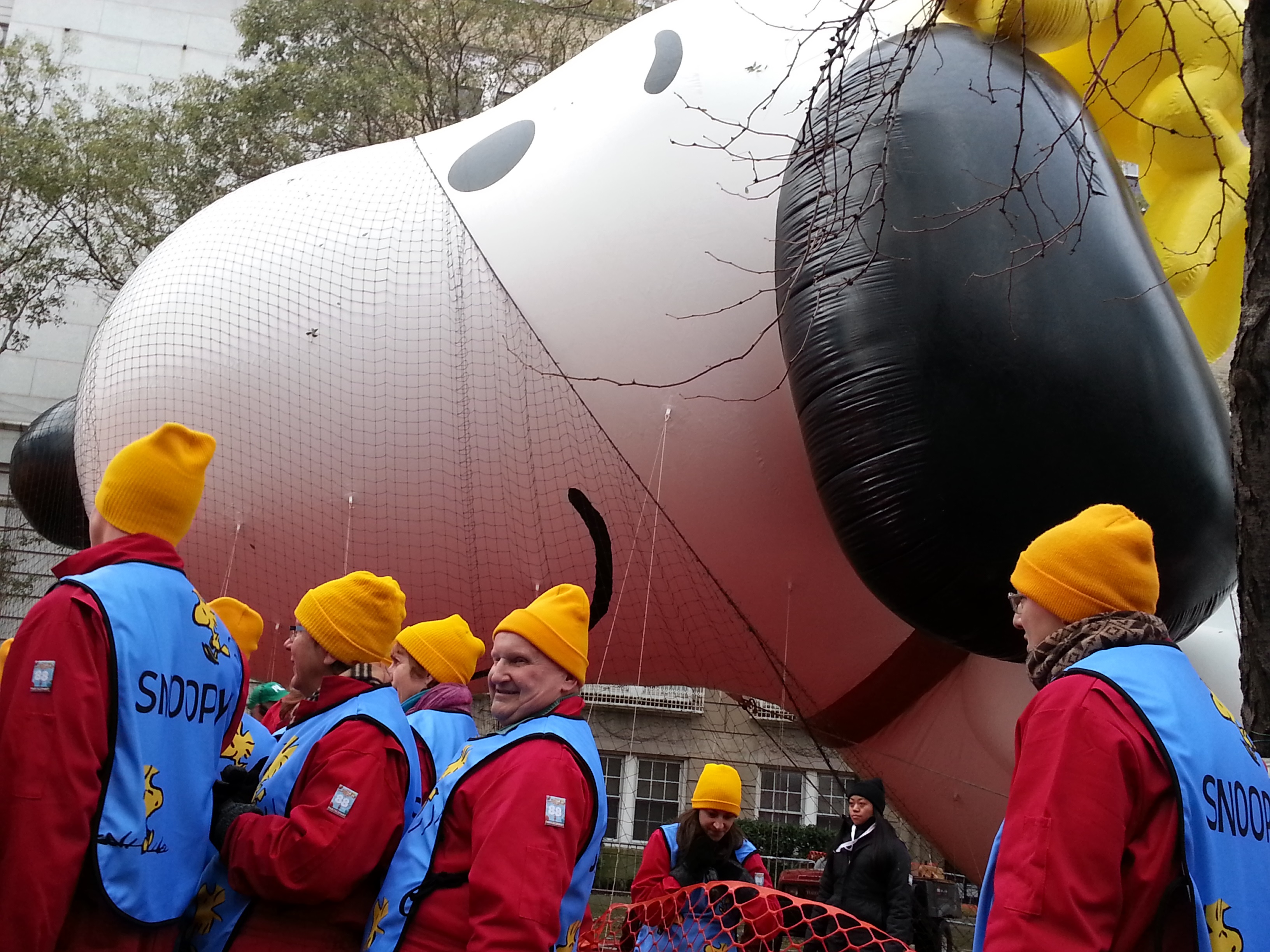 Planning a visit to the Macy's-sponsored Thanksgiving Day Parade in New York City? Grab extra blankets, a thermos of hot chocolate, and this list of the best viewing spots.
Along with turkeys and football, it's time for the Annual Macy's Thanksgiving Day Parade. This NYC tradition was begun in 1924 by Macy's first-generation immigrant staff which wanted to combine a celebration of this all-American holiday with some of their European traditions. Costumed employees marched along with animals on loan from the Central Park Zoo from 145th Street to 34th Street as the crowds cheered.
In all these years, the atmosphere has stayed pretty much the same. That's why being out on the street early, bundled up against the sometimes very cold and rainy holiday, is so traditional. Here are some tips for enjoying it together. And if you decide your family would prefer to march in it and you're willing to plan very far ahead, visit the Macy's Thanksgiving Day Parade website for information on joining the waiting list.
On November 24, 2016, the 90th annual parade will start at Central Park West and 77th Street at 9am and reach Macy's flagship department store by noon. Marchers will head south on Central Park West, travel east along Central Park South, and turn south on Sixth Avenue from West 59th Street to West 34th Street at Herald Square.
Plan to arrive as early as 6:30am if you want to get a spot at the curb (where you may set up your own chairs or spread out a blanket) as there is no seating available for the general public. Let little ones keep their PJs on under their outer clothes for warmth. Bleachers seen along the parade route are VIP only!
The best viewing spots are Central Park West from 61st to 72nd Streets, or along Sixth Avenue from 57th to 49th Streets. It is not recommended to gather south of 36th Street, a very hectic area. Again, don't forget your outerwear, some snacks, a thermos of hot chocolate and a camera.
If your family wants to spend the night before the parade in town, there's plenty to do on Thanksgiving Eve. Wednesday between 3 to 10pm, bundle up and head to the area around the American Museum of Natural History, on 77th or 81st streets between Central Park West and Columbus Avenue. You can watch as Garfield, Snoopy, Pikachu and friends come to helium-filled life. This is almost more fun for older kids, who will enjoy seeing the inflation diagrams posted at each balloon station. Little children may be frustrated by the crowds and the difficulty of getting a stroller down the crowded sidewalks; they also may be uncertain that the creature they're looking at lying down in the street is actually the cartoon character they've come to admire. However, the later you go, the more of these colorful creatures will be inflated. And there are several cafes on Columbus Avenue for pricey hot chocolate after your viewing.
Some rooms at the 1 Hotel Central Park, Courtyard by Marriott New York Manhattan/Herald Square, JW Marriott Essex House New York, Mandarin Oriental, New York, New York Hilton Midtown, Residence Inn Times Square, The Ritz-Carlton New York, Central Park and the Warwick New York Hotel will offer views of the event – be sure to have a fat wallet and very influential travel agent request a route-view room below the 12th floor as early as possible.

You can also search for top hotel deals in New York at the last minute. And remember that even if you don't watch from your own guestroom, these hotels will have cozy warm-up stands in the lobby for guests who watch from the sidewalk out front.

See NYC & Company for other Thanksgiving week activities and special dining options. And post your photos!
---
This story was accurate when it was published. Please be sure to confirm all rates and details directly with the companies in question, and stay up to date with current events to ensure a safe and successful trip.