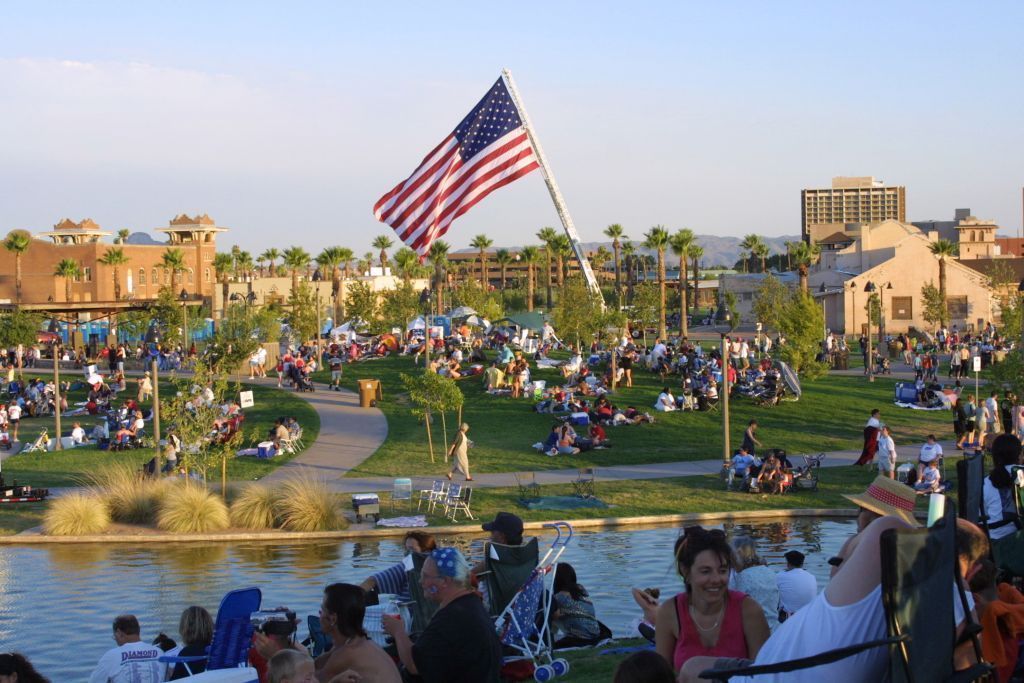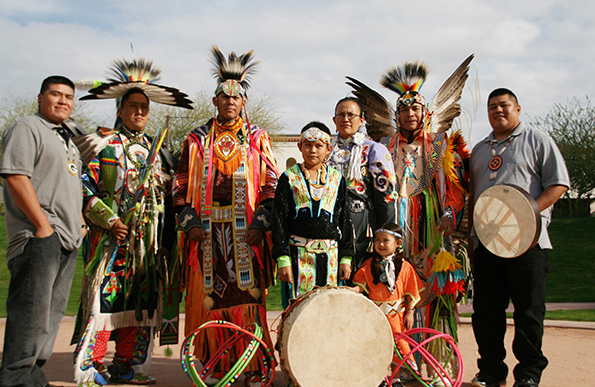 Phoenix, Arizona is a well-organized city with plenty of family attractions — great museums, parks, golf, sports and other activities for the whole family. The desert climate, so welcome in the depths of winter, is tough to take in summer but, armed with plenty of sunscreen, hats for the kids, lots of beverages and the many summertime discounts available at major resorts, many families have a very good time there.
If the name Phoenix reminds you of the mythical bird rising from the ashes, you already know something already about the sixth largest city in the United States. In 1870, a prospector reopened the irrigation canals of the Hohokam people, abandoned centuries before. This led to the establishment of a new town, and the name "Phoenix" was an appropriate suggestion that stuck.
They don't call it the Valley of the Sun for nothing — though summer temperatures can be brutal, there is low humidity and over 300 days of sunshine per year, guaranteed! Nearby, the idyllic suburb of Scottsdale is incredibly scenic and offers families a wealth of outdoor recreation and fun activities.
Search for even more information on Phoenix/Scottsdale by stopping by Visit Phoenix and Scottsdale C&VB.
Great Fun for the Kids
(Toddler to Age 8)
Phoenix Zoo
455 North Galvin Parkway
Phoenix, AZ 85008
602/273-1341
The Phoenix Zoo features thematic trails that take visitors everywhere from Arizona to the Tropics while encountering mountain lions, bighorn sheep, cheetahs, rhinos, orangutans and many other species along the way. The really fun Leapin' Lagoon area is open March – October with water spraygrounds, a climbing wall, and a lake complete with canoes and family-sized rafts.
Rawhide Western Town and Steakhouse
5700 West North Loop Road
Chandler, AZ 85226
480/502-1880
Put on your chaps and mosey on down for some rootin' tootin' fun at this old West ca. 1880s playland. Shows, games, rides, attractions, shopping — all with a western theme provide hours of enjoyment. When your stomach begins to rumble, head to the Rawhide Steakhouse for western fare and live music or on select Saturdays, Sundown Cookouts are great for some delicious BBQ under the stars.
Hall of Flame Museum of Firefighting
6101 East Van Buren Street
Phoenix, AZ 85008
602/275-3473
Among the exhibit galleries in this museum are one dedicated to hand-drawn and horse-drawn engines, one featuring early-motorized engines, a fire-safety area with hands-on exhbits, and the National Firefighting Hall of Heroes featuring information on the 9,000 firefighters who have lost their lives in the course saving others since 1800, In a post 9-11 world, this is a particularly interesting look at America's heroes.
McCormick-Stillman Railroad Park
7301 East Indian Bend Road
Scottsdale, AZ 85250
480/312-2312
All aboard, all aboard! For little kids (and lots of their fathers) who love to ride trains, this is the place. Climb aboard "The Paradise and Pacific Railroad," ride the restored Charros Carousel, view historical exhibits and enjoy picnic and playground areas. A recent addition is the Model Railroad Building with 10,000 square-feet of exhibit space featuring the work of four local railroad clubs, plus train displays and artifacts. A perk for the youngsters and their parents: children under 3 ride the P&PRR for free with a paying adult.
Goldfield Ghost Town
4650 North Mammoth Mine Road
Goldfield, AZ 85219
480/983-0333
Once a prosperous gold ore mining town of Arizona, the unfortunate town of Goldfield became a dilapidated and forgotten destination for decades until its revival as an amusement attraction in 1988. From Apache Trail tours to panning for gold at the Prospector's Place, kids will love exploring this wild Western frontier. Be warned – this town doesn't take too kindly to strangers, and gunfights are likely to ensue.
Papago Park
625 North Galvin Pkwy
Phoenix, AZ 85008
602/261-8318, 602/485-5458
This 1,200-acre park set among amazing sandstone formations includes the Urban Wildlife Nature Trail and many other gentle hiking trails, picnic sites, fishing lagoons, bike paths and a golf course. Plan on the whole day, because visiting the Phoenix Zoo, the Desert Botanical Garden and the Hall of Flame is easy from here — each is either within, or close to, the park.

Fun for Older Kids
(Up to Age 18)
Arizona Science Center
600 East Washington Street
Phoenix, AZ 85004
602/716-2000
With hundreds of interactive exhibits, a planetarium, a five-story giant screen 3D theater, and live demonstrations, this educational museum provides plenty to keep kids occupied. Exhibits include All About Me, exploring the human mind and body; the WONDER Center, dedicated to the study of the human brain and neuroscience; and Solarville featuring the exploration of renewable energy. Additionally, digital communication is presented in My Digital World. Finally, your kids can hop onto the Sky Cycle where they can ride a bike suspended 15 feet in the air.
Heritage Square
115 North Smith Street
Phoenix, AZ 85004
602/262-5071
The attractively laid out Heritage Square features several restored houses from the Victorian Era. Visitors can tour the Rosson House, built in 1895, or stop by the Arizona Doll and Toy Museum housed within the historic Stevens House. If you feel like seeking out other things to do while you explore this area, look out for the orange-shirt-wearing Downtown Phoenix Ambassadors. You can't miss them; they roam the streets in yellow shirts daily (8am-11pm, 365 days a year), waiting to provide answers to your questions, recommend a great restaurant or give you helpful information.
Phoenix Art Museum
1625 North Central Avenue
Phoenix, AZ 85004
602/257-1222
One of the largest general visual arts museums in the Southwest, the PAM features galleries of American, Asian, European, Latin American and Western American Art with additional holdings of modern and contemporary art, photography and fashion. Especially for kids, the PhxArt Kids Gallery provides hands-on activities and scavenger hunts with creatively stocked "KidPacks" for check-out at the admissions desk, and audioguides designed with family listeners in mind. Both younger kids and teens also have their own artsy activities and workshops scheduled, such as PhxArtKids Days and Poetry Slams. Check the museum's website for details on other special family and kid promotions.
Desert Botanical Garden
1201 North Galvin Parkway
Phoenix, AZ 85008
480/941-1225
This 50-acre botanical garden, nestled in the red buttes of Papago Park in Phoenix, is the largest collection of desert plants in the world featuring some incredible cacti. It also houses 139 rare and endangered species of plant life from all over the globe. This is definitely a "hands-off" place for the little ones. However, the Desert Discovery Trail offers interactive signs and guidebooks to help identify plants and kids and teens can choose from a variety of workshops, classes and group tours. Late closing hours (usually 8pm) and lighted trails allow nighttime desert strolls.
Taliesin West
12621 Frank Llyod Wright Boulevard
Scottsdale, AZ 85259
480/860-2700
In 1937, internationally renowned architect Frank Lloyd Wright came to Scottsdale to build his winter camp, Taliesin West which became his winter home, studio and school of architecture. Creating a new form of desert architecture, integrating indoor and outdoor spaces, Wright's influence is still on display throughout the city's resorts and spas, churches and homes. A variety of guided tours, ranging from one to three hours, are available at Taliesin West throughout the year. During certain months, you can participate in Night Lights on the Desert, a guided tour which treats visitors to the magical view of Wright's desert masterpiece lit from within. Failing that, stop by the Arizona Biltmore Hotel to appreciate a living monument to his work.
Cave Creek Trailrides
Cave Creek Recreation Area
37019 North 32nd Street
Cave Creek, AZ 85331
623/742-6700
Guided cowboy style trailrides through the Sonoran Desert are offered to families with children at least 6-years-old. Kids can don cowboy gear from hats to boots to chaps. Gentle horses and knowledgeable guides combine to present pioneer life, ranching and mining activities, and desert flora and fauna. Choose rides that range from 1 hour to 3 hours in length.
Salt River Tubing
Power Road and Usery Pass Road
Mesa, AZ 85207
480/984-3305
Cool off on mountain-stream waters by tubing down the Lower Salt River rapids in Tonto National Forest. Families are welcome, but children must be 8-years-old and at least 4 feet tall (both of these requirements must be met; there are NO exceptions). Whether you're fitting in a two-hour roundtrip soak or go for the full day, five-hour adventure, this is a fun way to spend summer weekends.
Fun for the Whole Family
MIM Musical Instrument Museum
4725 E. Mayo Blvd.
Phoenix, AZ 85050
480/478-6000
Relatively new and a must-see for Phoenix area visitors, the MIM as it's known, is a vast celebration of musical instruments from around the world. They're displayed by country within geographic regions and, to give them context, small tableaux include a costumed mannequin playing the instrument, perhaps around a family meal or wedding. A video with a live performance or audio track plays in the background and visitors in headsets activate the sound playback as they pass each exhibit. The ground floor has a great farm-to-table cafe with wonderful kids meals, a creative gift shop, and fun temporary exhibits of instruments used by pop stars ranging from Elton John to Taylor Swift. Don't miss it.
Heard Museum
2301 North Central Avenue
Phoenix, AZ 85004
602/252-8848
The collections in the renowned Heard Museum emphasize ancient Southwest cultures and Native American fine art from throughout North America including basketry, beadwork, jewelry, pottery, textiles, drawings and paintings. The museum, one of those must-see places that your kids really will enjoy, contains nearly 40,000 artifacts and works of art. The signature exhibition, Home: Native People in the Southwest includes historical information and artifacts, include a hogan (a Navajo home), in addition to contemporary pieces. Children will connect with the extraordinary exhibit "Remembering Our Indian School Days: The Boarding School Experience" as they learn about the boarding schools that Native American children we forced to attend, far from home. Native American art demonstrations geared for families, and music and dance performances introduced by informative museum staff, often occur on weekends. Don't miss the amazing collection of Katsina Dolls (the real American Dolls). The Heard Museum also has a smaller exhibit space in Scottsdale, Arizona; check the website for more details on this location.
The Dolly Steamboat
16802 Arizona 88
Tortilla Flats, AZ 85290
480/827-9144
For over 20 years, Dolly has been making her waves through the Canyon Lake and offering breathtaking views of the lower Sonoran desert. Sit back, relax and enjoy legends and lore recounted by the captain himself, while on the lookout for the area's diverse collection of species – big horn sheep, coyote, bald eagles and more on the 1 1/2-hour narrated, grandparent-friendly Nature Cruise. There is also a 2 1/2-hour Twilight Dinner Cruise, a 2 1/2 hour Astronomy Dinner Cruise and special holiday-themed cruises. Dates for cruise departures vary, so be sure to check the site's calendar for more details.
Pueblo Grande Museum and Archeological Park
4619 East Washington Street
Phoenix, AZ 85034
602/495-0901 or 877/7096-4408
At this National Historic Landmark in the midst of the bustling city, visitors can walk through 1,500 year-old Hohokam village ruins, including irrigation canals, a ceremonial platform and a very interesting ball-court. Also along the Ruin Trail are full-sized replicas of Hohokam houses that help bring the place to life. The exhibit hall explores the lifestyle of the Hohokam people who lived in Arizona from the first century to 1450 AD.
Arizona Hummer Tours
(They pick you up at your hotel)
602/692-7124
Since hummer tours of the desert were voted one of America's Top 100 Adventures by National Geographic Magazine, this unusual activity has become more popular for all ages. Hummer through the vast Sonoran Desert in a 4X4, scramble up rocky cliffs, bounce into a scenic boulder canyon and view fascinating wildlife pointed out by the personable, trained guides. Tours into the desert, to see old ghost towns and other attractions, can last a few hours and run day or evening (4-5 hours.) Book ahead for what's bound to be a memorable adventure, available year round.
Chase Field
401 East Jefferson Street
Phoenix, AZ 85004
602/462-6500 or 888/777-4664
This ballpark is home to the 2001 World Champion Arizona Diamondbacks. An air-conditioned arena, Chase Field is a great escape from the desert heat. Call for ticket and tour information.
US Airways Center
201 East Jefferson Street
Phoenix, AZ 85004
602/379-7800
Formerly the America West Arena, this is the home of the Phoenix Mercury (WNBA) and Suns (NBA).
Grand Canyon Airlines
Grand Canyon Airport, off of Highway 64
866/235-9422, 928-638-2359
If you're too short on time to visit the state's best known attraction on the ground, you can spend an incredible hour touring beautiful Arizona by air. This fleet of 19-passenger, picture-window-style aircraft runs tours all day from Grand Canyon National Park Airport, flying over the Zuni Corridor, Painted Desert, Navajo Reservation, Kaibab National Forests, and North Rim. Located approximately 4 hours north of Phoenix at the South Rim of the Grand Canyon.
Dear Reader: This page may contain affiliate links which may earn a commission if you click through and make a purchase. Our independent journalism is not influenced by any advertiser or commercial initiative unless it is clearly marked as sponsored content. As travel products change, please be sure to reconfirm all details and stay up to date with current events to ensure a safe and successful trip.
---