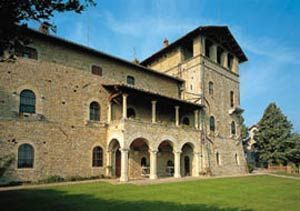 Your complete guide to renting a holiday apartment or villa for your family in the Italian countryside, whether Florence, Chianti, Livorno, Umbria or Sicily.
Agriturismo, a recent tourism trend where landowners, farmers and country villa owners welcome paying guests, offers travelers a chance to experience "real life" in Italy's countryside. In all my explorings, it is this kind of experience — be it a week or more at a rustic working farm in Chianti; an elegant, hilltop Castello in Umbria; or a manor house outside of Florence — that has left me with some of my most precious family travel memories.
"Dove si trova Monte Vibiano, per piacere?"
In my hesitant Italian, I asked directions from the stout woman tending a country gas station in Umbria. I had already driven 20 minutes south of Perugia and felt as though I was lost in nowhere. She turned without a word, and pointed to the top of the forested hill beyond us. In another 10 minutes my family arrived at a large unmarked gateway within high stone walls surrounded by the tiniest of farm villages. A white-headed gnome-like man looked over the wall at us. Again I ventured my ancient Italian. He nodded. And so began one of our most memorable of stays in Italy's countryside. Then a luxurious B&B, Monte Vibiano was among the best family venues offered in the name of agriturismo.
If settling into a home of your own for a week or more appeals, then a country rental may be the right choice for your next vacation. It offers space, convenience, privacy, a base from which to explore and, quite often, surprising economy. Many agriturismo sites in Italy consist of a farmhouse divided into several apartments, so if you don't mind adjusting "A Home of Your Own" to "An Apartment of Your Own," even more options open up. And, of course, depending on the size of your family, you may fill the entire property anyway!
Here are some country homes to dream on if you share our fantasies for the ideal holiday.
Rentals Around Florence
Staying near Florence (Firenze) allows visitors easy access to the riches of the city as well as a peaceful getaway to its countryside. Some of our favorite Firenze activities are walking along the Arno River, crossing the elegant bridges, strolling through the town's narrow streets, and examining the spectacular piazze graced by churches and museums. Favorite eateries include Taverna del Bronzino (Via delle Ruote, 25/r, 055/495220), Le Mossacce (Via del Proconsolo, 55/r; 055/294361), Vecchia Firenze (Borgo degli Albizi 18, 055/2340361), and Paoli (Via dei Tavolina, 12/r, 055/216215)
About 80 km east of Florence, Il Baccatoio is a spectacular, elegant four-bedroom villa (sleeping up to eight people) located between the beaches at Forte dei Marmi and the town of Pietrasanta, which is famous for its marble sculpture and other international art. There's much to do in Pietrasanta in the summer with concerts and art exhibitions. Originally an old mill which has been completely restored to its original character, with an antique wheel visible through a glass wall, Il Baccatoio is surrounded by olive groves and fruit trees, has a swimming pool, and warmly welcomes children.
Rentals in Chianti, Tuscany, Livorno, Umbria, Sicily
CHIANTI, TUSCANY, well known for its wine and olive oil, is also the Italy made famous by centuries of painters. Our family has amassed months over the years in this delightful countryside, rich with culture and summer festivals in towns such as Siena, Florence and San Gimignano. It is the perfect place to rest, revel in the view from your window or terrace, or enjoy great Medieval and Renaissance art. Don't shy from art collections because of the kids; we have photos of Henry (10 months) on hands and knees chatting with more than one Italian museum guard. Such is the Italian heart when little ones are involved. Other points of charm for travelers of all ages are local folklore collections, lively and friendly markets, Etruscan ruins, towers to climb, castle villages to explore, and abbeys like Sant-Antimo and Monte Oliveto Maggiore.
30 km from Florence, on the road leading to Chianti's Tignano, is a property aptly named Tignano. This stone house, dating back to the thirteenth century, sleeps three, four to five, or six people in three separate apartments. Nearby lakes and woods provide a backdrop for walking or biking, and visitors may go wine tasting or visit a local farm. A dip in the pool is an added pleasure on a hot day. A cook, babysitter, and baby bed are available on request.
The farmhouse Santo Stefano, surrounded by breathtaking vineyards and olive trees, contains four separate apartments accommodating from four to six people in each. There's a pool, and babysitting and dinner can be prepared on request. The pleasant scent of linden flowers pervaded the property in June, and guest can take part in the grape harvest if they visit at the right time, usually around September.
The LIVORNO COAST provides a fine combination of sea, nature and culture within easy access of Pisa, Livorno and Lucca, about an hour or more from Florence. To the south stretch the landscapes and coastline of Tuscany's lesser-known Maremma region. There you will find that the beaches, hot-springs and Etruscan ruins of the Maremma and Punta Ala are another vacation choice. Opportunities for hiking, golf, horseback riding and riding lessons are abundant in the countryside, as is sailing off the coast. On a recent trip across this region, I explored Volterra, Massa Marittima and Populonia with two young teenage boys. At the coastline, after some beach time, we explored the Natural Park of the Maremma, where we tried to spot the wild horses, long-horned cattle, and wild boar who allegedly roam. We did catch the dramatic pine-lined sea at dusk, a sight worth seeing.
Located in the hills near the charming village of Collesalvetti on the Versilia coast is Le Pantane, a working farm of 13 hectares. Twelve people can stay in the eight-bedroom, three-floor house adjacent to the owners' home. For children, the grounds have a swimming pool, a playground and a large playing field where they can play netball, boules, or ping pong. It is just the kind of place we'd dream about sharing with another family or two.
UMBRIA, the "green heart" of Italy, is a less-visited region within two hours of both Florence and Rome. Assisi, Perugia, and the smaller towns of Gubbio, Todi and Deruta provide endless opportunities for families to wander, visit small museums, eat gelati and chase the pigeons. The countryside is peaceful, with farm fields stretching into the distance and food delicacies abundant. Here again, sporting opportunities are abundant: horseback riding, canoeing, other water sports on the lakes, and more.
Agriturismo Nestore is a farmhouse located in Umbria, not far from Tuscany. Trestina, the nearest town, is 2 km away. Each of the farmhouse's four apartments has a different capacity ranging from two and six lodgers. Most apartments include balconies or patios and fireplaces as well as living rooms, kitchens and bathrooms. The Nestore has been owned by the Rossi family since 1781, and additions since then include a swimming pool and mountain bikes. There are games for the kids to play, and the owner opened a restaurant on the property serving homemade pasta and other authentic Italian treats. (Communicart)
SICILY, the Mediterranean's largest island, has its own multicultural flavor assimilated from a history of occupation by different peoples. Today, it offers a combination of dramatic beaches, Greek temples, Roman architecture, and medieval palaces for visitors to enjoy. You may step into history with cultural events such as puppet shows, classical Greek plays, or ceremonial Catholic feasts. Or, you may experience Sicily through its cuisine, savoring seppia (cuttlefish) with black sauce and pasta, caponata (eggplant salad with olives and capers), or the ever-popular cannoli with sheeps' milk.
Constructed like the farmhouse of an ancient marquis, Villa Antonella lies 20 km from Syracuse, an important fishing and market center. This pink and white villa sleeps up to six people in two twins and one double bedroom. A barbecue, bikes, boats, and best of all, a weekly pass to the local beach are available. For those in too private a mood to venture to the beach, a pool opens each summer on this property lined with palm trees.
Planning Advice
Think ahead: January, or even earlier, is a good time to start making summer reservations. Reserve at least two to three months ahead for other vacation periods: May, June, September and October are generally lovely warm months in Italy.
Research: "Cadogan guidebooks, my favorite series, publishes several guides to various regions of Italy. In the region you plan to visit, you will find archaeology to horseback riding, markets to beaches, tiny villages to the grand must-see sights such as Florence, Siena, Perugia, Assisi and Rome, to mention only a few.
ASK THE RIGHT QUESTIONS
Location: Is it rural, village or urban? What's the distance to nearest market or village?
Space: Private bedrooms? European rentals may include alcoves and sofabeds in their total bed and head count. How many bathrooms and toilets do you need?
Conveniences: Kitchens and bathrooms are often simple and modern, but few properties have large refrigerators or dishwashers. While some homes have a washing machine, a dryer is rare. I've come to love the sweet smell of clothes fresh from the line.
Comfort: Italy is hot in July and August, and a pool, lake or seaside location will be welcome, unless you are at a higher altitude. Pools are sometimes unfenced; windows are usually unscreened. To keep any insects away, buy a mosquito coil (like a spiral incense stick) or an electric device which burns a repellent tablet.
Privacy: A pool and grounds completely to yourselves will cost! Ask how many other apartments or houses share the pool, so you know what to expect. Our experience has been that fellow travelers are not only discreet, but also fun to meet. (Remember that the owner often lives on the property as well as a caretaker, again, discreet.)
Services: Housekeeping services are included in the cost of some rentals. Otherwise, arrange it (or babysitting) in advance and expect to communicate some in Italian!
Safety: Are there children or babies in your group? Does anyone have special physical needs? Be sure to mention this to your rental agent or to the home owner if you rent direct. Staircases, for example, may be steeper and narrower than yours at home.
Budget: Keep costs down by sharing with another family, staying at a villa with a few apartments, and avoiding the mid-July to mid-August peak season. Read property descriptions carefully, get an idea about the facilities and surroundings, and think about the factors above in order to make a wise choice. From a castle with private pool, tennis court and staff to a simple restored farmhouse, all will offer a special connection with Italy's history, architecture and culture. Italians are generally adoring and indulgent with children, and I've found it a lovely place to visit with my son since babyhood!
Go and enjoy la dolce vida with one last piece of advice. Buy a detailed regional map — country roads are numerous and you're bound to get lost in nowhere, as I did. A good map will always help you find your way back to that home of your own in Italy.
Country Rental Agencies
The properties described are particularly well-suited for families traveling with children or many relatives. Each agency can suggest many more around Italy.
Solemar represents over 1100 top quality villas, apartments, castles, and palazzi divided into two groups: Collezione (the most charming, comfortable villas and apartments) and Selezione (more typical villas and apartments). Solemar's catalogs offer the most detailed information, evaluations and photographs of properties in the rental market. Reservations: US representatives include Villas of Distinction (800/289-0900, 914/273-3331, fax 914/273-3387)
Cuendet grew from Andre Cuendet's family business in 1974 to an international phenomenon with holiday homes available in Italy and several other countries. Vacationers choose from an array of properties at seaside, countryside, in art cities, and for short breaks. Notable properties include Cercinavecchia, 7 km outside of Florence, a renovated stone tower dating back to the early 13th century. Reservations: Information and bookings through Cuendet or through Villas of Distinction.
Communicart is a friendly Italian company renting villas and agriturismo apartment in Tuscany and a few other spots in Italy. Owner Veronica Ficcarelli founded thie Florence-based company as a young entrepreneur. The majority of villas date from the sixteen century and feature vineyards and olive oil production. Reservations: Information and bookings at Communicart, at 39/055 2336920.
Wimco is a Rhode Island and London-based luxury villa specialist with properties throughout Europe and the world. The prices climb high, but the properties are divine, and a search through the Wimco catalog clearly indicates which selections are family-friendly. Reservations: Information and bookings at Wimco, or call 866/376-1979 (from USA) or 0866 850 1144 (from UK).
Trinacria Set Service works from Sicily to provide quality villa vacation rentals through the Sicilian countryside and seaside. The company's website, available in several languages, offers a description source and booking engine. Reservations: Information and bookings at Trinacria Set Service or call 39/931 944222.
Winter Festivities – Budget Season in Italy!
Chocolate lovers take note that the Eurochocolate Festival comes to Perugia, Italy every year, usually in mid-October, on its path across Europe's cultural capitals. Festival-goers will delight in endless chocolate, candy, cake, hot chocolate, and even beauty products, and aromatherapy. Cooking classes, games, and a unique Chocolate Stock Exchange where buyers and retailers meet for negotiations will entertain visitors well into the night. Please visit www.eurochocolate.com for more information.
The winter months also bring festivity and celebrations throughout Italy. Try Christmas in Umbria, celebrated annually from December 24th until January 6th with authentic food, live music, cinema, family shows, and Nativity scenes.
From December to January each year, the Umbria Jazz Festival treats families to great music, arts, flowers, antiques, and food for the whole family. Please visit www.wimco.com for more information.
Susan Finch
Dear Reader: This page may contain affiliate links which may earn a commission if you click through and make a purchase. Our independent journalism is not influenced by any advertiser or commercial initiative unless it is clearly marked as sponsored content. As travel products change, please be sure to reconfirm all details and stay up to date with current events to ensure a safe and successful trip.
---