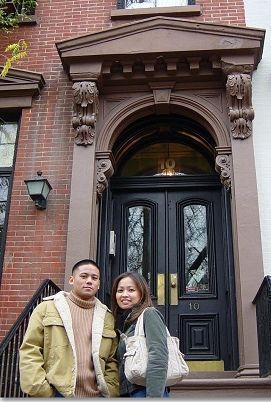 Walking around Manhattan on a cold and windy day in December is not how I wanted to spend a Friday morning with a friend from out of town. But, during her weekend visit from Toronto, Michelle (being the television and movie buff that she is) was very eager to finally see all of the buildings, restaurants and street corners that she's come to know and love from movies and TV shows.
So we called On Location Tours and booked a "New York City TV and Movie Tour."
Our Day on Location in New York City
As we waited for our tour bus outside Ellen's Stardust Diner on the corner or 51st and Broadway in midtown Manhattan, I watched those unmistakable red double-decker buses roll by, complete with brave, brave tourists who sat on the top levels, sacrificing any feeling in their extremities for a good view.nbsp; Visions of icicles hanging from my nose danced in my head. At this point, I started to formulate a brilliant plan that would get me in front of the line and into a warm seat on the bus just as soon as it got here. There was no way anyone could get me to sit on the open-air, top level of a bus on this day.
Thankfully, when our guide pointed and said, "Oh, here comes our bus now," he wasn't pointing to a red, double-decker, tourist-freezing kind. Instead, we found ourselves climbing into a warm and very comfortable luxury coach bus, just the kind I was hoping for. This tour couldn't have started any better.
Another aspect of the tour that made it such fun and so entertaining had to do with our tour guide, one of the group of actors and actresses with first-hand experience filming in the city, who offered interesting and amusing commentary and trivia. He did this while queuing up clips of shows and movies on the video screens as we passed designated locations. He also queried us about NYC, movies and television shows, and every right answer was rewarded with a lollipop. Black and white cookies, a quintessential New York snack, were also passed out to all.
New York City is a character in so many TV shows and movies that our tour took us from Times Square to lower Manhattan, driving around Columbus Circle (featured in "Enchanted and "The Smurfs"), down Fifth Avenue into Greenwich Village, the Flat Iron, Chelsea, and the Meat Packing districts.
We drove past The Plaza Hotel, seen in "Home Alone 2," "American Hustle," and Hitchcock's classic "North by Northwest"; and the Empire State Building, featured in films such "An Affair to Remember" (dating from 1957) to "Sleepless in Seattle" as well as "Independence Day," "How I Met Your Mother" and "The Mindy Project."
Further downtown we saw the haunts of "Friends" in Greenwich Village and the kids of "Glee" at Radio City Music Hall, and where "Harry Met Sally" in Washington Square Park. There were a few stops for selfies, such as one at the Hook and Ladder 8 firehouse on North Moore Street, featured in "Ghost Busters."
In addition to the tour we took, On Location also offers specialty tours such as Sex and the City Hotspots which takes you through midtown, Greenwich Village and Soho (to see Carrie's stoop and where she and Miranda ate cupcakes) and Gossip Girls Sites in midtown and on the Upper East Side, which features the Vera Wang Boutique, Dylan's Candy Store and the Pierre Hotel. Newest on the roster is the Comic Lovers Super Tour which highlights superhero filming locations from "Spiderman," "Batman" and more, and ends at the Statue of Liberty as seen in "X-Men" and "Superman."
As the tour concluded and we were brought back to our starting point, we were all smiles. I hardly noticed the cold wind as I discussed the day's adventure with Michelle. "Let's go get tickets to see see a movie."
Movie Tour Details
On Location Tours also offers a Classic Film Tour, Soprano Sites (in New Jersey) When Harry Met Seinfeld (locations above Times Square) and a Walking Tour of Central Park, the most filmed location in the world. They vary in duration – our tour runs for about 3 hours, the Central Park Tour is 2 hours long and visits more than 40 locations by foot, and the Sopranos Tour is 4 hours long, and they are priced accordingly. Advanced ticket purchasing is required and available through the website.
Being in the Movies or on TV – Yourself!
Being on TV – and hearing those magic words for yourself, "Live from New York City… " is one of the big city's biggest thrills. Several of the morning news shows do live segments that are broadcast from outside their office building, or in Rockefeller Center, in front of the NY Public Library and other spots, depending on season and channel. The Friday morning edition of NBC's "Today Show," filmed in front of their Rockefeller Center studios is a favorite because popular bands often perform. Being a part of the audience is free, fun and there are no age restrictions; ask the hotel concierge where your favorite show is currently being filmed. Studio show tickets are harder to come by, and the talk shows and comedy shows often restrict their guest list to those above age 18.
After being off the air for nine years, the popular MTV show "Total Request Live (TRL)" is back as of October, 2017! With a brand new Times Square studio as its home and a roster of hosts and correspondents, the top in music videos will be featured.
The Daily Show with Trevor Noah
733 11th Avenue, New York NY 10019
212/586-2477
The nightly half-hour comedy series takes a look at news, trends, pop culture, current events, politics, sports, and entertainment with an alternative point of view. Trevor Noah, along with a team of correspondents, comment on the day-to-day news stories. So if you're tired of the regular news, come be a part of the Daily Show's live studio audience. You can reserve your free tickets on the Comedy Central website. You must be 18 or older to attend the show. If attending during the summer season, bring a light sweater as the studio will be blasting the air conditioning on high.
Saturday Night Live
NBC Studio 8-H
Rockefeller Center
New York, NY 10112
212/664-3056
Entering its 42nd season in September of 2017, Saturday Night Live is an award winning program which continues to have enormous influence on comedy and popular culture. Everyone has a favorite line or character. Veteran members of the "Not Ready for Prime Time Players" include Billy Crystal, Julia Louis-Dreyfus, Dan Aykroyd, John Belushi and Will Ferrell. Musical guests have included Eminem, Coldplay, Kelly Clarkson and Gwen Stefani and guest hosts run the gamut from Steve Martin to Robin Williams to Ben Affleck, Hillary Swank and Cameron Diaz. Getting tickets to a dress rehearsal or live taping is not easy. You must enter a lottery via e-mail to: [email protected] during the month of August for the following season, and, only if chosen, you will receive 2 tickets to an assigned show date and time. Stand-by tickets are available at 7am on the mornings of the tapings, one per person, which does not guarantee admission. Line up on the 48th Street side of 30 Rockefeller Plaza. No on under the age of 16 will be admitted.
Late Show with Stephen Colbert
Ed Sullivan Theater
1697 Broadway (between 53rd and 54th Streets)
New York, NY 10019
Previously under the helm of David Letterman, Stephen Colbert, best-known from "The Colbert Report," took over the Late Show in September of 2015. Adding his biting touch to the monologue, which often references daily headlines, the popular show includes interviews (George Clooney was his first guest), sketches and musical performances. You can request tickets online, however, plan to do so four to six weeks in advance. Same day tickets are rarely available, but maybe you will be lucky. All audience members must be at least 16-years-old.
Late Night with Seth Meyers
30 Rockefeller Plaza, New York NY 10112
212/664-4444, 212/664-3056
If you like comedy and A-list celebrities, stop by to be a part of Late Night with Seth Meyers' live studio audience. Late Night welcomes comedy on a whole new level, and diverse musical performances. You can see Seth take "A Closer Look" at current events and the political scene. Order up to four free tickets through their website. Note that all audience members must be 16-years-old. Stand-by tickets, sometimes available, do not guarantee admission. Make sure to call in or visit the website for a schedule of show tapings.
Dear Reader: This page may contain affiliate links which may earn a commission if you click through and make a purchase. Our independent journalism is not influenced by any advertiser or commercial initiative unless it is clearly marked as sponsored content. As travel products change, please be sure to reconfirm all details and stay up to date with current events to ensure a safe and successful trip.
---