Try a family cruise vacation on a schooner off the coast of Maine for something different, fun and unplugged; here's our account of a three-night, four-day adventure.
As rain clattered down on the bare granite shores of Nameless Island, petite blonde Alexa pushed back the hood of her poncho to admire the rainbow arcing above Northhaven. Shaun and his sister Frankie, sophisticated preteens from Long Island, New York, were too busy ripping apart pink soft-shell lobsters to put on their parkas. Regan, dragging his new L.L. Bean rain jacket across boulders and clusters of wildflowers, raved about the excellence of the barbecued burgers. Sarah was trying in vain to make the others listen as she pointed out north, south, east and west as we cruised off the coast of Maine.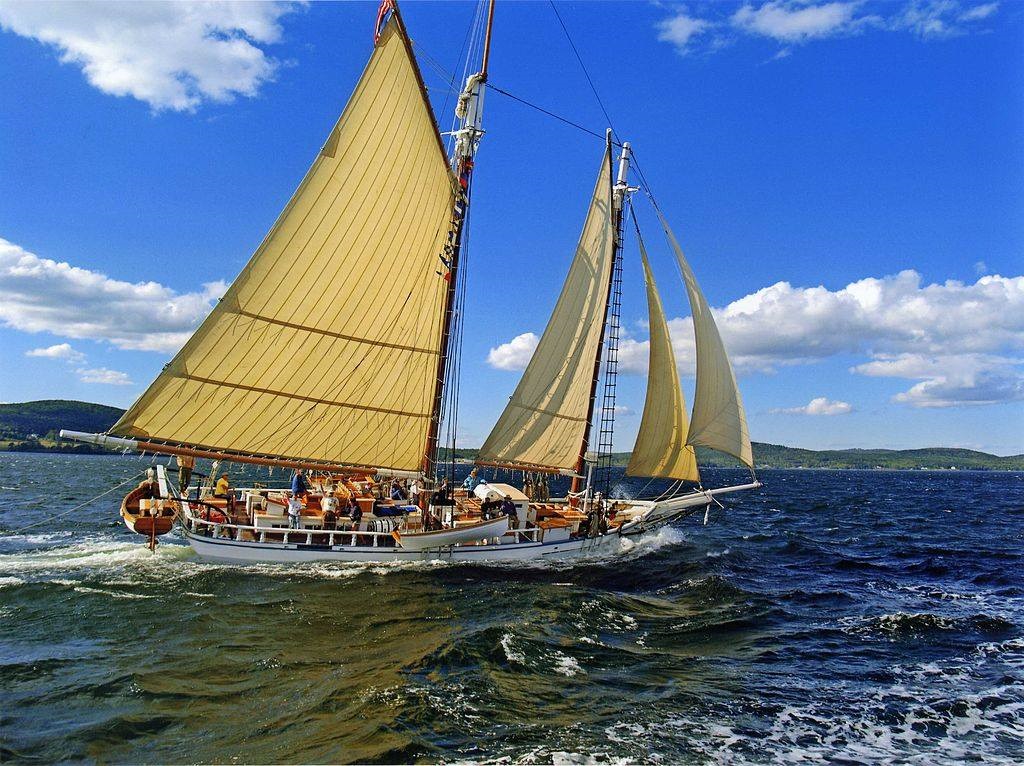 Ignored, she watched ominous clouds swirl overhead as warm droplets, backlit by the setting sun, bounced off her olive skin. Though her sense of direction had been impaired by Maine's extraordinary summer weather, her importance to the schooner's operations had not.
Five of the 22 guests enjoying this rustic lobster bake hosted by the windjammer's captain were under 12 years old, something that happens during Family Weeks.
Maine Windjammers Back on the High Seas
There were once thousands of schooners that hauled granite, ice and other cargo along Colonial America's eastern coast. Schooners (sail-powered ships whose rear mast is equal to or greater than any other mast) had been used since the 1700's for their speed and ease of operation by a small crew.
These dignified tall ships dominated Atlantic trade until the turn of the century. Once steam-powered cargo haulers began to outrun them, they earned the derisive nickname "windjammers" and quickly declined in use. In 1936, Captain Frank Swift of Maine, a painter by avocation, became intrigued by the abandoned schooners and envisioned their sails billowing above Maine's headlands once more. He cleaned out two derelict cargo ships, curtained off men's and women's areas in the hold, and invited paying guests aboard for a week-long "rusticators" cruise of Penobscot Bay.
As his classic adventure business thrived, the name 'windjammer' evolved into a compliment. A few other captains who had refurbished and renovated scrapped schooners formed the Maine Windjammer Association in 1977. The association now represents eight vessles — a steep decline from when we did our trip — with half of them listed on the National Register of Historic Landmarks. Check their website for special summer weekends when local schooners parade at sea.
Gentle Adventures on a Schooner at Sea
Back on the island, the thunder clapped louder and more frequently. The wind had picked up, and the driving rain made it difficult to warm up graham crackers or melt chocolate for the S'mores. So together, the five young galley slaves ate their way through a second bag of marshmallows. For others, our tuxedo-less "Captain's Supper" picnic was coming to an end. We would soon scramble into the yawl and wait to be ferried back to the ship, where hanging out in a cozy ship's galley with good company was fun.
The sun had shone, the breeze had blown, and the Atlantic had remained 52° F/11° C until this perfectly pleasurable storm struck the last night of our voyage. Another aspect of the adventure, it dampened no spirits.
The joy of watching our collective children, fused together in a crew berth, now dry, sipping hot chocolate and telling jokes in the galley, is my favorite memory of an idyllic voyage marked by rich conversation, deep relaxation, seal and bald eagle sightings, romantic sunsets and classic Edward Hopper vistas for the lovers, artists and work-stressed professionals aboard.
As parents, this windjammer cruise had given us all that and more. We had proof that sailing's unique challenges — squeezing into clothes on a tiny bunk, balancing in a moving 'head', hoisting and trimming majestic and heavy sails, kneading dough, rinsing dishes on deck, sleeping out under the stars — could cure this generation's dependence on electronic stimulation.
We'll book a week-long cruise next year.
Planning a Windjammer Family Vacation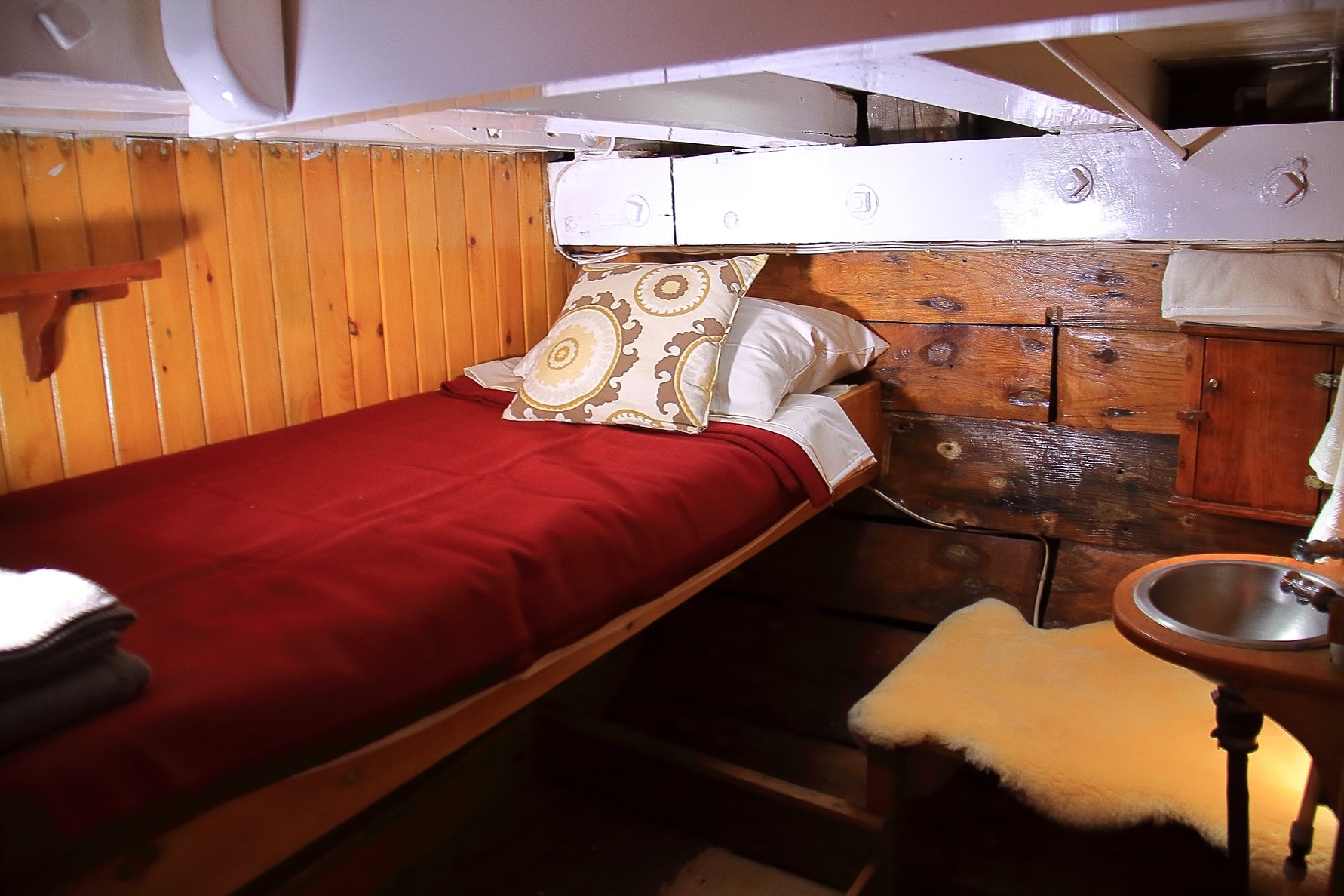 We had sailed aboard a ship that sustained damage during the 2017 hurricane season. It has since been sold to a husband and wife, Adam and Katie McKinlay, who will serve as chef and licensed captain respectively. They plan to run the schooner mainly on day trip sailings as the Boyd N. Sheppard, the boat's original name, when she was built in 1886. According to a note from Katie, a rebranding and considerable renovations were done, so that "our cabins are updated and decor is entirely different."
Fortunately, the Boyd N. Sheppard will continue to welcome families with children ages 6 and older on some seasonal one- to three-day cruises, although some may dates  allow 4-year-olds onboard, too. Rates including meals and non-alcoholic beverages start at about $655/person for a three-night cruise and up, depending on the season. Trip cancellation insurance is highly recommended.
In terms of the program families can expect, Katie writes, "We encourage fishing off the stern and swimming; learning knots and how to handle small boats."
She adds, playfully, "Water fights are also welcome."
Windjammer Cruise Vacation Planning Tips
Safety First: Note that today's windjammers are regularly inspected, Coast Guard licensed and carry the latest in navigation and safety equipment. Adults and children should expect a good-natured safety lecture after boarding; rules include no smoking below deck and no music without headsets, though many guests bring cell phones aboard (and fortunately don't use them.)
Comforts Abound: Despite their exquisite exterior restoration, even the oldest landmarked cargo vessels offer private cabins with linens, windows, reading lights, sinks, hot and cold running water, adequate toilets and showers. Though they are more eco-friendly than most vacations, the vessels often supplement wind power with their engines to stay on course.
Mobility Impaired: These windjammer vacations are not well suited for the mobility impaired, as crawl spaces are tight and balance is required to get above and below deck. Inquire about a day trip aboard a larger schooner which may be able to accommdate the handicapped.
Dear Reader: This page may contain affiliate links which may earn a commission if you click through and make a purchase. Our independent journalism is not influenced by any advertiser or commercial initiative unless it is clearly marked as sponsored content. As travel products change, please be sure to reconfirm all details and stay up to date with current events to ensure a safe and successful trip.
---