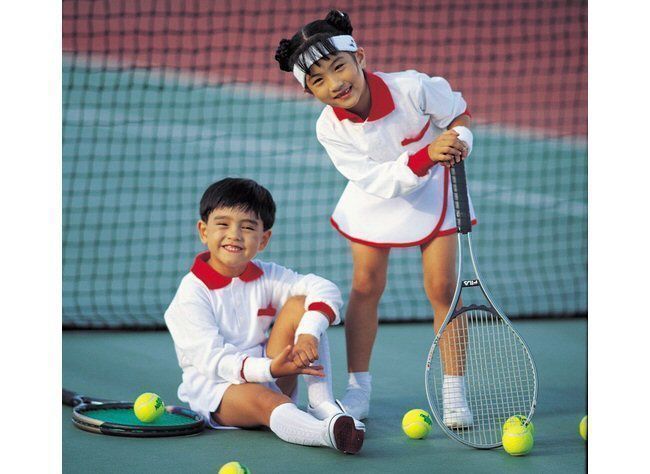 With tennis in resurgence as a sport for kids, we asked expert coaches to share tips with parents on introducing children to the game. Parents may recall that tennis peaked in popularity in the mid-1970s, when teens were emulating the likes of Billie Jean King and Rod Laver and even the smallest towns were building their own year-round tennis court complex. In the 80's fitness boom of aerobics, rollerblading, snowboarding and dozens of other new sporting choices, tennis lost some of its bounce. Now, a generation later, it is our children who are fueling a renewed interest in this classic, fun and very healthy sport.
The Tennis Industry Association (TIA) has stated that almost 9% of Americans ages 6-11 years play tennis. Organizations like the United States Tennis Association (USTA) sponsor community leagues where more than 325,000 casual players stayed fit last year. Today, kids from the age of 3 and up can take advantage of tennis equipment specially sized for them, using small light racquets with large heads, and tennis "balls" the size of melons. Families can use the www.usta.com facility finder to learn about where to buy equipment and where to enroll kids in junior classes. In conjunction with the TIA, their Tennis Welcome Centers (800/930-4TWC) program bundles information about all the courts at neighborhood parks, commercial tennis clubs, health clubs, resorts, high schools and colleges, as well as their teaching programs, to make learning the sport easy and cheap.
Experts talk about Introducing Tennis to Kids
To help parents get started on teaching kids tennis, Family Travel Forum asked tennis pros Karim Balagh and Andrea Bonfigli, formerly the tennis co-directors at Sarasota's Colony Beach & Tennis Club (now closed), for their tips on introducing tennis to children. Having watched many coaches, we know that good tennis instruction requires that teaching staff be kid-friendly with children, patient with adults, and quick to offer performance-enhancing tips to advanced players. Balagh and Bonfigli embody that spirit.
When is a child ready to begin taking tennis lessons?
KB&AB: It is essential that the child shows interest and willing to learn the fundamentals of tennis. It is also important that a fun rapport be established between the kids and the instructor. A non-threatening environment is key. At most resorts, we focus on basic motor skills required to play tennis. This involves drills and interactive games with the children to introduce the concept of racquet, ball and discovery of the court.
What kind of tennis instruction is available for children and families at tennis resorts?
KB&AB: Most offer a comprehensive tennis program that addresses all needs of tennis-playing families. Parents may enjoy a tennis clinic daily, 7 days a week, or may participate in several each day. Tiny tots (ages 3 – 6) may attend brief morning sessions as an introduction to basic tennis fundamentals in a fun, enthusiastic environment. Kids aged 7 thru 12 may attend a one-hour afternoon clinic daily. Teens participate in an afternoon clinic for 90 minutes. For more advanced children with competitive experience, there is usually a Tennis Academy available five days a week. Tennis pros really love seeing kids of all ages get out on the court to play because we know this is a sport they can carry with them for life.
What makes a good children's tennis program?
KB&AB: Excitement! Kids need and are clear about wanting a tennis program that includes enthusiasm, a high level of energy and lots of fun. For us, we pay such close attention to the individual and we have the ability to focus on each child's personality and skill level.
Are tennis clinics and group lessons the best way for a child to learn?
KB&AB: Social interaction is very important for a child's development; therefore, a group learning environment is essential. Children feel more comfortable in a group setting and have more fun. The introduction to tennis should be in a group environment. As the child develops, matures and shows more interest to further learn the sport, the introduction to private instruction becomes more important.
If a child is an advanced player, is an all-around family resort a good place to practice?
KB&AB: It can be, absolutely. With the introduction of junior academies at several resorts, world class tennis professionals are able to address the needs of competitive, advanced juniors with either regional, national or ITF rankings. The Academy typically operates five days a week with tournaments on weekends. The pros are available for individual attention seven days a week.
How does a parent know when to push a child?
KB&AB: There is a gentle way of inspiring a child towards an activity or sport such as tennis. You need to show personal participation and genuine interest. Tennis instruction has to be fun and not taken too seriously. Once the child has been introduced and exposed to tennis on a consistent basis, it will naturally become part of their lifestyle and they will ask to play.
What is a tennis resort's goal for its young students?
KB&AB: As professional coaches, our goal is to make tennis a healthy, fun, lifelong habit that will provide young people with some of their most treasured memories. Tennis is a lifetime sport that can positively impact who you are and who you will become.
Grooming a Future Tennis Partner
Take advice from the pros and start locally. Once your young players are really enjoying the sport it's time to make a family vacation out of it. With so many facilities to choose from, we turned to expert Roger Cox and asked what his community at Tennis Resorts Online thought were the best programs for young learners. From his 2010 ranking, they selected the Best Junior Tennis Programs as
1. Saddlebrook Resort, Florida
2. Sandestin Golf and Beach Resort, Florida
3. Balsams Grand Resort Hotel, New Hampshire
4. Cliff Drysdale Tennis at Stratton Mountain, Vermont
5. Wild Dunes, South Carolina
All of these tennis programs are in wonderful family resorts. So, even the family with only one potential Roger Federer can enjoy their vacation time together.
Dear Reader: This page may contain affiliate links which may earn a commission if you click through and make a purchase. Our independent journalism is not influenced by any advertiser or commercial initiative unless it is clearly marked as sponsored content. As travel products change, please be sure to reconfirm all details and stay up to date with current events to ensure a safe and successful trip.
---