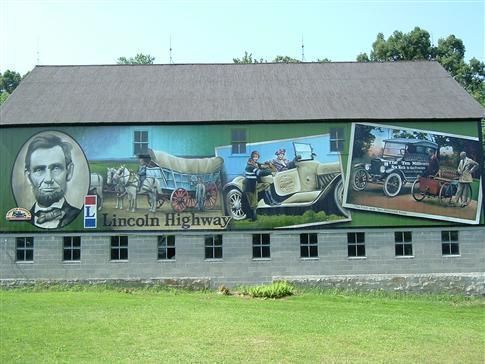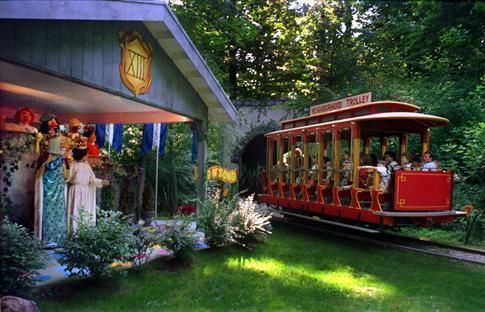 Idlewild and Soak Zone — the key family attractions in Pennsylvania's Laurel Highlands — provide old-fashioned amusement to family thrill-seekers so much so, that I need to remind myself this is the 21st century. Looking around at the amusement park attractions and vendor, the rides of my childhood whirl in a blur of nostalgic scenery. We were delighted to find ourselves in Idlewild and Soak Zone, an excellent example of a premium family amusement (theme and water) park of the simpler 1960's, restored and reminiscent of an era before Six Flags and other urban, overpriced thrills.
Pennsylvania's Playground
Absent of intimidating crowds, the Laurel Highlands region of the state is not only home to the Idlewild park, but to a myriad of other opportunities for children of all ages looking for a summer getaway near east coast metropolitan areas. The popular region is also absent of any big cities and is home to a massive State and U. S. park system, premium golfing, fishing and hunting opportunities for the big kids and numerous Mayberry-like towns — many with festivals and historical significance and battlefields back to the French and Indian War.
Some may know the area as a popular destination for the Seven Springs Ski Resort crowd in the winter but do not think for one minute that summer is dead here. Those with a penchant for active outdoor recreation appreciate one of the best whitewater rafting opportunities east of the Mississippi. The features include 100 miles of mountain biking, kayaking, nature appreciation and hiking opportunities in pristine forests and crystal clear rivers.
Numerous other destinations and attractions are all available within an hour or two of this serene region. For something different, many visitors will come to appreciate memorials and testaments to infamous national tragedies worthy of reflection and reverence. From the tragic Johnstown floods of 1889 to the crash of the fourth plane of 9/11, families can decide whether this may be an opportunity for reflection, paying respects, honoring true heroes and appreciating humanity.
Perfect Theme Parks in Pennsylvania
What makes Idlewild park such a special attraction of the Highlands is the ability to spend an entire day (purchase their Funday pass). There is picnicking among restored rides of youth, enjoying premium kiddy rides rather than intimidating adult-oriented ones, and splashing at a modern water park without the hassles of big city crowds, high prices, security gate checks and parking inconvenience. Return to your car as often as you like, bring your own food and drinks, take breaks under shade trees and pavilions…
I dare you to not have fun.
With seven separate theme areas, Olde Idlewild – from the 1960s – is the perfect opportunity for "transition" rides many children can share with their parents before the gut-wrenching rides of the more modern areas. This is a park where onsite tree timber has been recycled to build not only the manageable roller coaster, but the picnic pavilions as well. Grandparents who came here as kids themselves are a common sight with their grandkids.
Idlewild is not just an amusement park – it is an experience to be savored casually – even for the real little ones. Story Book Forest, Mister Rogers' Neighborhood of Make Believe and Raccoon Lagoon are just right for the stroller set and is thoughtfully designed to be interactive. Hooten Holler provides song and dance while everyone rests in seated or grassed areas. Jumpin Jungle really jumps with emphasis on physical exertion – use this at the end to drain of excess kid energy.
Idlewild has just enough of the big city rides to make it fun and modern for those that need just a bit more adrenaline. The addition of the Soak Zone water park provides the right amount of diversion for a hot day. Try the long tube water slides with family or friends.
For more variety, a couple more amusement diversions that are noteworthy are Caddie Shak Family Fun Park and Yogi Bear's Jellystone Park — both offer Paint Ball adventures. The Shak has go-kart tracks, Bumper Boats with water cannons and miniature golf courses and a driving range for the serious golfers. Jellystone Park is one of many in the nationwide chain and those in the know find that opportunities for camping and cabin rentals abound.
For something different, try the Living Treasures Animal Park with a petting zoo and a White Tiger. Since most of the prime activities in the area are outdoors, an excellent rainy day diversion is Laurel Caverns, featuring unique geological formations and the only underground miniature golf course.
America's History revealed in the Pennsylvania Woods
Most parents have learned that family fun is a great venue to sneak culture and education in on the sly, and Laurel Highlands is no exception. A good start is the picture book town of Ligonie near Idlewild — a place where one can discover a chapter of history before the Civil and Revolutionary Wars. A stop at Fort Ligonier will provide a glimpse into the pre-independence period of British and the French conflict over control of the Midwest. Numerous other museums and heritage areas permeate the region so some planning may be in order to maximize your time.
Another noteworthy itinerary would be the National Parks system destinations of Fort Necessity National Battlefield, Allegheny Portage Railroad, Friendship Hill National Historic Site and the Johnstown Flood National Memorial.
f you have adult time, try the world famous examples of Frank Lloyd Wright's blend of nature and architecture, Fallingwater in Mill Run and Kentuck Knob in Chalk Hill. Advance tour reservations may be required. During your serene country drives, include some routes with covered bridges -– they are not just in Madison County.
Enjoying Laurel Highlands' Pristine Resources
Do not visit without exploring the premium natural areas which abound in this vast region. A popular focal point of the area is the intersection town of Ohiopyle surrounded by the nearly 20,000 acres of Ohiopyle State Park. Most visitors enjoy hiking and biking the 70 mile long Laurel Highlands Hiking Trail and the Great Allegheny Passage Biking Trail which wind through state game preserves, forest, parks, natural areas. In addition to the full service Seven Springs Resort, recreational and primitive camping sites permeate throughout.
Be advised the premium outdoor activity in the region is the nationally renowned white water rafting and kayaking – in a way, nature's Idlewild. Novice and experienced travelers from everywhere come here to raft the Youghiogheny River.
For most of us neophytes, the most popular outfitter to entrust your experience to is Laurel Highlands River Tours, a one stop shop turnkey operation – especially if you are a beginner. They know the river intimately and offer a spectrum of experiences from easy to challenging. All-inclusive tours range from novice families with kids to die-hard experts. Guided tours include watercraft, meals, put-in and take-out transportation and some of the best scenery you have ever seen. If that is insufficient, try an overnight or multi-day package with accommodations included nearby. This is also a great place to rent bikes if you do not have your own – for the best of both worlds do the Paddle and Pedal package.
For a complete outdoor experience, go for the multi-day packages with various combinations of rafting, biking, paintball and rock climbing and stay at the family campground near by. When biking on the riverside trail in Ohiopyle, make sure you pass over the immense river bridge for a spectacular view. Stop at the river bend peninsula natural area for some great hiking. We noticed a complete absence of non-natural sound and a presence of unique natural features.
A great way to finish up your Highlands experience is an overnight stop at the quiet river town of Confluence "where mountains touch rivers". Named for its location at the confluence of the Youghiogheny, Casselman and Laurel Hill rivers, this haven of peace and quiet is a favorite dining and overnight stop for river boaters in the summer and cross country skiers in the winter. Originally known for hunting and fishing, this is now a prime relaxation destination – a place that can be enjoyed by foot. Walk the town as leisurely as you can – being in a hurry is not permitted here. The same trail from Ohiopyle meanders through here if you are doing a trail biking package.
This is a great stop for a break to eat and spend the night – you may never leave.
Der Family Guide to the Laurel Highlands Accommodations & Dining
The Highlands are peppered with the popular chain motels as well as numerous private lodges for both the ski and summer visitors. The above attractions will give many lodging suggestions including all-inclusive packages. For two very unique and " less discovered" gems, we recommend:
Foggy Mountain Lodge
Stahlstown, PA
877-FoggyMt
This secluded resort offers 12 rooms and 4 suites, complete with a private bath, TV, air conditioning and heating. A full breakfast is included in your stay.
The Parker House
213 Yough Street
Confluence, PA 15424;
814/395-9616
A true guest house a block from the river where kitchens and living areas are shared with like-minded relaxation seekers – very spacious and comfortable surroundings.
A multitude of selections abound throughout the region and most places are good values. Keeping with the outdoor adventure lifestyle most menus are meat and potatoes oriented although newer, healthy options can be found.
Foggy Mountain Lodge Restaurant -– a surpassingly excellent value. Recently expanded to include the Maple Room.
The River's Edge Cafe in Confluence at the river's edge across from the Parker House – premium ambiance with a riverside view and outdoor seating. This is very popular and most of the food is excellent. Don't get the steak though – they inexplicably served mine carbon black and expected me to eat it. (What's worse is, they didn't seem too concerned about it when I brought it to the server's attention.)
The Sister's Cafe at 482 Hugart Stree in Confluence across the Casselman River near the "town center" is where breakfast is served all day and there is "no charge for sisterly advice". This is a snapshot of a 1950's diner with good food at a good value – and the best place for breakfast.
Let me know what you discover.
Dear Reader: This page may contain affiliate links which may earn a commission if you click through and make a purchase. Our independent journalism is not influenced by any advertiser or commercial initiative unless it is clearly marked as sponsored content. As travel products change, please be sure to reconfirm all details and stay up to date with current events to ensure a safe and successful trip.
---