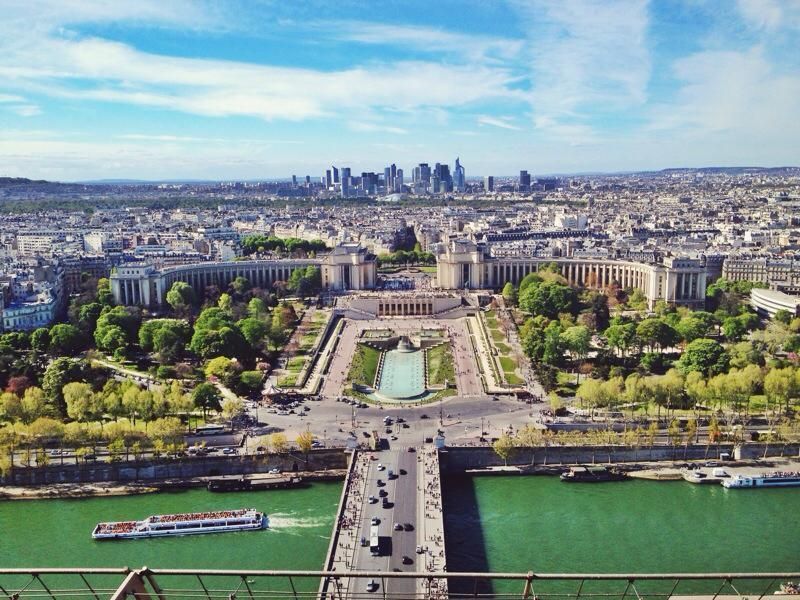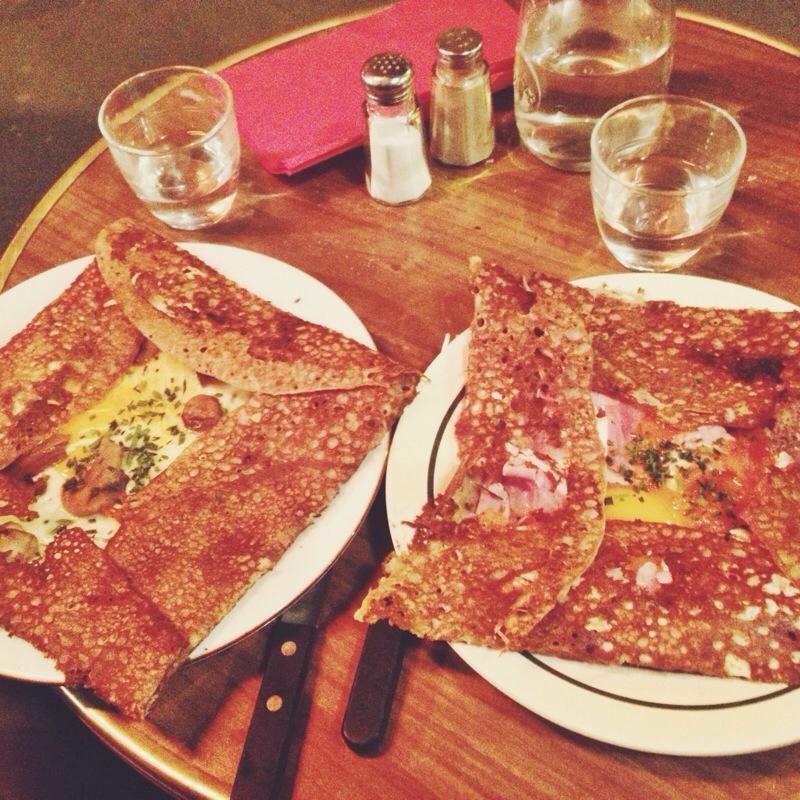 When sightseeing with teens, you'll notice that Paris is more environmentally conscientious and respectful of other cultures than ever before, while remaining as charmingly French as ever.
To visit the City of Light after an absence of 12 years is to find it ever more brilliant, illuminated by an hourly lightshow of electronic sparkles that play across the Eiffel Tower. Brilliant and smarter, too: the brightened Cathedral of Notre Dame has been bleached by lasers aimed to sear off centuries of soot; public buses run on clean natural gas; high speed trains have cut travel time to Disneyland Paris and Versailles in half; and the rooftops commemorated in Rene Clair's classic "Sous les toits de Paris" (1930) lie under solar panels or fields of greenery.
Because we were Boomer parents toting a sophisticated child who last visited Paris as a toddler, we let our 14-year-old guide the itinerary on a recent weekend visit that even included a bicycle tour of the city.
New Museums – Quick! On to the Next
A teen's attention span dictated a quick visit to several museums, a feat made less financially crippling by the Carte de Musees multiple-entry pass. The Musee Picasso was as our son remembered, with its famous bronze goat out on a back lawn, now shared by a café with organic produce and health foods. Because of its compact size and rich, colorful collection spanning the lifetime of the Spanish master who spent most of it in France, this private-mansion-turned-gallery is a good place to begin with kids.
The Louvre is a must-see no matter how long you're in Paris. Expect 30- to 40-minute waits at the main glass pyramidal entrance unless you have a museum pass. Returning museum-goers will be surprised by the velvet ropes and extensive security designed to keep traffic flowing smoothly through the Denon Wing, which houses the Winged Victory of Samothrace, the Venus de Milo and the Mona Lisa herself.
We wanted very much to visit L'Orangerie, famous for its extensive Impressionist collection.  But with only a weekend, one cannot pause for a 90-minute wait, no matter the museum.
New and Old Favorites — Then, On to the Next!
Proud of its economic role in the European Union, France is embracing multiculturalism, an aspect of modern life celebrated with great fanfare by the Musee du Quai Branly collection of the arts of Africa, Oceania and Asia Pacific. Long, winding galleries line four buildings, including a contemporary shoebox of glass and steel. The Branly is designed by French architect Jean Nouvel (of Musee d'Orsay fame) and filled with volcanic sculpture from Easter Island, carved masks from Africa, Asian ceramics, costumes, and thousands of other items from many collections, which didn't hold our son's attention for very long.
However, the Eiffel Tower, the city's gem and crowning edifice of the 7eme arrondissement, did. With only a weekend's visit, our son agreed to abbreviate the Eiffel Tower visit to the second stage of the sightseeing decks, because getting to the top level, which is glassed in  — and not as spectacular in his aging parents' memory — required a one-hour wait to change elevators.
Do 14-year-olds want to walk to the top as we once did? No way. But they are delighted by the views, pleased to stroll the Champs de Mars, and eager to stop in one of the cafés serving Orangina and fresh crepes with Nutella.
Paris Green Spaces – Quick! On to the Next
The green spaces of Paris attract all ages, especially when the weather is fair. In addition to the many parks, we admired the fact that one wall of the Quai Branly is covered by the foliage of 15,000 plants hanging from the roof. The Palais Omnisport and some governmental buildings in the Parc du Bercy quarter also sport "green roofs" – planted rooftops whose irrigation systems the Cinematheque Francaise. These green roofs stylishly help cool interior spaces while absorbing carbon dioxide and replenishing oxygen – this is progress of a very eco-friendly sort.
The Bercy Metro stop led us to the home of the Cinematheque Francaise. In a stylishly simple concrete swirl by Frank Gehry are seven stories of screening rooms and a collection of old kinescope players, a projector from 1882, a Greta Garbo costume and more. Overhead, flat screen TVs project clips from the classic films of Georges Melies, the French pioneer, Charlie Chaplin, Sergei Eisenstein and others. Special exhibits are dedicated to different filmmakers; at our visit it was the Spanish filmmaker Pedro Almodovar. These shows tend to be very intense, and more for film buffs than average teens, despite cinema being the proverbial "universal language."
More interesting for families in some ways is the Pont des Arts, a pedestrian bridge leading from the Left Bank over the river Seine to the Louvre. At the time of our visit, it showcased a temporary photographic exhibit of tribal peoples from around the world, and was covered in "love-locks" because the bridge is an attraction for couples travelling to the City of Love, as well as a work of art.
They go very well with the new look of a Paris filled with immigrants from Africa, Asia and the Middle East, seen in traditional dress rather than Chanel or Dior. In the Marais neighborhood where we stayed, the interior design and home stores were filled with the fabrics, colors and textures of Morocco, Bollywood, and the Orient.
Paris the Eco-Friendly
Another outdoors "Must Do" with children is a Fat Tire Bike Tour, a half-day or evening spent on bikes touring the city. From the meeting point, typically at a popular Metro Station, active tourists meet their enthusiastic young American guide, who leads them to the company's nearby office. At the bike shop/office/Internet Café, guests are read the rules of the road, and in the case of Segway renters, given a half-hour lesson in their use. While helmets are a must on Segways, they are not on the bike tour, which is more appropriate for kids over the age of 8 or 10 who enjoy biking.
The evening tour has more of a young couples/party personality which immediately appealed to our teen, who was delighted to breeze by the Louvre, Notre Dame, and the Champs Elysees without being lectured on history and culture. On wheels, you can cover quite a lot of scenic Paris, and in our evening tour on a wet, cold night we encountered the City of Light at its finest, glistening in the light rain.
Other eco moments can occur at the "beach" that's been installed in the River Seine during the summer months, when the city beautifies a pier, adds some lifeguards, and encourages locals to sunbathe and swim in the river.
Paris Weekend Trip Planning Details
Starting at Charles de Gaulle Airport, we found Paris as expensive as ever. To take the RER train into town round trip, and have a two-day, all-access pass to public transportation, we more than we hoped for two adults and a student. Be sure to research the transportation options ahead of time — if you won't be using the metro system frequently, you can purchase single tickets or discount-priced booklets instead to save money. The good news is unused tickets never expire, so you can bring them back the next visit if you have leftovers.
If the Carte de Musees pass is not on your Must Buy List (it's a great value if you plan to see a lot of museums), then purchase your Louvre day tickets in advance online, or try to enter the museum underground through the Metro Rivoli-Louvre station. This pass is a good value and offers the perk of first-in-line entry, but at museums like the small Orangerie, where crowds exceed the capacity, you must wait for visitors to leave before entering, whether or not you have this pass. The French do know how to groom art lovers — visitors under 18 are free at all museums and the young, and ages 18 to 25 receive discount admission.
Bicycle touring is fun, especially with older kids and in cities with environment-friendly bike lanes. Fat Tire operates in Paris year-round; during the summer, there are a few departures daily and in winter , fewer. Advance reservations are recommended for all the tours.  If you're traveling onwards through Europe, Fat Tire also has outlets in Barcelona, London, Munich and Berlin.
Places for Families to Stay and Dine
During our June weekend, we stayed at the charming and very staid Hotel La Bretonnerie , 22, Rue St. Croix de la Bretonnerie, in Le Marais (4eme arrondissement), a few blocks walk from Hotel du Ville and its convenient Metro stop.  In Paris, it's hard to find a room that sleeps three, but ours, number 17, wrapped around the 18th-century building's rear courtyard, offering us a small bedroom with a king bed, French balcony, armoire, WC (toilet closet) and small, all-marble bath. A narrow hallway with minibar led to our son's large alcove, which contained a single bed, desk and TV set.
Space is tight but very manageable and comfortable for all ages. The hotel has winding wrought iron stairs like in all the foreign movies, supplemented by a shaky cage elevator. The tasteful, small lobby offers the friendliest multilingual desk clerks, computer and Internet access, and a nice subterranean breakfast room carved from the rocks. Despite our being there over Gay Pride weekend when everything was sold out, the staff patiently answered our questions and showed us how to use the Rube Goldberg-like fresh orange juice machine.
Double rooms are quite reasonably priced in the summer high season; certain offers also include a wonderful breakfast of muesli, fresh croissants, jam, pastries, breads, cheeses and a variety of beverages.
Our favorite meal from a weekend of assorted baguette sandwiches and cheap crepes was the wonderful repast at La Ferme Saint-Simon (6, rue Saint-Simon; Paris 75007), near the Musee d'Orsay.  We wandered in, hungry and weary as only tourists can be, and were treated like royalty. For foie gras, salmon, and an artichoke salad; rabbit stew, steak and a luscious bouilliabaisse; a bottle of Sancerre vin blanc, and a variety of fine and artful dessert, including a remarkable chocolate soufflé, we paid an very reasonable price.
It is said that this restaurant, near to many French government ministries, attracts a chic crowd of dignitaries at lunch, but they could not have been more accommodating to three dusty, sweaty tourists sporting Tevas and jeans on a Saturday night.
Dear Reader: This page may contain affiliate links which may earn a commission if you click through and make a purchase. Our independent journalism is not influenced by any advertiser or commercial initiative unless it is clearly marked as sponsored content. As travel products change, please be sure to reconfirm all details and stay up to date with current events to ensure a safe and successful trip.
---