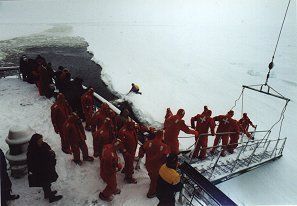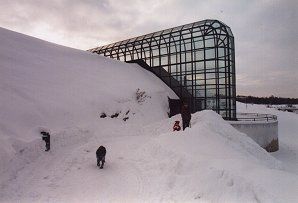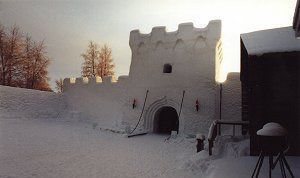 Visit Rovaniemi, tour on snowmobiles, trek to Santa's Village, cruise on an icebreaker, and stay at a hotel made of ice, in Finland's Lapland.
Friends heading to Florida for the February winter break said we were nuts to tour Scandinavia, but Lapland's ice hotel, long one of my family's travel fantasies, was our choice. Winter is actually the most economical and magical time to visit Finland, where blizzards, saunas and ice sculpture are part of the national character. Our Norvista Tours agent Steven had advised, "All you'll need is wool socks, long johns and a good pair of boots." He was right; even the stylish Finns were elegantly dressed in layers of black wool and cashmere, accessorized with cellphones, Timberland boots and down-filled outerwear.
Visitors to Lapland, an ethnic region comprising northern Sweden, Finland, Russia and Norway, can fly into the Finnish Lapp capital of Rovaniemi (Tourist Office or call 358 16 346270), about 550m/830kms north of Helsinki. To Finns, it is best known for its city-wide Reindeer Races held each March. To design mavens, it is known as a post-war town laid out in the shape of reindeer antlers by renowned architect Alvar Aalto.
Lapland's Capital: Rovaniemi
We find it a charmless urban core of three- and four-story pastel blocks housing pizza parlors, pubs and ski or fishing tackle stores. Though souvenir shops sell the colorful wool costume of the indigenous Suomi, who founded this market town in the first millennium, nomadic peoples now hunt and farm reindeer much farther north.
For a look at some stunning architecture, we walk a mile on the frozen Ounaskoski River to Arktikum, the region's cultural center. It is snowing lightly, about -15° Centigrade, perfect weather to enter this gleaming glass igloo. Arktikum contains artifacts, photographs and anthropological displays on the Native Americans in Alaska, Inuits in Canada and the Lappish of Norway, Sweden and Russia. Our son, Regan, grows increasingly interested when a multilingual CD-ROM explains how all Arctic peoples share many Suomi traditions. The gift shop carries photography books and artifacts crafted of reindeer horn or birch, carved with runes from the Suomi language.
Lapland's Snowmobile Tours
We have an early Lappish supper at Fransmanni, whose menu offers white fish roe, grilled Arctic char, snowgrouse and reindeer tongue steaks followed by breadcheese (farmer's cheese simmered in vanilla cream and topped with a uniquely Arctic treat, tiny gold cloudberries.) From the comfortable riverside Rantasipi Pohjanovi Hotel, we join Lapland Safaris on an evening snowmobile tour to see the Northern Lights. This is actually best done between 66°–69° North; in Finland, they're typically seen a few nights weekly from September to March. The Finnish Meteorological Institute reads daily magnetic disturbance levels –- the higher the better — and several outfitters lead after dark star-viewing tours by snowmobile or reindeer. Companies such as AuroraZone operate in other remote Lappish towns.
While we don snowmobile suits and helmets, two dozen Japanese depart with a Japanese speaking guide, hoping to see the Aurora Borealis which many believe promotes sexual fertility. As we whiz through the forest, Regan in a towed sledge, the light snowfall obscures any solar-generated electrical pulses from illuminating the overcast sky. It is fun, but we decide the extreme cold makes night snowmobiling a poor choice for families with younger children. We return to the hotel's basement and find a large family sauna, swimming pool and several Finns in bath towels drinking vodka by a circular fireplace.
Early the next morning, our family, along with two Dutch women celebrating a 50th birthday, a young American couple on a round-the-world tour, and the guide Jorma, suit up and snowmobile carefully over the melting Kemijoki River to a reindeer farm. Just past the "Welcome to the Arctic Circle" sign is a collection of log cabins clustered around a Kota, or reindeer skin tepee.
We stop to pet a corral full of pregnant does, who will be fed until they give birth in May. A young blond in a brightly embroidered blue Lapp costume motions for us to sit on a low wooden sled hitched to a small buck. He calls out "Steer," indicating the single rein, and as soon as we board, 'Rudolph' takes off into the heavily wooded fields doing about 30kph across the two-meter-thick snow! What a great ride, one which culminated in the receipt of our official Reindeer Driver's Licenses, valid for a limited number of years after our journey.
Clutching a newly purchased reindeer skin rug, we are driven to the Heidi-style Ounasvaara sports complex for lunch. This lushly snow-clad, four lift and seven slope ski and snowboard resort features the Sky Hotel Rovaniemi, an excellent country Finnish restaurant, and the Ounasvaaran Pirtit Holiday Village of rustic cabins which Alpine and Nordic skiers book by the week. Only 10 minutes by taksi from downtown Rovaniemi, we note this small and inexpensive resort will be a much prettier setting for our return.
Lapland is Santa Land
Santa Village is touted as one of Finnish Lapland's major family attractions. (Jorma told us that in the Christmas season, dozens of British groups take charter daytrips from London to meet Santa, ride a dogsled, pet a reindeer and fly home.) According to widely accepted lore, Santa's actual North Pole home is hidden away at Ear Mountain, north of the Arctic Circle. "In order for Santa to do business" claims Jorma, "he opened the Santa Claus Workshop," where he greets visitors daily.
You can be photographed with Santa, get a laminated card indicating membership in the Santa Fan Club, mail your postcards from the Santa Post Office, take a miniature steam train to the SantaPark Theme Park for a carousel ride or puppet shows and, everywhere, buy crafts of Scandinavian heritage or total kitsch, depending on your aesthetic point of view.
As soon as my 8-year-old heard the chubby, bearded Santa call out "Kanichiwa" to a group of Japanese tourists, he turned to me and said, "Mom, this place is ridiculous. That's not the real Santa, anyone can see that." We rushed by the shops of carved wooden reindeers. "Don't write about it," Regan announced angrily. "No one should waste their time going. Santa Village is a fake!"
Yet it's grown even more: Santa's Resort Kakslauttanen is a large newer complex outside of Saariselka that includes a workshop, reindeer coral, cafeteria and five themed hotels. Families can arrange for a two-hour elf guided tour by sled or reindeer and, in summer, go panning for gold with the Gold Elves.
Lapland's Icebreaker Sampo
With Lapp museums, snowmobiling, reindeer rides, ski resorts and the bogus Santa Village under our belts, it was time to head for the ice hotel, Kemi's Snowcastle. But a day cruise on Sampo Tours on the icebreaker Sampo (operates December to April) had caught my eye, and although our son wasn't old enough (16 years minimum) to participate fully, it seemed like too good an adventure to pass up.
We departed the port of Kemi with a loud crushing sound and began churning our way into the frozen Baltic. The nattily dressed crew served drinks before giving multilingual tours of the bridge. We learned that the Sampo breaks ice by riding up onto it and crushing it with her extreme weight (3,540 tons to be exact); six huge electrical engines also enable her to go forward or reverse in a moment's notice.
After a hearty salmon soup in the polished wood and brass mess hall, volunteers were led in groups to the crew's quarters to be fitted with buoyant, thermal survival suits. These heavy-duty, bright orange, zip-up rubber bodysuits were originally designed so sailors could go into the frigid Arctic waters to assist passengers entering lifeboats. We paid to do just the opposite–go overboard while sailors watched from the deck.
Suddenly it was quiet; we had come to a halt. Other than the channel cut behind our stern, everywhere was a sea of ice.
We got my husband outfitted first, helping him roll the sweaty rubber suit (freshly peeled off another passenger) over his socks, jeans and fleece shirt. Crew member Jean noticed Regan looking on at the proceedings, and asked if he'd like to try it. We were assured that they could make it safe, despite the survival suit being much too large and heavy for his 50-pound frame. Jean lifted him into the wrinkled arms and legs, then pulled the wrist and neck bands tight to keep more air from inflating it. Another sailor, waiting out on the ice, pushed us onto our butts and slid us into the channel filled with icebergs.
Once we were afloat on our backs it was impossible to get righted, so we just bobbed up and down. What a fantastic feeling to be both weightless and impervious to the elements. Of course, Regan could not pull himself out of the water, but Jean, who had been watching, hauled him up by the waist, threw him over his shoulder, and carried him aboard.
All the way back we stayed on deck, braving the frigid winds to watch the crushed ice channel close behind us as the Sampo carved out a path for our return.
Lapland's Ice Hotel
Dreaming of dry socks and a hot shower, we met the driver who would take us to the annual ice hotel (Snowcastle open February through May.) The sun was setting on its luminescent fortress facade. My family has checked into a lot of eco-friendly hotels, but this was the first built with meter-thick cubes of ice mortared with snow.
Costumed snowball mascots began chasing my son around the courtyard fountain, where snowballs flew freely. As the uniformed porter carried our bags to reception, we passed a gleaming open air church with religious ice sculptures, a game room with carved ice slides and table hockey, and a neon-lit Ice Bar.
The porter coolly explained why our wooden door, one of 19 on the ground floor, had a window. "Two guards patrol the hotel every hour to see if everyone is still breathing." She smiled. "Don't worry, they'll soon recognize your snoring."
After a half-hour of being cube potatoes watching Finnish TV in snowmobile suits, we broke the spell by walking into Kemi town, past the Ice Church and the modern hotel where we'd have breakfast and sauna privileges, to the brick 'n' mortar pizza parlor. Upon returning to our slick translucent chamber, we witnessed the evening turn down service. A chambermaid was laying a burlap-covered hay mattress, three sheepskin sleeping bags, linen sleep sheets and gorgeous lace-trimmed pillows on the enormous slab of ice in the middle of the room. Another survival lesson followed, "Please sleep inside the sheets, inside the sheep, in long underwear and socks, and keep your hands uncovered. Everyone must wear a hat!"
We only felt the cold when we tiptoed out under the full moon to use the Porta-Potty, because our room remained a comfortable 32° F/0° C. When I interviewed the Snowcastle's general manager the next day, she confirmed that the majority of guests stay one night and are Japanese and Scandinavian honeymooners who had tied the knot in the Ice Chapel.
"Any complaints?" I asked. "Sometimes they don't like the smell of the sheep," she confided. "But the children always love it."
Dear Reader: This page may contain affiliate links which may earn a commission if you click through and make a purchase. Our independent journalism is not influenced by any advertiser or commercial initiative unless it is clearly marked as sponsored content. As travel products change, please be sure to reconfirm all details and stay up to date with current events to ensure a safe and successful trip.
---