If you love cross country skiing, and want to share your pastime with the kids, these helpful tips will be right up your well groomed alley!
Whether it's snowboarding, ice fishing or an artistic endeavor, every parent loves to share their favorite pastimes with their children. Not only do parents want to teach their children about their hobbies, they hope that their children will also learn to enjoy these activities.
Getting Kids Started with Cross Country Skiing
But what if your passion is cross country skiing? How do you introduce your kids to a sport that involves serious outdoor exposure, as well as time and patience to acquire its skills?
It may seem like a daunting task, but rest assured that children of all ages can enjoy touring on skis. Like most activities with kids, it simply needs to be safe and fun. And if you have a pet to bring along, that can add to the adventure.
How to accomplish these two basic goals — safety and fun — depends on your child's age.
Cross Country and Nordic Skiing for Ages 2 & Under
The youngest children can't ski by themselves, but they can be introduced to the outdoors. Two very practical tools allow parents to take even infants ski touring: ski sleds and baby backpacks.
The first of these two items offers the most protection. Cover-canopy ski sleds contain a secure seat somewhat like a car seat and are covered by thick plastic that provides an extra shield from the environment. Two arms extend and attach to a waist harness for the parent.
The sled also contains a convenient carrying compartment. And there's the added benefit that once the sled is filled with bottles, diapers and snacks, parents can expect to get a workout. Flat sleds like the traditional pulk from Norway can also be used like your snow-day picnic basket.
Ski backpacks are essentially the same thing as models designed for hiking with kids. Since they're less protected from the elements, extra clothing is necessary, especially around the face and extremities.
How to Plan Baby's Ski Day
The first thing to consider when skiing with kids is that you must work with their schedule and not just your own. This is especially true for the youngest adventurers who dictate their own feedings and changings. One mother who started skiing with her baby when he was just 6-months-old recommends scheduling outings for naptime and preferably the longest naptime of the day.
Weather is also a natural concern. Check a forecast to make sure a frost isn't approaching and read an outside thermometer. If well dressed and protected in a sled, kids in this age group can handle fairly cold temperatures. A family doctor can advise you where to set the exact limit.
Another key to success is choosing a short and easy trip for the first outing. It's even appropriate to ski in the back yard or around the block until your baby or toddler gets used to the activity. Then slowly add a short car ride and more skiing distance as you evaluate your child's specific tolerance.
Again the important thing is to let your child determine the outing's duration — not your own need for exercise. If you need a strong workout, it's better to hire a babysitter and go by yourself.
Getting Toddlers 3 to 5 On Skis
By the time kids turn 3-years old, many are ready to try their own pair of skis. The short skis made for this age group, between 60 and 80 cm long, utilize a binding that straps onto everyday snow boots. This helps to keep their feet warm, also cuts down on the expense of constantly buying new ski boots for growing feet.
However, the bindings on this type of ski don't allow much control.
So while it's wonderful to see your kids on skis for the first time, outings slow down even more when kids first become independent. Kids this age can make their own tracks, but they're also still developing their coordination.
Where To Go for Toddler's Cross Country Adventure
To make the process easier, begin on a flat, machine-groomed surface. The wide trails at skate ski touring centers provide good learning areas. Here's an easy to use directory to cross country ski and ski touring areas by destination.
Weather comes into play even more at this age. Since the kids are expanding energy as they learn to ski, they get cold more easily. One skiing father suggests going out only when temperatures rise above 20°F.
Most importantly, as a parent you want to make these first outings fun. Don't try to do a long ski. Bring snacks and treats. If possible let your child invite a buddy who is also learning to ski. A light-hearted atmosphere and positive encouragement will make the process enjoyable.
And if it's fun, they'll probably want to ski again.
Cross Country Skiing with Ages 5 and Up
If your child has practiced the basics, they will probably be ready for skis with a regular Nordic binding by the time they're 5-years old. Ages do vary from child to child, and often depend on parents' participation. A new binding will get kids into the full swing of skiing. The binding allows more control. Rather than shuffling along, your kids will be able to learn how to kick and glide.
As they become more proficient at skiing, these skills can translate into other areas of skiing. By age 8 or 9, the ages when cross-country skiing might become "un-cool," it's possible to transfer their comfort on skis to telemark or skate skiing. Of course, outings will still have to be exciting. Take along a picnic and your children's friends to amp up the fun.
With positive experiences and a little luck, skiing may even develop into a common bond that outlasts the parenting years.
Planning Your Own Cross Country Ski Adventure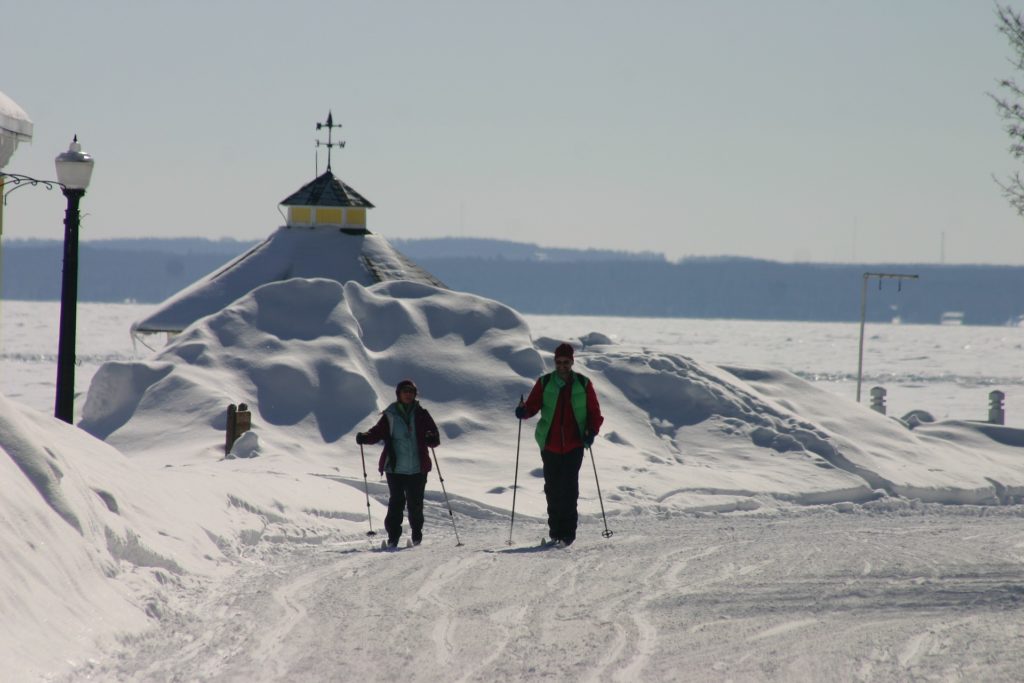 Our thanks for these terrific tips gathered by the staff at Skinny Skis, one of Wyoming's largest outdoors stores.
Of course, Wyoming is a great place to learn, but cross country skiing is also perfect for staycations, as many regions open their golf courses to cross-country fans after the greens are closed for winter. The Cross Country Ski Areas Association is another helpful resource for finding area trails.
Even in New York City, a few inches of fresh powder will bring out folks of all ages to criss cross Central Park's bridle path.
And keep in mind that the sport of rollerski is a fun way for older kids and adults to start practicing in summer and ease gently into the cross country season. After all, this is an ageless sport that you're never too old to learn.
Dear Reader: This page may contain affiliate links which may earn a commission if you click through and make a purchase. Our independent journalism is not influenced by any advertiser or commercial initiative unless it is clearly marked as sponsored content. As travel products change, please be sure to reconfirm all details and stay up to date with current events to ensure a safe and successful trip.
---