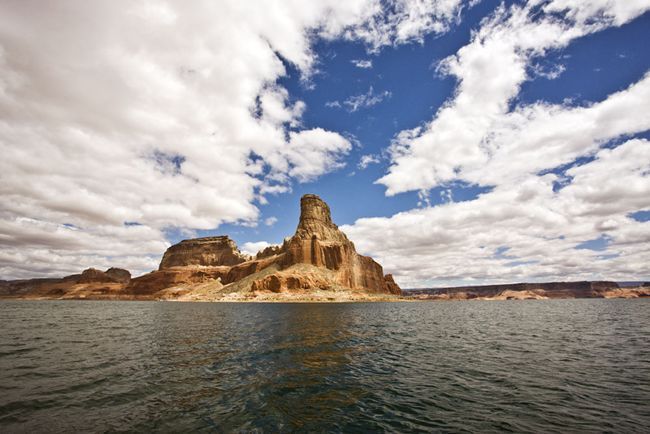 This is the story of my family reunion aboard a houseboat on Lake Powell, and the power of natural beauty to keep us all entertained in Arizona's Glen Canyon National Recreation Area.
Back in the early 1960s, my father and his friends took off by private plane to satisfy their curiosity about the progress of Lake Powell. Construction of the Glen Canyon Dam in northern Arizona had begun in 1955 and by the time of its completion in 1963 had already begun to back up the waters of the Colorado River. Most of the lake – a vast reservoir, in reality – would lie in southeastern Utah, a desert wilderness of labyrinthine canyons, multicolored sandstone cliffs, mysterious grottoes, and natural bridges. From my home in western Colorado, it was less than 250 air miles to the dam itself, and less than half that distance to the farthest reaches of the lake. Living as we did in the desert, any body of water, great or small, became the focus of attention.
What particularly interested my father was the lake's stock of striped and largemouth bass, and the excuse they afforded him to escape with his cronies for a weekend away from family and responsibility. Or at least so it seemed to me at the time. He talked about the fishing, but said next to nothing about the scenery, perhaps because if he had made it sound too attractive he'd have had my mother and us kids clamoring to go along. Yet something about those Lake Powell trips charged him with an enthusiasm he otherwise rarely exhibited.
Fortunately, on a five-day family reunion excursion by houseboat, I finally found out why.
A Houseboat is a Home Afloat
Eleven of us set out from Bullfrog Marina, one of several locations on the lake that offer houseboat rentals. "Houseboats" in the Lake Powell idiom mean something akin to a Winnebago mounted on twin pontoons and powered by a pair of outboard motors. They come in lengths ranging from 44 to 75 feet, and the largest can sleep 12 people in reasonable comfort. There is typically a covered porch with a charcoal grill in front, walkways protected by railings around the sides, and an open deck in back.
Many have ladders to the roof – the best place to sleep (weather permitting) if only for the incredibly bright, starry canopy of the Milky Way.
Inside they are models of efficiency, making good use of every nook and cranny. There are built-in bunk beds, a toilet and shower, hot and cold running water, a range and oven, a refrigerator, and living and dining space. Storage cupboards and closets abound, above and below everything. Roughing it on one of these crafts used to mean not having anywhere to plug in a blow dryer.
Life Goes in Circles When You're on a Houseboat
Late in the afternoon with five adults (mother, sisters, brother-in-law) and six children (ages 4-17) on board and a powerboat tethered behind, we motored out of the marina and headed southwest toward the dam. It was a hundred miles away and we hadn't the slightest intention of going that far, but we did want to see Rainbow Bridge National Monument. Otherwise we had no fixed itinerary.
Whim became the guiding navigational principle.
Lake Powell invites that. The waters impounded by Glen Canyon Dam extend 186 miles back upriver, as far as Canyonlands National Park. They flood not only the meandering spinal column of the Colorado River and its tributary, the San Juan, but more than a hundred side canyons as well. Altogether there are nearly 2,000 miles of shoreline. What Powell lacks is anything remotely akin to a lake's traditional shape, in the sense of a neatly circumscribed body of water with a clearly defined middle. Instead it appeals on maps like so many neural pathways, blue-stained and branching.
We turned off the main channel along one of these branches in search of a place to beach for the night. We deliberately avoided the recommended sites marked on the map in the hope of finding a place of our own. Despite having all the comforts of home, we still wanted to preserve the illusion of having completely escaped from civilization.
Only once in five days did we have to share a cove with another houseboat, and even then we were a good quarter-mile apart and separated from view by a finger of sandy peninsula.
Keeping Everyone in the Family Busy Is Easy on a Houseboat
Once we secured the boat by driving it headlong into the beach and then running ropes out to stakes on either side, I grabbed a beer and a book and hiked up through the sagebrush toward sandstone cliffs burnished rusty orange with a "desert varnish" of iron oxide. From my aerie 100 feet above the lake, I looked out on a clutch of islands –in reality, the tops of pinnacles whose base is now hundreds of feet underwater — framed between vertical canyon walls.
Giggles drifted up from the houseboat as the youngest of my nieces and nephews caught palm-sized bluegill sunfish, using bits of hot dogs for bait.
Other family members swam in the 75°F water, waterskied, or, like me, explored the higher ground.
Exploring Glen Canyon is Exploring a Place in Time
Not so very long ago, a family outing in this region was unthinkable. It was a desert wilderness that here and there bore the vague tracery of a very few, dusty, axle-banging primitive roads. Not much had changed since John Wesley Powell passed through in 1869 on his 1,000-mile expedition to chart the Colorado River. He named Glen Canyon, taking the name from the leafy glens of cottonwoods, willows, and oaks that flourished wherever springs burst forth from the overhanging cliffs.
Nearly 200 miles of the Colorado River as Powell knew it has disappeared, and with it a wealth of spectacular arches, canyons, amphitheaters and monoliths, drowned beneath the most beautiful lake anywhere in the Southwest. The book I've carried to the top of the cliff is Edward Abbey's "Desert Solitaire" about his years as a park ranger in nearby Arches National Park. Abbey knew this region intimately before there was a Lake Powell, and reading him it is hard not to lament what was inundated merely to generate hydroelectric power for the air conditioners and neon lights farther west. At the same time, I know that but for the lake I probably would never have seen any of this spectacular landscape.
Maybe that's as it should be. Maybe, as Abbey argues, there ought to be places that are difficult to reach, places where cars and other motorized vehicles are banned, places whose beauty is the reward of those willing to hike or bicycle or horseback ride in. But as I sit here watching the canyon walls and their reflection in the lake change from yellow to orange to crimson in the fading rays of the setting sun, I have selfish reasons for not wanting Lake Powell to be one of them.
While I'm here, I have too much emotional stake in the answer to reach an objective conclusion. Besides, it's turned cool now that the sun has gone down, and I can smell steaks broiling on the grill. I put off until tomorrow trying to work out how I feel.
Is Destroying a River Making Nature More Accessible?
But the next day and those that follow only serve to muddle the issue even more.
Every detour off the main channel seems to take us into yet another gallery of awesome geologic architecture. We motor along cliffs of red or orange or grayish maroon sandstone rising vertically to heights hundreds of feet above the lake, or slip under the shady overhangs of cavernous amphitheaters.
Occasionally, the hollows of the canyon walls hold the adobe dwellings of the Anasazi Indians, who disappeared mysteriously some 600 years ago. Most surprising of all, however, are the hanging gardens of maidenhair ferns, columbines, and even orchids, the last things I'd expect to find in the desert.
Glen Canyon, Beyond the Rainbow Bridge
One afternoon, my brother-in-law and I take off by powerboat to replenish the supply of beer, soda, and ice — all of which go quickly in the desert's hot sun and parchment –dry air. On the way back, we turn off at a couple of side canyons too narrow for the houseboat. One is a maze scarcely wider than the boat that meanders for more than two miles, bending, dividing, and doubling back as though the stream that carved it had no sense of direction at all. The other is broader, almost entirely in shade and finally impassable, blocked by a logjam of sun-bleached tree trunks, the remains perhaps of one of John Wesley Powell's glens. In both cases, we have the sense of being the first people to see these Lake Powell backwaters, though the plastic cups and beer cans we fish out are harsh evidence that we are not.
Annually, more than 3 million people visit the Glen Canyon National Recreation Area and stop in to see the geology and natural history exhibits at the park headquarters at Glen Canyon Dam, board sightseeing cruises to Rainbow Bridge or, like us, take off on their own by houseboat.
Rainbow Bridge is one of the largest natural bridges on earth. Salmon pink in color with dark stains of desert varnish, it spans 234 feet, forming an arch high enough to contain the dome of the nation's Capitol. It is 40-feet thick at the top. Navajo Indians regard it as sacred and, according to legend, it is an actual rainbow turned to stone to become one of the guardians of the universe.
Until Lake Powell's waters filled this canyon to within 22 feet of the arc's base, Rainbow Bridge was one of the most remote spots in the 48 states, a national monument accessible only on foot or horseback over rugged, unmaintained trails. Today after boating in to a large floating-dock marina, it is an easy quarter-mile walk to the base of the bridge itself.
This is one place on the lake that I wish had remained remote. Although a striking geologic phenomenon, it is much too public to inspire a sense of mystery or awe. Lake Powell's other canyonscapes move me far more than this, its most famous landmark.
Leaving Everyone Behind: Gone Fishin'
The disappointment is short-lived because my brother-in-law and I have decided to spend part of this, our last evening on the lake, doing what my father did: fishing for bass. Thus far, the only edible fish anyone has caught have been catfish, which made a tasty addition to breakfast one morning. But the lake has also been stocked with rainbow and brown trout, black crappie, and largemouth and striped bass.
We take off in the powerboat for a nearby narrow inlet lined with brush and submerged trees, the most likely place to find bass feeding at twilight. Evidently, the bass have not read the same National Park Service fishing leaflet we have, so the family dines that night on the last of the smoked turkey.
In any case, after five days here I have come to regard the fishing, waterskiing, hiking, swimming, and exploring not so much as ends in themselves as ways of enjoying this spectacular lake in the desert, elements in a needed escape from the rigors of civilization. And that I suspect was what lured my father here as well. It certainly could not have been the fishing, for now that I think about it, he never once brought back a single fish.
Trip Planning Details for a Lake Powell Houseboat Reunion
Summer is the most popular period on the lake, especially for families, even though average daytime temperatures are in the 90°s (mid 30s° C) and many days experience afternoon thunderstorms. September and October get less wind and rain, while still offering daytime temperatures in the high 70°s and 80°s (21-25°C).
The closest air gateways into the region are Phoenix and Flagstaff, Arizona and Las Vegas, Nevada, from which it is a four to six-hour drive on paved highways to a marina. Alternatively, you could fly into Phoenix and take a short flight, operated by Great Lakes Airlines, directly into Page, Arizona near Antelope Point and Wahweap Marinas.
Lake Powell Resorts & Marinas (888/896-3829), managed by ARAMARK, is a concessionaire of the National Park Service. They operate three full-service marinas at Wahweap (near Page, Arizona on the south shore), and at Bullfrog and Halls Crossing (midlake in Utah).
Antelope Point Marina and Lodge (928/645-5900), a joint project between the National Park Service and the Navajo Nation, is also located near Page, Arizona.
Provisions for the houseboat can be purchased at the rental marina at typically inflated prices. Shop for as many non-perishable items as you can — including twice as much beer and soda as you think you'll need — in the town where you pick up your rental car.
Dear Reader: This page may contain affiliate links which may earn a commission if you click through and make a purchase. Our independent journalism is not influenced by any advertiser or commercial initiative unless it is clearly marked as sponsored content. As travel products change, please be sure to reconfirm all details and stay up to date with current events to ensure a safe and successful trip.
---