Come aboard the historic Grand Canyon Railway for a comfortable train trip that will wow grandchildren. The journey travels through time between the Old West town of Williams, Arizona and the rim of the majestic Grand Canyon. Now in its 100th year of thrilling railfans, Engine 4960 has been recommissioned for special trips in summer 2023.
Until I met my husband, I had never heard of anyone riding a train. I don't mean riding a train to get somewhere, but riding it for the sheer pleasure. Imagine my husband taking a weekend trip to Chicago and never going to The Art Institute. He never got off the train to stop for Chicago-style pizza! Needless to say, this came as quite a surprise to me.
The Secret World of Railfans
He introduced me to the world of Railfans. These are the train enthusiasts who run model layouts and collect memorabilia such as timetables and menus. Like many, he pours over history and lore in books and magazines, and rides and photographs trains as often as he can. 
When my son was a toddler, he took up the mantle. He sat happily on his daddy's lap pouring over such children's classics as "Steel Rails to the Sunrise." He, too, loved explaining all about "cab forwards" (locomotives whose engineer's cabin is at the extreme front) to his very patient grandmother.
I'm still not sure I understand the passion, but I know it's very real. Now that my adult son has moved on to interests of his own, he still loves to ride a train, especially with his dad, who entertains him with tidbits of esoteric information. Even if your family doesn't include "Railfans," riding behind powerful, steam-spouting locomotives, listening to signal-blowing horns and feeling the rhythm of the rails holds a tremendous allure for most young children, and many of their dads.
If you're planning a trip to the Arizona's Grand Canyon, a ride on the Grand Canyon Railway is a must-do. In addition to tasting the good old days of railroading, your family will have the chance to connect with America's "Wild West" history. Hop aboard to experience the awesome beauty of The Grand Canyon from the comfort of a rail seat.
A Grand Railway is Reborn
The train made its maiden trip from Williams, Arizona to the canyon's South Rim in 1901. It was the best alternative to the difficult, eight-hour stagecoach ride from Flagstaff, Arizona to the canyon. It became a successful subsidiary of the Atchison, Topeka and Santa Fe Railway Company. The Grand Canyon Railway ran steam locomotive passenger service until 1953, and it continued running, using diesel power until 1968. During that time, guests were hosted at the famous Harvey Houses. Enjoy lots of history at the remaining restaurants and hotels built by Fred Harvey alongside major American railroad stations.
Over the years, the train hosted many movie stars, dignitaries and U.S. Presidents on its route. In 1927, 70,382 passengers traveled the train to the canyon. However, due to the establishment of better roadways and the rise of automobile travel, this train made its final trip in 1968 with three passengers on board…
Fast forward to 1989, when 88 years to the day of its first journey, The Grand Canyon Railway was re-inaugurated and reborn.
Extraordinary care has been employed to restore, refurbish and, in some cases, completely rebuild all of the antique locomotives, cars, tracks and depots by a team of skilled mechanics and craftsmen (many of whom are probably Railfans). The railway's impressive equipment has been rescued from the scrap yards of many former railroads such as the Pennsylvania, the Southern Pacific and the Great Northern.
All Aboard the Grand Canyon Railway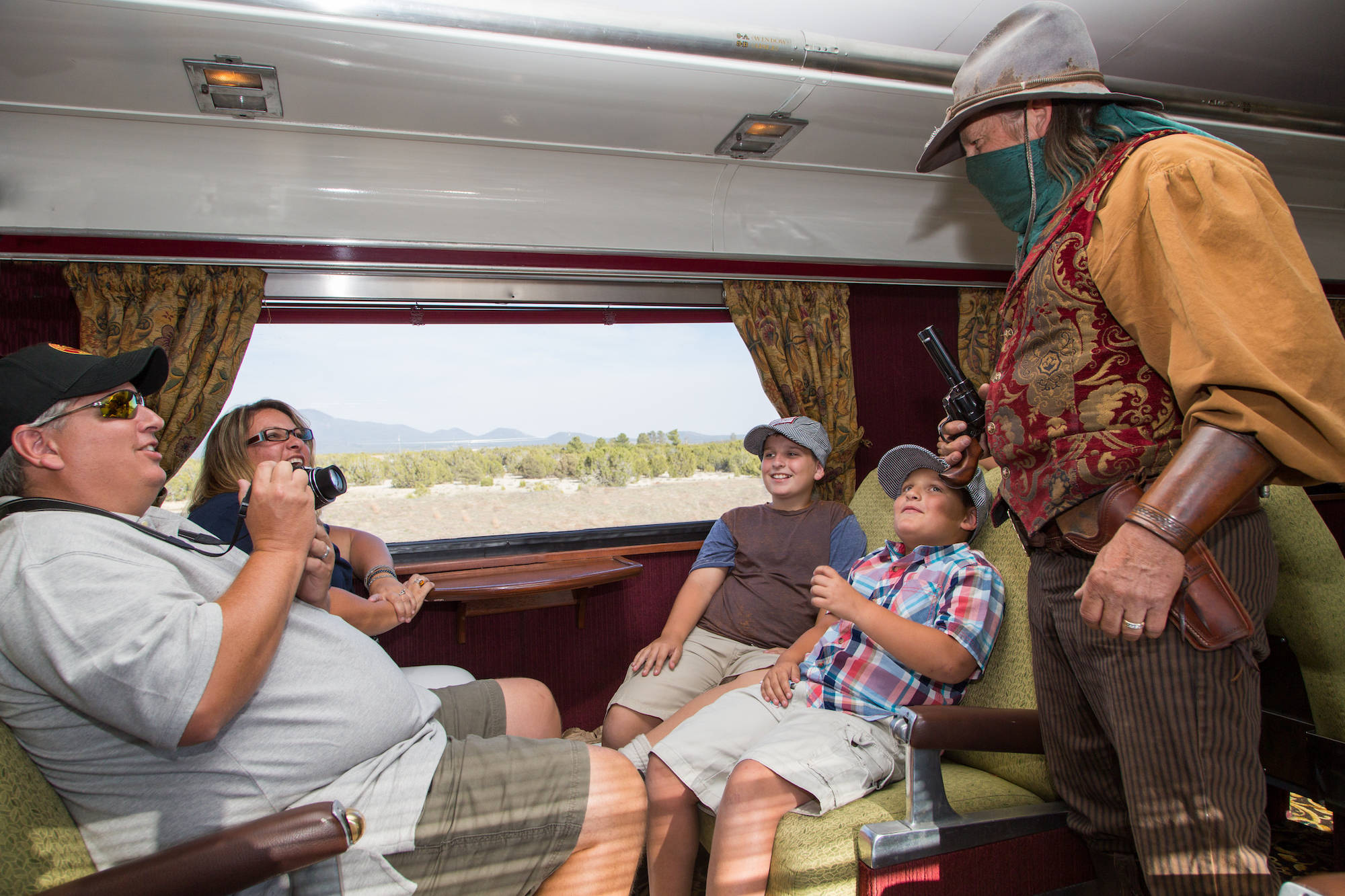 Look for the classic train station close to the El Tovar Hotel. The Railway now welcomes almost 200,000 passengers a year on its round-trip service between its depot near the South Rim of the canyon, and its station in the town of Williams.
The 2½-hour journey covers 65 miles. Watch for changing scenery and wildlife such as elk, mule deer and mountain lions outside of your window. You can board the train in either direction. Make plans to spend the night at either end. The national park's concessionaire, Xanterra, operates the railroad. They provide a Railway Hotel, Grand Canyon Railway RV Park, a Pet Resort and several other lodges for the family.
Choose to return to Williams the same day, and you have more than three hours to explore the canyon on your own, or through the add-on Motorcoach Rim Tour. On busy summer days, a second train is sometimes added.
The train crew, well versed in local history, are happy to answer your questions. Enjoy the entertainment while on board. A "gee-tar" player strolls through the cars singing songs of the Old West, and there is a staged train robbery and shoot-out.  Be careful that your child doesn't hand over his allowance to the "thieves," as some children have been known to do!
The Latest Grand Canyon Railway Experience
The train offers six classes of service. Depending on your interest and budget, select seats from Coach Class to First Class. Options include a Deluxe Observation Car with an upper-level glass-enclosed dome, a Luxury Dome Car and a Luxury Parlor Car with an open-air rear platform and plush seating. The newest offering is Pullman Class. It's your chance to ride in an original 1923 Harriman style coach car, where the seats flip so families can face each other.
Snacks depend on class of service. They range from soft drinks to Continental breakfast service, or sparkling white wine and appetizers in the afternoons. (Cash is no longer accepted onboard.)
Cars were pulled by early 20th century steam engines for many years. That policy was discontinued for environmental reasons and vintage 1950s diesel locomotives pull cars year round. In really big news for railfans, a 1906 and a 1923 steam engine return sometimes for limited service.
To the delight of the railfan world and kids of all ages, Engine No. 4960 will join the centennial. Book the historic ride when she pulls the passenger train from Williams to Grand Canyon on Saturdays, Aug. 5 to 19, 2023. The steam engine will also run on select days in July and through October. A special birthday celebration will be held for the iconic locomotive on August 12 in Williams, AZ. Reservations are strongly recommended as people will come the world over to see this engine run. 
Warn the kids! To reduce air polution, one (and soon both) of them are running on recycled waste vegetable oil, so the train might smell of french fries!
Winter Polar Express Excursions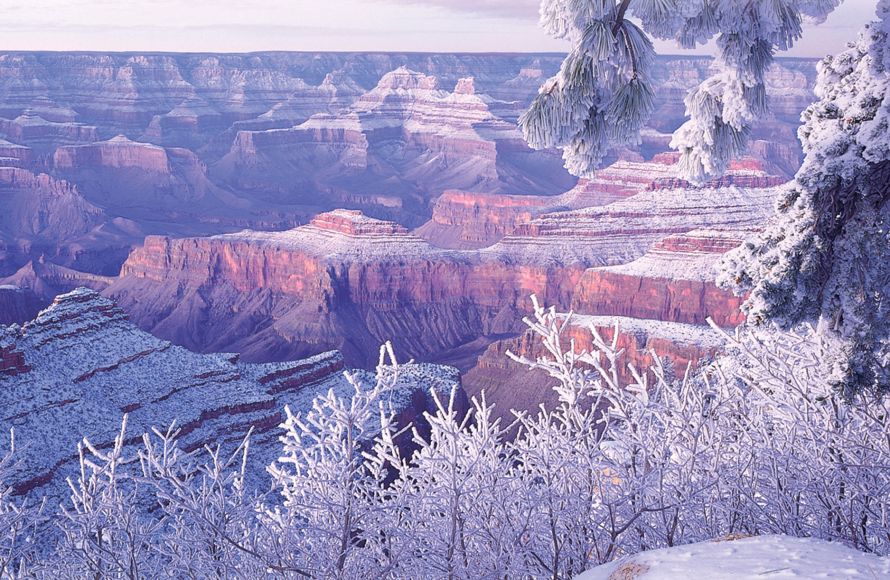 There are lots of ways to enjoy this train trip. Research the one-way fares as well as several well-priced packages that include round-trip transportation, lodging and meals.
Winter vacation packages and short stays are available through the Railway. Check the online schedule (early November to January) of the themed Polar Express trains, which are always a sell-out. These 60-minute rides, twice on most evenings, basically follow "The Polar Express" book by Chris Van Allsburg. Expect appearances by elves and others prior to a visit from you-know-who in his red hat.  
Along the route, enjoy fresh baked cookies and hot chocolate, storytelling and caroling, and myriad Christmas decorations.  It's very popular with grandparents. Be sure to plan ahead and book their hotel rooms package early.
Disembarking in Williams, Arizona
The historic Williams Depot and former Fray Marcos Hotel, an original Harvey House were built by the Achison, Topeka and Santa Fe Railway, and date from 1908. The hotel no longer houses guests. Instead, explore the complex which houses a ticket counter, the Depot Gift Shop and snackbar. Outdoors, visit the display of an historic caboose and steam engine.
Nearby the Depot, the modern Grand Canyon Railway Hotel has 298 rooms. Comfortable doubles sleep up to two kids, plus some units have kitchenettes. Many amenities make for an affordable, overnight stay as part of the available packages. Families will appreciate the indoor pool, hot tub, fitness center, kids' game room and outside play area. Your family pet will really appreciate their Pet Resort. The luxury kennel has 28 spacious rooms for dogs and 16 comfortable custom-made condos for cats.
Williams is also known as the "Gateway to the Grand Canyon." Walk along Historic Route 66, which is its main street. Window shop in Williams downtown district. Well preserved turn-of-the-century buildings house a myriad of restaurants, soda fountains and interesting shops. Experience the "Old West" flavor by walking in the footsteps of cowboys, miners, lumberjacks and other interesting characters who drank in the local saloons, shopped in the General Store and relaxed with a game of poker.  Special events in Williams include wild rodeos, motorcycle rallys and vintage automobile shows.
Disembarking at the Grand Canyon's South Rim
The A,T and SF Railroad constructed the Grand Canyon Depot in 1910. Disembark the train and discover yourselves right near the edge of the Grand Canyon. A unique building, it is one of three remaining log depots. Plus, it is the only one currently being used for its original purpose. After being closed in 1969, it was re-opened in 1990 and underwent restoration of its platform and various systems. It offers an extensive cafe.
Stay overnight at the posh El Tovar or more value-priced Maswik Lodge inside the Park. Hotel rates are part of the Railway's packages. The GCR Company helps arrange other activities such as guided hikes, mule rides, and thrilling helicopter flights.
Climb the staircase located a short walk from the depot and be face to face with an astounding sight. The Grand Canyon, a vast chasm cut through the earth by the flow of the Colorado River, took my breath away.
My words cannot do it justice. I urge you to see it for yourself and share it with your sons and daughters. And your railfans, of course.
Dear Reader: This page may contain affiliate links which may earn a commission if you click through and make a purchase. Our independent journalism is not influenced by any advertiser or commercial initiative unless it is clearly marked as sponsored content. As travel products change, please be sure to reconfirm all details and stay up to date with current events to ensure a safe and successful trip.
---