Combine an exotic locale, millenia of history, and a comfortable resort atmosphere populated by like-minded families and voila! You have the three Club Meds in Morocco, each an all-inclusive and family-welcoming resort. Let's take a look.
Club Med Agadir is one of the region's oldest resorts, an Atlantic Ocean beachfront environment in a purpose-built resort area not far from Essaouira. More old school Moroccan in style, it's a bit less expensive than Yasmina if you want an all-inclusive beach vacation.
On the Mediterranean Sea coast, Club Med Yasmina is the company's latest family destination, with children's club facilities for ages 2 years-old (year round) to teens (activities run during European school holidays). The compound's setting, not far from Tangier, is on a hillside with beautiful views. There is an infinity pool and wide choice of accommodation options, including lots of interconnecting rooms in the four hotels.
At the luxurious Marrakech la Palmeraie, Club Med has a large sporting complex nestled among the trees of Morocco's oldest date palm grove, just outside of Marrakech. We love that this Club Med has easy access to Morocco's wealth of cultural traditions, crafts and attractions, while retaining a far off view of the snow-capped Atlas Mountains.
Club Med la Palmeraie for families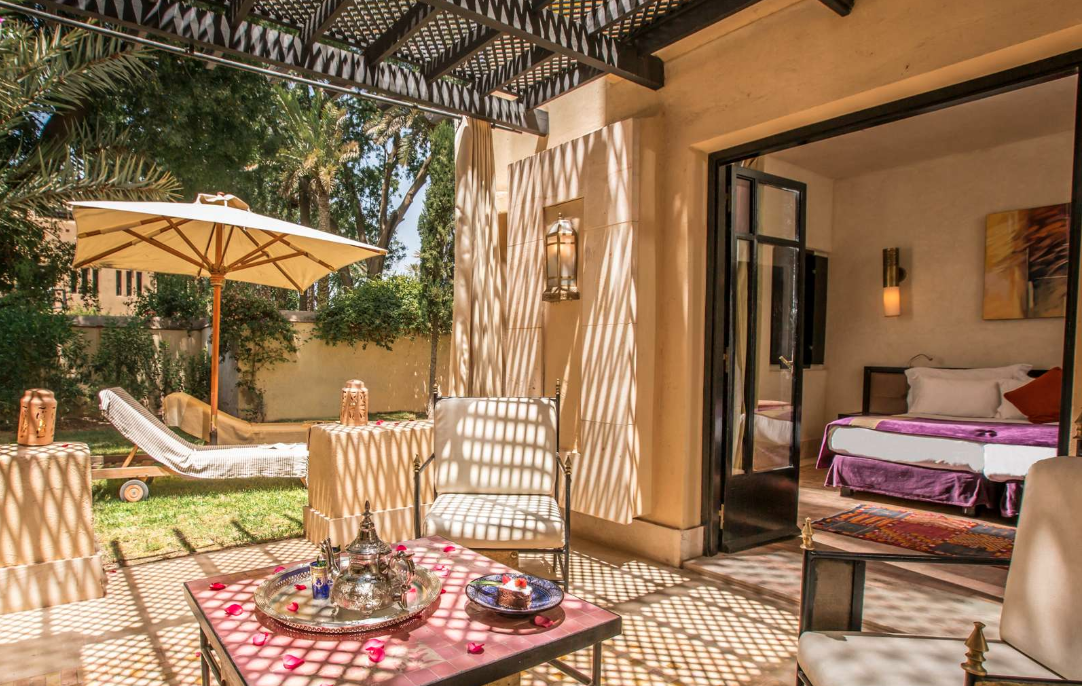 At any Club Med, families can enjoy several GM-led activities together, special dining events and watersports at the pool for just one price.  This is a place, though, where you'll want to hang out and relax, so budget enough time to do that.
There are many lodging options at Club Med la Palmeraie village, which opened in 2004 in La Palmeraie on 32 acres of Marrakech's most posh suburb. Within it was Le Riad, now called Garden Suites, a separate walled enclave of 30 elegantly furnished suites (some connecting), each with their own private patio and gardens. Today, guests in this section have their own airport transfers, room service, concierge staff, as well as a pool. Exclusivity, the antithesis of Club Med's founding philosophy, seems to work well here and it is a beautiful facility full of Moroccan craftsmanship.
One of the larger Club Meds, Palmeraie sleeps 800 more guests in spacious rooms and suites done with a Moorish flair. Parents with infants and toddlers will find the ground-floor doubles with patios easier to navigate than the second floor rooms, though both have separate toilets and shower stalls. Baby cots are provided free of charge and babysitting is available through the Club Med staff our housekeepers.
Families love the hearty and healthy buffets, where kids can choose anything they like. If you're concerned they are avoiding the local cuisine, try El Kebir, the authentic tented restaurant at La Palmeraie. Available to all guests with an advance reservation, it serves an elaborate traditional Moroccan menu of mezes (chopped salads and vegetable appetizers), savory pastries, tajines (stews cooked in a peaked clay pot) and couscous, with ceremony and style. In short, there's something for even the fussiest eater.
At our visit, halfway through the meal a belly dancer appeared, gyrating to the beat of drummers who remained to accompany the final course of honeyed deserts.
Club Med is Big on Sports & Activities
Sport has pride of place, with a host of recreational activities, including Tennis, Flying Trapeze, Mountain Bike, Archery, Fitness and Golf Schools.  There's a nine-hole golf course, horseback riding, putting green and driving range (18-hole courses nearby), plus 10 clay tennis courts.
La Palmeraie's large pool banded in date palms sweeps around a sundeck used for cocktails and live music at sundown.
Long colonnaded public spaces reflected in still pools are broken into smaller card and game lounges stuffed with silk tassled cushions that recall the "Thousand and One Nights."
During our summer visit, there were many children registered at La Palmeraie, where G.O.s organize activities for kids ages 2-17 six days per week, with more during the school holidays. (Camel rides available year round.) Club Med is super with kids, and this village has a premium Petit Club Med for ages 2-3 (extra fee), plus separate supervised groupings for ages 4-10 (Mini Club) and 11-17 (Junior Club).
Don't miss the Medina of Marrakech
"In the heart of the heart of the city that is the crossroads of the world" is how our guide introduced Place Djemaa el Fna, an enormous open square in the midst of the ancient fortified medina (old town) of Marrakech, the principal exchange on the age-old trade route from Europe to North Africa.
Once an oasis for bus and camel caravans continuing to Timbuktu, today's pedestrian-only Djemaa el Fna attracts traders, immigrants and travelers from around the world with its non-stop party of orange juice vendors, musical performers, night market stalls, pickpockets, snake charmers, transvestite belly dancers and more.
We stayed right there on our first visit to Morocco — at the now-gone Club Med la Medina. Today, just 15 minutes by free shuttle bus from the non-stop, bustling circus that is Place Djemaa el Fna, La Palmeraie is a model of organization and calm. Rest assured that the family with elders or young children who prefer to spend several days shopping and sightseeing in town, will enjoy afternoons of rest around the pool and lawns of La Palmeraie.
See Morocco your way
The Espace Decouverte, or Discovery Center lounge, is where knowledgeable staff book day trips and local tours. Guests who tire of the variety of weekly offerings – including Arabic language, Moroccan cooking seminars, Oriental dance lessons, Bridge competitions and other complimentary low-key activities – can book guided tours of the souks (markets), gardens or monuments of Marrakech, crafts tours, daytrips to nearby Berber villages or the colorful port of Essaouira, ATV tours of the Middle Atlas Mountains or a massage at the Cinq Mondes Spa (all for a fee).
Those with more time to explore Morocco can book a two-day, off-road desert excursion to the High Atlas Mountains or add a few days' stay at one of the beachfront Club Meds. Our excellent English-speaking guide and driver came from Maroc A La Carte; our driver's name is Asfalou Lahcen (212 (0) 62 45 40 37 cell; [email protected]).
Other Marrakech Lodging
In the wake of designers like Yves Saint Laurent, who made Marrakech his home in the 1970s, celebrities, pop stars and entrepreneurs such as the late Malcolm Forbes and Sir Richard Branson developed their own kasbahs, or fortified estates, some of which are hotels.
Wealthy Moroccan expats and chic hoteliers bought up many classic riads, or walled compounds around a central courtyard garden, and converted them into intimate guesthouses. Marrakech has every kind of hotel option. And then there are places like Amanjena, an otherworldly beautiful getaway.
So, there's choice in style and budget for the traveling family. Please share what you've discovered.
Dear Reader: This page may contain affiliate links which may earn a commission if you click through and make a purchase. Our independent journalism is not influenced by any advertiser or commercial initiative unless it is clearly marked as sponsored content. As travel products change, please be sure to reconfirm all details and stay up to date with current events to ensure a safe and successful trip.
---