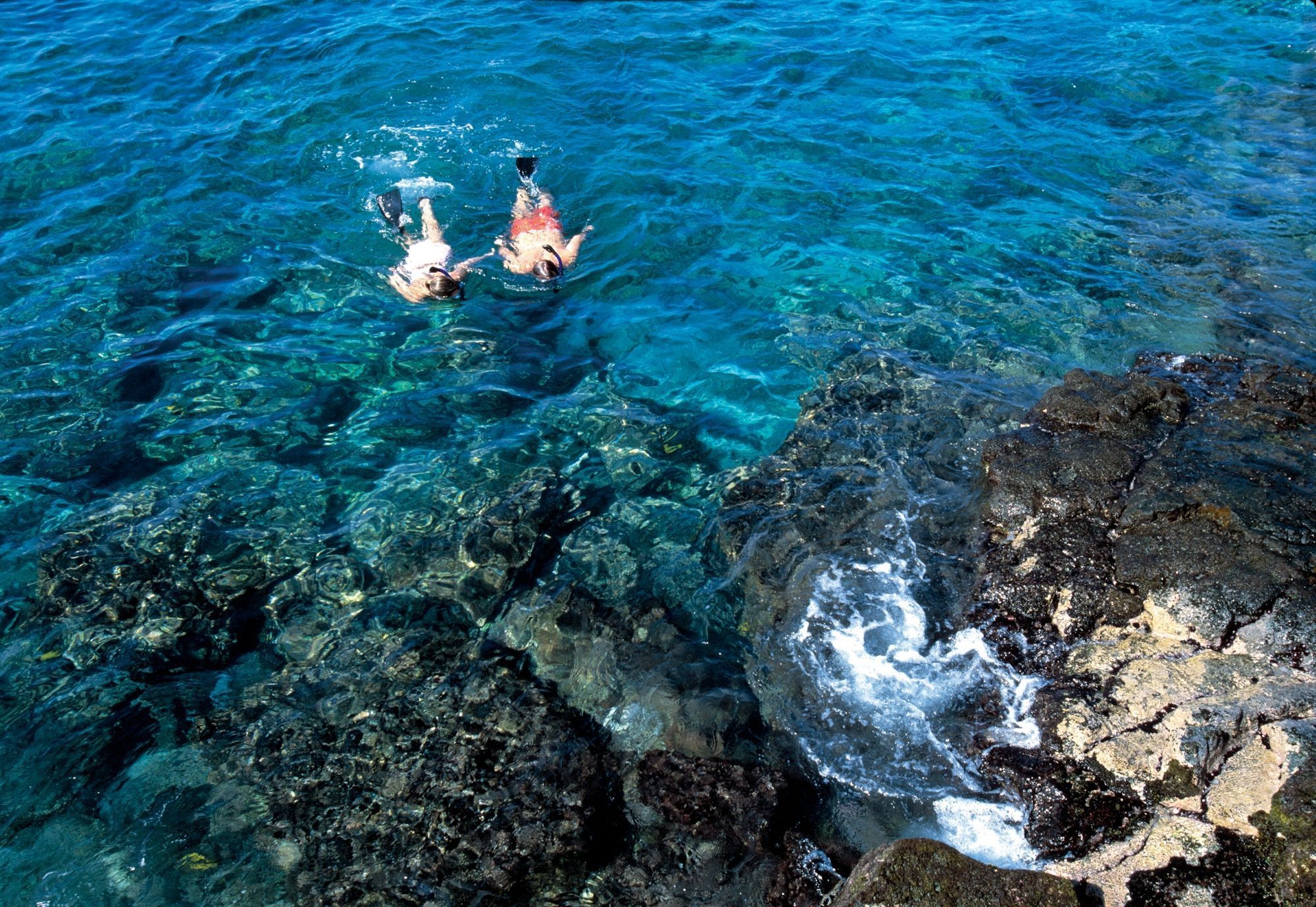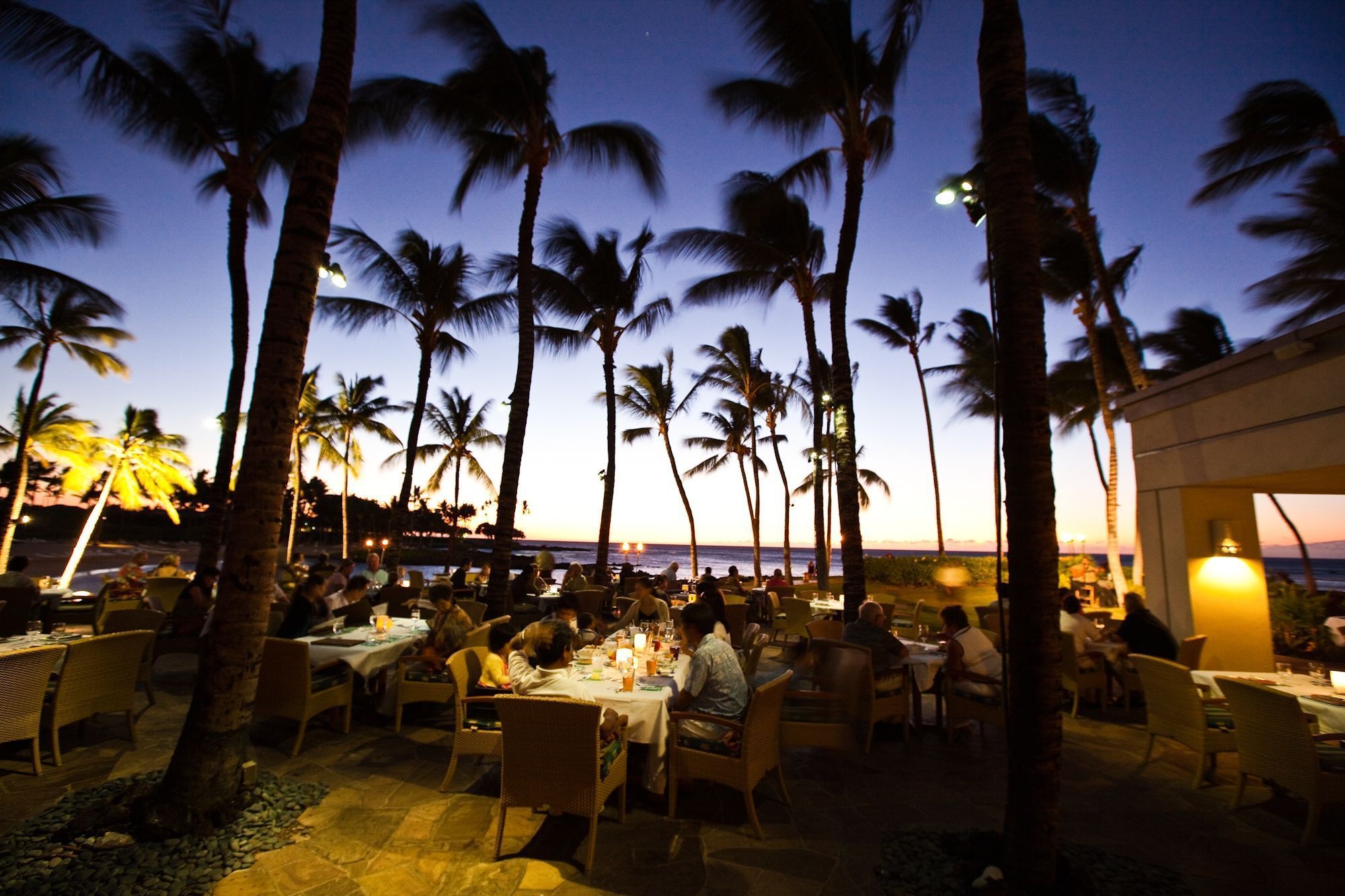 Bring the family to Hawai'i, the biggest of the Hawaiian Islands, for a taste of volcanoes, some outdoor adventures, history, pure culture and just to have great fun. Also known as the "Island of Adventure," it is twice the size of O'ahu, Maui, Kauai', Lana'i and Molokai combined, and, at over 4,000 square miles, offers an extensive variety of climate, topography and natural features from a hot, steaming volcano to a cool, tropical rainforest.
With so much to explore, and to cut down on driving distances (e.g. 3 hours from Kailua-Kona to the Volcano), consider spending a few days on each side of the island, each with its unique highlights. The western side of the island features the Kailua-Kona and Kohala Coasts. The area is dry and sunny and you'll find black sand beaches, a landscape (or rather "moonscape") that will amaze you, ancient trails and petroglyphs, and golf courses created out of lava. This is the side for nightlife and fine dining, and Big Island Nannies Aloha has a good reputation for providing childcare.
The eastern side of the island is a tropical rain forest and a good jumping off point for visiting the volcanoes. In this moist region, you will find gorgeous flowers, sweeping waterfalls and gentle tidepools, as well as the capital city of Hilo. Here's our pick of the very best family attractions.
Fun For the Kids
(Toddler to Age 10)
Pana'ewa Rainforest Zoo
Stainback Hwy. off Hwy. 11
Hilo, HI 96720
808/959-9233
The only U.S. zoo located in a tropical rainforest, this is the home of many unusual mammals (meet Namaste, a white Bengal Tiger – daily feeding at 3:30pm), reptiles, amphibians and birds, including the Nene, the state bird of Hawai'i. There is a petting zoo open on Saturdays from 1:30 to 2:30pm. Admission is free to all.
Keiki's (Children's) Beaches
Onekahakaha Beach Park
Located near Hilo
This park offers a big, protected, sandy-bottomed sea pool, perfect for splashing about.
Punalu'u Black Sand Beach
Located on the Southeast Coast
Families come here to marvel over the amazing Hawaiian green sea turtles, or honu.
Kahulu'u Beach Park
Located in Kailua-Kona on the south end of Ali'i Drive
Many people consider it the best, calmest snorkeling spot in Kona.
Fair-Wind Snorkel Cruise
78-7130 Kaleiopapa Street
Kailua-Kona, HI 96740
800/677-9461, 808/345-0268
Your entire family is welcome aboard the Fair Wind II for a gentle snorkeling excursion on Kealakekua Bay. Children as young as 4-years-old can participate and toddlers can come along too. Everything (meals, snacks, equipment, instruction, flotation devices) is included, so just bring the sun screen. For extra fun, there is a 15 foot slide and dive platform attached to the boat. And, for the more advanced snorkelers, there is an optional snuba add-on.
Mauna Loa Macadamia Nut Visitors Center
Macadamia Road, between Hilo and Kea'au
Off Highway 11, about 10 minutes from Hilo Airport
888/628-6256, 808/966-8618
Find out everything about these irresistible treats at the place where they're grown. A free, self-guided driving tour takes you through the orchards and then to watch the nut roasting, candy-making process and chocolate demonstrations. Enjoy free samples and see if you can resist shopping in the gift shop.
Kona Coffee Living History Farm
82-6199 Mamalahoa
Captain Cook, HI 96704
808/323-2006, 808/323-3222
Not quite as exciting for kids as macadamia nuts and chocolate, this living history farm is still a fun place to visit. Started in the early 1900s by the Uchida family of Japan, this is a typical example of the many coffee farms that spread up along the Kona coast, taking advantage of the rich volcanic soil to create what some consider the best coffee in the world.
Currently under the aegis of the Kona Historical Society, the restored buildings include a farmhouse, a Japanese-style bathhouse and coffee processing and drying equipment, and offer a glimpse into the lives of the Japanese coffee pioneers. A complimentary cup of 100% pure Kona coffee for mom and dad await.
Fun For Older Children
(Up to Age 18)
Lyman Museum and Mission House
276 Haili Street
Hilo, HI 96720
808/935-5021
An educational and cultural facility, the Lyman Museum presents background information on the islands, their inhabitants and their culture to visitors of our 50th state. Permanent exhibitions include the Earth Heritage Gallery focusing on the formation of the islands and their ecosystems, and the Island Heritage Gallery focusing on history and culture of the native Hawaiians, as well as that of the immigrant groups (Japanese, Chinese, Portuguese etc.) who played an important role in the development of Hawai'i.
Other special exhibits, historical photos, a Chinese art gallery, and a gift shop round out this excellent facility. Adjacent to the museum is the original home of a missionary family built in 1839, restored and decorated with period furnishings.
'Imiloa Astronomy Center
600 'Imiloa Place
Hilo, HI 96720
808/969-9700
This state-of-the-art educational facility located on over 9 acres of land overlooking Hilo Bay opened its doors in 2006. 'Imiloa means "explorer" or "seeker," and the center provides a unique experience for visitors interested in the connection between Hawaiian culture and astronomy, weaving science and traditions into a human story of exploration. Exhibits showcase the role of Mauna Kea in the explorations of astronomers.
Ellison S. Onizuka Space Center
Keahole-Kona International Airport
Kailua-Kona, HI 96745
808/329-3441
This facility is dedicated to the memory of Hawaii's first astronaut who died in the space shuttle Challenger in January, 1986. Displays include a moon rock brought back by astronauts in 1972, a NASA space suit, a model of a space station, and several hands-on activities.
Mokupapapa Discovery Center
76 Kamehameha Avenue
Hilo, HI 96720
808/933-8180
Bring the kids to this fascinating facility to learn about the life of the coral reefs of the Hawaiian Islands. A 2,500 gallon salt-water aquarium presents the variety of sealife of the region, and there are many hands-on displays and multimedia exhibits. Two highlights of a visit here include an Immersive Theatre which allows you to "experience" the ocean, and a chance to control robots who simulate coral reef researchers at the ocean floor.
Fun For the Whole Family
Hawai'i Volcanoes National Park
Hawai'i National Park, HI 96718-0052
808/985-6000
Madame Pele, the goddess of volcanoes, lives on the Big Island and is ever continuing to expand her home. No trip to the Big Island is complete without visiting her and seeing her handiwork.
Start at the Kilauea Visitors Center where rangers are available to provide information on volcanic activity, maps, pamphlets and a schedule of guided tours. Ask about the Junior Ranger Program for kids 5-12-years-old. There is also an introductory film that offers a good orientation and some spectacular footage. Plan to spend the better part of a day to driving and walking around taking it all in, and be sure to wear long pants and comfortable, closed shoes. Bring lots of sunscreen, water and binoculars, and a camera with lots of film or memory cards. These are sights you're not likely to see elsewhere.
The Park's 333,000 acres include the dormant Mauna Kea, the tallest and only glaciated volcano on Hawai'i; Mauna Loa, the earth's largest volcano, whose most recent eruption was in 1984, and Kilauea, Hawai'i's youngest volcano (previously thought to be part of Mauna Loa) whose continuous eruptions since 1983 have added 500 acres of land to the Big Island.
Drive the 11-mile Crater Rim Drive around Kilauea Caldera and walk the short trails from roadside parking areas to view the steam vents and lava flows and look over into the huge, bubbling caldera. Be sure to walk along the eerie ½ mile paved Devastation Trail to see the 1959 effects of Kilauea on an ohia forest, now barren, but miraculously sprouting re-growth. Also be sure to check out the 500-foot-Thurston Lava Tube, created by a lava flow. Bring a flashlight and walk through–it's very cool and nearly pitch black inside and it's quite a jolt when there's the "light at the end of the tunnel" and a feeling of elation (and relief) when you walk out the other side.
Chain of Craters Road is an 18.3-mile-long drive descending from the Rim Road down to the coast. Due to continuing eruptions, sections of the road are sometimes closed, so inquire at the Visitor's Center. Here you will be able to see two types of lava – large smooth blocks are called a'a, and the twisted, ropey coils are called pahoehoe that continue to enlarge the Big Island. The sight is truly amazing.
Hilton Waikoloa Village
69-425 Waikoloa Beach Drive
Waikoloa, HI 96738
808/886-1234/800-445-8667
Even if you are staying elsewhere on the island, the 62-acre Hilton Waikoloa Village is a destination in itself. Unbeatable as an overall family resort with its Disneyesque attractions, non-guests are welcome to take a tour of the hotel including riding on the boats and tram that take you from one end of the resort to the other.
The on-site Dolphin Quest (808/886-2875) program offers Dolphin Encounters to guests and non-guests (although guests do have preference), and reservations are absolutely required. There is no age limit, but children under five must be accompanied by an adult. Click on the link to their site for more details.
Tours and Adventures
There are so many ways to enjoy the unique beauty of the Island of Adventure. Check Big Island.Org for listings of tour operators that can help you experience this distinctive landscape via cycling tours, zodiac expeditions, submarine excursions, helicopter flights, fishing cruises, hiking, horseback and mule rides. The site can also direct you to the best family beaches and state parks and, for golfing families, there is also a section devoted to the 20+ courses on Hawai'i's Golf Capital.
Pu'uhonua O Honaunau National Historic Park
(The City of Refuge)
Honaunau
808/328-2326
This park is a sacred site of Hawai'ian history allowing visitors to experience the feeling of old Hawai'i. Established in the early 15th century and in use for 300 years, it was a sanctuary for those who sought absolution after breaking kapu (religious law against the gods). The journey here was no easy feat, but to avoid severe punishments those seeking forgiveness swam here through strong currents in shark-infested waters.
Once inside, kahuna (priests) handed out appropriate penance and performed ceremonies of pardon. It was also a safe haven for defeated warriors, and the widows and children of warriors. The refuge became obsolete in 1819 with the abolition of the kapu system, and the 180-acre park was established in 1961. In addition to the pu`uhonua you can tour a complex of archeological sites including a temple, royal fishponds, and several thatched structures, and artifacts such as a canoe, petroglyphs, and ancient game board within the great rock wall.
Parker Ranch
67-1435 Mamalahoa Hwy.
Kamuela, HI 96743
808/885-7311
Beaches, volcanoes, waterfalls – but I bet you never expected cowboys in Hawai'i! Another surprise awaits you in paniolo (cowboy) country, on the 150,000 acre Parker Ranch, one of the biggest in the US. Visit the Paniolo Hall of Fame to learn the history of young John Palmer Parker who arrived in 1809, began working under King Kamehameha to control wild cattle, and eventually married one of his granddaughters, giving him control of this immense track of land. Today with a herd of over 30,000 cattle and 250 horses it is still a working ranch, producing 80% of Hawai'i's beef. Parker Ranch celebrated its 165th anniversary in 2012.
While you're here you can experience ranch life, horseback ride through the range, go on a tour via ATV, a 4-Wheel-Drive or even a horse drawn wagon. Don't forget to leave room for a cowboy-sized barbeque lunch.
Onizuka Center for International Astronomy
177 Maka'ala Street
Hilo, HI 96720-5108
808/961-2180 (for general information), 808/935-6268 (for weather and road conditions)
Also known as the Mauna Kea Visitor Information Station, this facility is located at 9,200 feet, and is operated under the aegis of the University of Hawai'i at Hilo. Every evening between 6 and 10pm your family can enjoy the free Star Gazing Program which begins with a screening of a video entitled First Light. Next, telescopes are set up and naturalist guides share their knowledge of the night sky with a constellation tour, and then point out planets, galaxies, supernovas and other elements from this spectacular vantage point. As the temperature can get pretty cold up there at night be sure to dress warmly. Also, check their website for info on summit tours and other special events.
Photos Courtesy of the Hawaii Tourism Authority
Dear Reader: This page may contain affiliate links which may earn a commission if you click through and make a purchase. Our independent journalism is not influenced by any advertiser or commercial initiative unless it is clearly marked as sponsored content. As travel products change, please be sure to reconfirm all details and stay up to date with current events to ensure a safe and successful trip.
---