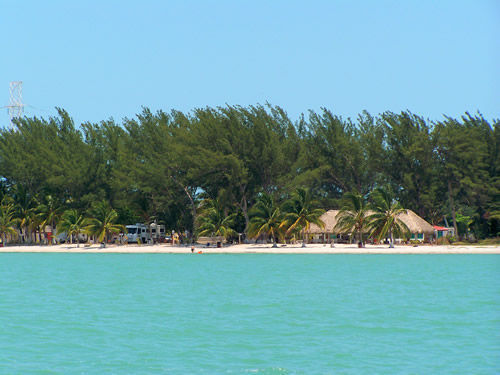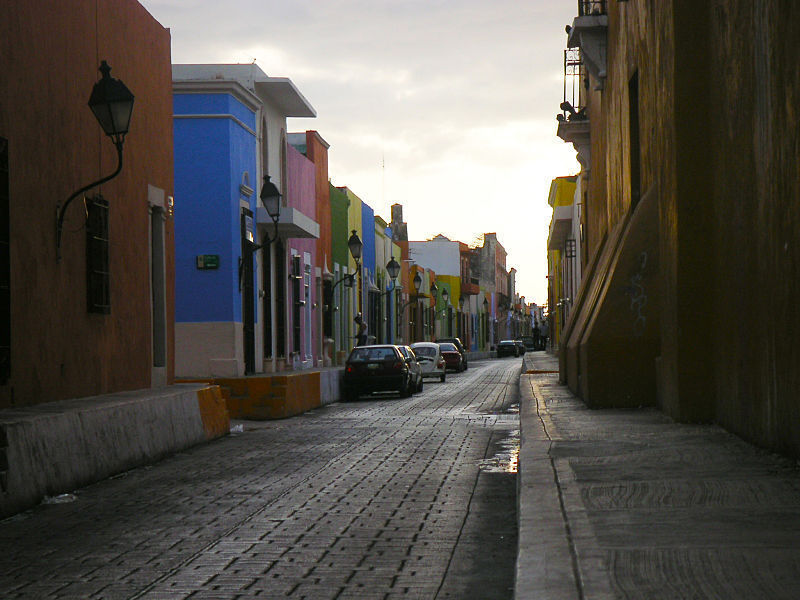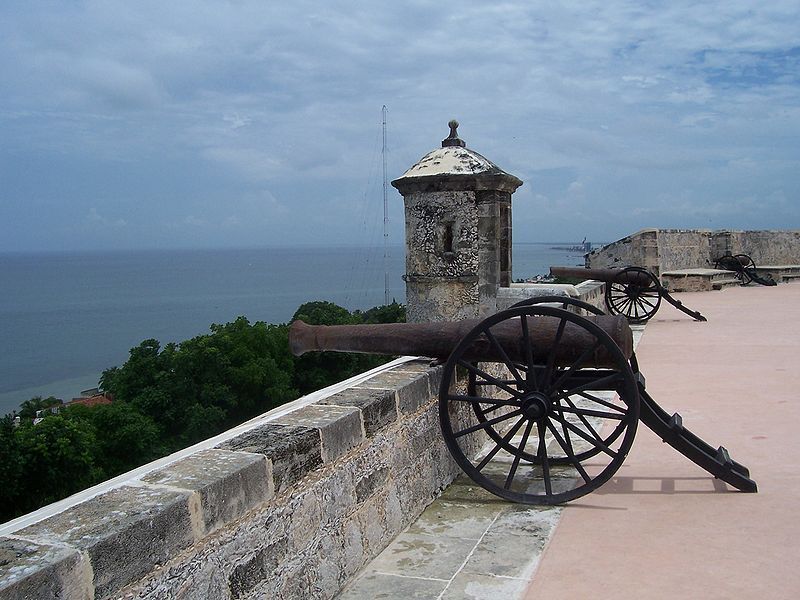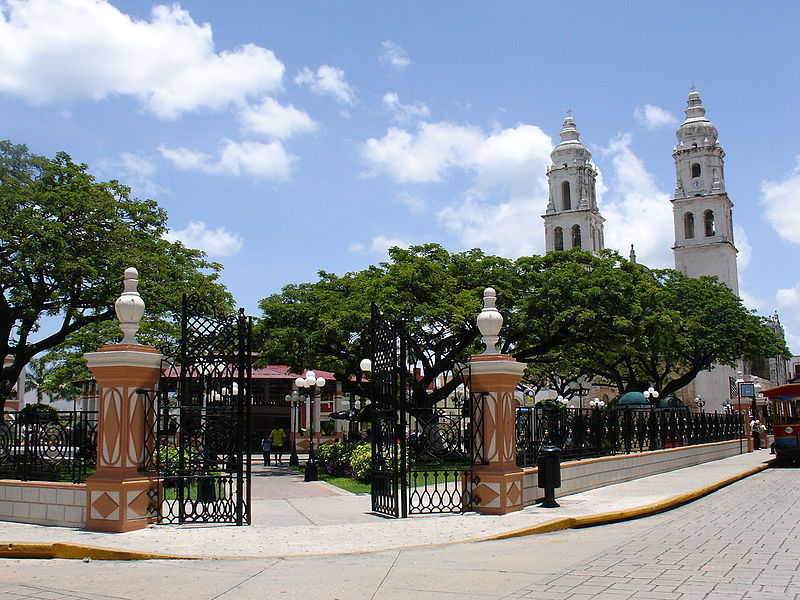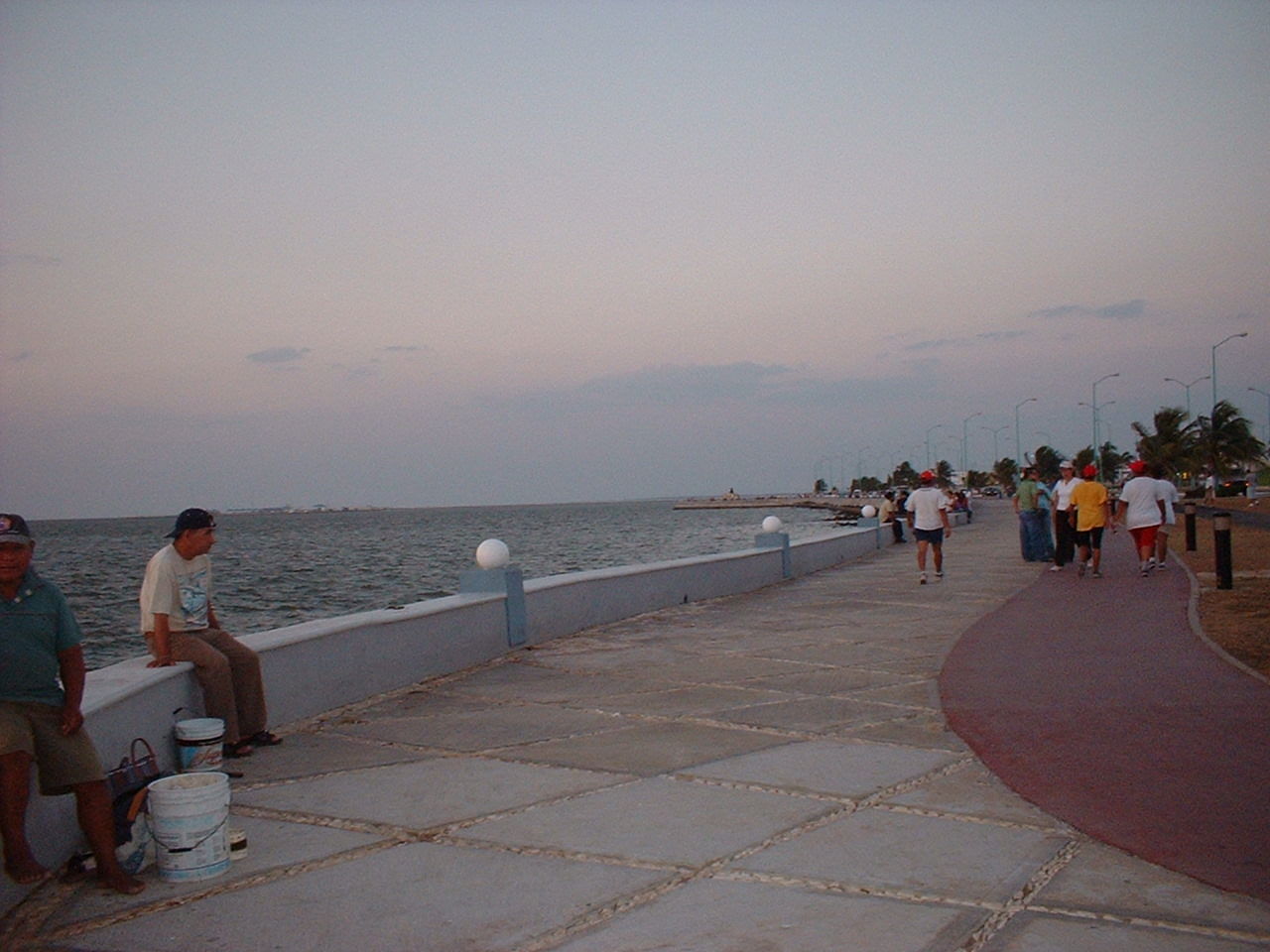 The welcoming Campechanos invite you to explore their town's rich blend of history, a Mayan legacy, and the influences of the colonial period.
Mexico's State of Campeche lies along the Gulf of Mexico on the western coast of the Yucatan Peninsula. With a history dating back to ancient times, this land was home to many Mayan settlements from 600 B.C. to 1420 A.D. Visitors to Campeche will be amazed by archeological sites at Edzna, Calakmul, Dzibilnocac and others, as Campeche boasts the largest concentration of Mayan ruins in the world. They will also be welcomed by the warm people whose roots reach back to this remarkable civilization.
From the Mayan World to the Colonial Period
As products of an excellent public education system, our family was dismayed by how very little we were taught about the ancient people of the Americas and our recent trip to the Yucatan Peninsula was quite an eye-opener. The Mayan world was a highly developed society which sustained itself through farming and trading amongst the communities. Mayans used advanced mathematics, engineering, and their knowledge of astronomy to create unique pyramids, ceremonial centers and other structures, and evidence of the arts and urban planning are staggering.
The Spanish conqueror Francisco Hernandez de Cordova landed in the Yucatan and arrived in what was known as Ah Kin Pech (Place of Serpents and Ticks) in the early 1500s. Native troops battled and defeated the invaders, leaving de Cordova dead. During several other attempts over the ensuing years, the Maya were able to maintain control over their land, however, in 1541, Francisco de Montejo finally prevailed. He renamed the town Villa de San Francisco de Campeche, which, as a principal port city, became a most valuable asset as the gateway for the Spaniards' quest to conquer the entire peninsula.
Soon Campeche became the target of repeated assaults by Dutch and English pirate invaders, such as Francis Drake and Henry Morgan, seeking riches for themselves. In 1704, after 18 years of construction, an octogonially-shaped wall with a bastion on each corner encircled the city and, by mid-century, two other forts were constructed.
After massacres of the Mayan population by the conquistadores, the remaining native people were forced to build the fortifications that protected the city and the port from further pillaging, although they did not benefit from the riches found there. The government of New Spain attempted to dismantle the culture of the Maya and punished those who practiced their religion, by death.
Campeche City and Beyond
The coastal location of Campeche, its friendly people and its Mayan treasures make this an excellent destination for exploring history and culture with older children, as well as relaxing in a lovely seaside setting. In Campeche City you can stroll along quiet streets lined with colorfully painted houses, colonial mansions, stone walls and arcades. Nothing like the high energy Cancun and Playa del Carmen corridor, and — to our eyes — quieter, more pleasant and picturesque than Merida (the capital city of the neighboring Yucatan state), this should be your headquarters. From here you can visit such neighboring cities as Calkini, Tenabo, Becal and Hecelchakan, where there are large indigenous Mayan populations, natural attractions and archaeological sites.
Named a World Heritage Site in 1999 as a classic example of a fortified town of the Spanish colonial period, highlights of a visit to Campeche, Mexico's only walled city, include touring several colonial era churches and various fortifications, some of which now serve as museums. The Fort of San Miguel now houses the Campeche Regional Museum which features items from the pre-Hispanic era including information on the life and religion of the ancient Maya, and displays cannons, a moat, a lifting bridge and other memorabilia of the colonial era.
The Fort of San Jose el Alto which protected Campeche from the vast English navy now presents "Boats and Arms" for seafaring and military enthusiasts and offers an amazing view of the city. Most of the original baluartes (bulwarks) of the main wall are intact. Stop at the San Pedro Bulwark for tourist information and a handicrafts booth. Visit the San Carlos Bulwark which defended the Puerta de Mar (Sea Gate) and now houses the City Museum. Here you will see how Campeche protected itself during the 16th to 18th centuries, a scale model of the walled enclosure and view the prison and other rooms. Between the Puerta de Tierra (Land Gate) and the San Juan Bulwark, you can walk atop the only intact section of the old wall, and, in the evenings, attend a sound and light show telling the story of the struggle between the campechanos and the pirates, followed by a folkloric dance performance.
A tourist tram is available to take you around the city. If you want to go on your own, the zocalo, dating from 1540, is a pleasant park in the center of town and is a good place to begin your tour as well as visit handicraft vendors. Near this square you will find Casa Seis whose facade is typical of the lavish architecture of the 17th century and is furnished with period pieces from the 19th century. This Cultural Center gives you a glimpse into the lives of the wealthy European business owners and serves as an information center for tourists. Also off the central square is Campeche's Cathedral, officially the Cathedral Church of Nuestra Senora de Immaculada Concepcion, founded in 1540. Its twin towers are named "The Spanish" and "The Campechana."
Mayan culture is preserved through the continuation of several folk arts practiced in and around Campeche, and the city offers several places where you can observe the creative process of these handicrafts, and purchase a unique gift or souvenir. Be sure to visit the state-run Casa de Artesania Tukulna Hand Crafts Shop at Calle 10, between 59th and 61st Streets (981/816-9088) to learn about and buy the best ceramics, hammocks, hats made from palm fronds, objects made from bull's horn (replacing tortoise shell), colorfully embroidered dresses and blouses, and woven items. Other shops include Arte Mexicano at Calle 59 Depto 9-B, and Artesania Tipica Naval at Calle 8 No. 259.
Stop at the World Patrimony Plaza, also known as San Fernando's Garrison, to watch a 20-minute spectacle at the interactive musical fountains, daily from 6 to 10pm.
Campeche City's recently recontructed malecon (waterfront) is a wonderful place to stroll, run, bike-ride, or just relax, cool off and watch awesome sunsets over the Gulf of Mexico. Families gather here, kids play simple games, young people listen to music, and everyone enjoys the sea breezes.
Exploring the Pre-Hispanic World
As a somewhat "off the beaten path" area, the archeological sites in Campeche are much less visited, and much less crowded than the more famous sites in the Yucatan and Quintana Roo states. Whereas climbing the monuments at Chichen-Itza is prohibited due to vandalism by the hordes of tourists, you can try your stamina and test your endurance at Edzna, the closest major archeological site to Campeche City, a 45-minute drive via Highways 180 and 261.
This site served as a capital city with important economic, political and religious stature for about 600 years, rising about 400BC, and disappearing completely by the mid 15th century. Some believe that the original name was "House of Itza," suggesting a connection between the family that founded the famous Chichen Itza in the Yucatan. Originally discovered in 1906 with restoration beginning in 1927, this site displays the Maya's advanced level of architecture and engineering as the buildings are linked to a series of canals, reservoirs and cisterns that collected and circulated water, a most precious commodity for this community. The function of the buildings can be imagined by the names the Great Acropolis, the Small Acropolis, Building of the Five Floors, Ambassadors Terrace, and Temple of the Stone Masks with its stucco depiction of the sun god Kinich Ahau, and the rising and setting of the sun.
Various other architectural sites near Edzna include Tabasqueno, Dzibalchen, Nohcacab and Toh-Cok. Further afield, about 200 miles from Campeche City and close to the border of Guatemala, you can visit the relatively recently discovered city (found in 1931) which was named a World Cultural Heritage site in 2002. Calakmul is located in the Calakmul Biosphere Reserve, surrounded by Mexico's largest rainforest jungle, home to jaguars, tapirs, howler monkeys and other wildlife. This vast site covers 44-square miles which was populated by 60,000 to 200,000 people when it served for twelve centuries as a capital city of great significance, and, perhaps, the largest Mayan city of its time. Its two enormous pyramids, including one 53-meters tall, create the centerpiece of the city which has almost 7,000 structures divided into areas for ceremonies, public events and residential "neighborhoods" demonstrating the advanced urban development of the Maya. Additionally, over 100 stelae offer examples of art and decoration.
Excursions and Explorations
The Panama hat, so called because it was the kind worn by the men who built the Panama Canal, actually has its roots in Campeche. The town of Becal, about an hour's drive from Campeche City, is the center of this indigenous handicraft, passed along from parent to child. Created from the jipi (pronounced heepee) palm, and dyed with pigments from native plants, these distinctive sombreros are a labor-intensive endeavor requiring ability, artistry and patience.
You will certainly see hats and other woven items (boxes, fans, etc.) for purchase in the many handicraft shops in Campeche, but it is worthwhile to take a trip to Becal for a real appreciation of this artform. Here you will learn about the fibers and how, in order to keep them soft enough to weave, Mayan artisans work as families in over 2,000 limestone caves, dug in their backyards, where the humidity under the earth softens the brittle fibres making them pliable enough to weave. The tighter the weave, the better the product, and the highest quality and most expensive hats are created from weaving 4 separate strands, producing work that feels like silk. Even with skill and years of practice, a 4-strand hat can take a weaver a full month or more, working 8 hours a day, by the light of a gas lantern. Most of the highest quality hats are exported to cities like New York and Paris, but local shops do sell 1- and 2-strand hats with excellent workmanship in many styles and colors.
During the late 19th and early 20th centuries, due to an increased demand for ropes made from natural fibers, many plantations in the Yucatan and Campeche evolved from cattle raising to the cultivation of the henequen or sisal plant into rope fiber. Many sprawling haciendas sprung up along the countryside to house the wealthy and prosperous European owners, the production equipment, laborers, and servants. Since the appearance of synthetic fibers rendered the production of henequen unnecessary, many of the haciendas have been transformed into elegant lodgings and some are open for tours.
Nearest to Campeche City are San Luis Carpizo Hacienda, only 5 miles from the city and currently headquarters of the Marine Corps, Uayamon Hacienda, 17 miles southeast, now a luxury hotel, and Blanca Flor Hacienda, scene of violent battles of the Mexican revolution, also a hotel 40 miles north of Campeche.
We cannot ignore one of Campeche's greatest assets — la playa. Due to its location along the Gulf of Mexico there are many opportunities to join local families for a day at the beach. Five miles south of Campeche City you will find Playa Bonita whose calm surf makes it popular for relaxing and gentle water play. Seybaplaya is located 20 miles south and is known for its rock formations and clear water, and 10 miles further south you will find Sihoplaya and enjoy the waves of the Gulf.
Lodging and Dining
We were very fortunate to stay at a unique hotel, the Hotel Puerta Campeche, part of the Starwood's Luxury Collection. Located within the historic downtown near the Puerta de Tierra (Land Gate), it was created by gutting the interiors of several 17th century buildings while leaving the facades intact. Painted a cheerful yellow/orange, the building fits right in with the other colorful houses of deep pastel blues, pinks and purples, all trimmed in white. The boutique hotel offers 15 elegant rooms and suites with luxurious bathrooms and amenities, and the interior public areas are designed so that you feel you are in a private hideaway. After a day of sightseeing plan to relax in a hammock placed over the courtyard pool in this quiet and tranquil lodging.
We also stopped at the Tucan Siho-Playa in Champoton for a tasty lunch and a chance to enjoy the exquisite beach and the warm water of the Gulf of Mexico. This seaside resort offers 74 comfortable, air conditioned rooms, a swimming pool, game room, restaurant and laundry facilities, making it a perfect family spot 30 minutes from Campeche city.
Restaurants in Campeche serve a unique cuisine combining Mayan, Spanish and Caribbean flavors highlighting local tropical fruits, fish and seafood, often flavored with habanero chiles. Eateries range from casual spots where local families dine to gourmet restaurants attracting Campeche's businessmen and government officials.
One example is Cenaduria Portales (Calle 10, Portales San Francisco, no. 86), where antojitos, or small dishes are served. Open only for dinner, from 6pm to midnight, this is where locals come to enjoy home cooking away from home. Located in the oldest part of town, with open air tables under stone arches, this is about as authentic as you can get. Everything was tasty, but what I remember most was tangy lime soup, a paper-thin large cracker-like item made entirely from cheese, tasty tostadas and a refreshing coconut drink.
La Pigua (Avenue Miguel Aleman no. 179A) is a chic seafood restaurant frequented by food-lovers with a bit more money to spend. Here, local specialities include amazing coconut shrimp, pan de cazon (tortillas with black beans and shredded shark) and various preparations of squid and pompano.
Details, Details
The Yucatan Peninsula is extremely hot during the summer months of May through August, so plan your trip to Campeche in the warm fall and winter months as a great escape from the cold.
Plan to drink purified bottled water, and be sure to wear sturdy shoes, a hat, insect repellent, sun block especially while exploring the archeological site.
Tourist Information is available at the state-run Cultural Center at House No. 6 on Calle 57 on the north side of the main City Plaza, and at City Hall Tourism and Cultural Office on Calle 55 No. 3.
Photos courtesy of Wikipedia.
Dear Reader: This page may contain affiliate links which may earn a commission if you click through and make a purchase. Our independent journalism is not influenced by any advertiser or commercial initiative unless it is clearly marked as sponsored content. As travel products change, please be sure to reconfirm all details and stay up to date with current events to ensure a safe and successful trip.
---