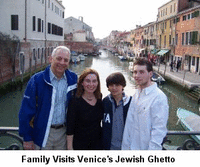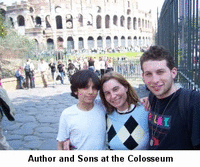 This family of four hit the high spots of Italy with their teens, and especially relished every moment of Venice where they used the waterways to explore and shop.
Italy. Just mention that you are going on vacation to Italy and people get that dreamy look in their eyes. Everybody loves Italy. What's not to love: the art, the food, the scenery, the people…it's all amazing. In Italy you get as much from just walking around looking high and low as you do in the famous museums. Don't try to do it all, but take in all that you do.
And so we learned on our recent visit there. Here is my account of Venice.
Ah…Venice
Our first stop was Venice, a city that none of us had ever been to before. What's great about Venice is that once you get on the boat from the airport to your hotel, your vacation begins with a waterside tour of the city. We grabbed a map in the airport so we could get our bearings before touching land. Unfortunately, the weather was cold and rainy when we arrived so we huddled up inside the boat, looking out the foggy windows. Fortunately, the only rain we saw on the whole trip was that first day.
Exiting the boat at Piazza San Marco (St. Mark's Square) — the heart of Venice — we wheeled our suitcases over cobblestone streets and several bridges till we came to our wonderful, very centrally located Best Western Hotel Ala (San Marco, 2494- Campo S.M. del Giglio, 30124; +39 041 520833), which meant we got lots of Best Western points. The next morning we discovered that it had one of the best breakfast spreads we'd find on our journey, complete with dozens of types of pastries, cheeses, meats, yogurt, fruit, etc. Rates: $$
Every morning when we'd walk out of the hotel into a lovely square filled with flowers, cobblestones, singing gondolieris, and a general "Italian" air, I felt as if I had walked onto a movie set and had to pinch myself to believe it was real.
Note to parents with young children: Venice is not a great city to get around with strollers as everything is cobblestone and you need to go up and down bridges constantly. Consider putting young children in a backpack carrier whenever possible.
Exploring St. Mark's Square
We spent a lot of time in St. Mark's Square (as does every visitor in Venice, it seems). Along the waterfront you can shop for souvenirs at the numerous vendor's stalls or pose for photos with one of the mimes dressed all in gold as mermaids, or in other crazy outfits. The square has several important sites to see including the Basilica di San Marco, the Palazzo Ducale (Doge's Palace with its famous Bridge of Sighs), and the Campanile San Marco bell tower. Although it's nice to sit and have a coffee at one of the cafes on the square, beware as you'll pay dearly for it.
And I hope you don't mind pigeons, because the square is filled with them and crazy tourists posing with them sitting on their heads and arms. We returned at night when it was miraculously pigeon- (and almost tourist) free and it was nice to wander through when it was empty and all lit up.
We loved the views of Venice and its red slate roofs from the campanile or 324-foot-tall bell tower. But you can no longer climb to the top; there's now an elevator to take you up and down, and even if the line outside looks long, it moves quickly.
St. Mark's Basilica, the centerpiece of the square, is a gorgeous domed church, and one of the city's few free spots, thus the long lines. Try to come early or late in the day to avoid the worst of it. But it, too, is worth the wait — to see the amazing tiles that cover everything from top to bottom, inside and out. Whatever you think is painted, is actually intricately studded with tiles.
Murano for Glass & Shopping Lessons
We took our hotel up on the offer of a free ride to a glass factory on the island of Murano. We had been warned that the hotels offer you this opportunity to visit the shop that they are affiliated with in the hopes that you'll spend your money there. After watching the talented glass blower make a few vases and intricate horses in mere minutes, we dutifully toured the store with its several floors of gigantic glass sculptures, vases and decantors. Then we slipped out and explored the island and its lovely shops and canals on our own, making it back to the factory for the last free boat back to the hotel.
Murano glass is beautiful, but after seeing it on every street corner and every touristy shop it began to all look alike. You can find great prices on the Rialto Bridge, but when the prices got too cheap I began to wonder if some of it is made in China, not Italy.
Luckily, since I really wanted a Murano necklace, I did find a shop (Segreti Veneziani, San Polo 79) with very unique jewelry, right on the Rialto Bridge. They certify that the glass is authentic Murano and even give you a certificate guaranteeing it. That was where I treated myself to a silver and blue/green Murano glass bead necklace which I didn't see coming and going on every tourist!
We always offer our sons the chance for one special souvenir on our trips and, after dragging us around the city looking for an original gondolier sweater, my youngest finally chose an Italia zippered sweatshirt My other son never found anything special he wanted. I guess living in New York you feel that you could find anything at home for a better price.
Gondolas & Other Photo Opportunities
We chose not to be so touristy as to take a gondola ride since the price was about €80 (about US$110) or more for about 40 minutes. If you want to take a ride, I'd suggest pricing it around town. There are so many gondolas that if business is slow, I imagine they'll give you a better rate.
Instead, we got our water views from the boat that took us through various canals to Murano, and on the #1 Vaporetto (the water bus) that took us up and down the length of the canal on several occasions. If you want an inexpensive gondola ride, take the traghetto across the Grand Canal. It's a quick 10-minute ride in what is a retired (and less fancy) gondola for only €.50 (or about US 70 cents at our 2008 visit). It's short, but sweet. Most Venetians stand for the entire ride, so be careful not to fall in!
I did give in to being a tourist, and had my photo taken with one of the handsome gondolieri. For the full effect, I picked one wearing the trademark traditional black and white stripped shirt and black hat with red ribbon. We also got an earful every morning when the gondolas, filled with noisy Americans, floated under our hotel window and we awoke to accordion music and an Italian serenade (no complaints here).
My kids got a real kick out of watching the boat traffic along the canal and spotting the police boat, the garbage boat, the FedEx boat, and even a Heineken beer delivery boat. As they watched people unpack all their belongings from what was virtually a "moving van" boat, they tried to imagine a life where everything must be delivered by water.
It's a great idea to give kids their own cameras; actually, everyone should have their own. My husband was fascinated by taking pictures of the intricate doorways everywhere, including those with fascinating knockers, peeling paint and disintegrating brick walls (and the end result were some very artistic looking shots). I took my own artsy photos of laundry hanging from buildings, up ancient alleyways, and of practically every canal in Venice. My kids loved all the graffiti and took dozens of photos of every tag they could find. It certainly makes for a more interesting photo album when you return than just the usual touristy shots of people posing in front of historic sites.
Peggy Guggenheim Collection
We walked over the Ponte d'Accademia bridge to get to the left bank where the Peggy Guggenheim Collection (+39 041 2405411; Open 10am-6pm, closed Tuesdays) is housed in the former home of the American millionaire art collector who lived in Venice for about 30 years. This museum houses an amazing modern art collection with works by all the greats — Chagall, Klee, Dali, Giocometti, Kandinsky and Picasso, to name just a few.
My kids particularly liked the gardens which are filled with fun statues and the burial ground of her many dogs, among them, Cappuccino, Baby, Madame Butterfly and Sir Herbert.
There was lots more that we didn't have time to do in Venice, including a visit to the island of Burano where lace is made; a tour of the Doge's Palace, with its armory room and stone prison cells; and a tour of the Jewish Ghetto, where Venetians confined Jews in the 1500s.
What we did get to do that was unique was to attend a service in the city's only open synagogue. Additionally, we were warmly welcomed by the Chabad of Venice and had a lovely Passover seder at the island's one kosher restaurant, Gam-Gam (Cannaregio 1122, +39 041 715 284).
Then we headed off to Florence on an enjoyable train ride that was only about two hours long. But that's another story.
Venice Sightseeing & Trip Planning Tips
One of your most important resources is the Tourist Board of the Province of Venice
Azienda Di Promozione Turistica Della Provincia Di Venezia
Castello, 5050, 30122 Venezia (VE), Italy
+39 041 5230399
Venice's official tourist office, the APT (Azienda di Promozione Turistica di Venezia), sells a Venice Card which provides first-in-line access to many museums and attractions, depending on whether you purchase the Blue or Orange version. Check out their website and try to be realistic about how much your family wants to sightsee, and you'll be able to decide if just purchasing the few tickets you will use is a better value. Make sure the kids check out the Rolling Venice Card which is a 72-hour transport pass designed just for ages 14-29; it's a steal.
The APT also gives guided tours to many aspects of the city, ranging from history and museums, to the darkest of legends, to gardens or palaces, daily between April 1 and October 31. Call (+39 041 5298711, email [email protected] ) or check their website to select the tour language of choice. Tickets range from €20-€34, €10 for ages 7 to 12-years and free for kids 0-6 years; the day or evening gondola tours cost €40 per person.
Here are some notes about the sestieri, or major quarters of the city. This should provide a good base for organizing your sightseeing.
The Sestiere San Marco is the heart of the historic city and Saint Mark's Square is Venice's only square. Must sees include the The Doge's Palace, Archaeological Museum, Saint Mark's Basilica, the Clocktower, the shop-lined Merceria leading from Saint Mark's Square to the Campo di San Bartolomeo and the La Fenice Opera House.
The Sestiere of Castello dates back to the earliest settlement of Venice in the 5th-6th centuries, but the eponymous castello or fort is gone. You can still see the ancient arsenal.
In the Sestiere of Cannaregio, better known as the Jewish Ghetto, families can visit the Jewish Museum and the synagogues. This quarter is thought to be named for the major canal leading to the mainland, and it contains the main railway station.
The Sestiere of San Polo is the smallest, but perhaps the most important, as it is an early commercial area with many fine shops and restaurants. Stroll the Rialto and look for osterie e bacari, taverns that also provide ready-made dishes including saòr, bigoi in salsa, tripe, liver alla veneziana, fish fries, as well as the typical cicheto (a morsel on a stick).
The Sestiere of Santa Croce occupies the northeast part of the city and had undergone so much renovation, including the historic Papadopoli Gardens, that families may prefer to move on to the showplace of classic Venetian architecture: the southern Sestiere of Dorsoduro. Among the palaces are the Ca' Zenobio and the Scuola Grande dei Carmini. Don't miss the Punta della Dogana bridge shaped like a ship's prow, or the dogana da mar (sea customs house).
Those traveling with bicycles should get in touch with HelloVenezia (+39 041 2424) for information about transporting bikes across the lagoon.
Dear Reader: This page may contain affiliate links which may earn a commission if you click through and make a purchase. Our independent journalism is not influenced by any advertiser or commercial initiative unless it is clearly marked as sponsored content. As travel products change, please be sure to reconfirm all details and stay up to date with current events to ensure a safe and successful trip.
---