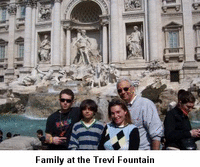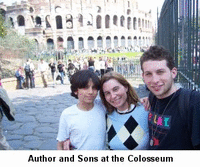 One family tackles Rome, Italy with their teens, who adore the few days they spend in the beautiful city while learning all about the Colisseum.
Italy. Just mention that you are going on vacation to Italy and people get that dreamy look in their eyes. Everybody loves Italy. What's not to love: the art, the food, the scenery, the people… it's all amazing. In Italy you get as much from just walking around looking high and low as you do in the famous museums. Don't try to do it all, but take in all that you do.
And so we learned on our recent visit there. Here is my account of our last stop, Rome.
Rome's Luxe Family Hotel
An early morning train took us through the Tuscan countryside and into Rome. This time we had to stand for most of the hour-and-a-half ride because it was crowded, but we enjoyed watching the scenery fly by and admired the hilltop villas, flocks of sheep grazing on the rolling hillsides, and dozens of soccer fields dotting the countryside.
We splurged on a five-star spa hotel, and stayed at the Rome Cavalieri (Via Cadlolo, 101, 00136 Roma, Italia; 01139 063 5092031), now a super deluxe Waldorf-Astoria by Hilton hotel, high up on a hill within the city. It is pure elegance from the moment you enter the front doors and see panoramic views of Rome at your feet.
Here you will be pampered everywhere you go, especially at the spa where you can have all sorts of facials and massages, or just laze away by the outdoor pool sipping blood orange juice (incredible), in the steam room, or taking a water aerobics class in the deliciously warm indoor pool.
The hotel is also home to one of the city's top rated restaurants, the very pricey La Pergola, perfect for a very special treat with those same amazing views (but definitely not for young children).
The hotel's breakfast buffet is beyond anything I've every tasted, with everything from bagels and lox, to waffles and omelets, dozens of flavors of jams to spread on the huge assortment of breads and pastries, smoked meats and fish, and my favorite — a juice bar with fresh squeezed juices of every kind including kiwi, blueberry, carrot and more.
A special touch for teens at the Cavalieri Hilton is the MP3 players you can request free-of-charge from the concierge. Included is a "city navigator" system loaded with two different audio walking tours to guide you to the important sights around town. We took both tours which were very informative. It also came programmed with an assortment of music and games that my kids enjoyed while waiting on various lines.
Of course, Rome is an expensive city and many families may look for an alternative hotel; if so, check out FTF's Guide to Rome's Family Friendly Hotels.
Which Antiquities to See on a Roman Holiday
Top on our list of Italian adventures was our visit to the center of ancient Rome where the Colosseum, Roman Forum, Palatine Hill and Circus Maximus are located. The area is full of so many historic ruins that it's just incredible to gaze at the overturned boulders, broken arches and fragments of buildings, imagining what it might have once looked like when this was the center of life in ancient Rome.
Any kids who've seen the movie "Gladiator" will appreciate the Colossum as they recall the scenes of bloody battles that once took place here when the floor was actually covered with sand to soak up the blood. Now just a shell of a building, it is overwhelming to see it in person after having seen so many photos of it over the years. I wondered why one guy was taking photos here with his thumb up and then one with thumbs down. One book explained that this is where the "thumbs up/down" gestures probably originated as the audience decided the gladiators' fates with their digits.
I would recommend spending at least a day in this part of town, visiting all the sights and even bringing a picnic lunch to eat among the ruins.
On our last day we visited the Pantheon, one of ancient Rome's only great buildings to remain intact.
Fountains & Museums in Rome
At night, Rome is especially beautiful as all the fountains are lit and the plazas and tourist spots like the Spanish Steps are even more crowded and alive than during the day. Don't forget to throw a coin over your back into the Trevi Fountain for good luck.
Our biggest splurge was on a private tour guide for the Vatican. The best part about this was that we got to skip the line and walk right in — worth at least that price right there, when you see the lines snaking around the entire block. However, the real reason to get a guide is to learn the history and all about the frescos, paintings, sculptures and tapestries that line every inch of the walls.
Our guide, Alessia, explained the history and art in great detail and helped make the whole place come alive. I loved the little fun facts that she sprinkled throughout her almost nonstop three hour tour, like how Michelangelo dismissed all his assistants when he began work on the Sistine Chapel so he could complete everything himself, and how the naked bodies in the Last Judgment were covered up when it was deemed that there was too much nudity. More recently the painting was cleaned and the nudes revealed once again as originally planned. For a great tour of your own, contact Alessia at [email protected].
Then, we gave in to our kids' requests and spent the afternoon relaxing by the Cavalieri's pool, during a sudden spring heatwave. What a way to end an amazing vacation. And now, since there's so much more we have to see, we'll just have to come back.
Rome, Italy Sightseeing & Trip Planning Tips
The best resource for local knowledge is the Roma Tourist Office. Check out the Roma Pass, valid for 48 or 72 hours, which bundles in local transportation, one or two museum admissions and discounts around the city for a flat fee.
Acknowledging that most first-time visitors to Rome already know a great deal about the city and its attractions, the helpful, multi-lingual site of the Rome Tourist Office offers itineraries broken down by length of stay.
If you have one to four days, they have a plan for you. Their very first day's tour encompasses St. Peter's Basilica in the Vatican City, Castel San Angelo, crosses the Tiber River, continues to Piazza Navona and the Pantheon, and after crossing Piazza Colonna, ends up in the Piazza di Spagna. Visit their site to plan the rest.
Dear Reader: This page may contain affiliate links which may earn a commission if you click through and make a purchase. Our independent journalism is not influenced by any advertiser or commercial initiative unless it is clearly marked as sponsored content. As travel products change, please be sure to reconfirm all details and stay up to date with current events to ensure a safe and successful trip.
---