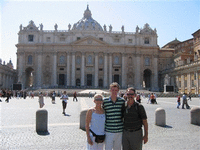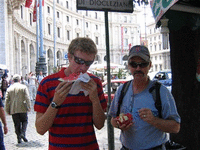 Using a bestselling mystery, a guidebook, and a Hollywood film, this family is determined to discover Italy's rich history.
We just completed a marvelous "vacation" in Rome, Italy. I use quotations because if a vacation means sitting and relaxing for a week, well, Rome might not be the place for you. There is so much to see and do that you will never be bored, the sights are so old that it it's hard to fathom, the food is delicious, and the art breathtaking. It is also expensive. Using Dan Brown's Angels and Demons novel as a starting point was a stroke of genius with our teen, who could relate to it and get excited about following in what would become Tom Hanks' footsteps.
Some parents may prefer the vision of Rome depicted by a secretary (played by Jean Peters) who finds love in "Three Coins in a Fountain" or admire Audrey Hepburn and her suitors in "Roman Holiday." School girls, tweens and young teens will most certainly prefer watching Hilary Duff in "The Lizzie McGuire Movie;" but horror worked well for us.
We arrived the end of June; it was my second visit to Rome after a college semester abroad study program in England nearly 30 years ago. A lot has changed in Rome since then: Traffic lights and bigger crowds!
Exhausted by Sightseeing
We arrived in Rome around 10pm and walked the 20 minutes to the II Covo Bed and Breakfast (39 06 4815871; Via del Boschetto no. 91, 00184 Roma, Italia) from the train station. After dropping our backpacks, we made our way to the little corner restaurant and the small store next door, buying a bottle of Italian wine for €5 which they opened for us and even gave us plastic cups. We sat on a bench next to the piazza fountain and enjoyed our first night in Rome together. The rooms are very good value, with doubles from €60 and their quad room from €110 per night. It wasn't until the next morning after our breakfast of coffee, orange juice and a croissant that we realized we were only about three blocks from the magnificent Colosseum.
Being so close, we conveniently started our first day at the Colosseum and waited in a very long line to buy tickets. A helpful hint: Buy a Roma Pass at a Tabacchi and take it to the Colosseum's pass reader to avoid the long lines. We enjoyed using the audio guide and ended up buying a book that has overlays of what the ruins look like today and in their heyday.
Next stop: Palatine Hill. We thought we could just walk right in with our Roma Pass, but, they didn't have an electronic reader, so we had to wait in the ticket line. The wait was well worth it; from the top of these impressive ruins we could see the remains of the Circus Maximus. We then went to the Forum, free of charge, but we chose to purchase the audio guides. There was just enough information for our liking, without being too long or boring. By this time we had seen and heard enough history, grew tired of the heat, and headed back to the room for a late afternoon nap.
After resting, we took the metro to see the Barberini fountain by Bernini, the Trevi fountain and the Spanish Steps where the impressive obelisk was covered for renovations. From there, we walked to Piazza Navona to see the fabulous fountain I remembered from 30 years ago. Unfortunately, it was also covered for renovations.
We sampled the tartufo (chocolate and more chocolate) at the Tre Scalini on Piazza Navona, and it was just as good as I remembered from my last trip so many years ago.
This fountain was the "water" from the Angels and Demons novel. Whattaday! We ate dinner at a little place by our room and had no problem falling right to sleep.
---
The Vatican & More Churches
Since the Vatican is usually closed on Sundays, we decided to see it on Saturday. The steep admission fee is well worth the price (audio guides). We considered signing up for a guided tour given by our B&B until discovering it was about $75 per person. Instead, we decided to take the metro to the Vatican and got in line early, about 200 yards down the wall from the entrance in the cool morning shade. We made many friends in the 2½ hours we spent waiting to get in (doors don't open for non-reservation groups/persons until 10am). The museum was well worth the visit, but it was close to impossible to enjoy the impressive Sistine Chapel with all the photos being taken, loud talking, guards and loud speakers continually blasting "Silencio!" and "No photos!
We went to St. Peter's Basilica after 3 hours in the Vatican. We had to wait a few minutes to pass through the metal detectors and were ready to visit the dome but the line was exceedingly long so we skipped it. We bought the audio guides and went into the crypt. I hadn't seen this part on my last trip and it was interesting to see all the tombs, including John Paul II. We found the audio guide was too long and boring in the Basilica (maybe we were just worn out and tired of listening).
We saw the Angels and Demons "air" in the Basilica Square. Next, we walked to the nearby Castle Sant' Angelo, another impressive Angles and Demons site, before heading to the Pantheon then sat on the fountain steps, enjoyed a gelato, and watched a bride and groom get their pictures taken. We again let our Rick Steves' guide book educate us here as we waited for the church service going inside to end.
Thinking it was about to close, we rushed to the Church of St Peter's in Chains and discovered a wedding was in progress. However, we were still allowed to go in and see the chains and the Michelangelo structure of Moses.
Afterwards, we walked back near the Colosseum for a nice dinner at Hosteria da Nerone (39 06 474 5207) on Della Terme di Tito recommended by our guide book. We were getting used to ordering from Italian menus and found one or two courses to be more than enough food.
Days 2-4 – Angels, Demons, Crypts, Capucins, Skeletons
The next day we visited The Villa Borghese (39 06 32810). Reservations are required, and luckily we made good use of our time in line at the Vatican by calling ahead with our European cell phone. This attraction was the house of Scipione Borghese, a cardinal and nephew to Pope Borghese. The Villa is filled with magnificent sculptures and works of art. We took a group tour and our guide was very knowledgeable about all the art in the Villa and was able to give us in-depth information whenever we asked.
The works of Bernini are just incredible: his David, Apollo and Daphne, the Rape of Proserpine, Aeneas and Carova's Pauline Bonaparte were all impressive. When our guide mentioned that marble is a "soft" stone, I could only think of carving soap and how easy that would be. These sculptors have made their art look so real, every wrinkle, impression, curve that it is hard to think of this marble as a rock. Unfortunately, they only allow two hours in the villa before clearing everyone out for the next group.
After our tour, we walked around the surrounding park, enjoyed some lunch and made our way out via the Piazza del Popolo, a beautiful, impressive, huge Piazza. The church of Santa Maria del Popola is also here and we found Chigi Chapel of Angles and Demons fame. Here we got back on the metro and stopped at Termini Station to buy our train tickets to Pompeii for the next day. We took advantage of Rome's custom of shutting down for 2-3 hours in the afternoon and took a short afternoon nap.
Our son wanted to see the Capucin Crypt, part of Santa Maria della Immacolata Concezione Church. The bones of 4,000 monks are laid out in designs on all the sides of the five small rooms. The dirt on the floors is actually from Jerusalem and we learned the bones date from 1530-1870 and the dirt from 1600! There is a little sign that says, "We were what you are, you will become what we are now. Buon giorno."
From that crypt we hopped back on the metro, got off at Pyramide stop – where there is an actual pyramid built around 30 B.C. by Gaius Cestius to hold his tomb. It now stands as part of the Aurelian wall that is one of the ancient portals to Rome.
We got on bus #118, taking us through another city portal down the Via Appia Antica to the Catacombs of San Callisto. As we walked deep down along very narrow dirt and marble walkways, the earth on both sides from floor to ceiling were pitted with the slots of the final resting place of many Christians from over 1800 years ago. The early popes were also buried here. The grounds surrounding the catacombs are well kept and very peaceful.
Finishing our day, we enjoyed a three course meal back in our "neighborhood" restaurant right outside our door. By this time my husband said that our neighborhood (which frightened him at first) was starting to grow on him.
Pompeii for the Living Dead
Day 4 we took our 12-hour excursion to Pompeii, beginning with a 5:50am train to Naples before switching to a local train. (We found taking a comfortable regional train from Rome was half the price of the faster trains.)
We spent three hours seeing what used to be the grand city of Pompeii. We bought books and explored, it grew increasingly hot and more crowded in the afternoon. Returning to Rome by 7:30pm, we visited our little wine shop and had a delicious three course meal at another nice restaurant, La Taverna dei Monti (39 06 48 177 24) up the street from our room.
The Pilgrim Walk in Rome
We decided to sleep in on Day 5 and get some much needed rest. While on the train to Pompeii, I had read about all the Roman sights we hadn't yet seen. So we headed out after breakfast to revisit the Capitol Hill and saw Trajan's Forum and market, Victorio Emmanuel Monument and took in the great views of the city. Next, we paid a visit to the St. Peter in Chains Church where we were able to get closer to the statue of Moses and the chains of St. Peter.
The metro then carried us to the Republica stop to explore the church of Santa Maria della Vittoria. A short walk from there, we discovered the old Baths of Diocletian that were turned into the Church of Santa Maria degli Angeli. We found the legendary meridian in the floor that was used to tell time and date to be especially interesting. We waited until noon to see the sun pass over the small hole in the ceiling and hit right on the cancer zodiac sign. We have lots of photos of that!
On to Santa Maria Maggiore, built in 432 A.D. We learned that under the altar, fragments of wood from Jesus' crib supposedly lay. From here we walked south to San Giovanni Laterano just inside the Porta San Giovanni. This massive church opened in 318 A.D. and was the first Christian church in Rome and was rebuilt in 1600. Over the altar, there are statues of Peter and Paul, supposedly containing parts of their heads! Next to this huge church is a smaller one where we found the Scala Santa and its wood covered, marble steps that Emperor Constantine's mother brought back from Pilate's residence in Jerusalem during 326 A.D. Jesus reportedly climbed them when he was sentenced to death and today people crawl up these steps on their knees saying special prayers that can be bought for 2€. There are little pieces of glass placed in the wood where Jesus' blood stained the marble but we couldn't see through the glass.
After our busy day we went back to our room and rested until the sun was going down in the west, then headed out to take some evening photos on Capitol Hill and Piazza Navona.
On our last day in Rome we sat in St. Peter's Square for two hours thinking we might see the Pope on his "Papal Visit" day. Though we didn't see him, we got some good photos of the square and met more nice people.
Our last stop of the day took us to the impressive San Paulo Fuori la Mura Church (St. Paul's Outside the Walls). We came in the back entrance and the church was grand, you could easily fit a football field inside of it. We admired the gorgeous baroque ceilings and mosaic panels of all the Popes. St. Paul's body is under this altar. After thinking how magnificent this church was, we walked out into the front courtyard and my breath was taken away by the scenery. You have to see it to believe it.
We went back for an afternoon rest then up to Piazza Popolo for a walk down the Via Corso to window shop. Everything was way too expensive but it was fun. We ended our last day with a walk through the Jewish Ghetto and the island in the Tiber River – Isola Tiberina where the character from Angels and Demons, Robert Langdon, supposedly landed.
Details, Details
This was an amazing trip. Although we always felt very safe, we also did everything possible to avoid pickpockets. I wish I had read more of the classics and studied more Greek Mythology before going to Rome. We learned a lot about the history of the Roman Empire, Popes, Bernini, Michelangelo, Caravaggio, Raphael, and Titian. We aren't Catholic, but found the tradition of keeping chains, body parts, marble steps, wood, and altars to worship very interesting. Now, we need a real vacation!
Since we are stationed in Germany, we fly RyanAir whenever we can take advantage of the one-€-cent flights (that doesn't include the 30€ roundtrip tax on each ticket or the 10€ credit card fee). While the RyanAir airports are rarely anywhere close to your final destination, there are always buses that can get you to the center of town. We took the Terravision bus from the Ciampino Airport to the Termini Train Station in Rome and paid 14€ round trip per person.
We love to plan our time ahead of arrival, and for this trip we used the Rick Steve's Rome book. We did everything in it — plus the side trip to Pompeii — in six days. We also used audio guides, human guides and references from Dan Brown's Angels and Demons. We now have to read this book again with a new understanding of each attraction. I would think all the Roman attractions and references from this book have become much more popular since its release, and the movie will leave a huge impression on family audiences (older kids of course!) Most of the tourists sights are very close together in Rome and easy to find. The map we had from our B&B was also very explicit and helpful.
To maximize the sightseeing while minimzing the cost, the Roma Pass is a must. It allows you free entry into your first two attractions, and others are discounted. It also includes a metro card for buses and subways and is valid for three days. You should do either the Vatican Museum (closed Sunday) and St. Peter's before you get your Roma Pass or afterwards as these attractions are not included on the pass. You can make reservations for a guided tour by faxing the Vatican several weeks in advance. The tour price of 22€ includes the 13€ admission fee so it is worth the price since guides are 6€. You're also allowed to enter between 8-10am, but you still have to wait in a tour line so getting there early is imperative.
Some More Travel Tips: Buy some snacks to carry; our son was hungry about every two hours. We all needed water frequently… it is hot and dry in Rome during the summer. Thirty years ago I had a Cholera shot before coming here and I was told not to drink the water. Today, it is supposedly safe to drink from the many constantly flowing water fountains and our son did so with no problems. However, I couldn't quite bring myself to do it.
The pickpockets are legendary; we were careful to keep our valuables hidden in a money belt during our trip. Although we arrived in Rome late, around 10pm, we still walked the 20 minutes to our bed and breakfast from the train station. My husband thought I was taking us to the worst section of the city because Rome can be dirty, but it seemed very safe and turned out to be.
Dear Reader: This page may contain affiliate links which may earn a commission if you click through and make a purchase. Our independent journalism is not influenced by any advertiser or commercial initiative unless it is clearly marked as sponsored content. As travel products change, please be sure to reconfirm all details and stay up to date with current events to ensure a safe and successful trip.
---