Late summer and early fall are perfect for apple picking in New York at metro area U-Pick farms. According to Lawnstarter.com, New York is #2 in the nation in the number of apple orchards per 100,000 residents.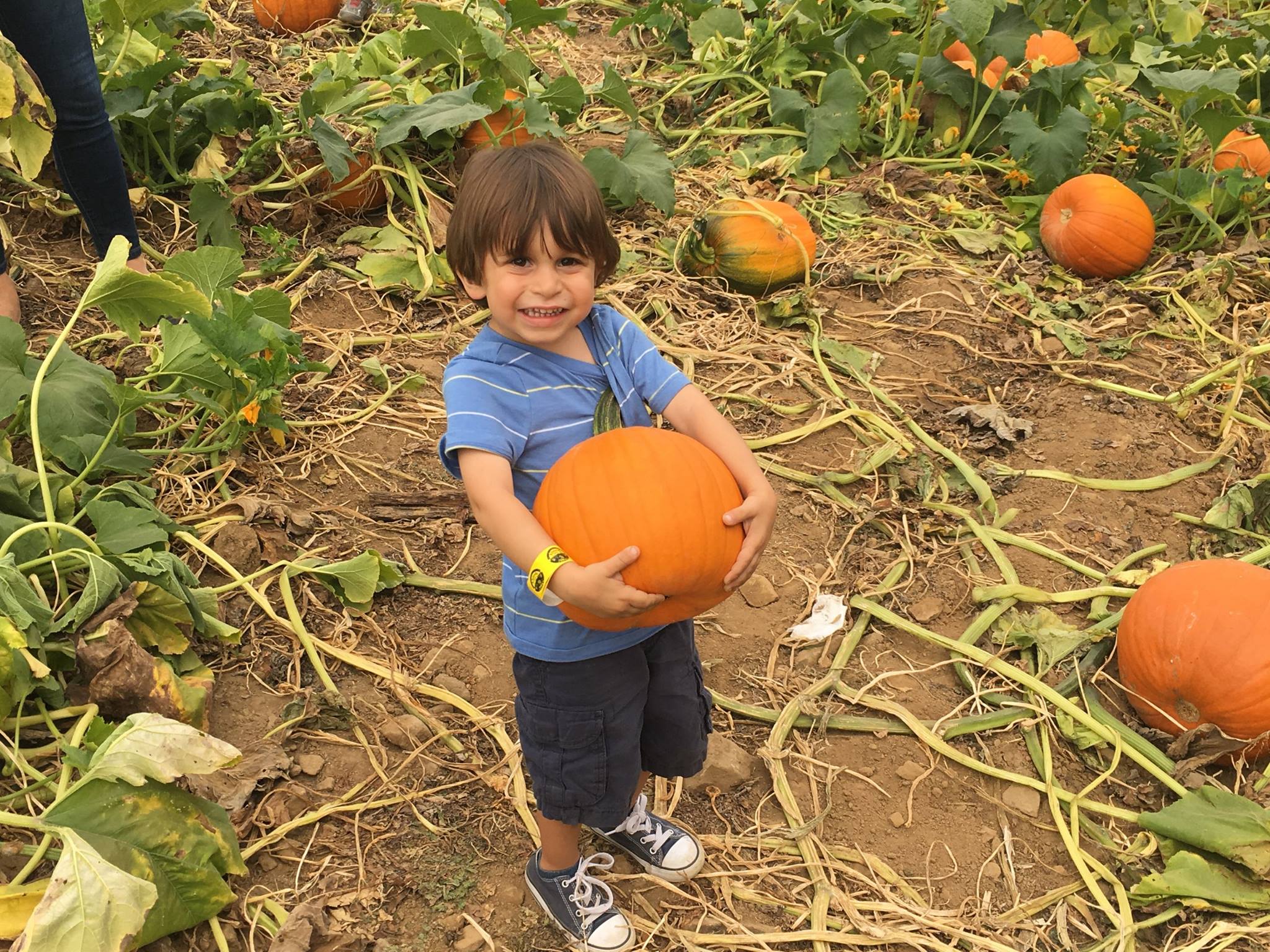 Many area families with infants and preschoolers make it the core activity of a cheap weekend getaway. That's why my family makes apple picking in New York — or New Jersey and Connecticut — a frequent fall outing. Read on for the best P-Y-O apple and pumpkin picking farms in the tristate metropolitan area.
This year, keep in mind that some U-pick farms may limit the number of visitors.
Check out our complete guide to apple picking PYO orchards and u-pick fruit farms: FTF Guide to Top U-Pick Farms in the USA. Introduce the kids to sustainable agriculture, riding a hay bale and getting poked in a corn maze. Pet cows and sheep. Promote healthy snacking and sample donuts and fresh pies. Take a break with some apple cider, you'll find all your needs covered. And come home with a produce-delivery subscription from one of these farms, many of which have become CSAs.
Style Setting and Apple Picking in New York U-Pick Farms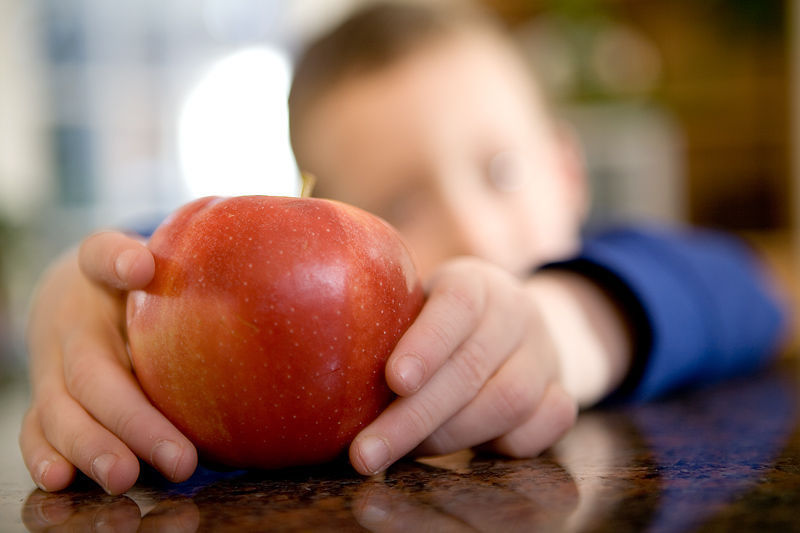 From the New York metropolitan area, a manageable drive either north or south will provide plenty of choices for showmanship. Look for apple picking, farm stand browsing and, as of late September, pumpkin patches. For Long Island or eastward, checkout this directory of u-pick farms in southeast New York state.
The closest to the city PYO orchard of note is in Dutchess County near Beekman, New York. This is the stylish Barton Orchards boasting 175 acres and a you-pick season that lasts from August to November. Barton is less crowded and it's free on weekdays to pick your own. Dogs are always welcome in their Bark Park.
Weekends, an admission fee provides access to hay rides, live music, playground, bounce house and petting zoo. Stop in to the hard cider and craft brew taphouse. It's really fun because the BBQ, burger and ice cream food trucks come out to provide outdoors dining. They also have a haunted house, corn maze and extra Halloween activities for a fee. If that's not enough, try the nearby aerial obstacle course, with five skill levels and open to those 60-275 lbs. and able to reach 72″ tall. There's an additional fee there too.
Shorter Drive from Brooklyn & Still PYO Fun
Greig Farm has expanded its commitment to sustainable farming and fruit "pickings." The 80-year-old farm includes an airstream trailer smokehouse, art gallery, crafts showroom and Saturday seafood vendor. Visit some pygmy goats, a koi pond, bakery and a large plant nursery. Book a room via Airbnb and volunteer your time to pick the less-than-perfect apples for a local food bank. Their produce is also featured at the daily Hudson Valley Farmers Market in Red Hook.
The small Outhouse Orchards is closer to Manhattan in Westchester County. They stock a big giftshop but also have hayrides, pony rides, and a corn maze for kids. It opens each year in late August. (Due to public health concerns, they may limit the U-pick activity and just sell visitors apples by the bushel.)
Apple Picking in New York about 90-120 Minutes from NYC
Farther north, Ulster County hosts the scenic, 25-mile Hudson Valley Apple Trail covering seven family-run orchards, each with their own delicious offerings and activities.
Dubois Farms in Highland is one of the most picturesque farms, run by first-generation farmers, David and Jolee DuBois. Their nearly 70 acres are devoted to beautiful Hudson Valley vistas, neat rows of apple trees and verdant lawns. Each week of the picking season, the friendly staff hands out red wagons and updated orchard maps to apple varietals of choice. Come October, choose among grape clusters and hundreds of perfectly shaped pumpkins. Make time for a fresh pizza, BBQ pork sandwich, hard cider or fruit-flavored sangria on their porch or in the tavern. Weekends feature seasonal festivals, farm animals and live music.
We enjoy Minards Family Farms, which offers PYO apples and sells pumpkins and berries when in season. The 100-acre farm, just 75 miles from New York City and within view of the Catskills, has expanded greatly. Check out the facilities: hayrides, bounce house, sand pit, petting zoo, spider web and pony hop. Play barnyard football and baseball, tug of war, bowling, peddle carts, corn maze and more with a paid wristband.
Minards' pricing varies according to your preferred activities. For a fee, indulge in gem mining, an apple cannon, busy bee train ride and an ice cream cone! Stay calm: apple picking remains free after you purchase the U-pick bag. Kids will love to search for the lifesize red and green apple-costumed mascots easily seen a mile away. Remember the Fuji apples (our family's favorite for eating) peak the last two weeks in September.
Columbia County Upick Apple Picking in New York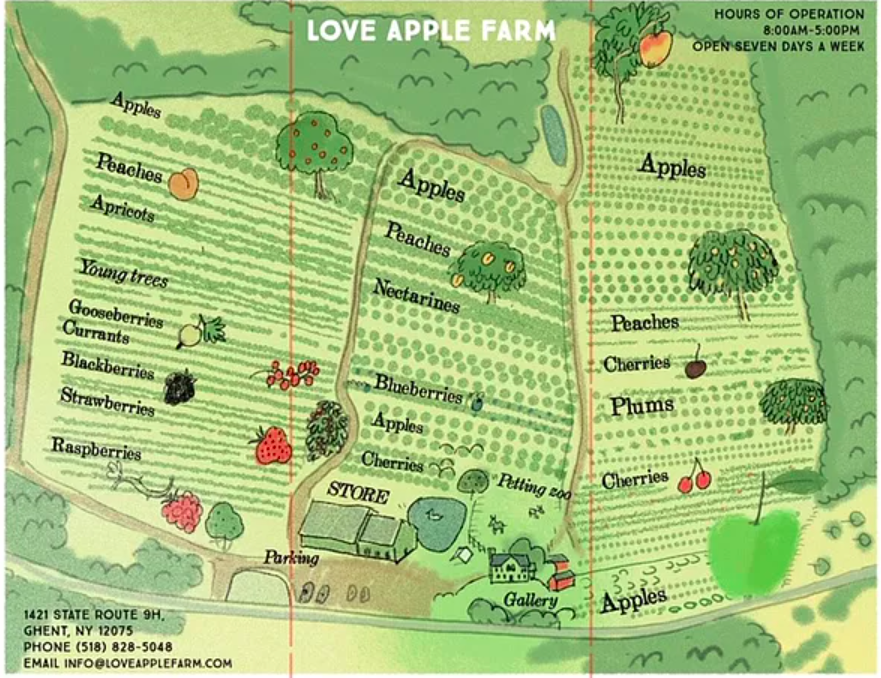 In Ghent, New York, Love Apple Farm runs a daily UPick operation from July through October, however, no pets are allowed. A $35 fee gets you a family-sized bag to gather all the Honey Crisp, Fuji, Gala, Cortland, Mutsu and Jona Mac you can fit in. Love Apple has grown from its founding by a young couple in 1969 to its takeover by a literary agent. Check out their elegant gift shop stocked with locally sourced products and gifts. Stop by the tiny petting zoo for your preschoolers and preschoolers-at-heart to meet their sheep, goats, pony and donkey. There's also a nice farmstand of local produce. Get there early if you want the bakery to do special orders.
There are many smaller orchards and U-pick vegetable farms in this region. Near to Love Apple, the Twin Star Orchard is probably better known for its Brooklyn Cider House brand of tasty hard ciders, served on the premises, than for its apples. 
Prefer to drive quite a bit farther north? Golden Harvest Farms is home to the tastiest apple cider donuts ever sampled by this author. The orchard of semi-dwarf trees in 25 varieties, founded in 1957, is in a richly historic, largely agricultural region. Your family will enjoy seeing how branches nurturing the heavy Honeycrisp apples are kept tied up.
In the late season, the Golden Harvest Farms orchard provides poles to help you reach the highest crop. Keep in mind that only nine varities are available in the Maple Lane U Pick orchard so you may want to mix and match.
Pick Your Own (PYO) Farms in New Jersey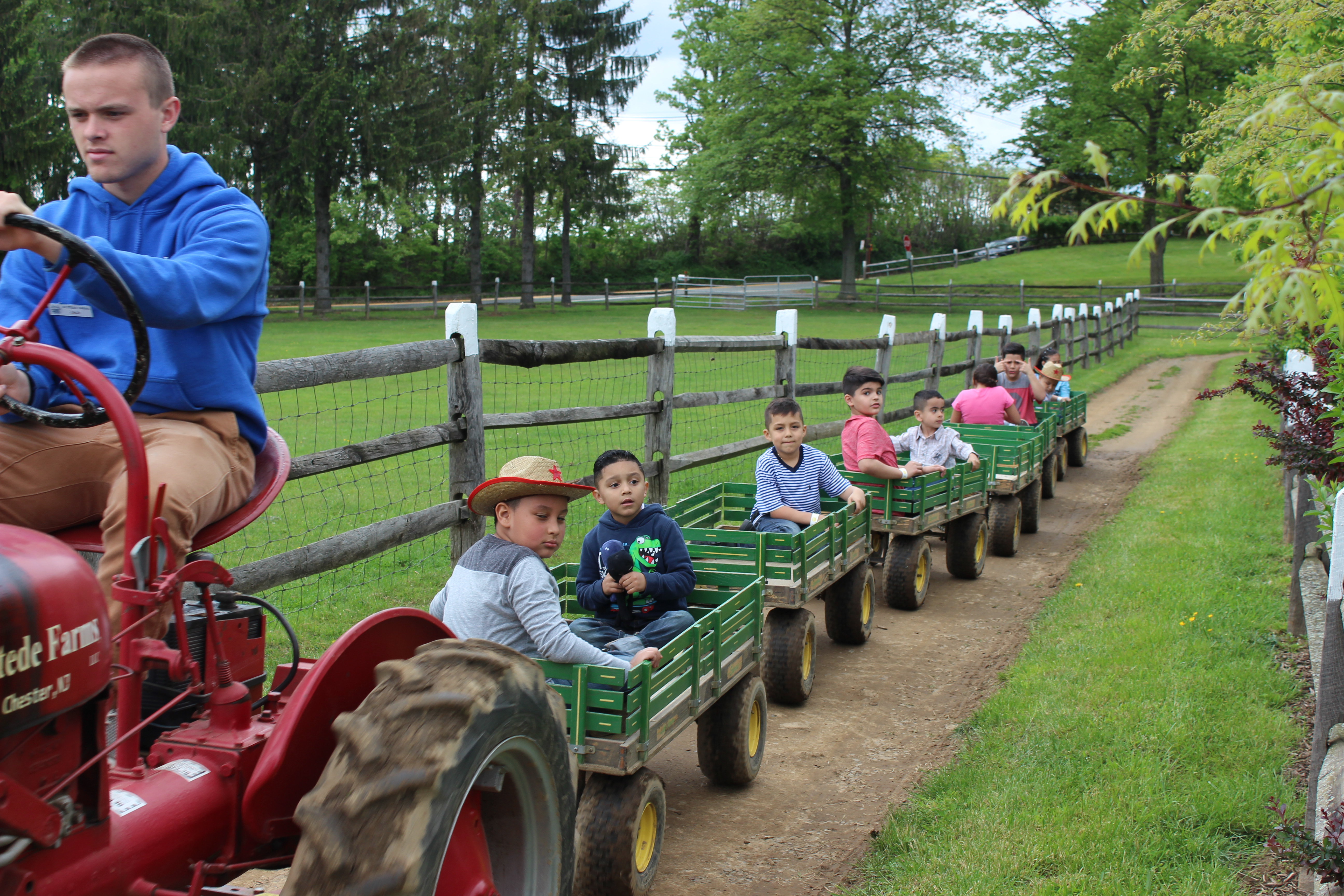 What's in Jersey In Bergen County? Abma's Poultry and Produce Farm is known as a farmstand for fresh poultry and eggs, local seasonal fruits and vegetables. However, the farm dates to the 1790s. That authenticity — plus toddler art classes, a petting zoo and greenhouses — are enough for families to enjoy a day out. It is closed Sundays and holidays.
Demarest Farms (in business since 1886 and selling great peaches, too) offers hayrides and pumpkin picking. The Demarest Farm organizes birthday parties with hayrides all fall, plus apple and pumpkin picking through October. We love the great family films shown at their outdoor drive-in movie theater; it adds so much to your outing. On special fall evenings, they show "Spookley the Square Pumpkin" allowing time for pumpkin picking, hayrides, the petting zoo, and more. Look for the Halloween Light Show and Haunted Orchard, their Halloween surprises.
The 660-acre Alstede Farms in Chester takes U Pick seriously. Discover 250 varieties of fruits and vegetables (picture squash, colorful gourds and potatoes) you can harvest during autumn. This CSA also offers produce delivery portioned for cooking like Hello! Fresh. Among community events, there's PYO Farm Tours, for a fee, on weekends. Families will enjoy the Harvest Moon hayride which is wheelchair accessible weekends (available daily by appointment.) Book ahead for pumpkin and apple pancake breakfasts, corn maze and a Christmas Tree farm after mid-November.
Apple Picking at the Ivy Leagues in Princeton, New Jersey
The 200-acre Terhune Orchards is a bit farther out in the country. The smart and beautiful town of Princeton hosts the Apple Days Fall Harvest Festival weekends from mid-September to late October. Families enjoy live music, corn and hay mazes, pumpkin painting and exploring the nature trail. Sadly, due to lack of help, the farm has limited the fruit available for the PYO crowed. Their vineyard, however, is holding many tasting events for the over-21s.
Are you and the kids overpicked? Check out the recipes on the Terhune website or join the 'Read and Pick' storytime — when children's books are paired with fruits or vegetables kids can harvest — held Tuesdays and Wednesdays from May to October.
Favorite, Entertaining & U-Pick Farms in Connecticut
Take a ride up to Connecticut for plenty of orchards and fruit farms during the harvest season. Silvermans Farm, on the cusp of its 100th birthday, is one of the most show biz places I've seen. Go for the live entertainment — think bluegrass and banjo — and all the fixins' each weekend. There's fishing in Blueberry Pond, lots of produce, a buffalo and llama in their petting zoo. Buy a ready-made Victory Garden kit so you can plant your own produce garden at home.
Only a 90-minute ride from New York City is Blue Jay Orchards in Bethel. They open to the public when the Macintosh varietal ripens, usually around Labor Day. This 140-acre farm has nearly 30 varieties of apples and offers hayrides to its Pumpkin Patch during weekends in October. If you're with a large group, call ahead to book their fun Pre-K Apple Tour.
Open 360 days a year, Bishop's Orchards is a big operation in Guilford. They feature a Farmer's Market, winery, apple and pumpkin picking, as well as delicious fresh-baked pies, fudge and zucchini bread. And we can't forget their new creamery, featuring hand-concocted and very intriguing sounding ice creams. Bishop's 300 acres are also home to llamas, goats and alpacas that live in the renovated Little Red Barn. Check out their expanded Pick Your Own locations, easily accessible from the main farm.
Apple Pickers Directory for New York, New Jersey & Connecticut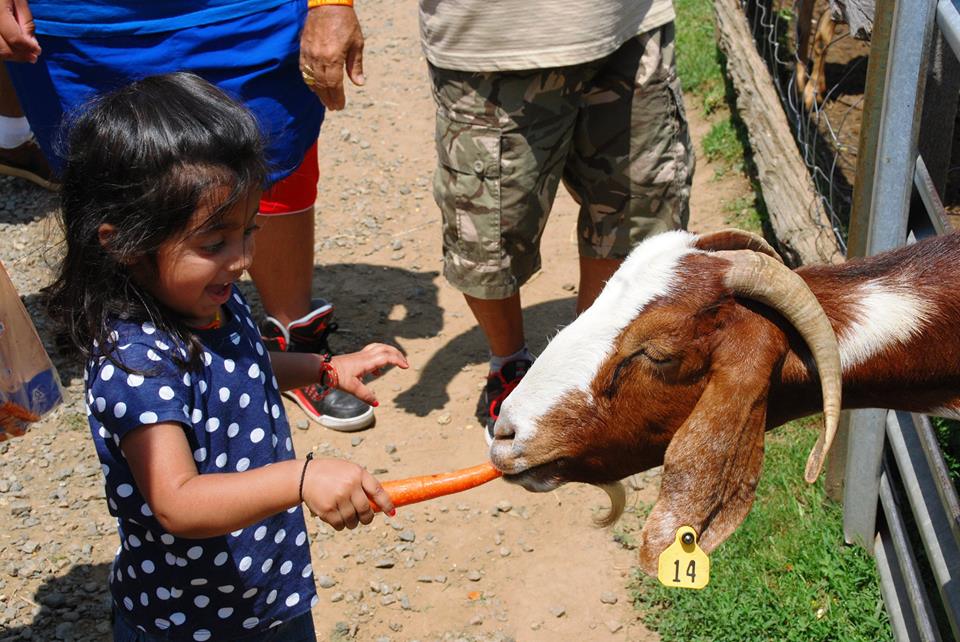 In closing, here is GPS information for some of my favorite apple and pumpkin picking farms in the tristate region. Before you head out, consider what you'll do with the apples that you pick.
Different varieties are better suited for eating, such as Gold or Red Delicious, Macintosh, Empire, Idared, Honeycrisp, Fuji, Jonathon and new hybrids like the Jonagold. If sauces or pies are in the plan, try the Cortland, the Golden Delicious, the Russet, and the Mutsu. If you're set on making your favorite recipe, call ahead to see what's left on the trees.
Pick Your Own New York State Apples
Apple Dave's (formerly Applewood) Orchards, 82 Four Corners Rd., Warwick NY 10990 – 845/986-1684
Barton Orchards,63 Apple Tree Lane, Poughquag, NY 12570 – 845/227-2306
Dubois Farms, 209 Perkinsville Road, Highland, NY 12528 – 845-795-4037
Golden Harvest Farms, 3074 US Rt. 9, Valatie, NY 12184 – 518/758-7683
Greig Farm, 223 Pitcher Lane, Red Hook, NY 12571 – 845/758-1234
Love Apple Farm, 1421 State Route 9H, Ghent, NY 12075 – 518/828-5048
Minard Farms, 250 Hurds Road, Clintondale, NY 12515 – 866/632-7753
Outhouse Orchards, 130 Hardscrabble Rd., North Salem, NY 10560 – 914/277-3188
Pick Your Own New Jersey Apples
Abma's Farm Market, 700 Lawlins Rd., Wyckoff, NJ 07481 – 201/891-0278
Alstede Farms, 1 Alstede Farms Lane, Chester, NJ 07930 – 908/528-88
Demarest Farm, 244 Wierimus Rd., Hillsdale, NJ 07642 – 201/666-0472
Terhune Orchards, 330 Cold Soil Rd., Princeton, NJ 08540 – 609/924-2310
Pick Your Own Connecticut Apples
Bishop Orchard, 1355 Boston Post Rd., Guilford, CT 06437 – 203/453-2338
Blue Jay Orchards, 125 Plumtrees Rd., Bethel, CT 06801 – 203/748-0119
Silvermans Farm, 451 Sport Hill Road, Easton CT – 203/261-3306
Dear Reader: This page may contain affiliate links which may earn a commission if you click through and make a purchase. Our independent journalism is not influenced by any advertiser or commercial initiative unless it is clearly marked as sponsored content. As travel products change, please be sure to reconfirm all details and stay up to date with current events to ensure a safe and successful trip.
---